When I think of Buenos Aires, a hundred memories flash by in my mind immediately. I'd happily write a few more posts about how awesome it was, but I think after my two travel diaries from Argentina (here and here), it's time for some practical tips.
I had the luxury of spending two weeks in Buenos Aires, which meant I had plenty of time to see all the hotspots and beyond. Truth is that a lot of what I saw in the city impressed me so deeply that I had to visit another time or two. Today I'm not only listing my favourite sightseeing places but also the cafés and restaurants that you just HAVE to try!
Live the Porteño life in Palermo Soho
Just so you know, Porteños is the common word to refer to the inhabitants of Buenos Aires. I personally feel like the Palermo Soho neighbourhood embodies the lifestyle of the Argentinians best. Everything happens outdoor, lots of authentic bars and cafes open around the clock and of course….the eateries. My, my, do the Porteños know what good food is. Simply take a taxi to Plaza Serrano and from there you can explore the whole neighbourhood by foot. The neighbourhood is also home to a lot of cool concept stores and local designer stores and on Saturday there's a market.
Eat:
La Panadera Rosa, Jorge Luis Borges 1685 | Barrio Palermo, Buenos Aires, Argentina
Pechache café, Gurruchaga 1418 | Palermo Viejo, Buenos Aires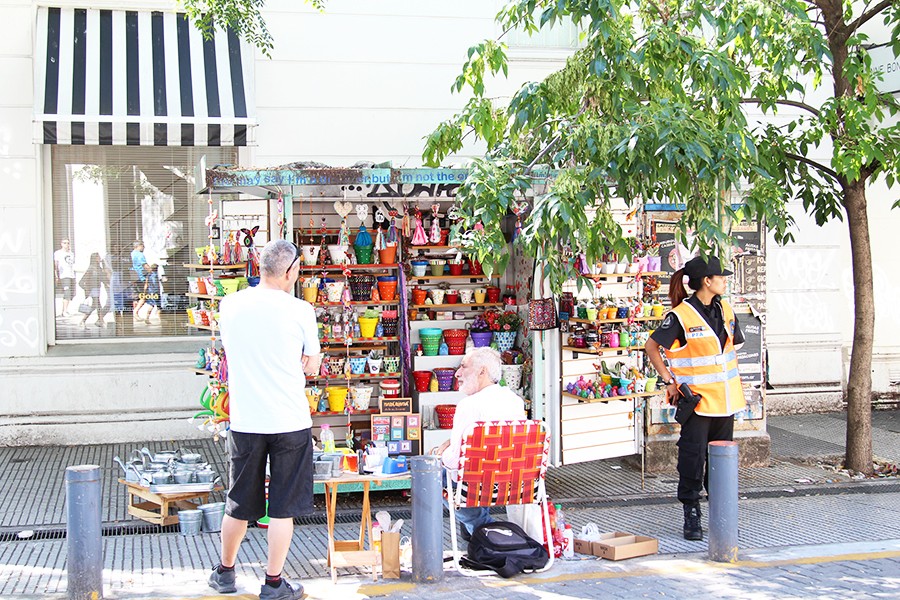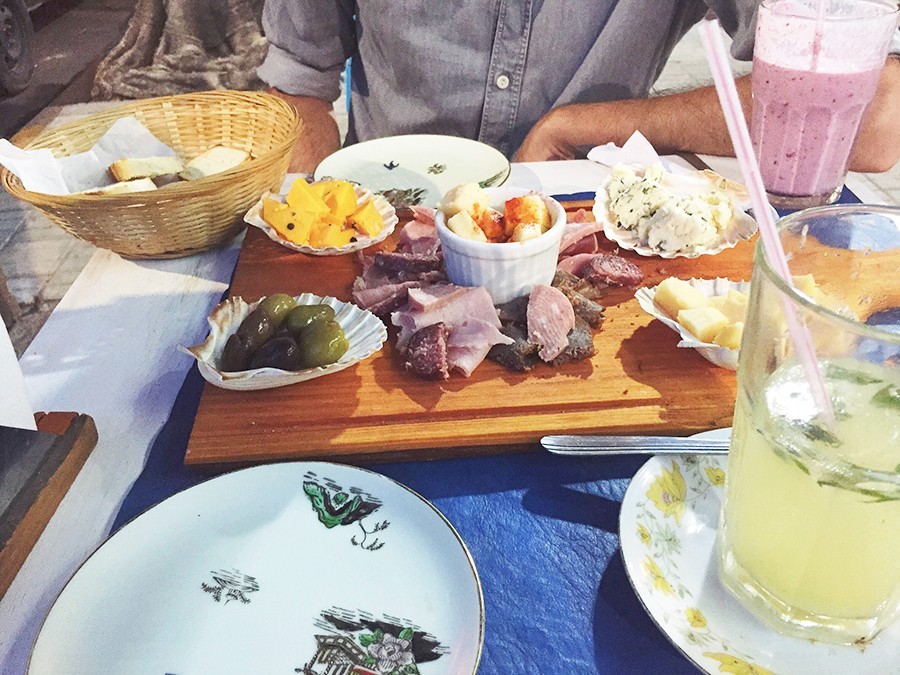 Street stall in Palermo Soho and one of many 'picadas' eaten while in Buenos Aires. 
Cementerio de la Recoleta
It's one of those things that sounds super weird, but once you experience it you totally get the beauty of it. I'm talking about the Recoleta cemetery. With lines and lines of extravagant mausoleums dedicated to the death, this is an impressive place to visit to say the least. Perhaps the most famous tomb in the cemetery is the one from Evita, which would be hard to find on your own but one of the many free tour guides will happily show you around. With lines of mausoleums, statues, secret corners and stories to read, you should be ready to take a couple of hours to explore this unique place to the fullest.
Eat:
Go In! Gourmet & Natural, Laprida 1672 | Recoletta, Buenos Aires
Bike ride in Puerto Madero and the Buenos Aires Ecological Reserve
Buenos Aires is great to explore by bike. Even though the traffic is hectic at times, the car drivers seem to be well aware of cyclists and are generally speaking courteous. There are many different bike rentals throughout town, I'd suggest to just go with the one that's nearest to where you stay. You can view the listing of several bike rentals below, I used BA Bikes. I personally think that the Puerto Madero neighbourhood and Ecological reserve are great in particular to explore by bike because they're a little further out of the city centre and require longer distances. Puerto Madero is a modern and new part of town with some fancy eateries and cool architecture, a great spot to have an upscale lunch with good seafood. After lunch, continue your way into the Reserva Ecológica de Buenos Aires, a slice of low land (3.5 km2) on the Río de la Plata riverbank. Besides unique bird species and lush green, you'll be treated on a fantastic skyline view of Buenos Aires when you make your way through the reserve. It's the perfect way to escape the every crowded city for a while.
Bike Rentals:
BA Bikes | San José 539, Buenos Aires
Urban Biking | Different spots throughout town
Biking Buenos Aires | Peru 988, San Telmo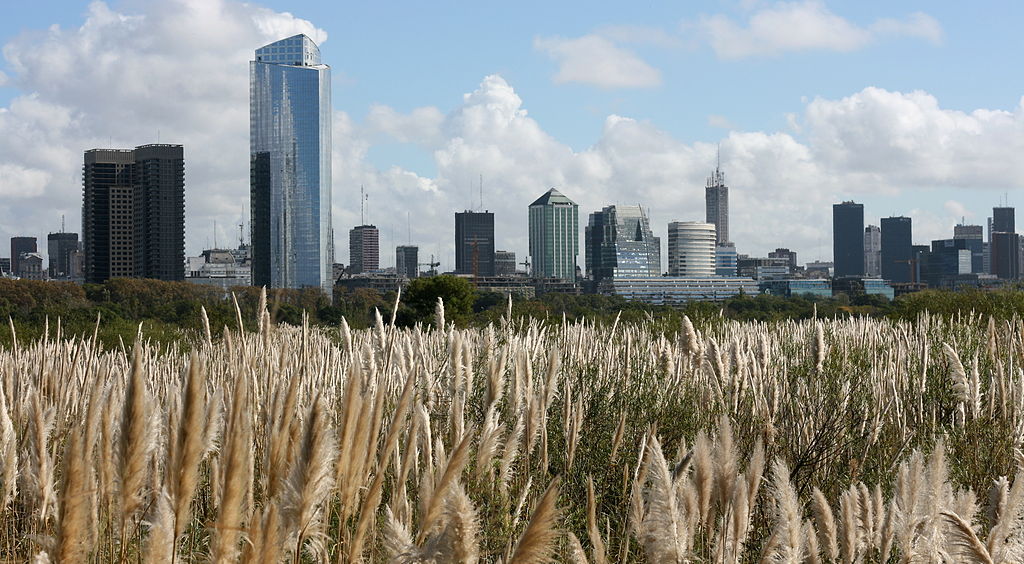 The skyline view from the Buenos Aires Ecological Reserve
Feria de San telmo & La Boca
Every Sunday there's a market in San Telmo that you really can't miss out on when in Buenos Aires. I could never have foreseen the massive size of it, it's overwhelming really! It's quite possible that you'll not be able to see everything, since there's literally kilometres of market stalls spreaded over different streets. This is a great spot for souvenir shopping and while there's lots of stuff that's primarily focused on tourists, you'll find some cool authentic stuff too. Other fun things in San Telmo are the many antique shops, tango shows on the main square and the Argentinian Asado (barbecue) on the street to try some yummy meat.
Because you're already in this part of town, I'd recommend making your way to La Boca after visiting San Telmo. I think you need 2 hours in La Boca at most, so visiting the two in one day is easy. Wander the colourful streets of La Boca, watch a tango show and of course take a cheesy tourist photo or two with the cool, arty backdrops. Do keep in mind that La Boca is not a neighbourhood where you should go for a casual stroll beyond the main streets as it's not a very safe place to be.
Eat:
La Panaderia de Pablo, Defensa 269 | San telmo, Buenos Aires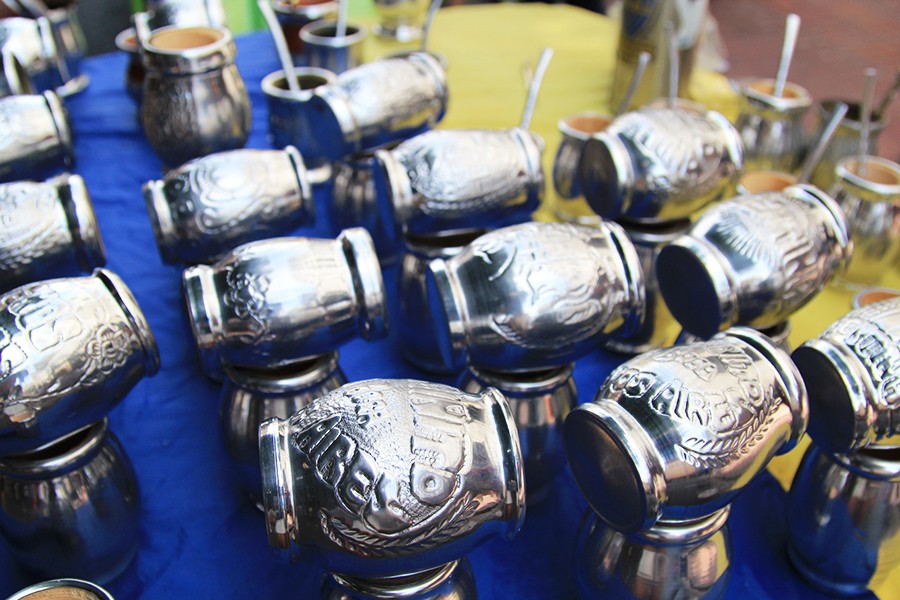 Customized mate cups at the markets in San Telmo. I got one with my name engraved for about 100 pesos.
Watch a Tango show in Buenos Aires most traditional café
A classic Buenos Aires thing to do, but oh-so good! I went to a tango show in Café Tortoni, a beautiful traditional café founded in 1858. It's a great spot to stop by during the day for coffee or lunch and to have a look in the small museum in the back of the café, but the must-do is the tango show at night. Grab yourself a drink, sit back and enjoy. The ambiance is amazing and so is the show.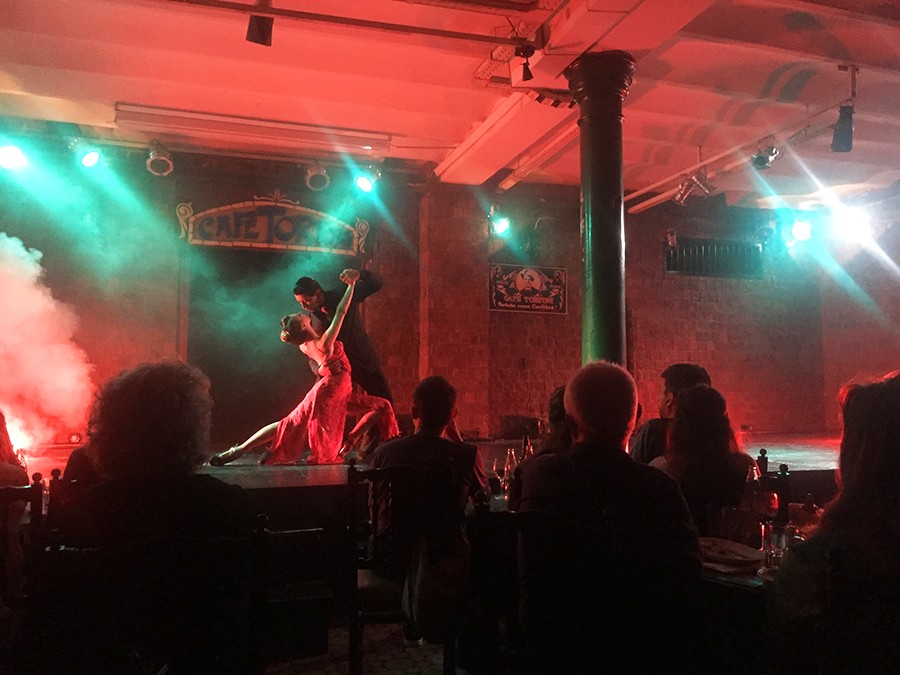 Tango Show at Café Tortoni. I absolutely loved it.
Cheer at the Horse races in Palermo Hippodrome
If you want to blend in and feel like a local, go and watch one of the horse races at the Palermo Hippodrome. You can enter for free and it's super entertaining. Not just the race itself, but even more so the fanatic locals who are cheering on their favourite horses. When my brother and I went to the races one night, an older guy went totally mad (read: happy dance and cheer), most likely because he won a big sum of money.
Join the 'after work' crowd at Sky Bar
Buenos Aires nightlife is quite specific: you have to know which places are fun at what night. On Thursday nights, that's Sky bar. Apart from the insane view over the city (and sunset!), this place is packed with a cool mixed crowd, but mostly locals and expats. The cocktails are pretty amazing too. You'll see that a few hours will pass in the blink of an eye.
Sky Bar, Hotel Pulitzer 13d floor | Maipú 907
Wander around Plaza de Mayo
When you hop off the metro at the famous 9 de Julio, you can easily tick off quite a few Buenos Aires must-do's in a matter of hours. Wander from 9 de Julio to the famous Florida shopping street, then to Avenida de Mayo where at the very end you'll find Plaza De Mayo, an incredibly photogenic square that's also home to the famous Cathedral, several government buildings and different monuments and statues. I really enjoyed exploring this part of town, there's so much to see. If you have the time, come back a few times at different times of the day. I once came during late afternoon and was absolutely mesmerized by the soft light covering the city.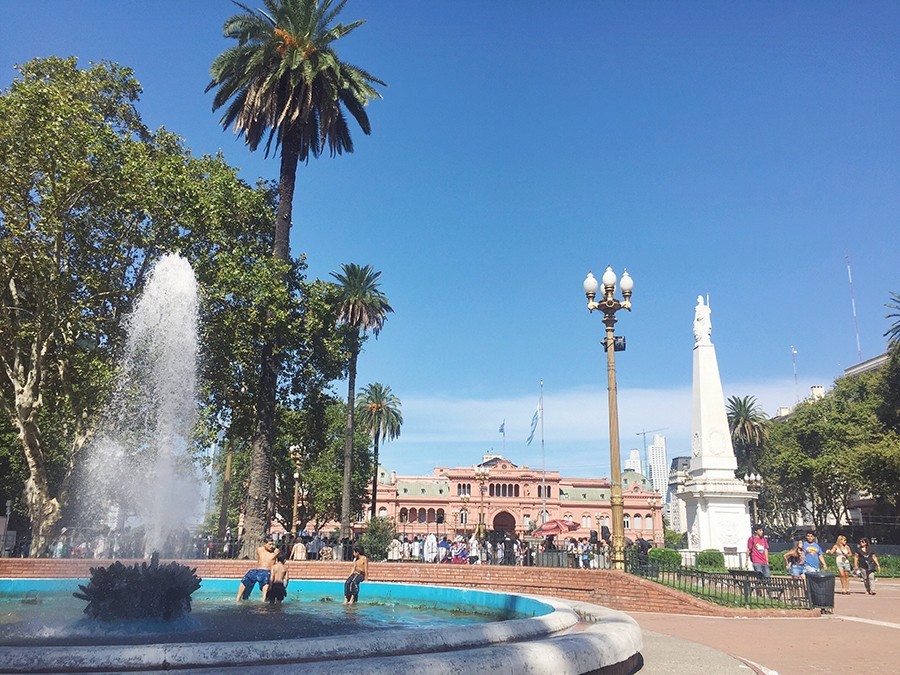 Other Recommendations in Buenos Aires:

Don Julio steak restaurant, Guatemala 4699 [great steak, the chorizo is a must try.]

Florería Atlántico, Arroyo 872 [bar and restaurant in the basement of a flower shop. Very cool vibe & yummy food.]

Sucre, Mariscal Antonio José de Sucre 676 [excellent restaurant with the coolest interior. Try the cheesecake for dessert.]

Terrazas Del Este, Av. Costanera Norte Rafael Obligado 2221 [The place to go clubbing on Saturday's.]

Victoria Brown Bar, Costa Rica 4803 [Super trendy bar with amazing cocktails and cool music. This place is also open during the day for coffee and lunch.]