After an absolute mad week spend in Rio (I think both Tatiane and I were so high on adrenaline that we couldn't possibly feel tired), I kind of expected that that my time in Argentina would be….somewhat more quiet and tranquil. Well, wrong.
I think sometimes the best way to share travels to people who weren't there to live it with me, like you guys, is through unfiltered Iphone photos. After all, my phone is with me all the time: during those late nights out, dinner dates with my brother or on a street festival. And in all honesty, sometimes taking out my chunky camera to capture a moment is a little inappropriate, so a Iphone photo will have to do. For those reasons I'm kicking off my Argentina travel diaries with exclusively Iphone photos. Just prepare for much more to come!
Before I go into further details on all the wild stuff, let's start from the very beginning. Tatiane and I said our goodbyes in Rio airport, she back to the Netherlands I onto Argentina. Even though I felt so sad to see her leaving, I think making our next travel plans during our week spend in Rio made the goodbyes a lot easier. I think it was only in the plane to Argentina that I realized how tired I really felt. When you do so much in such a short time, you really need a few days or so to process everything! I didn't quite have that though, because after arriving in Buenos Aires late at night, I went to see my brother first thing in the morning. Of course, because I haven't seen him in 1.5years! We spend the rest of the day eating and drinking our way to the city and I couldn't help but loving it from the very start. Seriously people, if you ever have the opportunity to reside in this city for a while, whether that's through work or studies, you have to take it. Immediately.
On my first day, I had to fix some practical things to kick start my 2 week stay in the city, like getting a Metro card and exchanging money. My Argentinian friend in Perth advised me to only bring American dollars in cash because you can get a much better exchange rate on the so called black market. 13 Pesos for 1 USD compared to 8 pesos for 1 USD on the official rate is a massive difference. I had this anticipated by bringing US dollars and it turned out to save me an awful lot of money.
They say about Buenos Aires that it's the Paris of Latin America and I honestly couldn't agree more. The buildings, squares and also the many cute cafés and terraces totally do have that French vibe. The city is buzzing with people, energy and there's always something going on any time of the day. The good energy you feel around you is really contagious! I've been impressed with the people's excellent manners; everyone is so polite and incredibly willing to help at any time. They're incredibly curious too, in a good way, wanting to know where you're from and what you're doing in their city.
My brother and I rented a bike the next day and I found it a great way to get to know the city and find all those hidden corners you'd never have come across by taxi or by foot. I've been surprised how much the car drivers are thoughtful and well aware of bikers. On many roads there isn't a separate biking path, meaning that you're right next to them which can be super dangerous. Maybe I'm used to the reckless driving of Australians though: biking on the big roads here isn't something I'd recommend in Perth! Anyway, I have to say I was kind of terrified at times on the road, I especially remember crossing a big intersection and seeing a bus coming from my left that was luckily aware of my presence so slowed down. Jeez! Major heart attack. Anyway, I felt like in one day I went all over town. What am I saying? I went all over town, literally. From the cobblestone streets in San Telmo to Congresso and Puerto Madero to finally end up in Recoletta where we visited the famous cemetery. It was super hot that day and with me not being used on biking anymore, I was completely shattered by the end of the day.
I used my first week in Buenos Aires to get to now the city (there's so much to see!) and when you're sightseeing entire days at night all you want to do is drop yourself on the bed and read a good book. I also caught a little flu in my first days there, throat ache is always a sign for me that I need to slow down a little. Spending a day sleeping in and doing not much else than hopping from café to café indulging in both traditional Argentinian food as not so traditional, I felt lots better already. On Thursday night I went to town for some sightseeing after which I decided late afternoon to go to Sky Bar, a rooftop bar located on the 13th floor in Hotel Pulitzer. Mind you, I went there with day time clothes and even dragged along a massive tote with my camera in it. I obviously didn't plan to stay for more than just a drink to enjoy the view, but things turned out completely different. I met an awesome group of people who turned out taking me to several Buenos Aires nightlife hotspots, I ate the best steak I've had in my life and I tried local drinks such as Fernet (pretty disgusting by the way). I LOVE spontaneous nights like this. In all honesty, I was pretty hangover the next day so I didn't get much further than the local cafe with a good book. Not bad anyway.
Turned out that this night was only the beginning, because my Saturday night was complete madness. Again, totally unplanned but so much fun. I ended up at Terazzas Del Este (a massive, partly outdoor nightclub) with some locals and other tourists. I wasn't home until 8 in the morning when the sun was shining light and bright. People sure know how to party in Buenos Aires. Apparently it was next to the water, but I only found out about that the next day when I Googled the place (Oops, someone had too much too drink). I'm pretty sure that was the worst hangover I've had in my life, because I wasn't able to enjoy food until 3 days after. I never expected myself to use this phrase, but hey: #YOLO.
I could honestly write a few more pages, but I think it's better to just let the photos do the talking now. More detailed insights on my days of sightseeing, hotspots and tips on where to eat and drink are all coming up soon. Watch this space.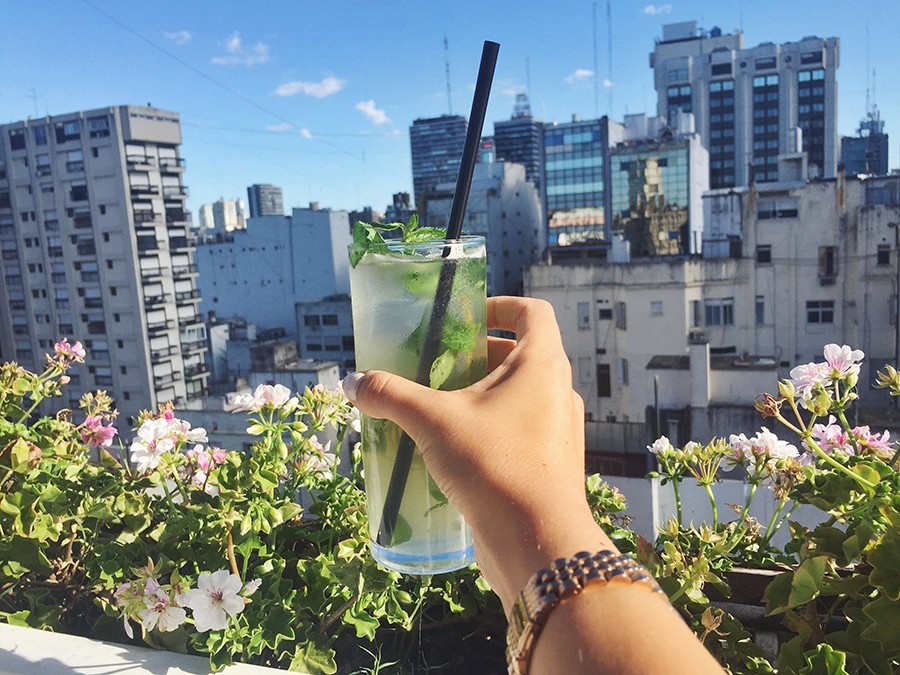 Enjoying the view and one of the best Mojito's I've ever had. Just reminiscing this moment makes me feel so super happy. I absolutely love rooftop bars, there's just something about overlooking an entire city.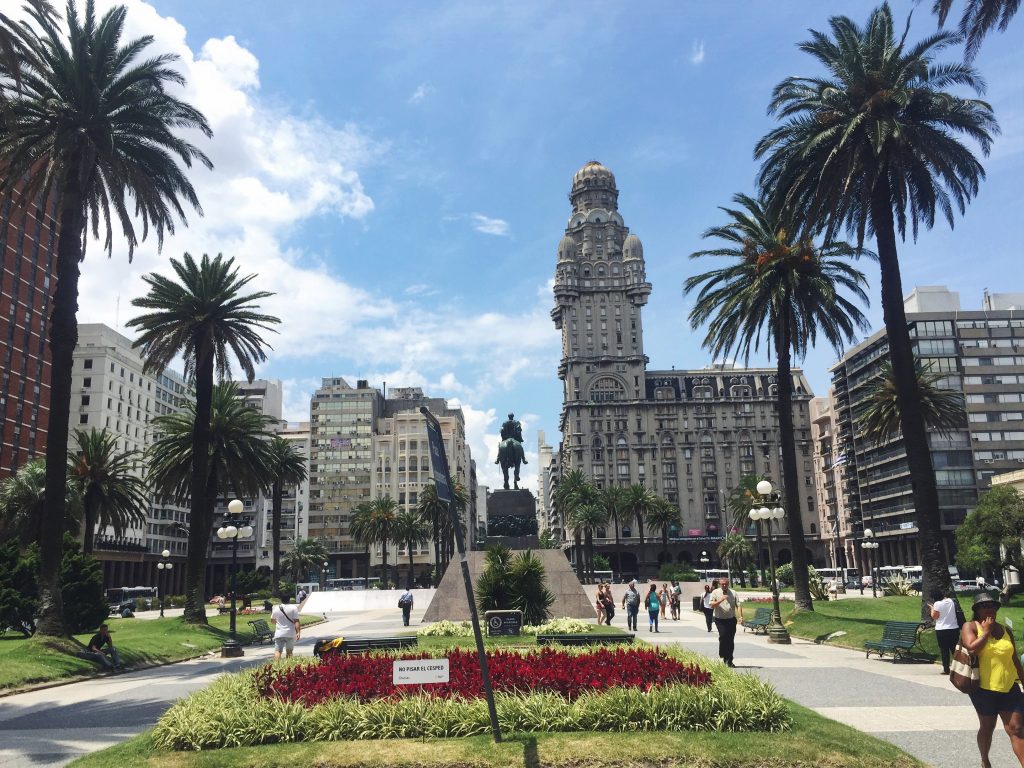 My brother and I made a day trip to the capital of Uruguay, Montevideo. Such a wonderful city where I'd love to have spend some more time! The architecture is really impressive.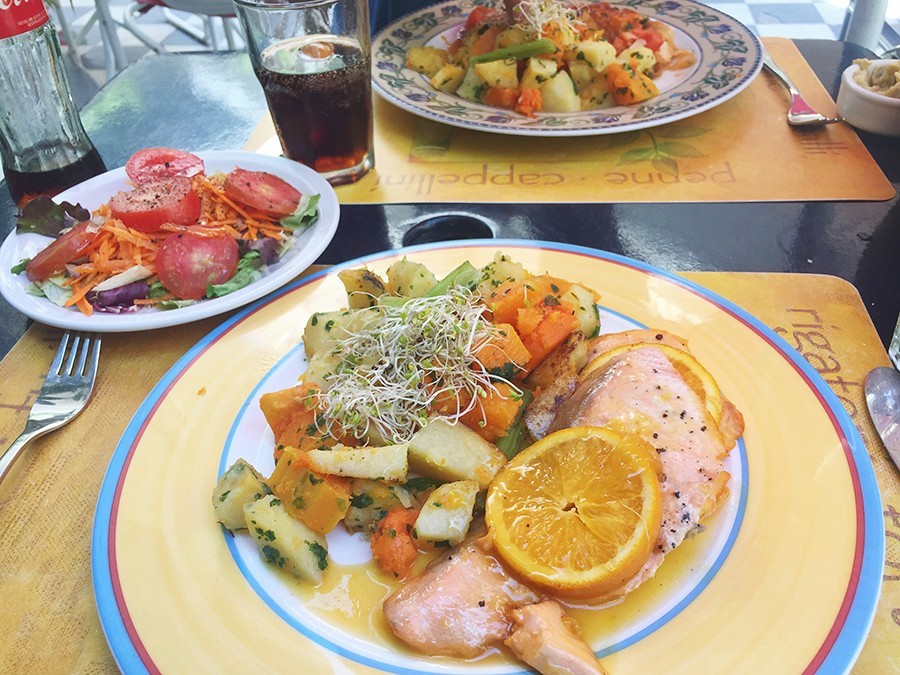 Super fresh and healthy lunch with grilled salmon in an orange sauce and veggies in San Telmo. Normally a portion like this would be too big for me, but since we were biking around the city that day I was starving and ate everything.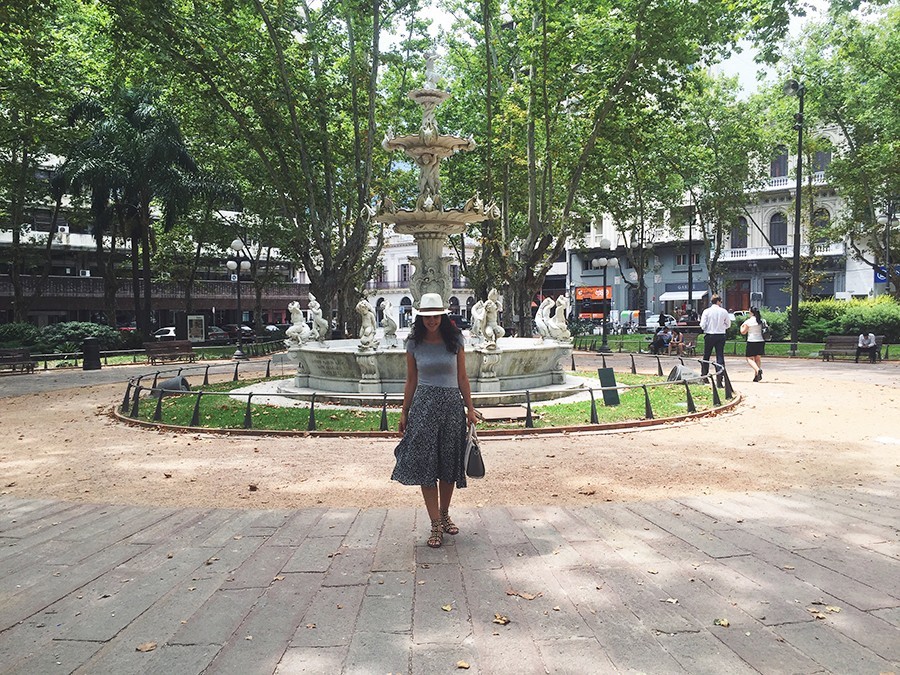 One of many cute squares in Montevideo. Looking at this photo, the location can be easily mistaken for the South of France. At least that's what it reminded me of a lot.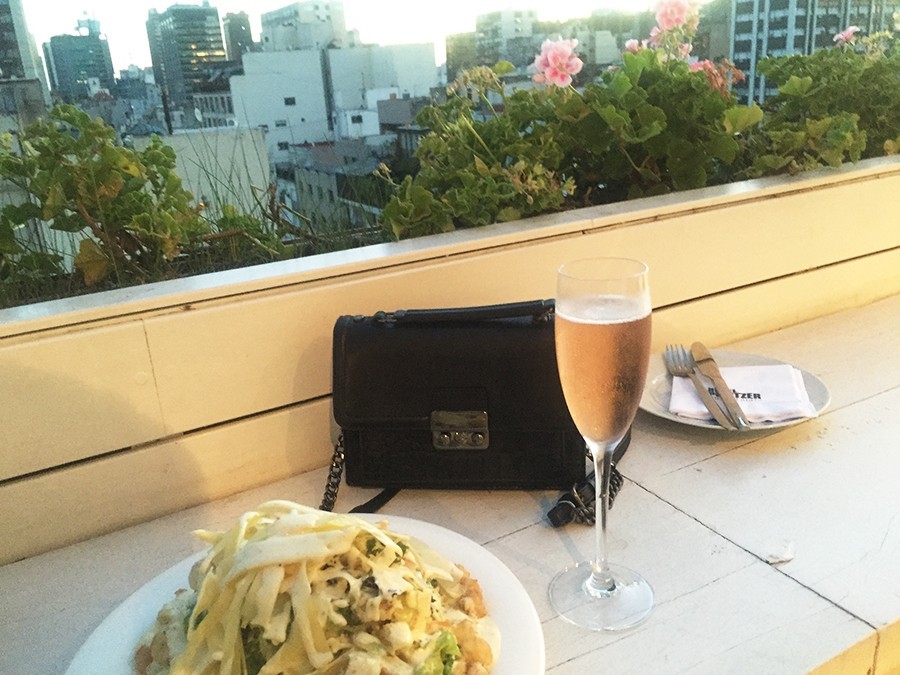 Living it up wit champagne and the best view ever.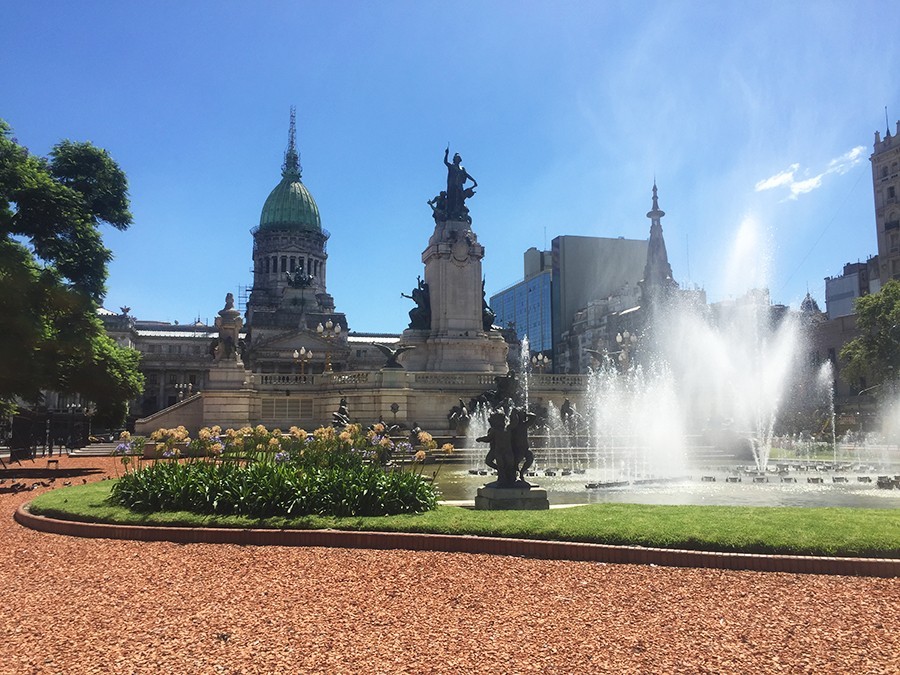 Beautiful square at Congresso. Something I really enjoyed in Buenos Aires was just getting on the Metro and going out at random stops to discover. I heard many horror stories about tourists being robbed at this exact square, so I was extra cautious and didn't stick around for too long.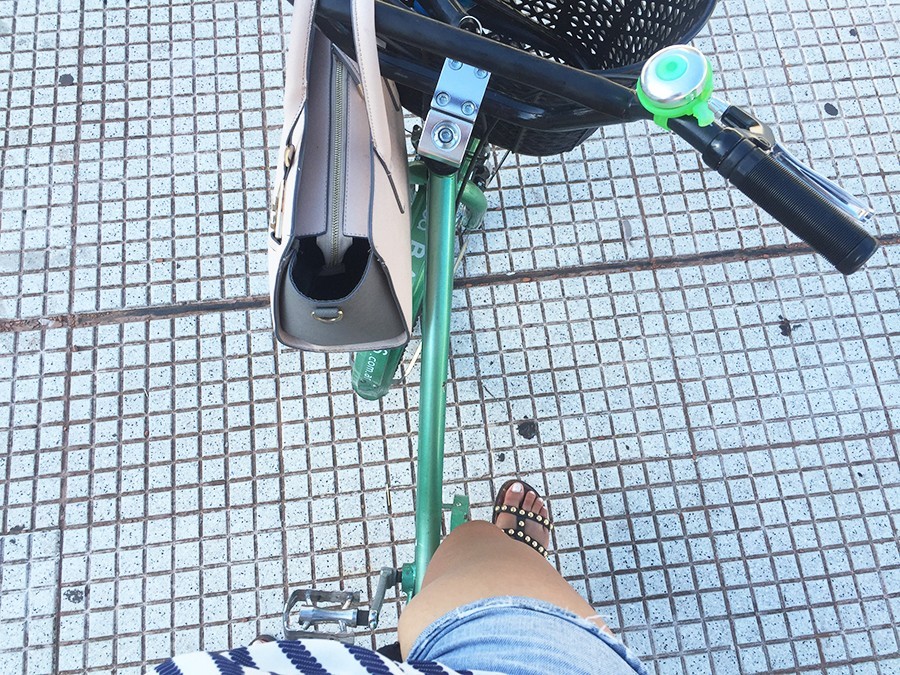 Biking my way through Buenos Aires with my brother. When he saw me in the morning he commented that I wasn't dressed for being on a bike all day. I disagree, haha.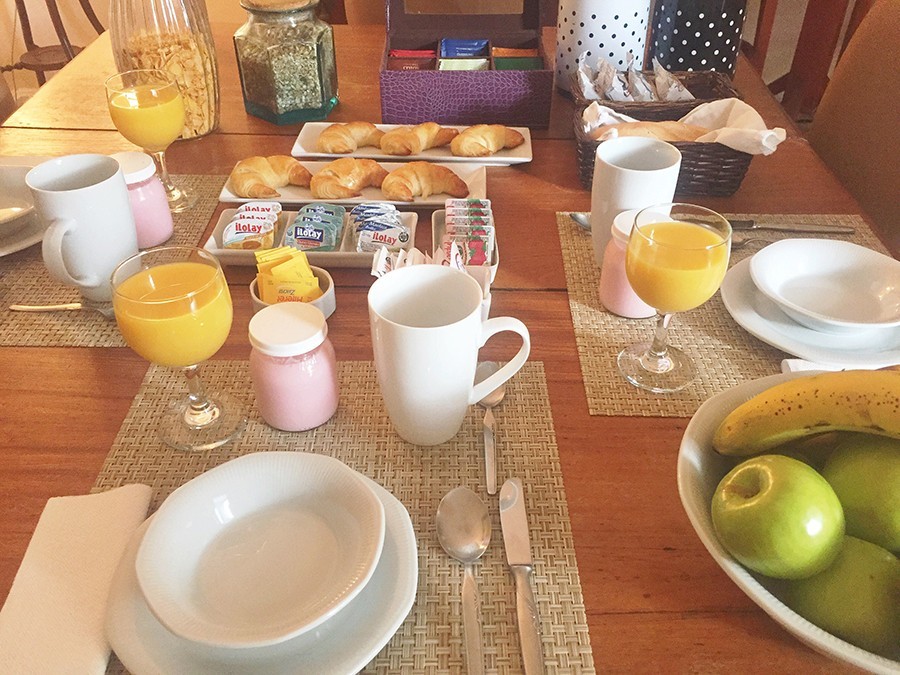 Lovely breakfast at the Airbnb in Recolleta where I stayed during my first week. I ate so much Dulce de Leche in my first week, both on my media lunas (Argentinian croissants) as straight from the jar, that I could no longer eat it after that. Moderation doesn't exist in my dictionary.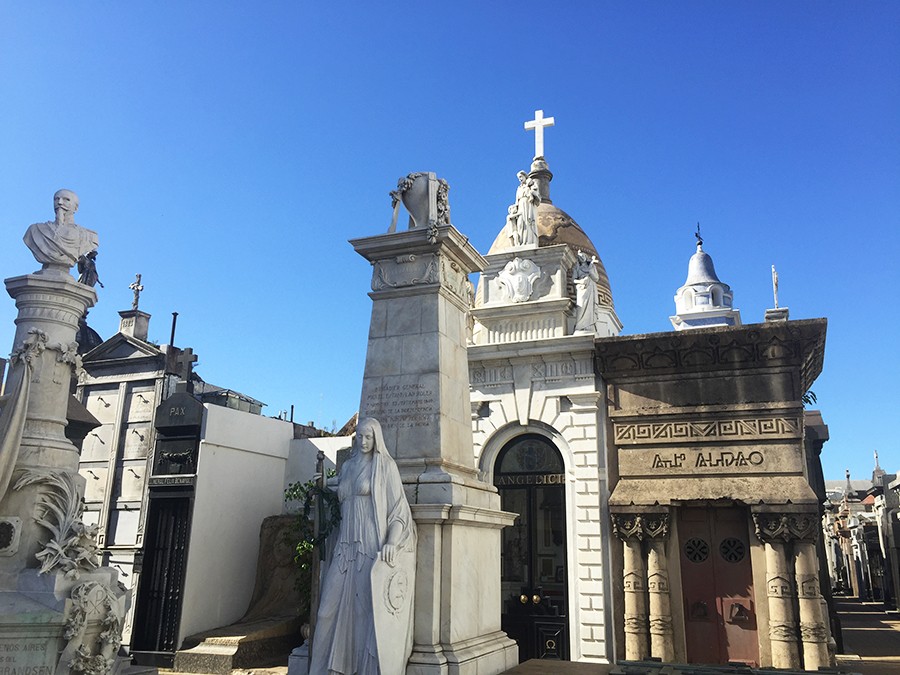 It's a bit creepy to be wandering around on a big cemetery, but at the same time it's so impressive. Standing next to the grave of Evita Peron feels unreal!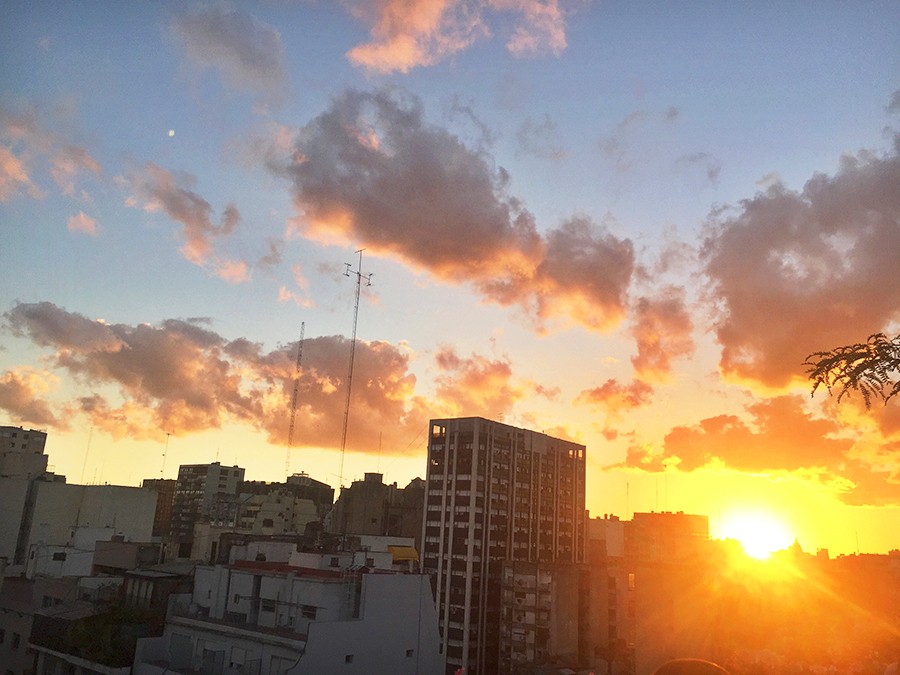 Sunset from the rooftop bar at Hotel Pulitzer. Ah-mazing.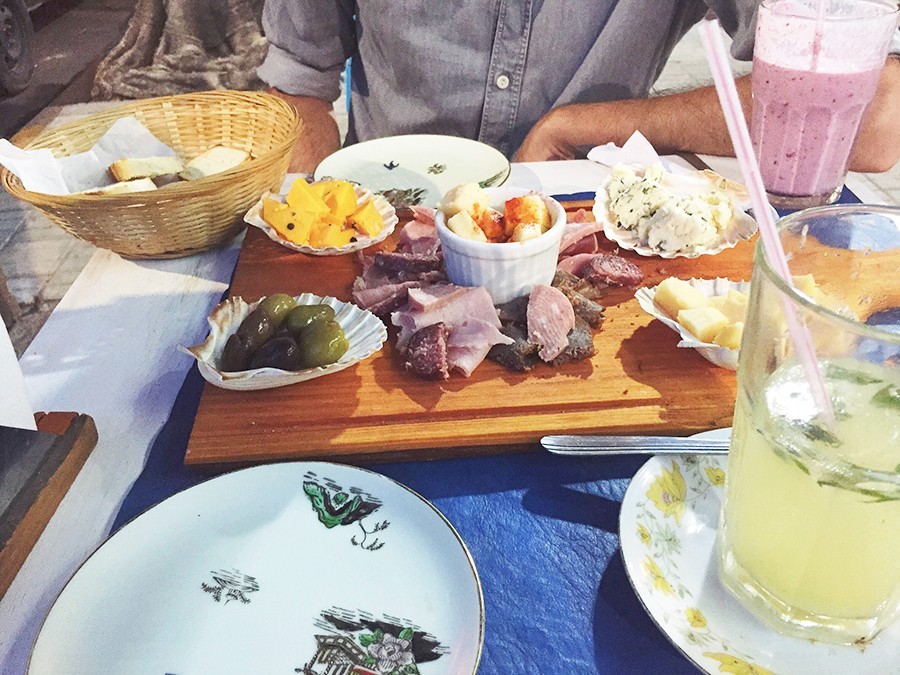 Sharing a delicious 'Picada' with my brother. They do amazing fresh lemonade with mint and ginger in Buenos Aires. Something I'm pleading for to be introduced in Australia as well. SO yummy.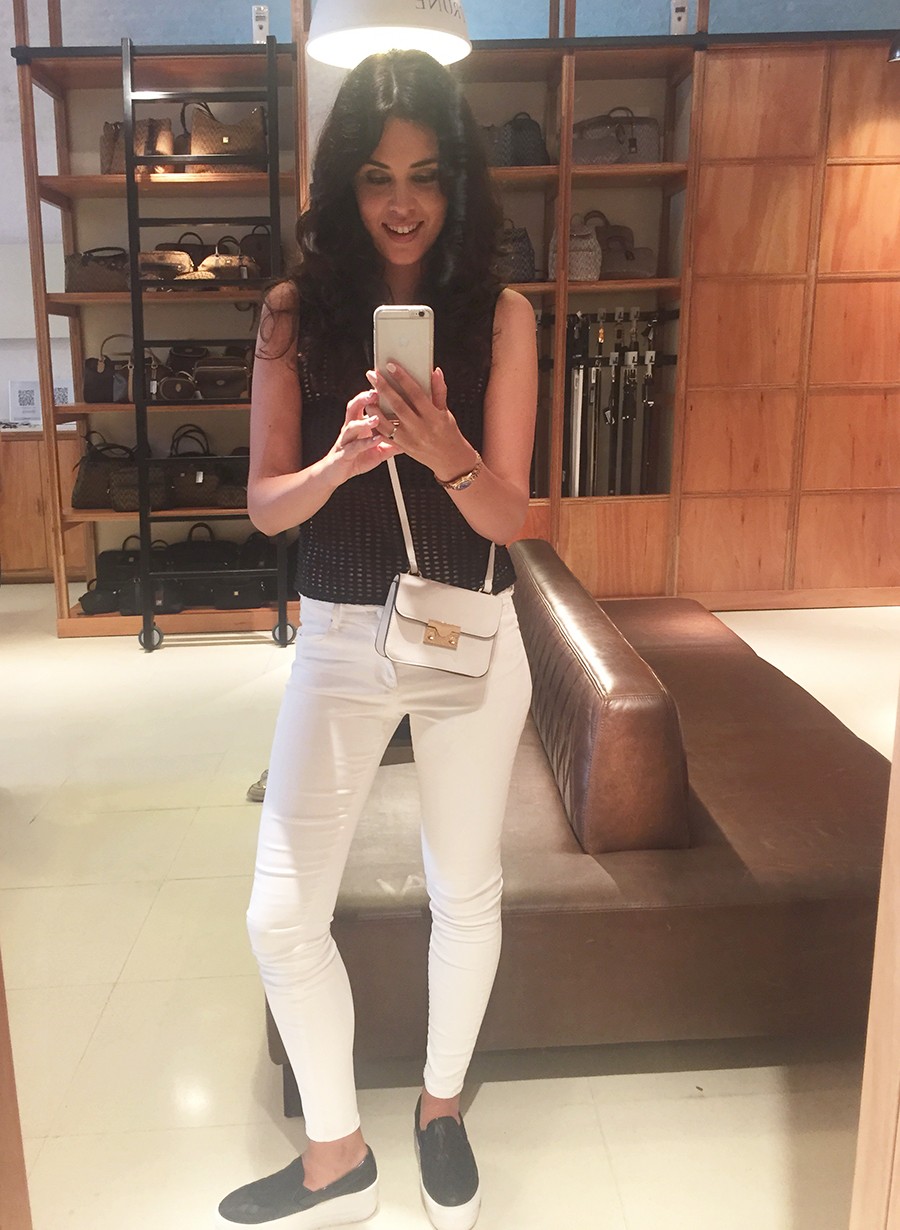 Trying on what seems to be the biggest trend in Argentina: platforms! This is at Prüne, a store with amazing leather goods and shoes. I wanted to buy everything.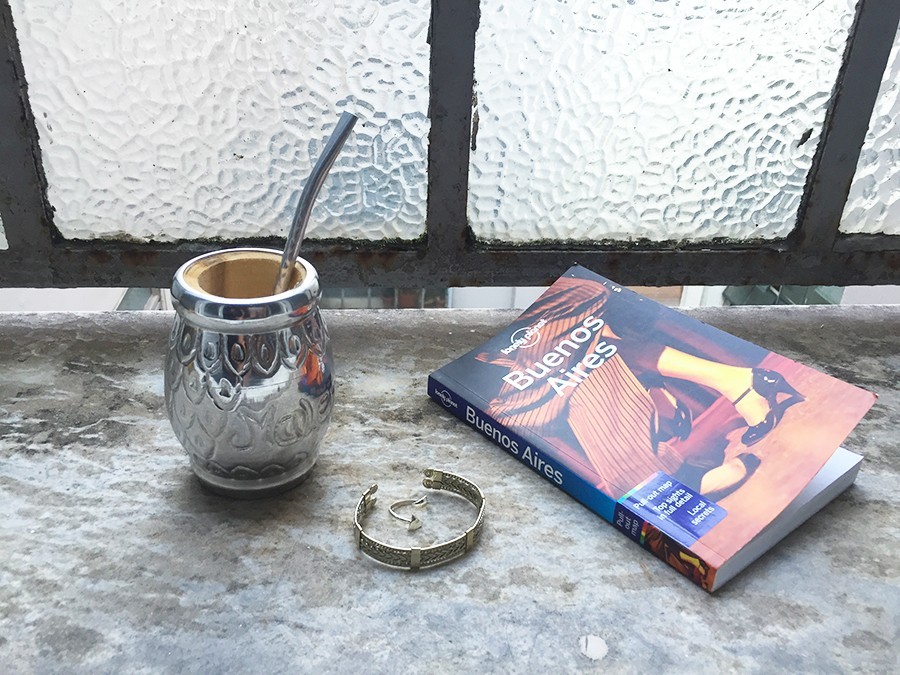 Some of the things I bought on the markets in San Telmo: a 'Mate' jug customized with my name on it (this is where they drink the traditional Argentinian tea from) and silver jewelry.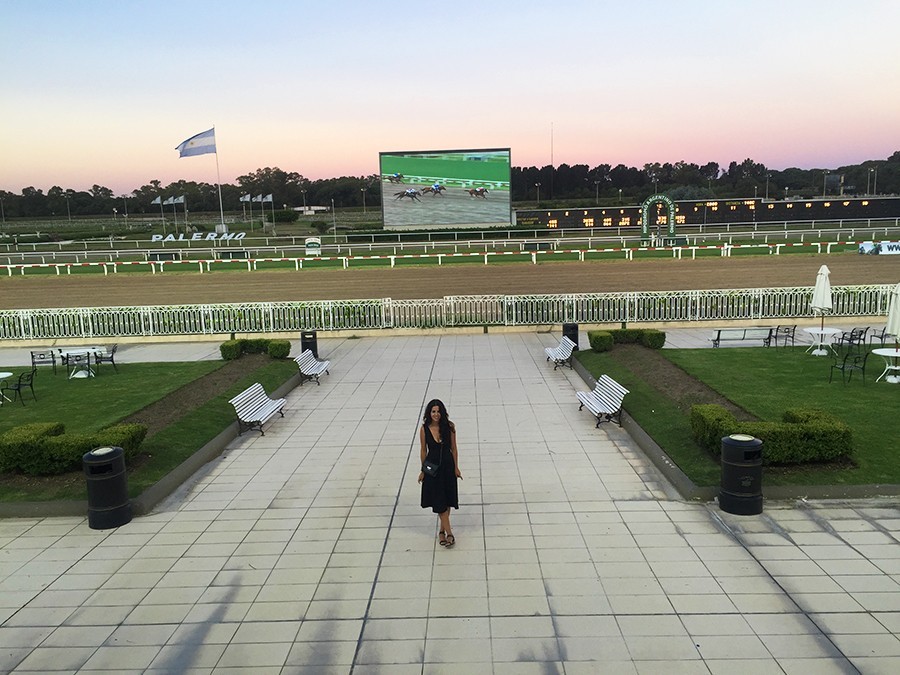 My brother and I went to the horse races. Yihaaa! Such a cool vibe, people screaming, cheering and betting on their favourite horses. It's such a fun event to witness.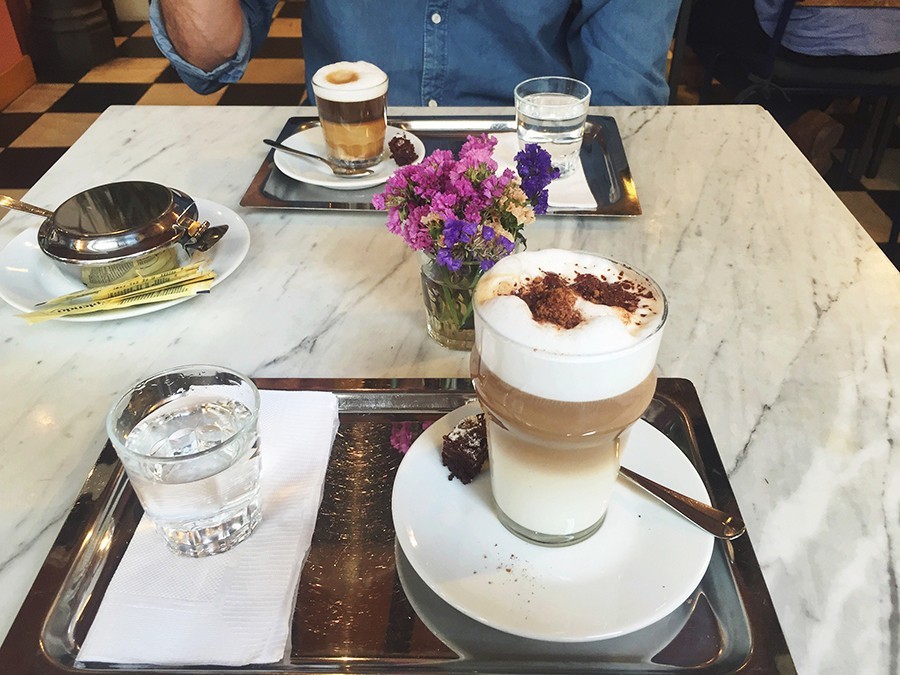 Perhaps the best coffee I've ever had in my life. And isn't the presentation just flawless? Love it. Not sure if that's Uruguayan style, but the male waiters were all walking around in skin tight, short denim shorts.(?)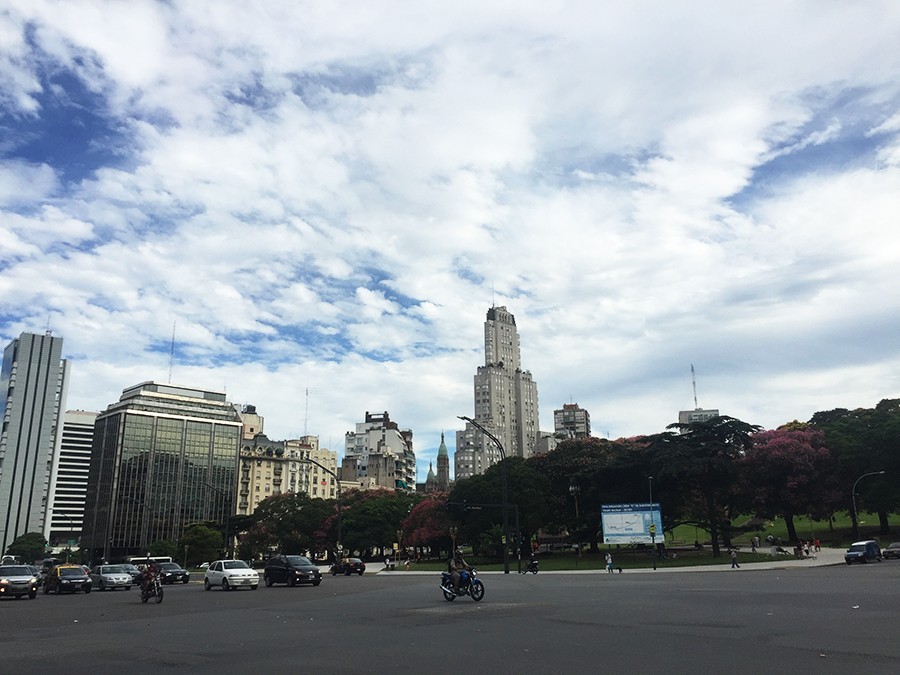 Even random intersections in Buenos Aires are pretty. So much love for this city. This was one of the very few days that the weather cooled down a little: so refreshing.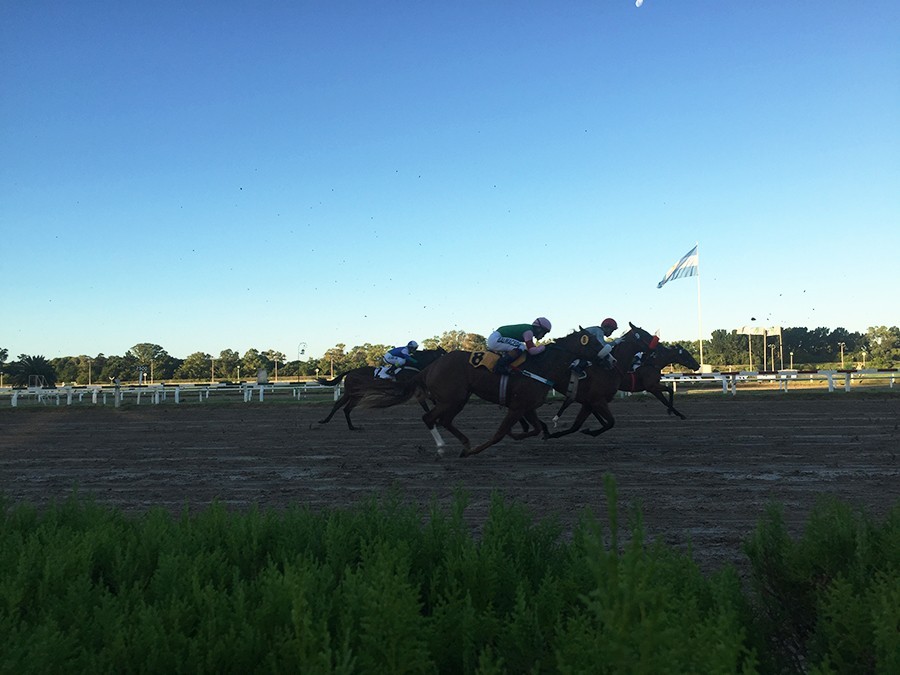 At the horse races. Absolutely loved watching them from up close, THAT close that we got mud dropped on us from the horses feet.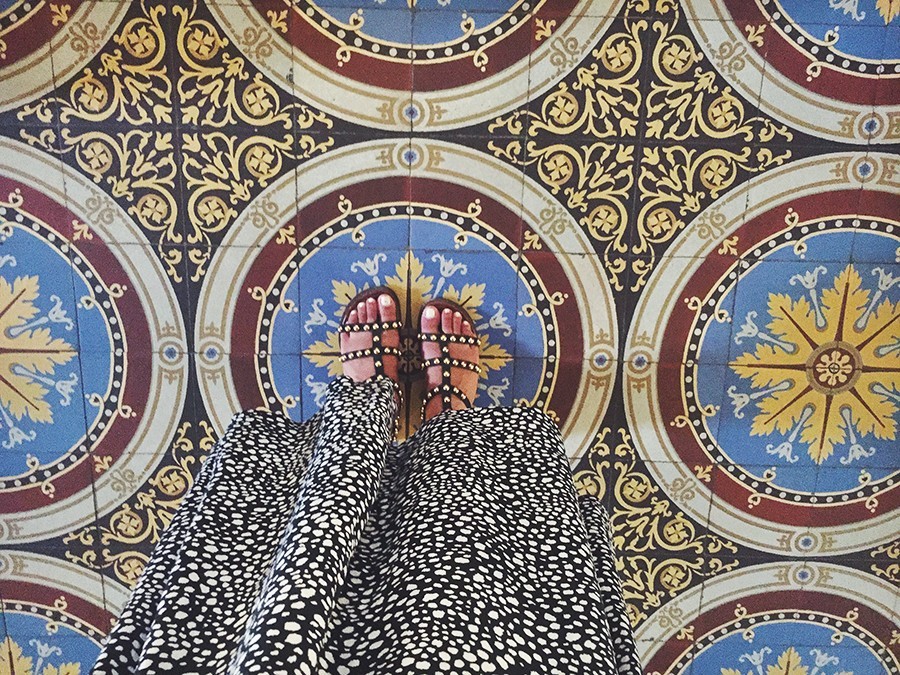 Accidently blending in with the mosaic floor in a cathedral we visited in Montevideo.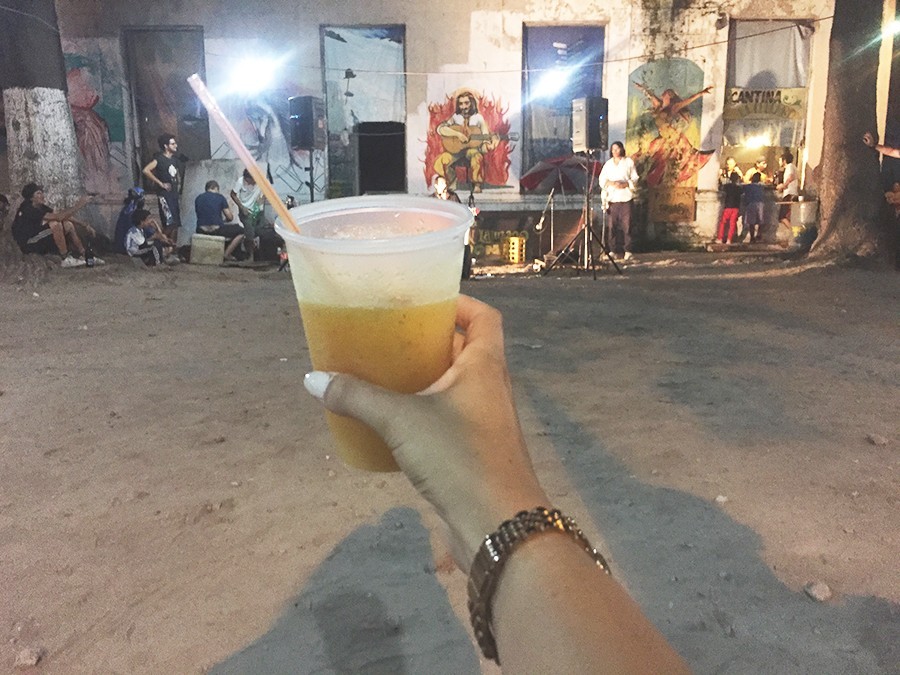 A cool street festival we came across in San Telmo while looking for a place to have dinner. Don't mind if we have a drink instead first? This was a freshly squeezed peach and orange juice with Vodka. Might be my new favourite drink.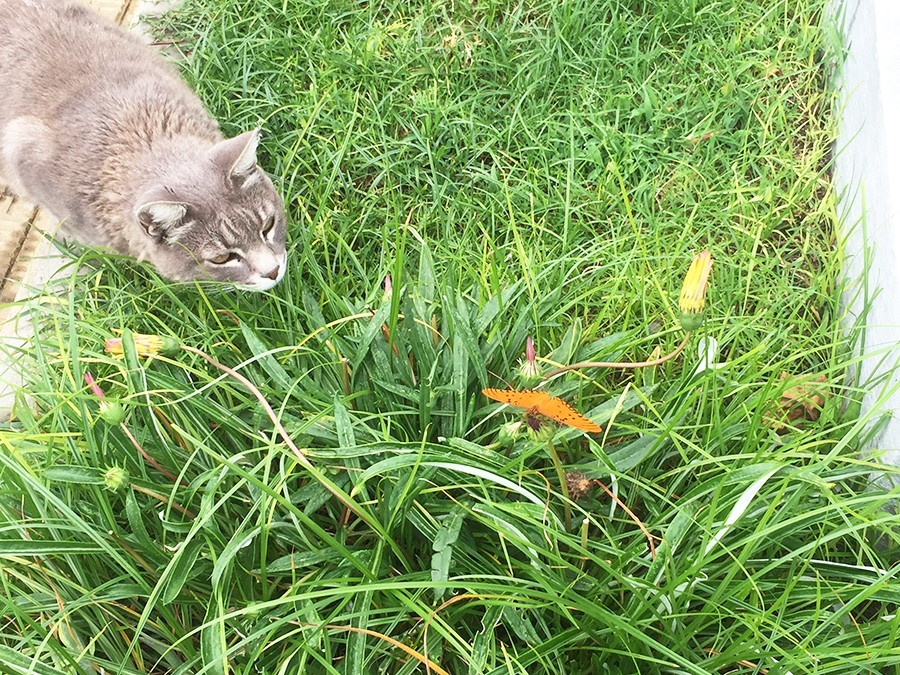 Cat is ready to attack butterfly in Recoletta. Wondering what happend next? The butterfly got ripped apart. Kidding, it flew away just in time.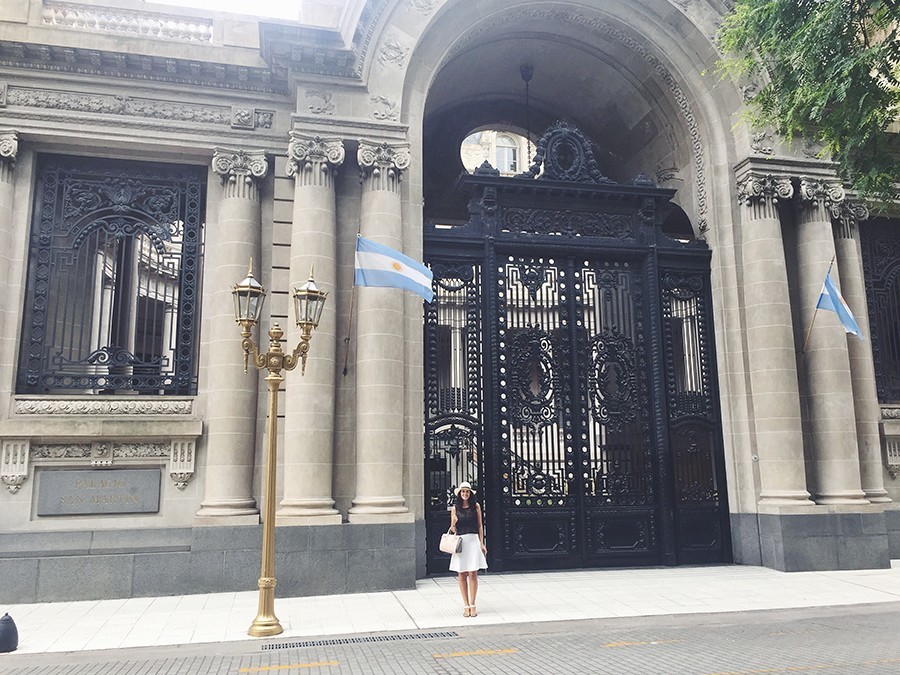 There's too many beautiful buildings in Buenos Aires!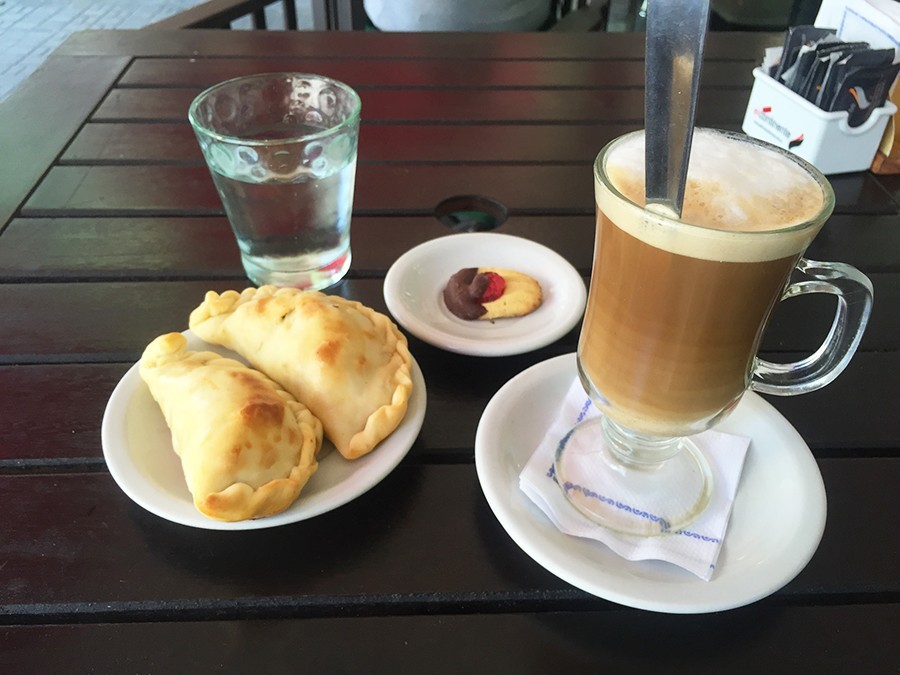 I posted this photo on Instagram only to have a comment from my Argentinian friend in Perth immediately to tell me that what I'm eating (coffee with Empanadas) isn't exactly a very traditional combo. Haha, might be but it tasted good!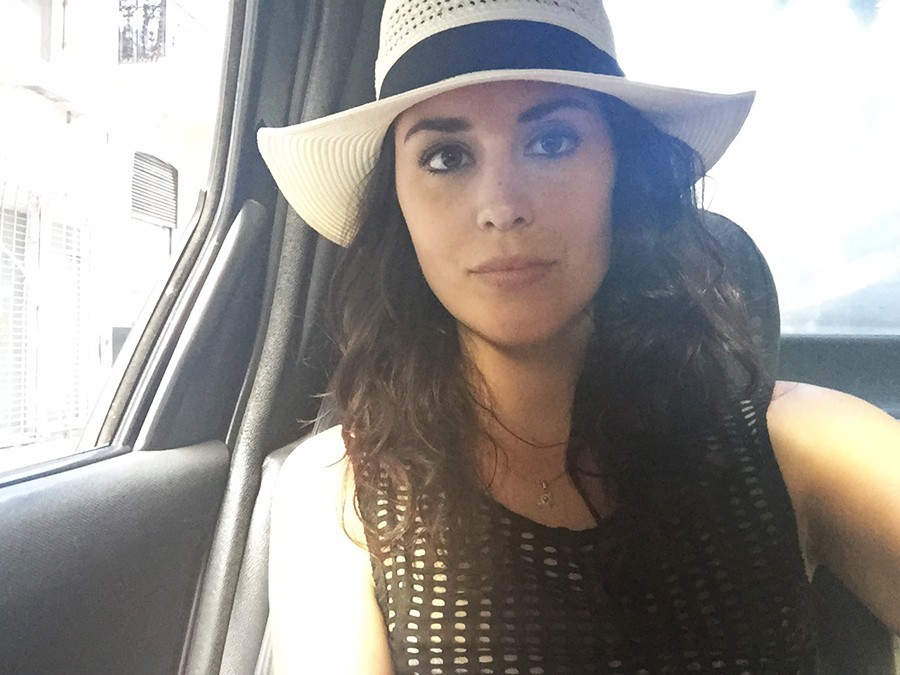 Taxi selfie. I love taking taxi's in new cities, such a relaxing way of getting to know it.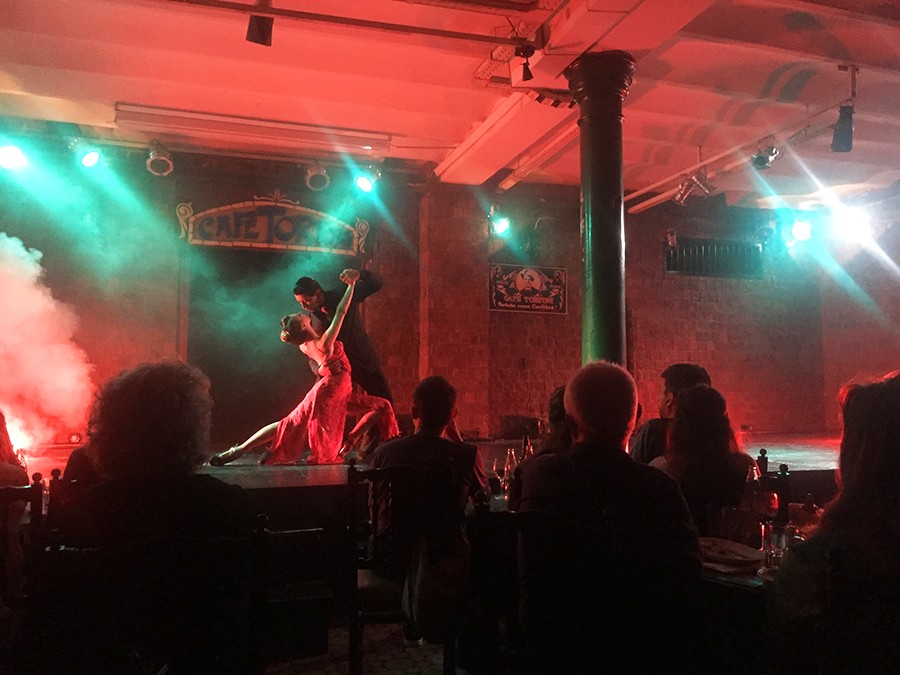 Went to a Tango show in café Tortoni with new friends. I was truly blown away, it's SO passionate and beautiful.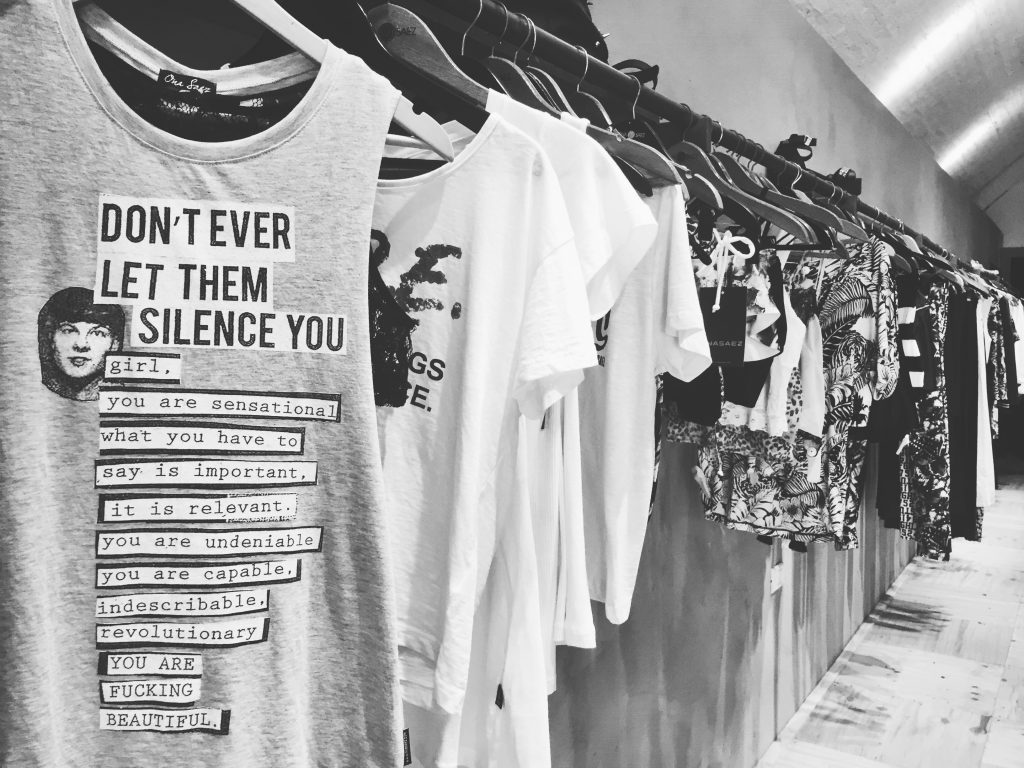 Well, that's a very deep quote for a t-shirt. But I kinda like it. Don't forget: you're fucking beautiful.
Shop What I'm Wearing:
[show_shopthepost_widget id="557983″]