Looking back through the photos I took in Argentina, I realize how much I've enjoyed being behind the camera and capturing the city through my own eyes. I've taught myself how to use it in manual mode over the past couple of months (by no means saying I'm a pro) and it has been so much fun playing around with that. Here's a big photo diary with shots from my Canon 600D and some more inside stories on what I've been doing while in Buenos Aires.
One of the best things in Buenos Aires (especially when you love taking photos), is that almost every street, square or building looks incredibly charming and full of character. I'm usually easily annoyed dragging along a heavy camera all day long, but I'm so glad I did. In case you're wondering why I'm carrying the same tote in almost every photo? Because it's the only bag that fits the camera, lol. The tote is from Topshop and I bought prior to my travels for that purpose, because I was unable to find a decent looking camera bag. Read: a bag that doesn't ruin a fashionable outfit.
Like I mentioned in my Iphone diary, the first couple of days my brother took me around Buenos Aires showing me so much from the city already, but I re-visited most of it throughout the next weeks just because I can! It's so nice to walk around and explore, stop for coffee, do some people watching and simply… enjoy. I've for example been twice to the Cathedral on Plaza De Mayo, because I found it so beautiful. (photo 3), the same counts for Recoleta (photo 5).
Like usual, I wouldn't know what I would have done without my Lonely Planet guide. While most certainly not ALL the hotspots are in there, it did get me to some of the best places that I'd otherwise not have found out about, like Skybar (photo 19) or Florería Atlantico.
On Sunday's there's a market in San Telmo that is so much fun for strolling. At first I thought it would just be one single square with market stalls, but it turned out to be much larger than that. Streets were lined up with stalls for as far as you can see and while a lot of it is tourist-orientated, you can also find many authentic goods like antics, beautiful silver jewelry or handmade mate cups (photo 10). I bought one and got my name engraved in it, the best souvenir! Even though I'll not be using it to drink tea from, I love having it as decoration at home.
If you've read my one of my previous posts, (Solo) Travel: How to get strangers to take your photos, you know that most of the photos you'll see of me in this post have actually been taken by random people on the street. While not all of them turned out that great, many of them I love! It's funny how now every photo I see of myself has a memory of the people I talked to and helped me. I also only realize now while going through the photos and look at them more closely, how many photo bombs people have been doing on my photos, haha! How many do you spot?
On the same day that I went to the San Telmo markets, I also visited La Boca. A neighbourhood in Buenos Aires that these days is mostly know for tourists as the place with the colourful houses like you can see in some photos below. It's quite a rough neighbourhood, so I'd definitely not recommend doing random wandering beyond the main attractions. I only saw how bad it really is when I took a taxi back to my apartment and we crossed the entire neighbourhood. It doesn't seem like a safe place to be. The 'good part' of the neighbourhood is incredibly touristic, but still fun to visit just for the pretty colourful houses!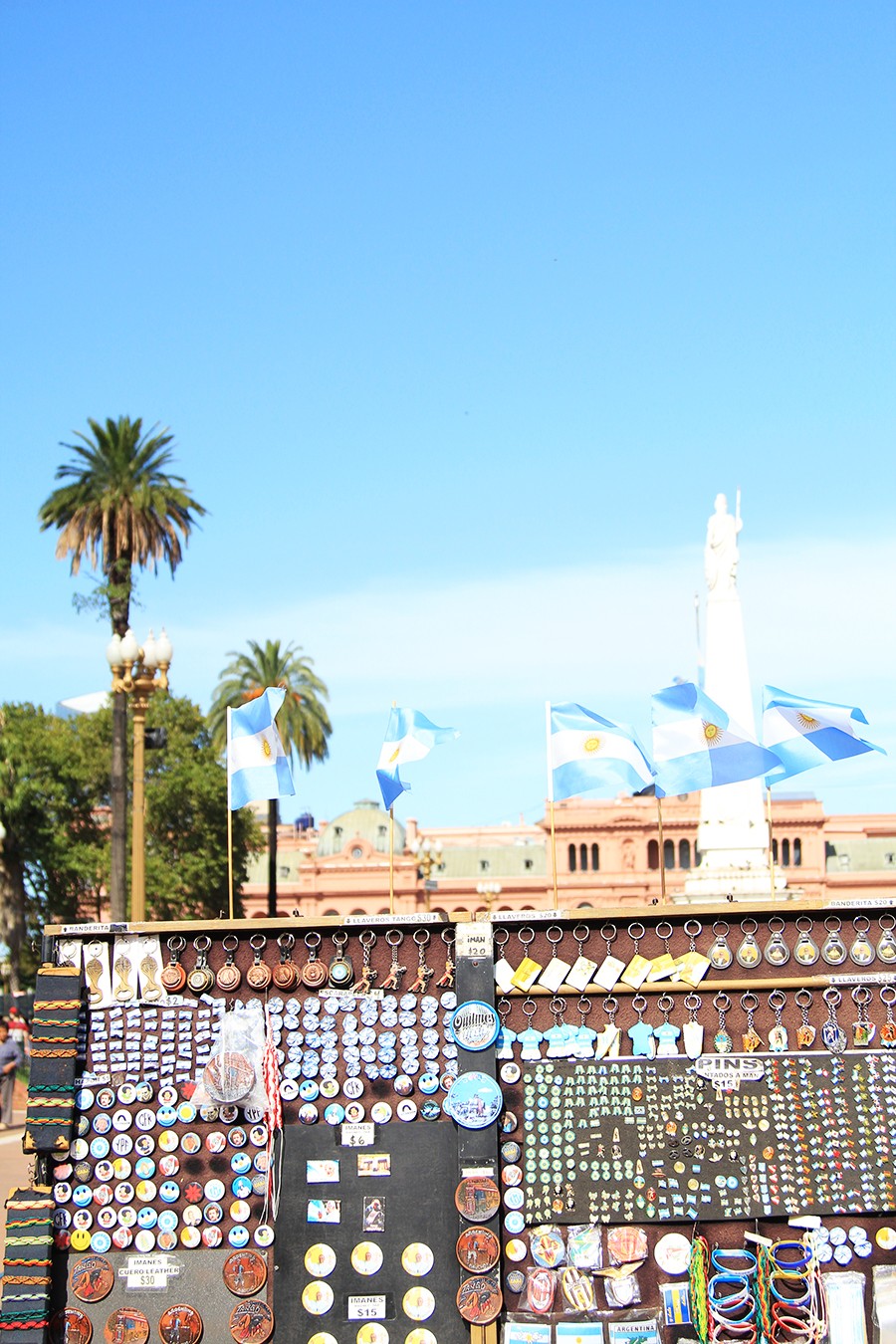 Souvenirs & Argentinian flags at Plaza de Mayo. I probably stood here for 15 minutes in order to get this photo just right…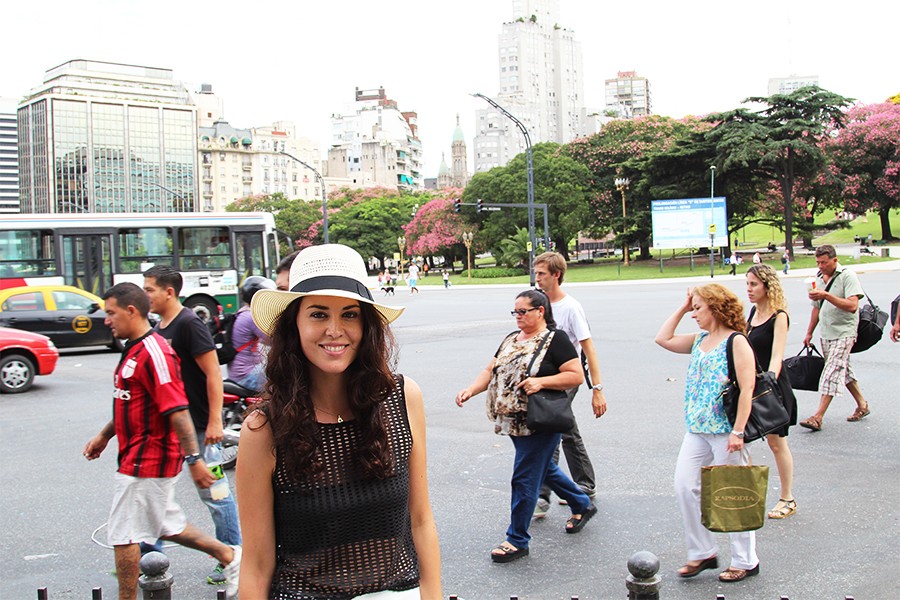 A random intersection in Buenos Aires. Came passed here after my brother and I came out of the train station from a day  trip to Tigre.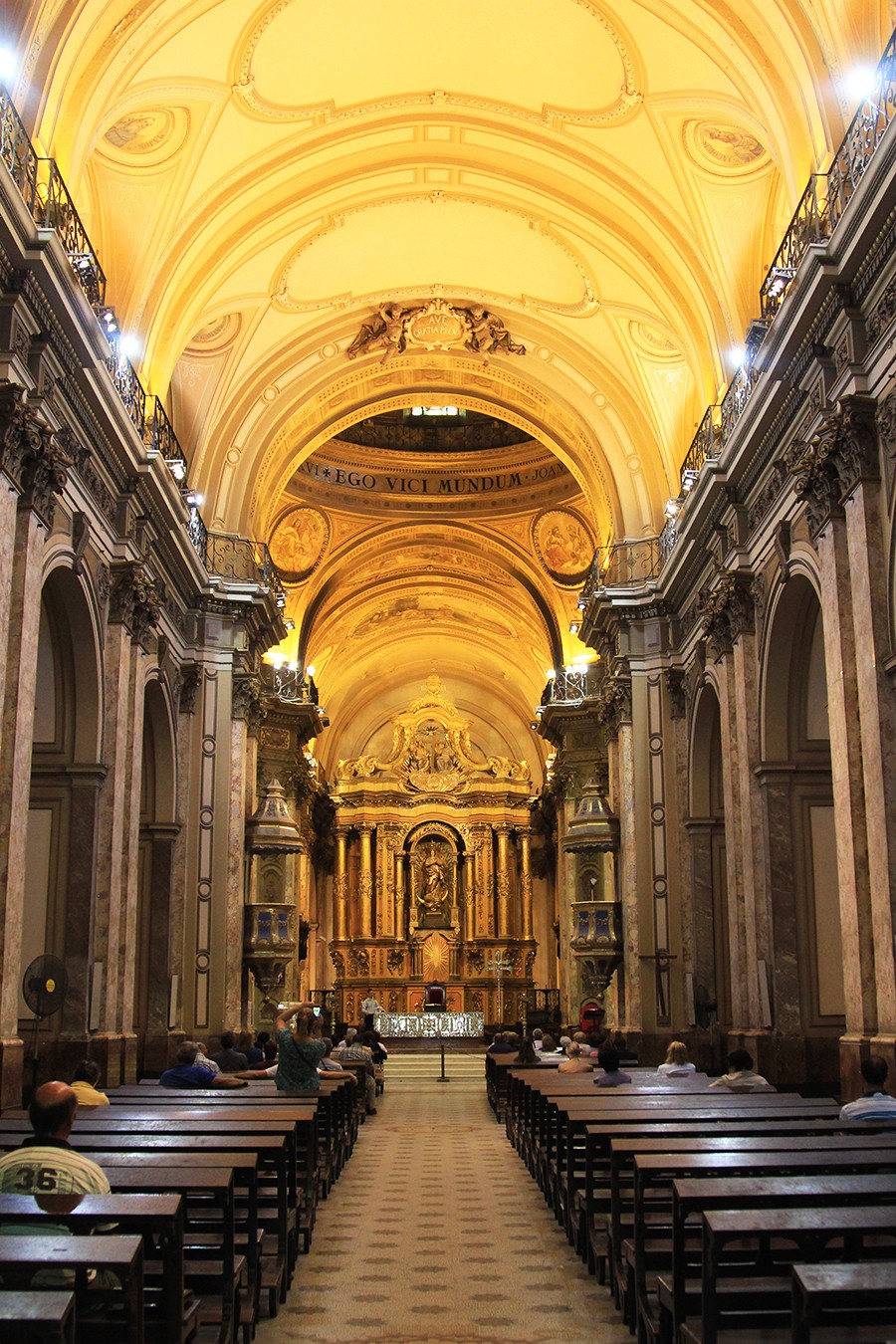 Cathedral Metropolitan, such a magical place.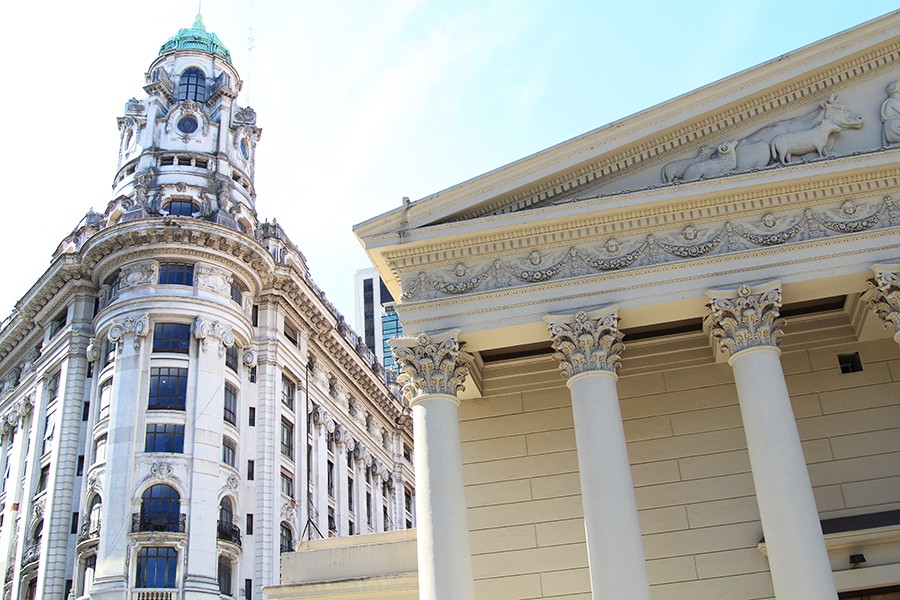 Cool architecture details from outside of Cathedral Metropolitan.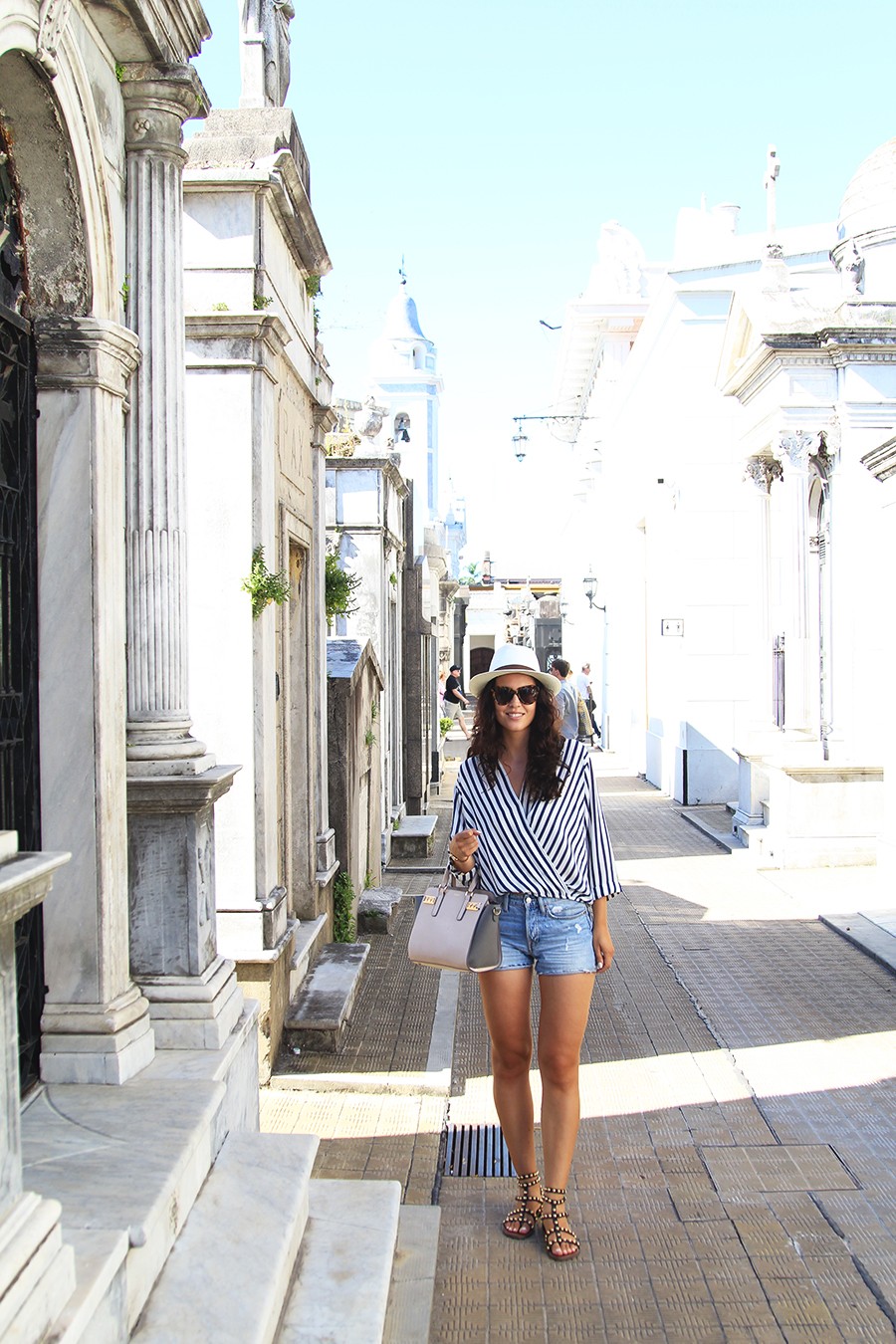 Wandering around in La Recoleta Cemetery. It might sound a bit creepy and weird that a cemetery is considered one of Buenos Aires most important attractions, but when once lay eyes on the astonishing  marble mausoleums and statues, it all makes sense.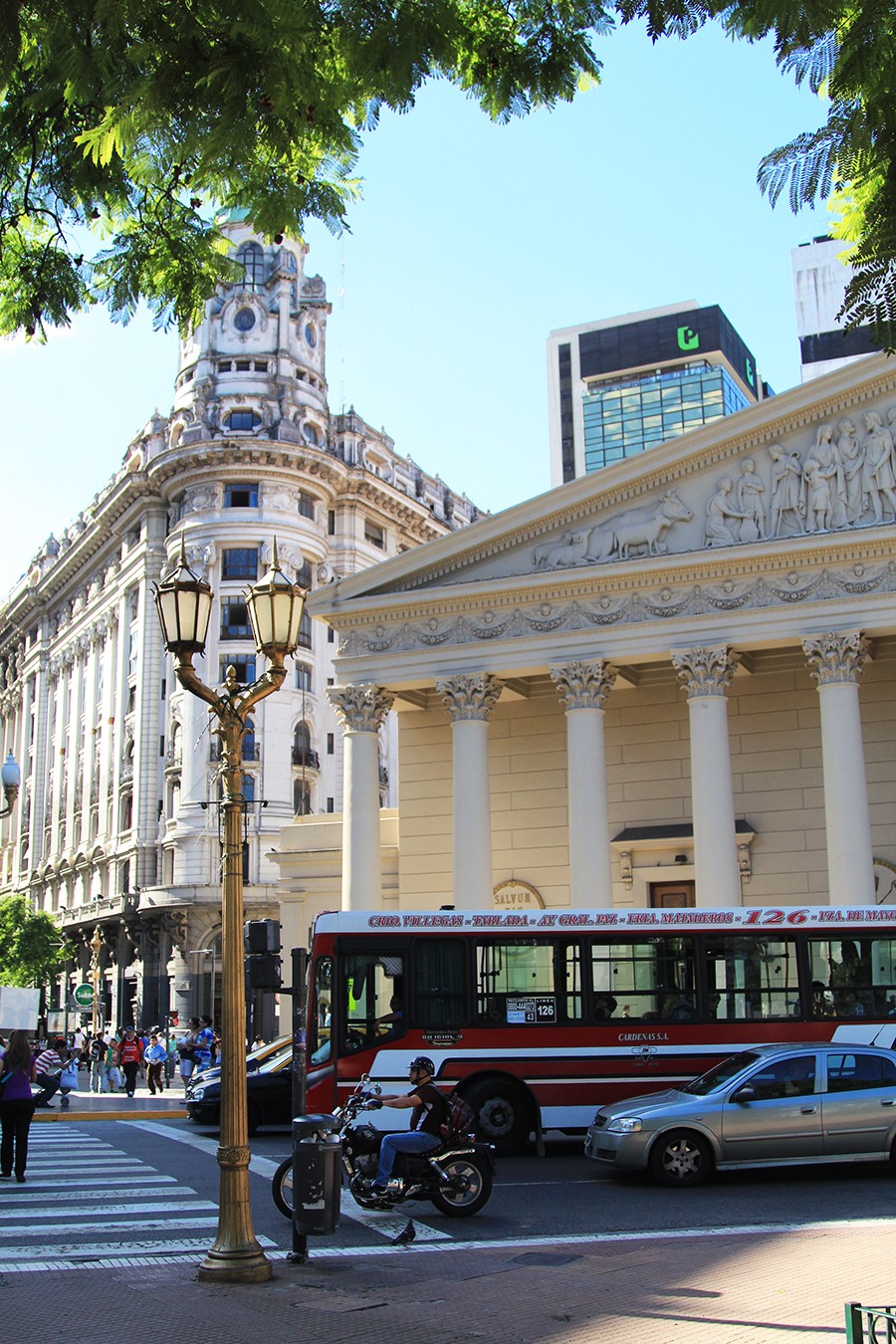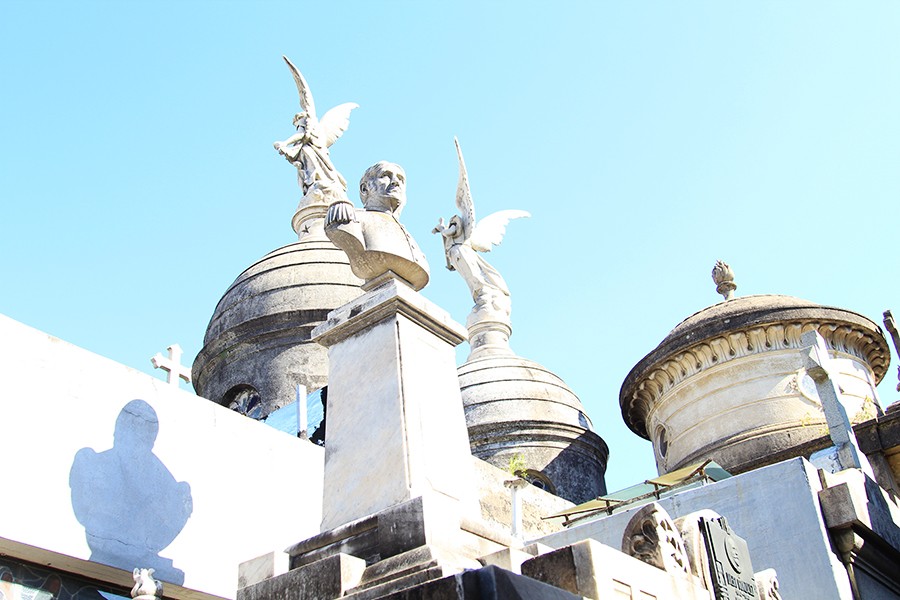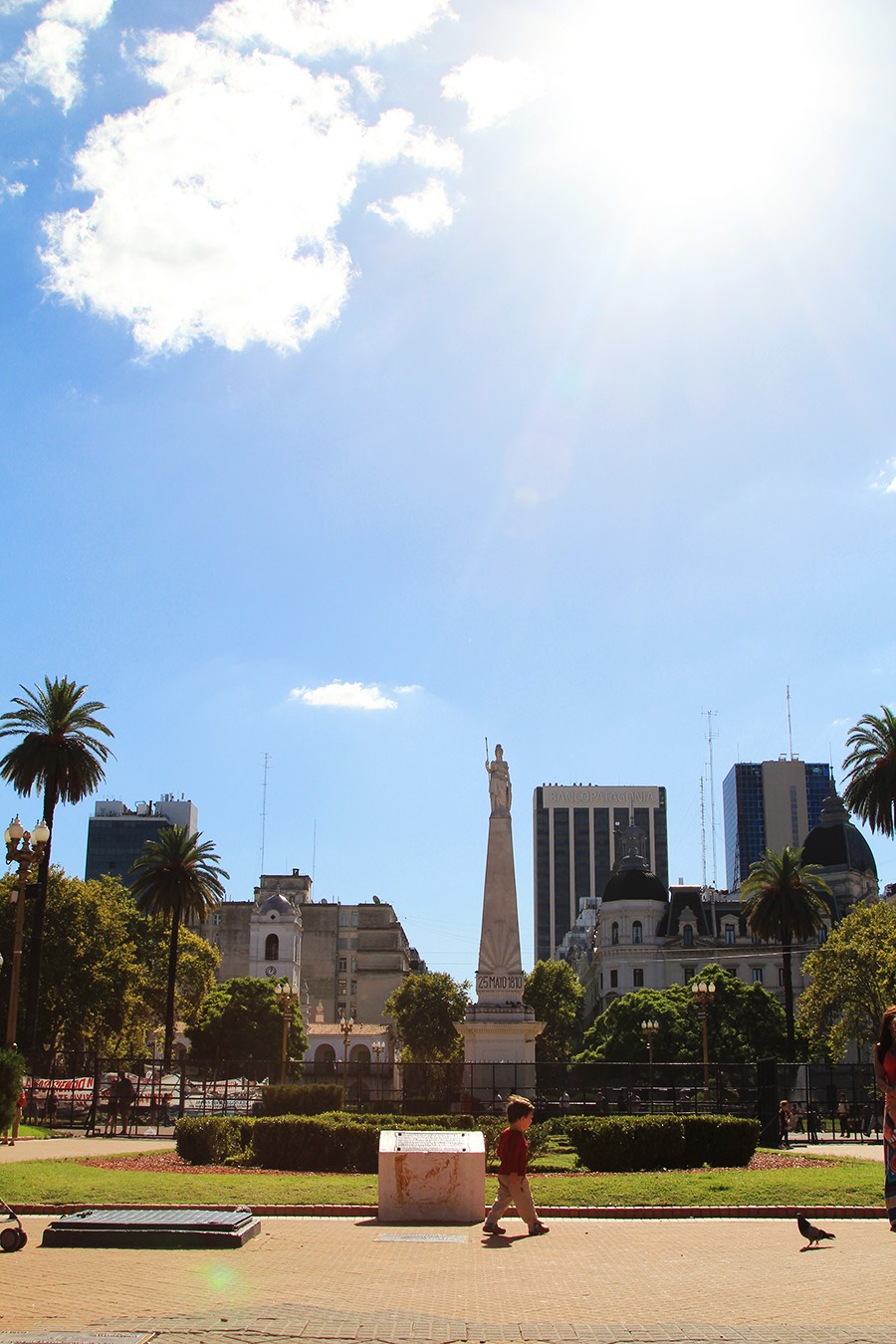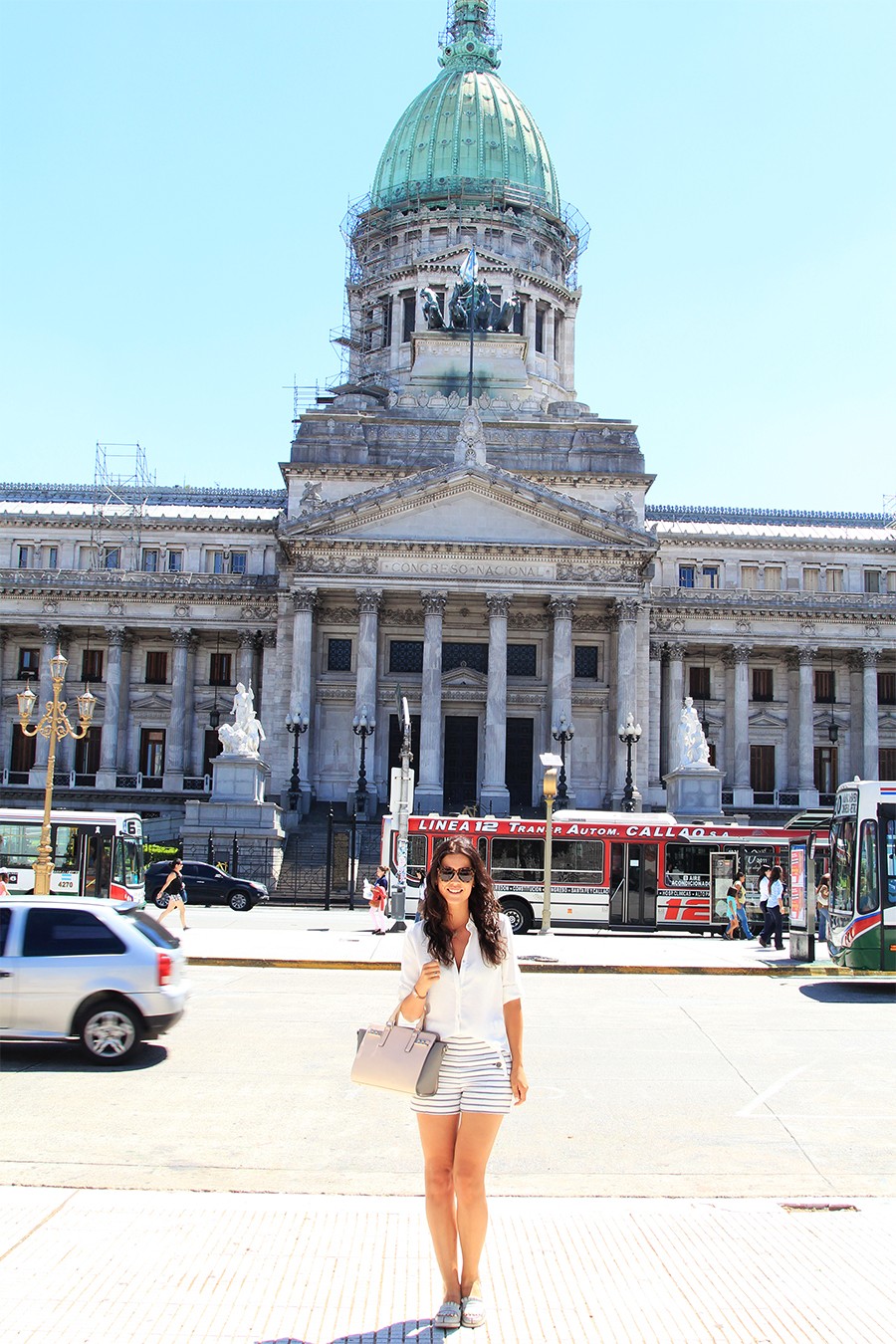 The impressive Congresso & another one of those moments I asked a stranger to take my photo. Lol.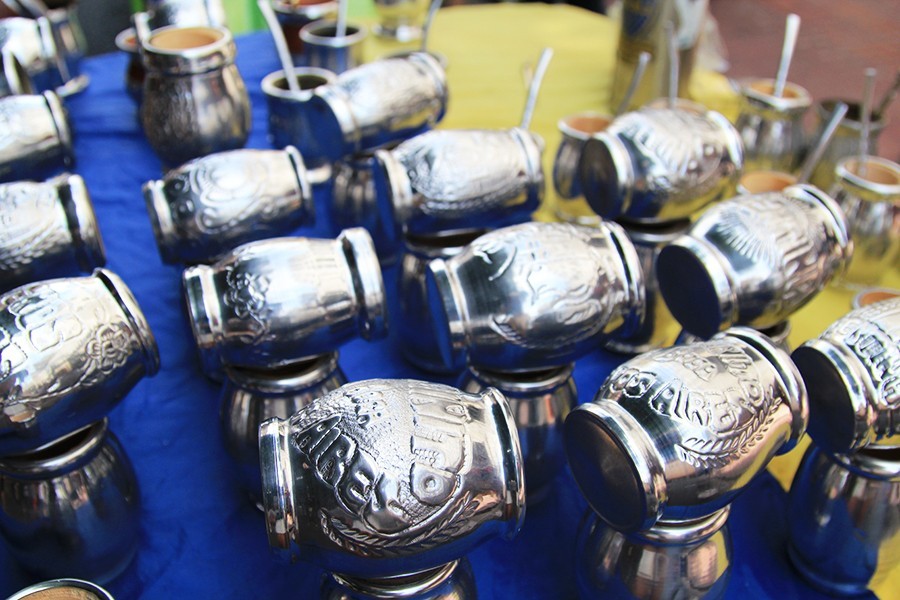 Handmade Mate cups on the San Telmo market. I bought one with my name engraved in it.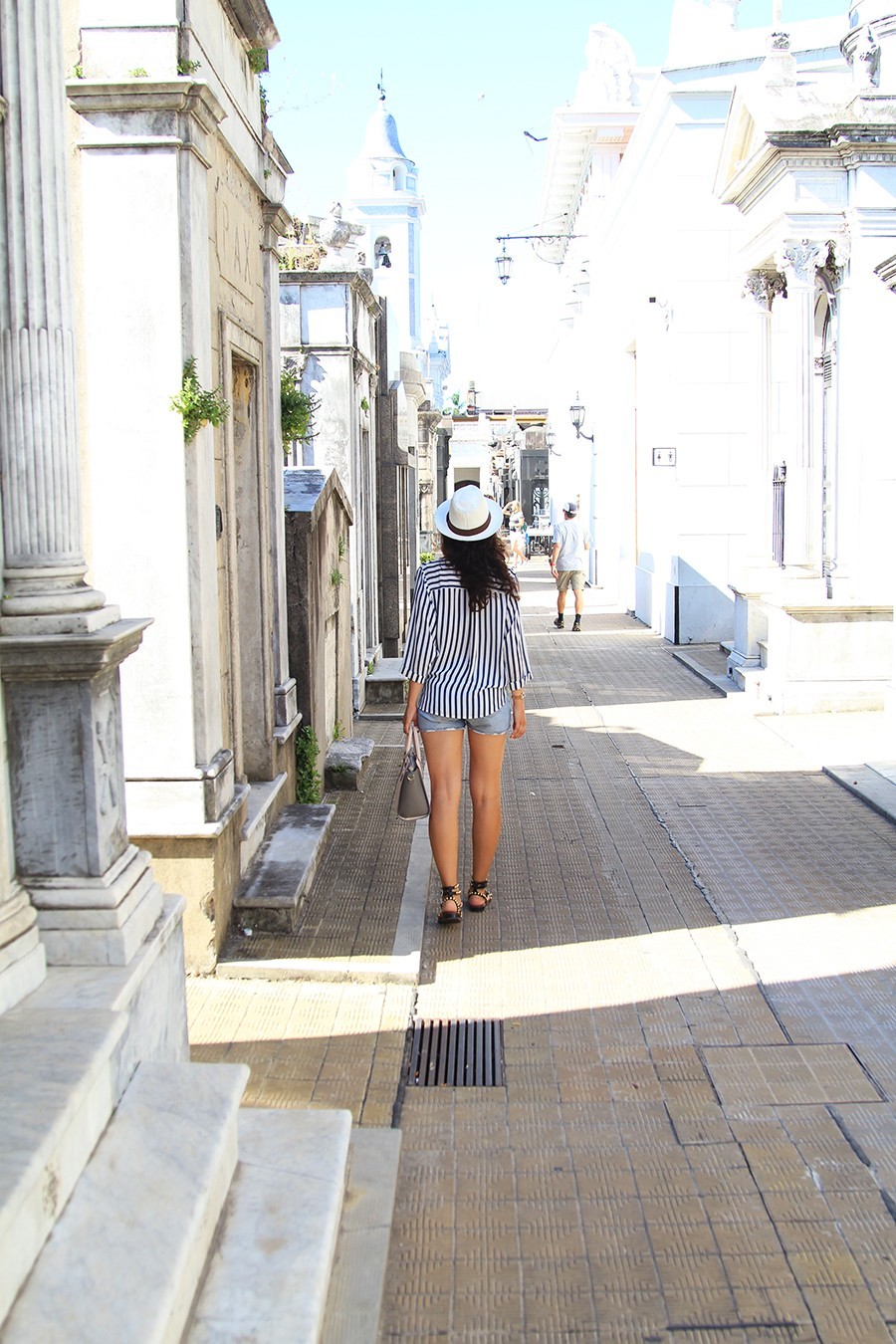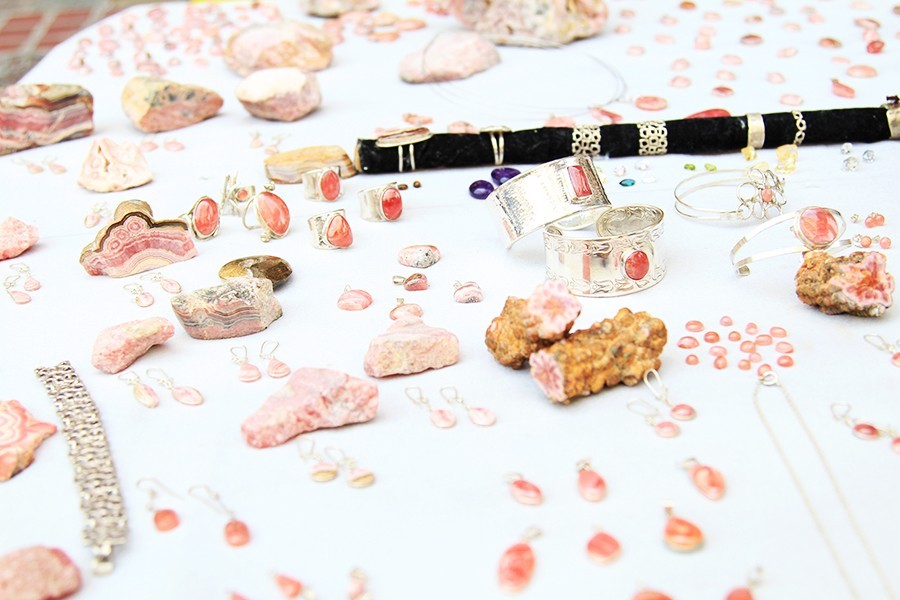 Silver jewelry on the San Telmo markets made with Argentina's natural gemstone called  'Rhodochrosite'.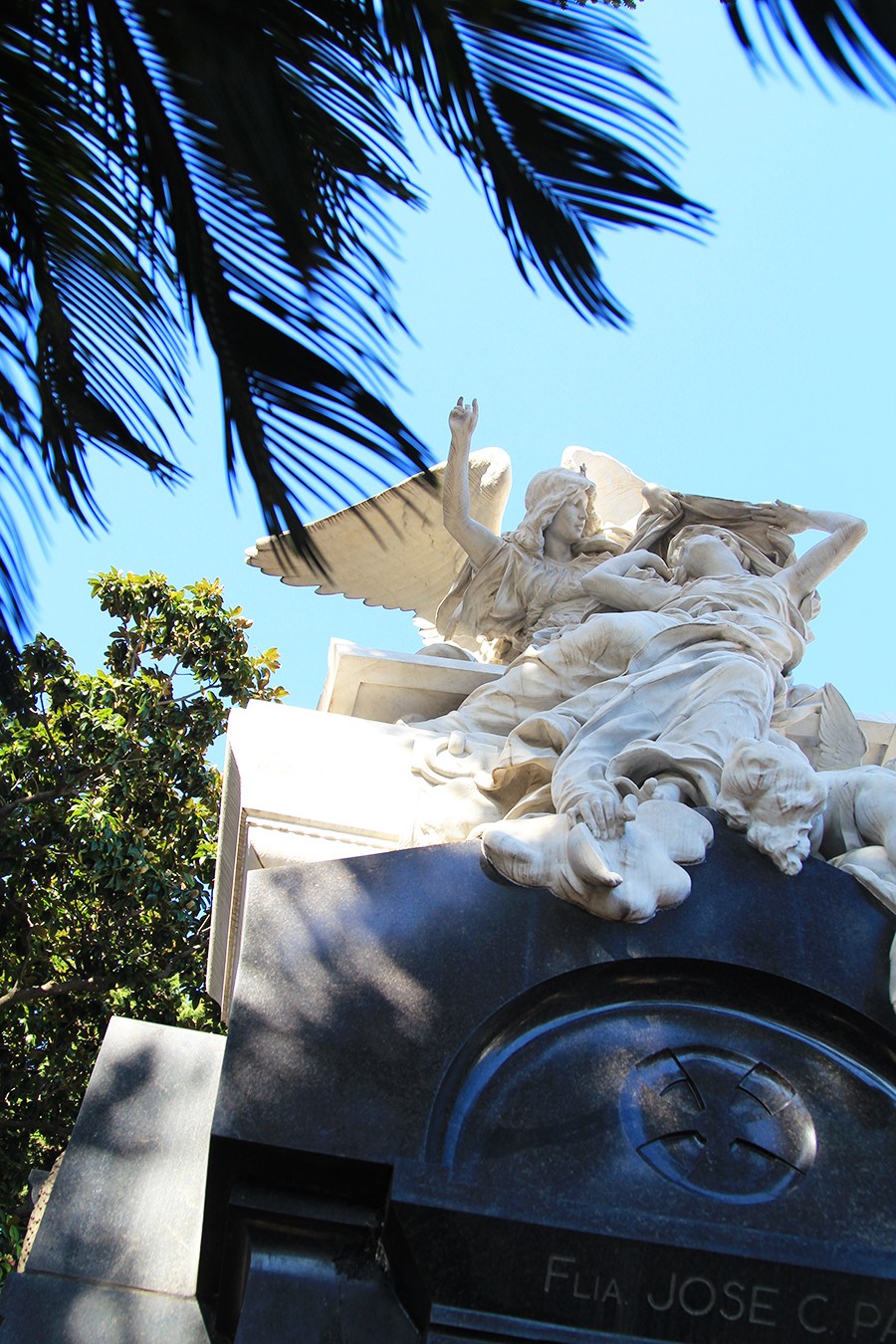 Marble mausoleums in La Recoleta Cemetery.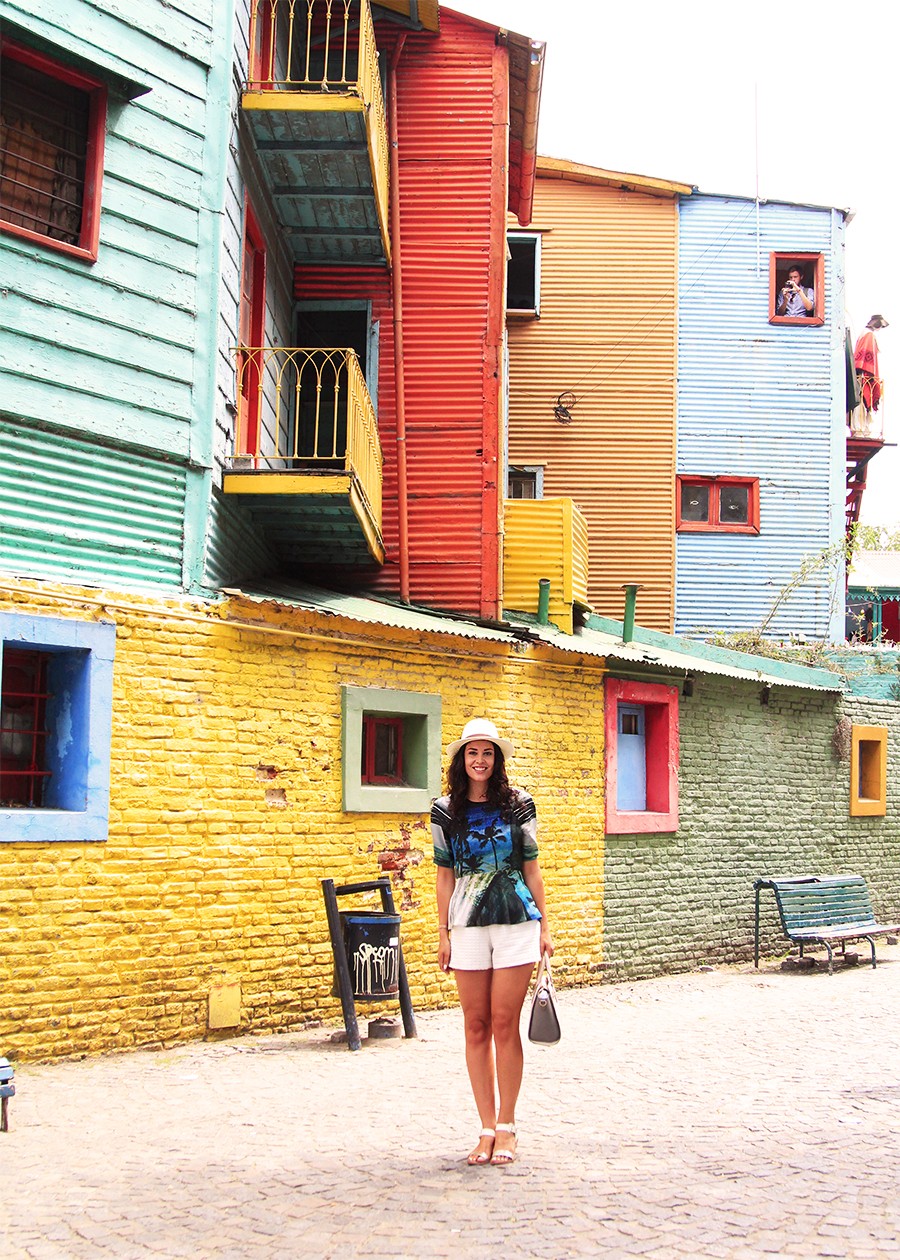 Matching the colorful walls in La Boca with my palmtree top.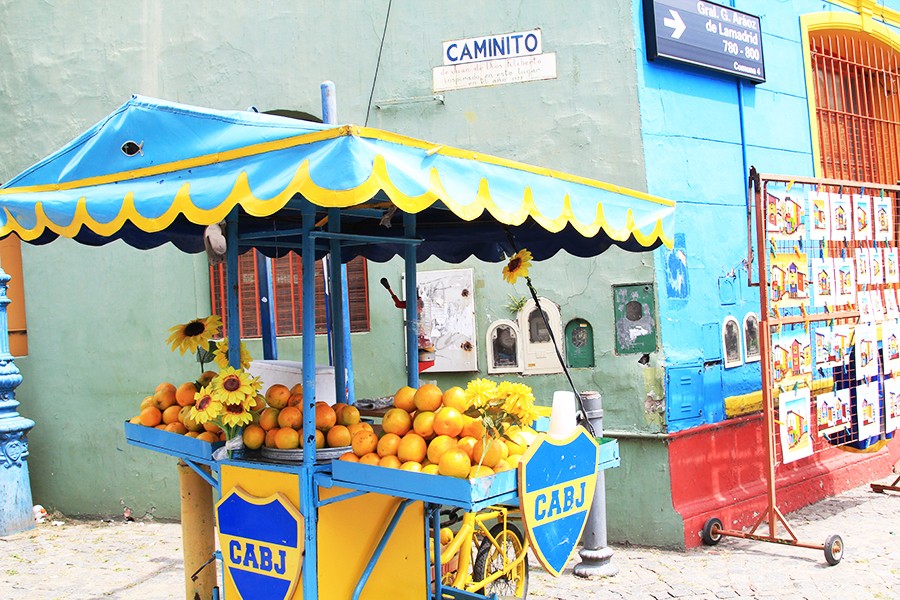 A cute orange stand in La Boca.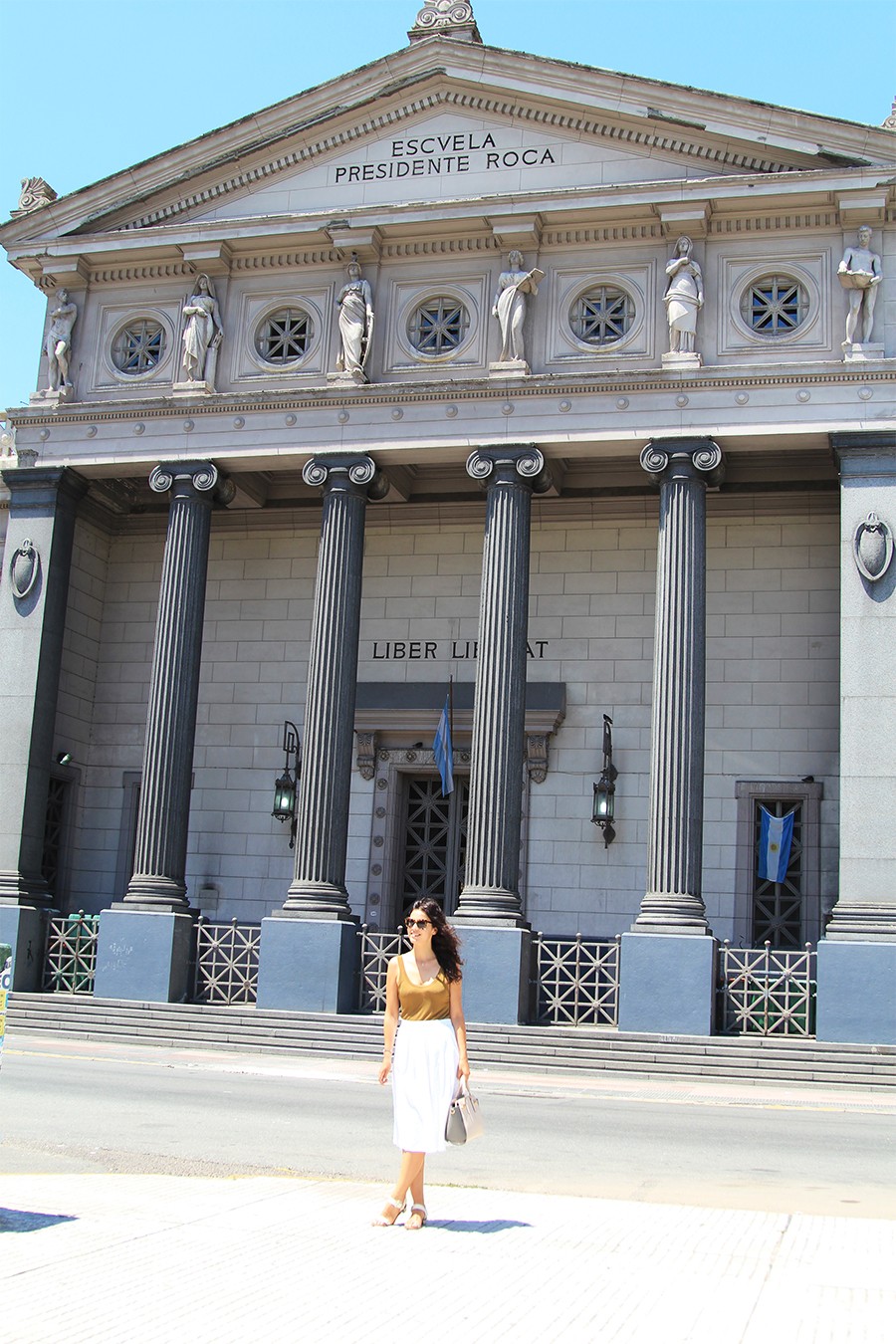 One of those days that I just hopped on and off at different Metro stations that I can't possibly remember the names of. I loved the look of this square with what seemed government buildings…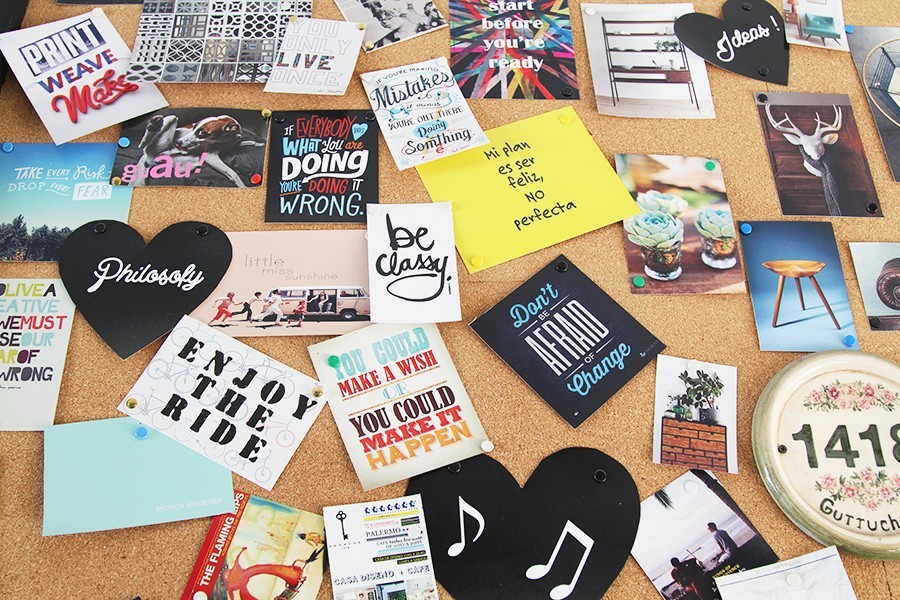 A lot of wisdom on this wall that I came across while wandering around in Palermo Soho. "You could make a wish or You could make it happen"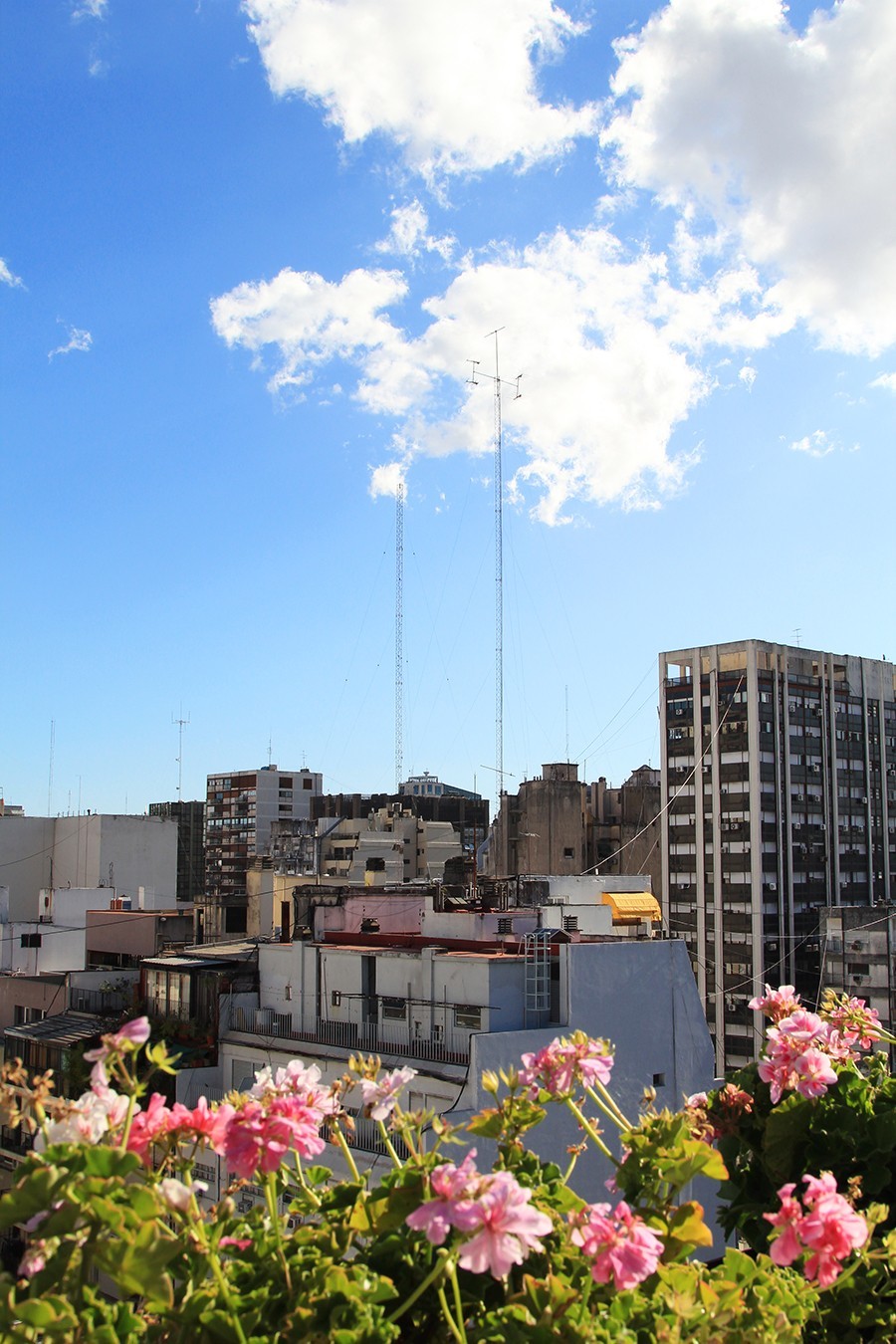 Skybar, you beautiful thing. Thoroughly enjoyed having a few drinks here and enjoying the view, which was by the way even more spectacular when the sunt went down.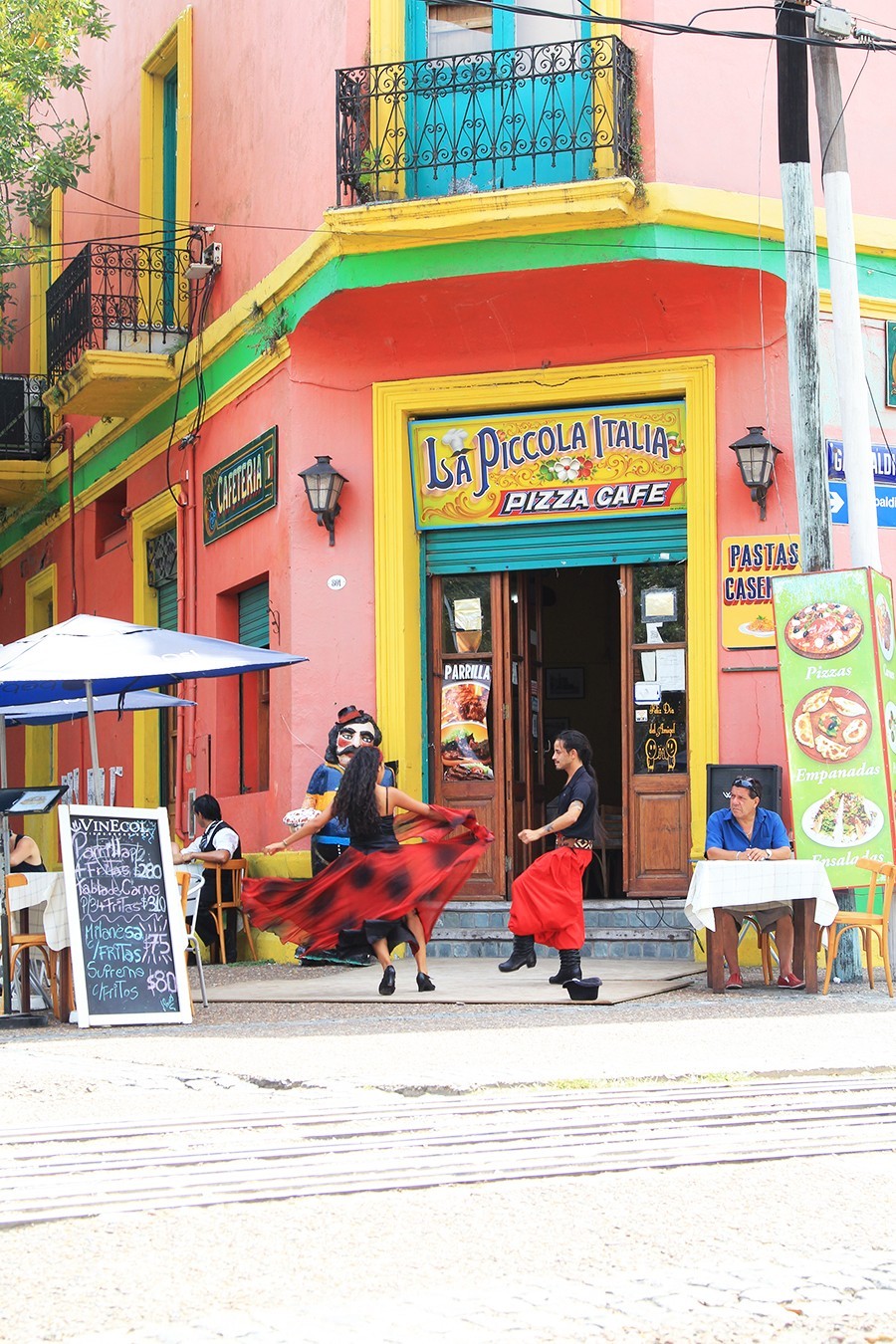 Tango dancers in La Boca.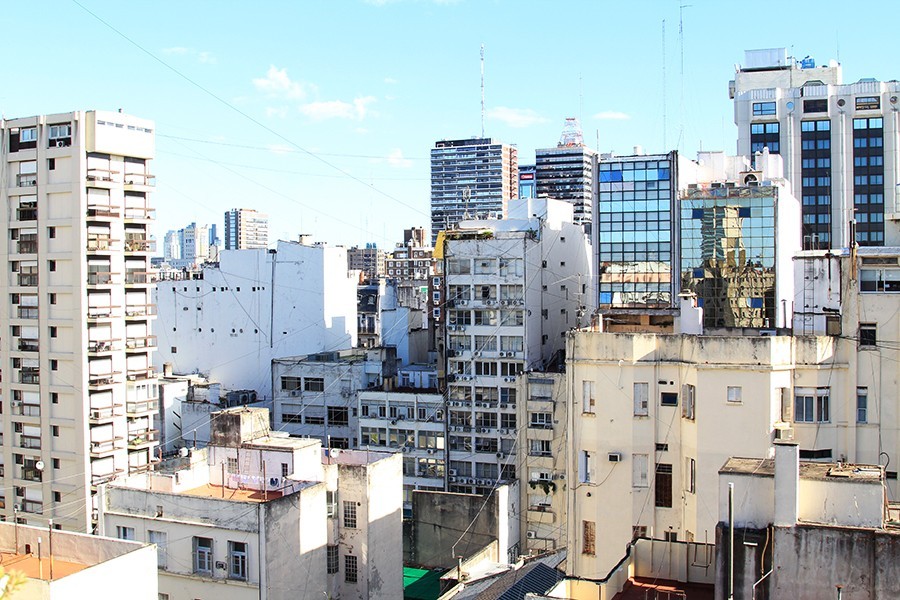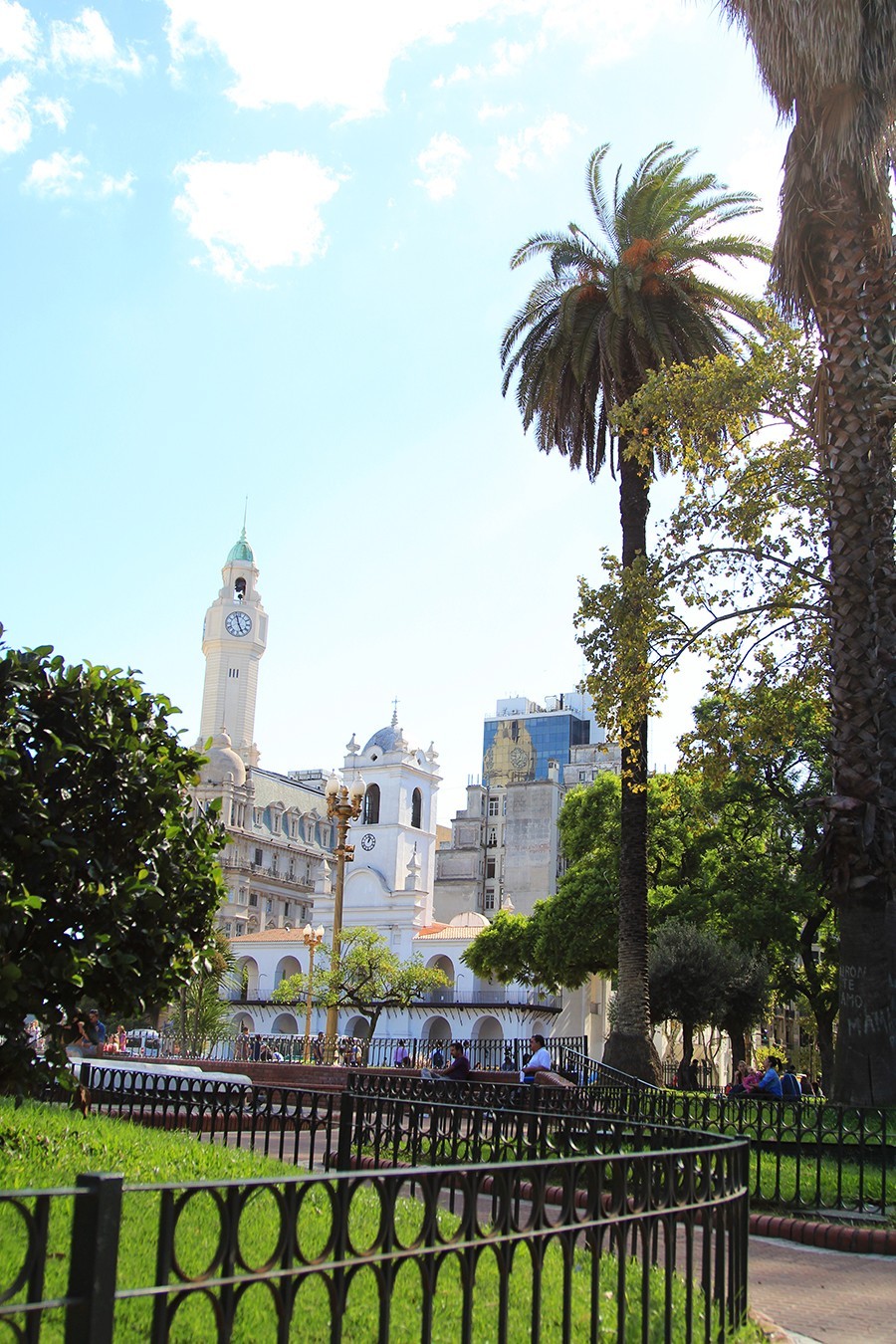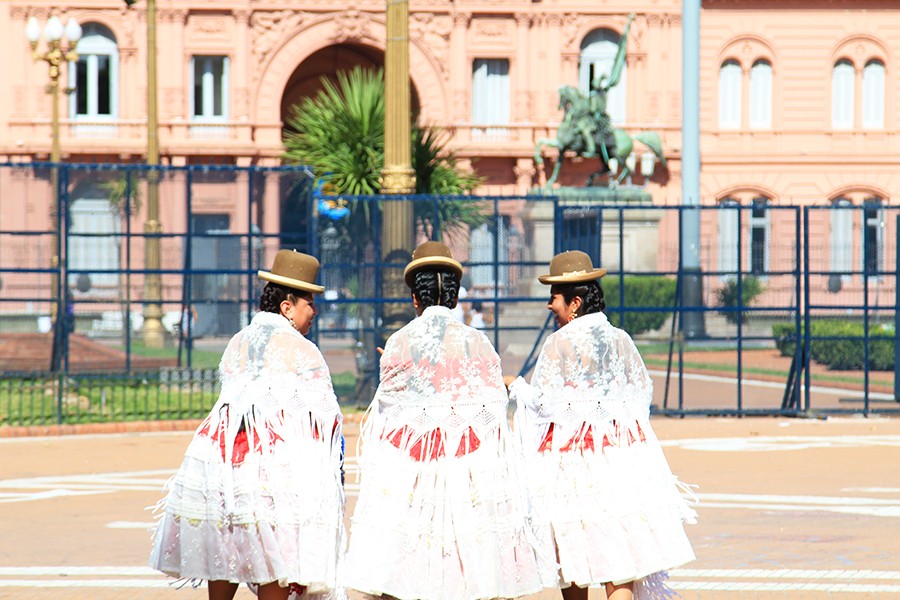 Traditional dancers on Plaza de Mayo. I wouldn't been able to tell for sure where they're from, but I guess it could be Peru or Bolivia?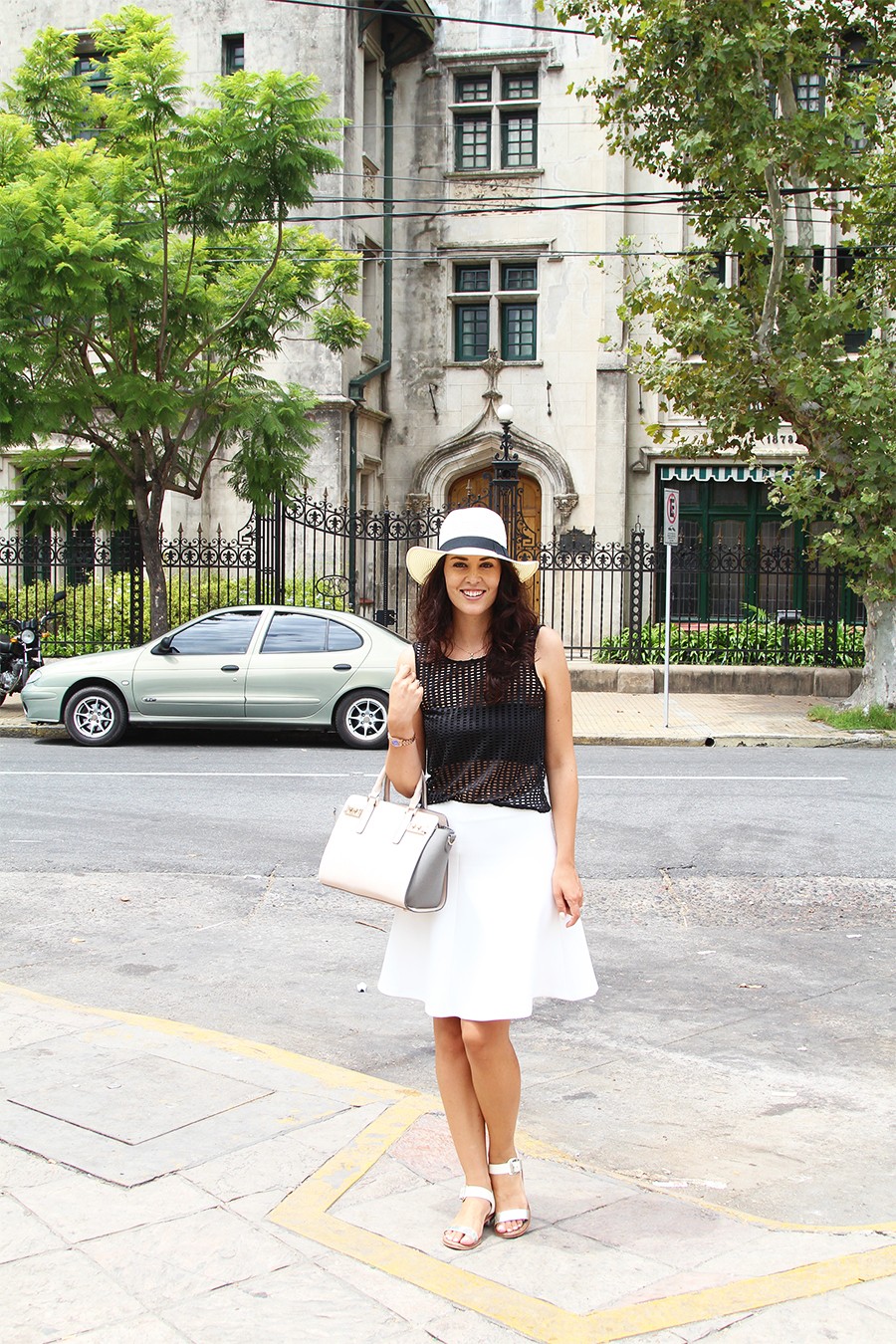 A day trip to Tigre, a city located about an hour from Buenos Aires where I went with my brother.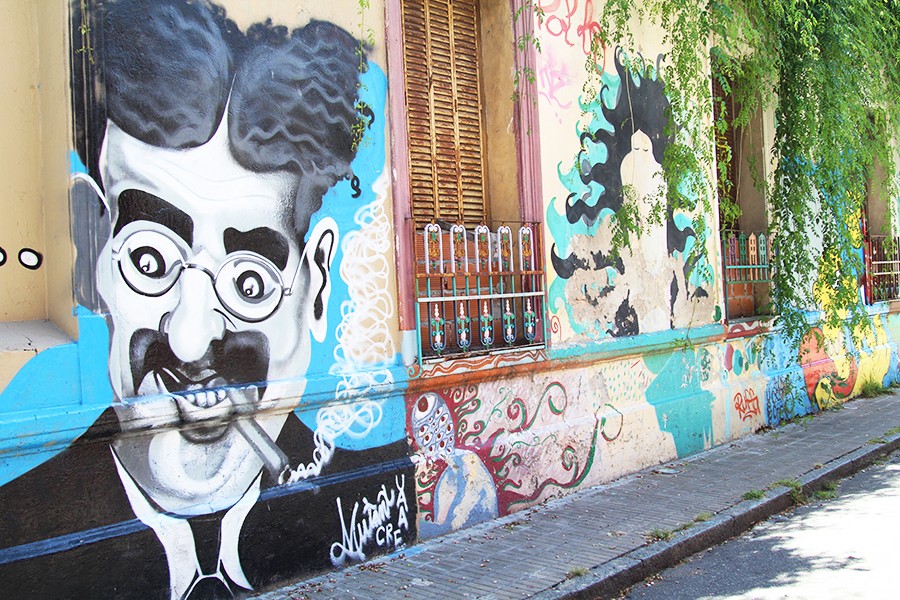 Cool arty walls in Palermo Soho.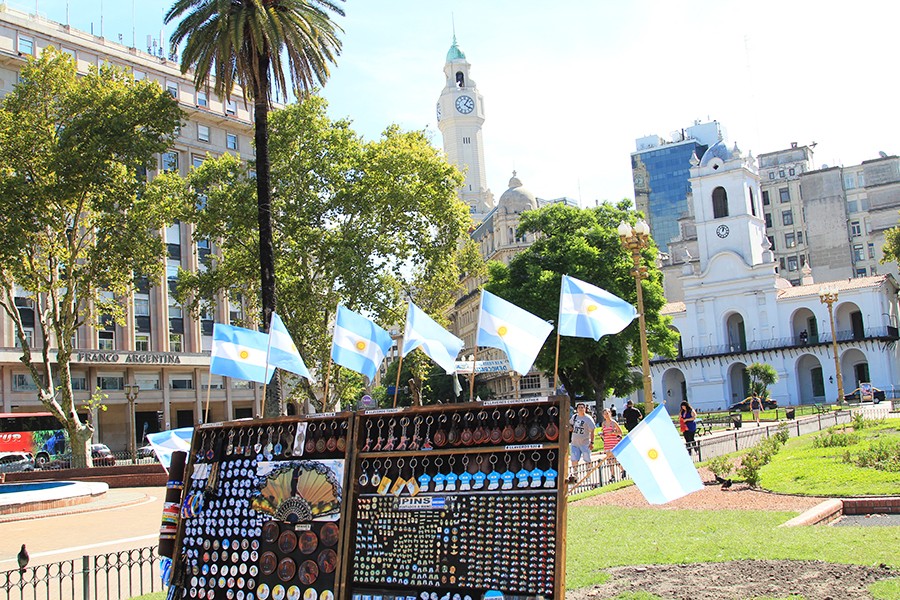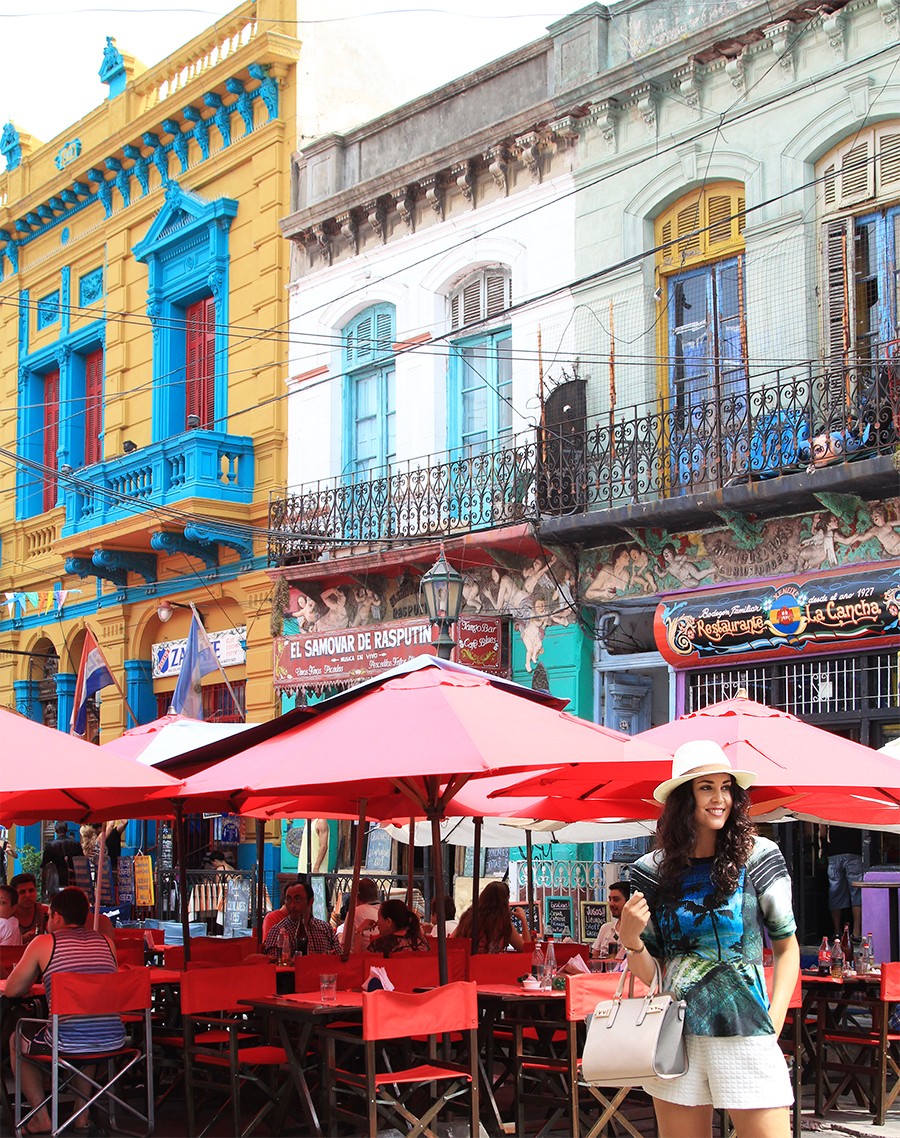 Bright colours in La Boca. And thanks again to a lovely stranger that took this photo!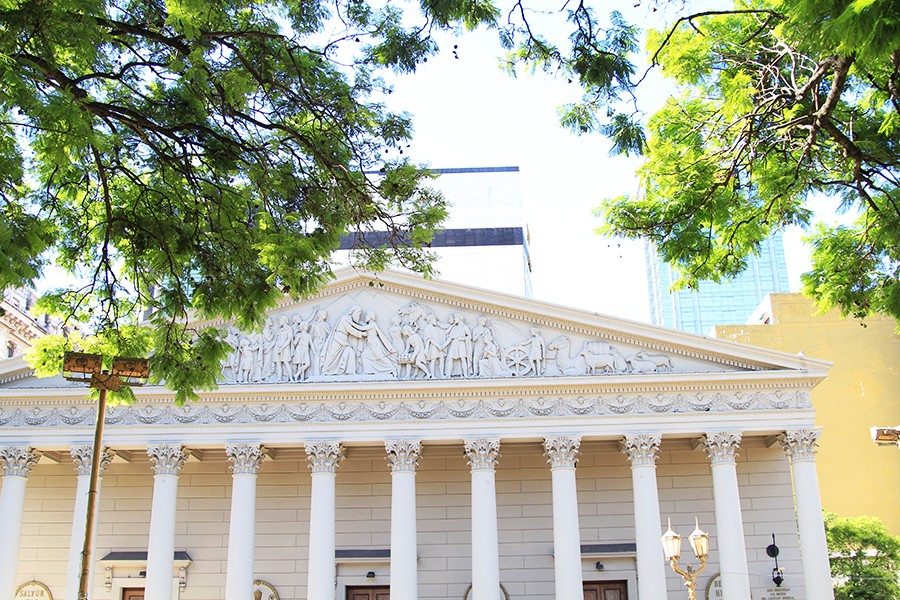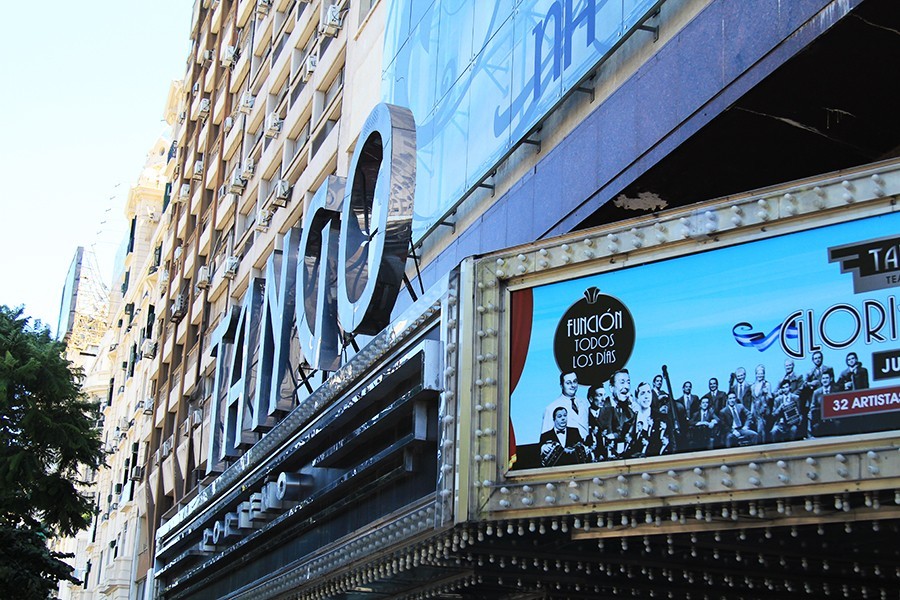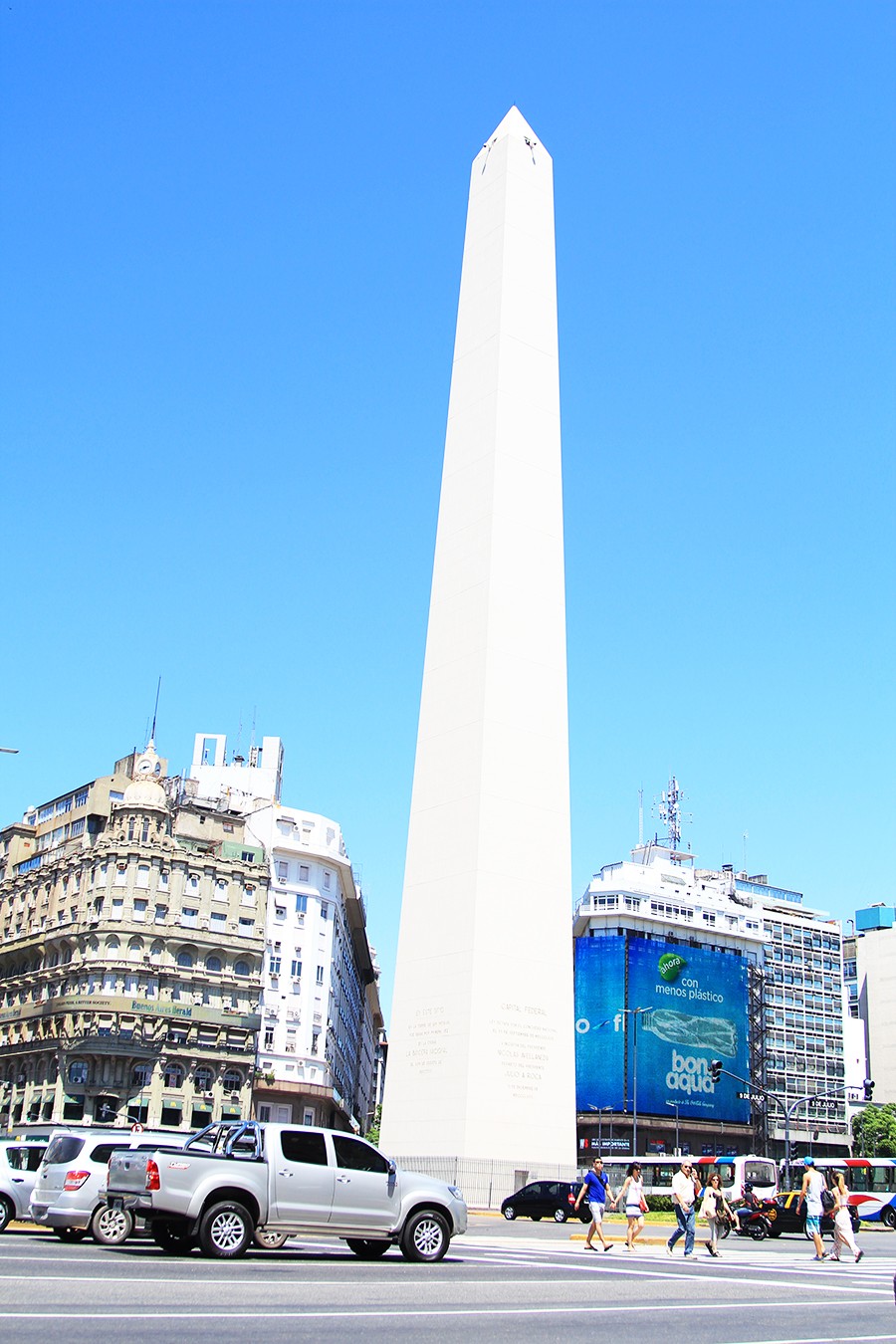 The Obelisk, perhaps the biggest 'icon' of Buenos Aires and therefore had to be included in this Photo Diary. Did you know the street it's located on (9 de Julio Avenue)  is the widest avenue in the world? Pretty cool, huh!
Shop what I'm wearing:
[show_shopthepost_widget id="570091″]