There's isn't a more iconic backdrop than canals, boats and bikes while in Amsterdam. I'm truly falling in love with the city time after time and I hope I'm able to show you some of its magic through my pictures…
Wearing: Geisker gingham print shirt, Zara skirt (similar here), DVF heels (similar here), Asos white bag, Michael Kors watch, MAC Morange lipstick
[show_shopthepost_widget id="754686″]
I wore this outfit to a morning of meetings, followed by lunch with a friend and a little shopping. With so many different places to attend in one day, going for an outfit that's professionally looking, sophisticated, yet a little playful all at the same time is key. Of course while never sacrificing my personal style and identity! Quite a list of requirements, but the pink and white gingham print shirt from Australian designer Geisker manages to achieve exactly that feel. Geisker is a brand born in Perth focusing on quality business shirts, an idea that has been sparked by the limited choice when it comes to corporate shirts that are tendy, feminine and made from quality materials. As you might know, Perth has been my home for the past 2.5 years so I feel very much connected to 'our' local Western Australian designers and I absolutely love finding out about innovative brands that truly fill a gap in the market.
I personally love incorporating business shirts with casual wear too, so prepare to see this one on the blog worn with a pair of white ripped jeans or shorts next time. Today I'm wearing the shirt with a flared white skirt, a pair of metallic silver pumps from DVF and a simple but oh so versatile white bag with golden hardware that has quickly become my go-to choice for outfits with lighter colours.
As per usual lately (see for example this outfit shoot, too), we've chosen a spot to shoot photos where at least a dozen people on the nearby terrace are looking closely at what we're doing. Oh well, it gets easier and less awkward everytime! When we discovered the blossoms on the floor and started using them to get a cool shot, the fun was complete with people laughing and pointing…
PS. Have you read yesterday's post with some BIG news?  Meanwhile there also is a NEW video online on the Click Travel Go youtube channel. Make sure to check it out and subscribe.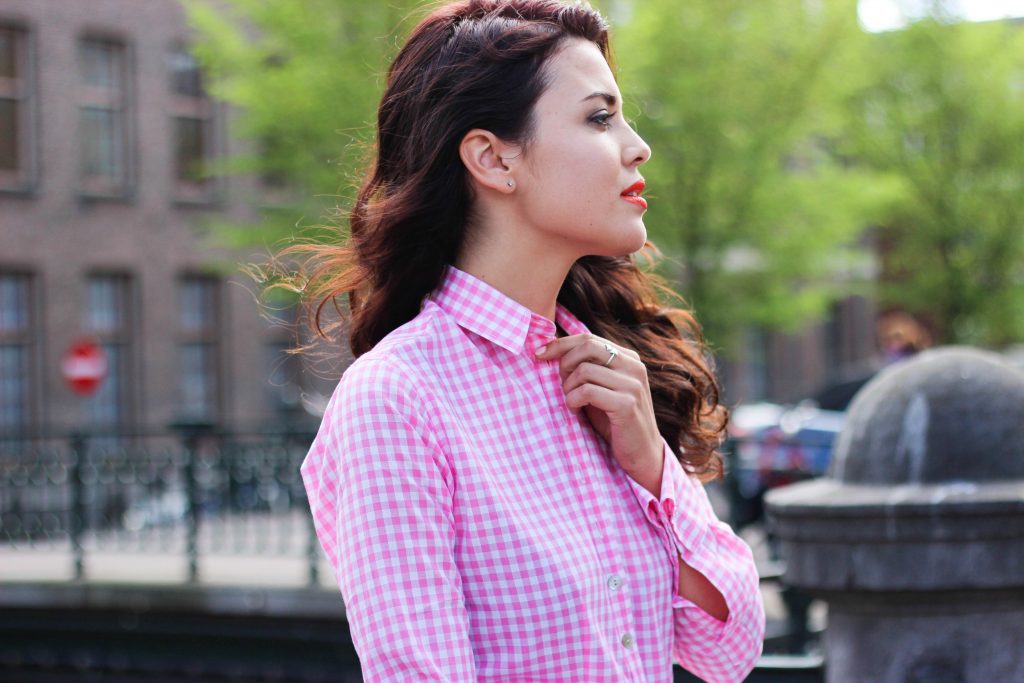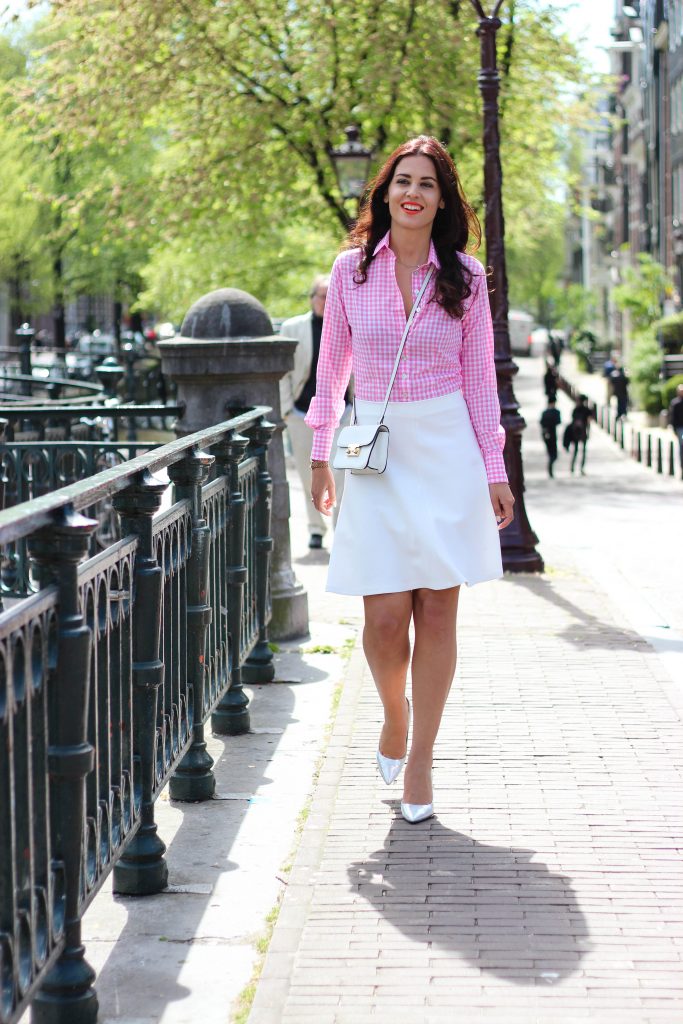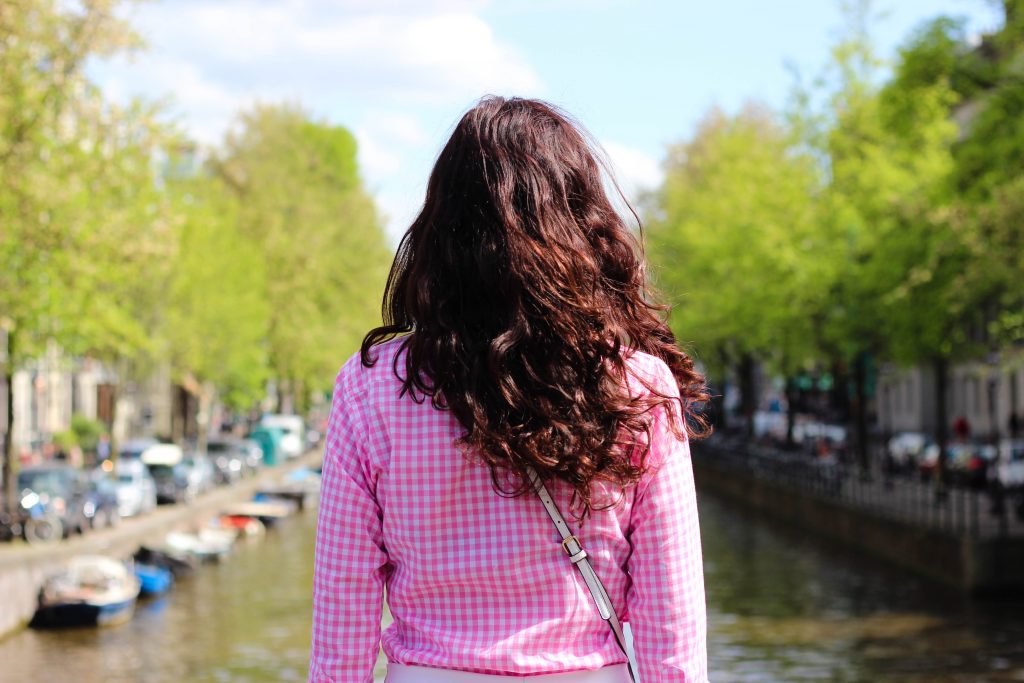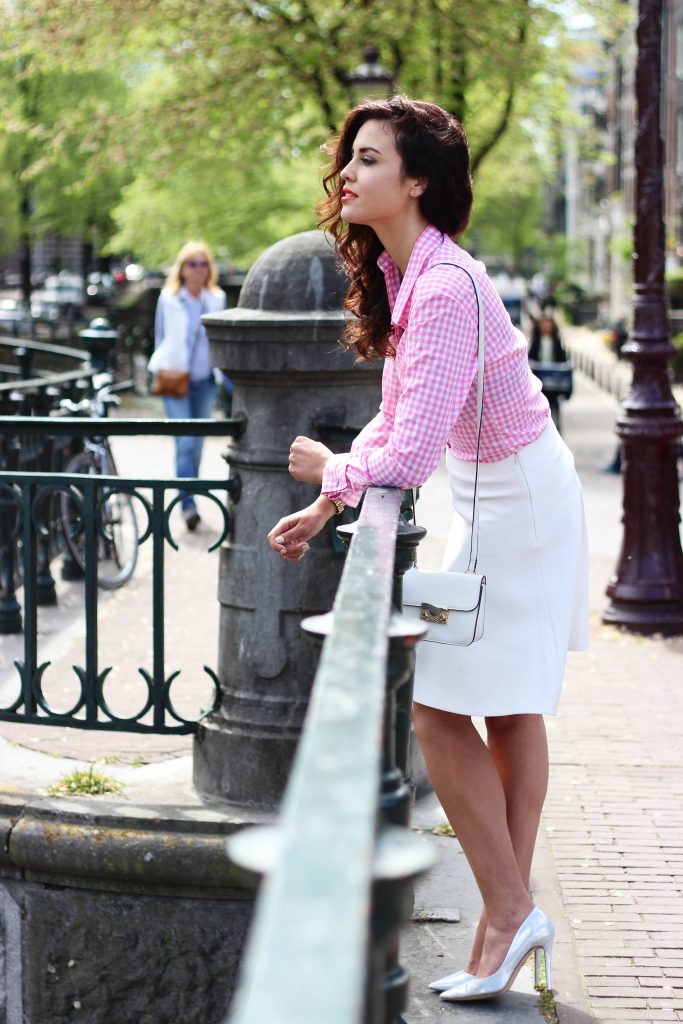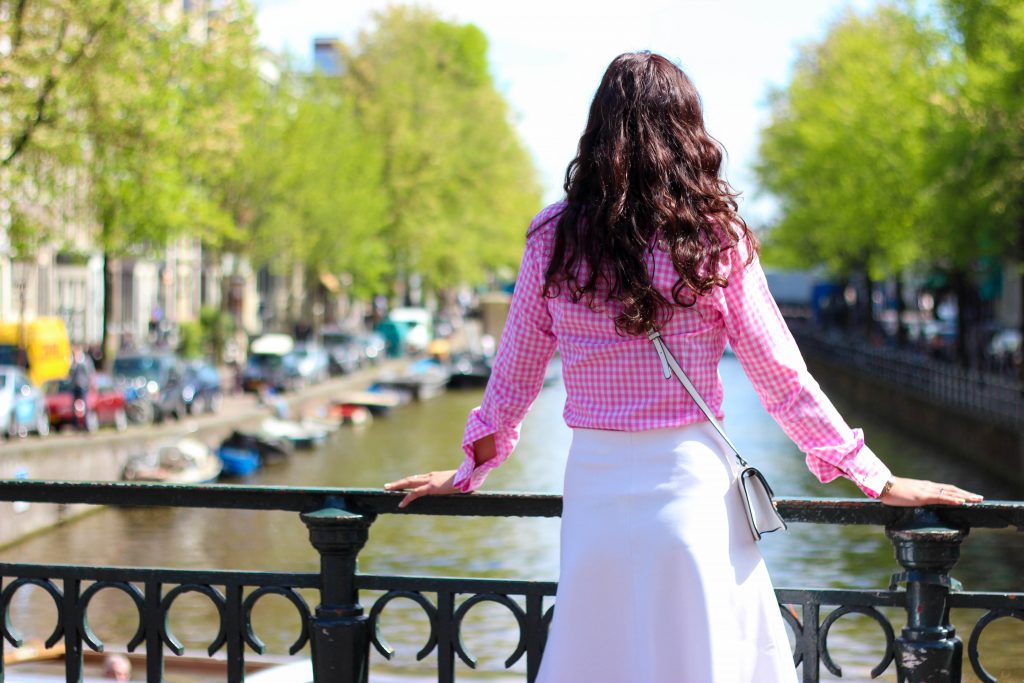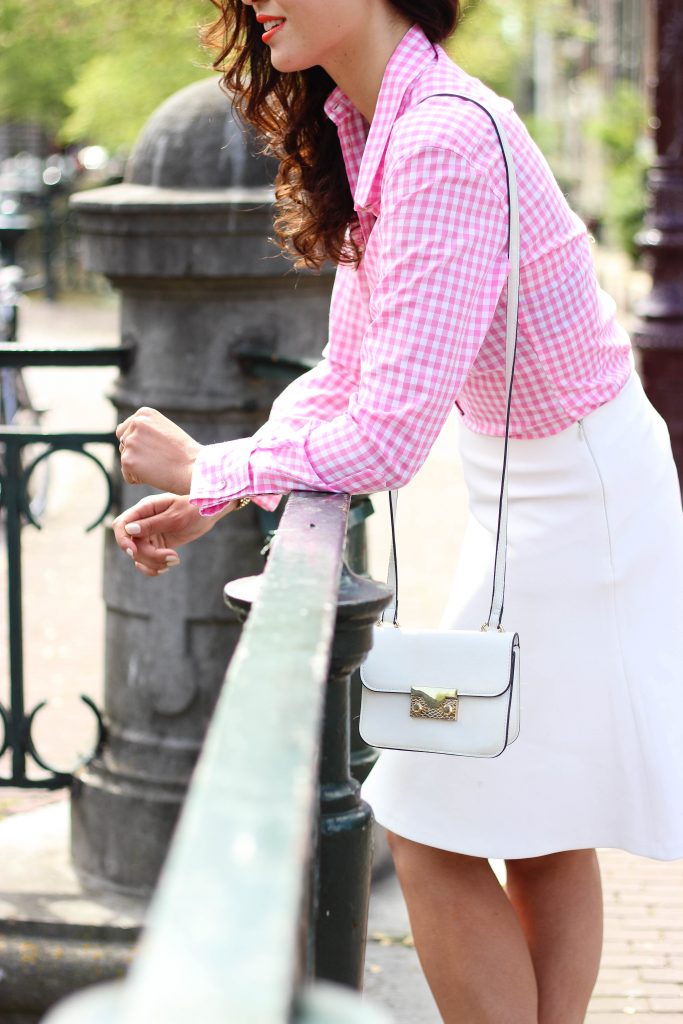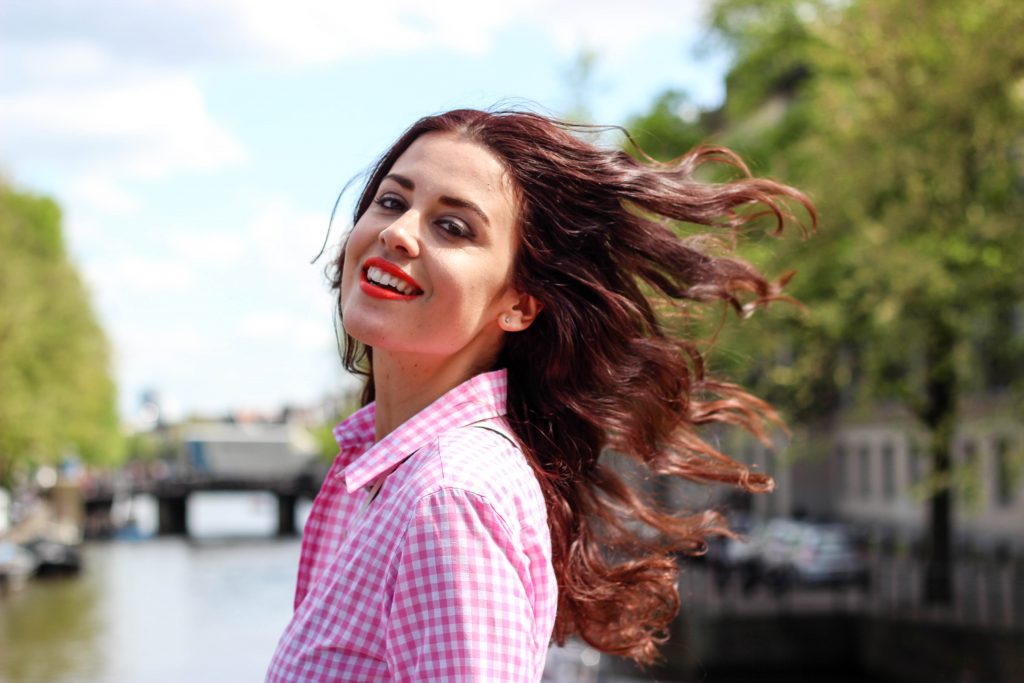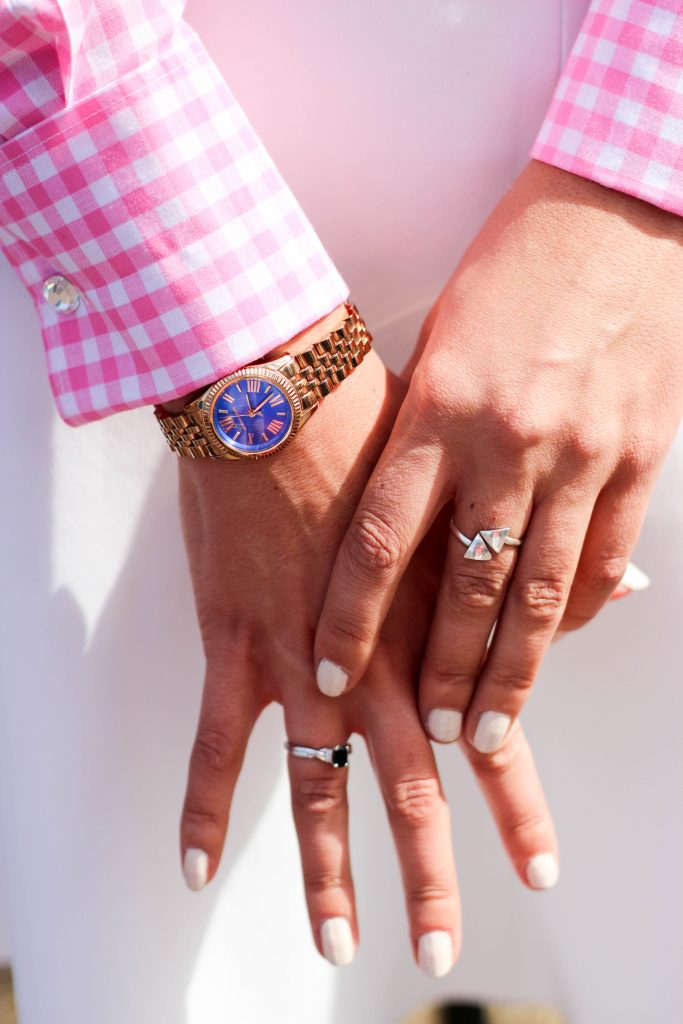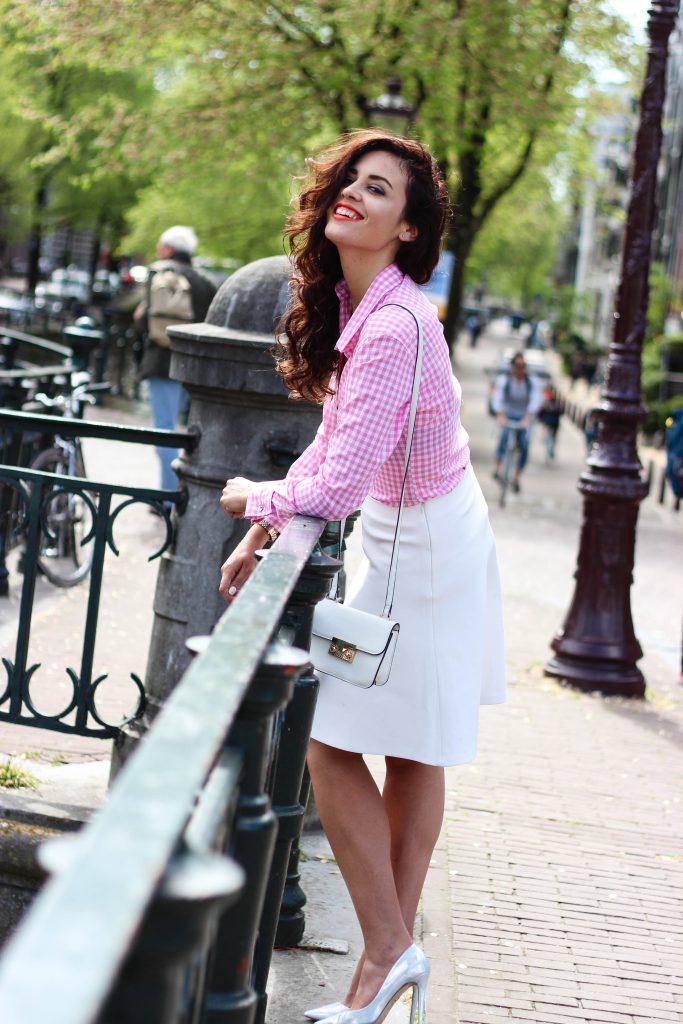 Wearing: Geisker gingham print shirt, Zara skirt (similar here), DVF heels (similar here), Asos white bag, Michael Kors watch, MAC Morange lipstick
[show_shopthepost_widget id="754686″]
Pictures by Tatiane Kozijn