In Western Australia we have not nearly as many on-trend shopping options as I'm used to back home in Europe or elsewhere in the world. That's one of the reasons that I'm always on the lookout for new online destinations that fulfil my shopping needs! When a store has 1. Quick delivery 2. Clothing that is affordable, fashionable and good quality 3. A great range, you've basically found the way to my heart, or to my closet should I say? Excited to share with you my project with Necessary Clothing. Read on!
Wearing: Necessary Clothing stripe shirt, Necessary Clothing grey knit skirt, Sam Edelman studded sandals, Necessary Clothing sunglasses, Mango bag (similar here), Michael Kors lexington watch, Sportsgirl pearl necklace (similar here), MAC Morange lipstick
[show_shopthepost_widget id="475075″]

From down town New York city, Necessary Clothing quickly transforms the latest trends into wearable and affordable apparel, accessories and shoes that will last you longer than just a season. That's at least what the quality of the items I'm wearing tell me! The high waist grey knit skirt is made from rich and supple material that enhances the right curves and can be worn both ladylike and tomboy casual. For today's look, I chose something slightly feminine with a stripe wrap blouse, a tiny pearl necklace, reflective sunnies and the coolest studded sandals from Sam Edelman. I think that this skirt can also be styled super fun with a pair of converse chucks, a simple V-neck tee and a black blazer. Really digging the sporty feminine look lately. The navy and white stripe wrap blouse turned out to be the basic that my closet needed, since I outfit repeated it three days in a row since it arrived at my doorstep. That's a confession!
Looking for a good location to shoot these photos spontaneously turned into a 1 hour let's-get-to-know-our-new neighbourhood walk. At midday during summer in Australia it's incredibly hard to find the 'right light', so we knew we were in for a challenge. Just when we were ready to give up, Hassan pointed out this charming little balcony looking out over the main street with its shops and cafés in Subiaco. It turned out to have the perfect ambiance to go with my outfit. I personally think that a cool backdrop adds so much extra flair to outfit photos. But that's just my opinion!
Meanwhile I'm lusting over a ridiculous amount of items in the Necessary Clothing new arrivals section. Considering my travel month in January, it would be better to stay away from the shops (money, money!), but I've just convinced myself that travelling while wearing the right outfits is more fun. Plus, a recent closet clean out prior to moving to my new home, means there's space for new stuff. Have I convinced you yet? Let's go.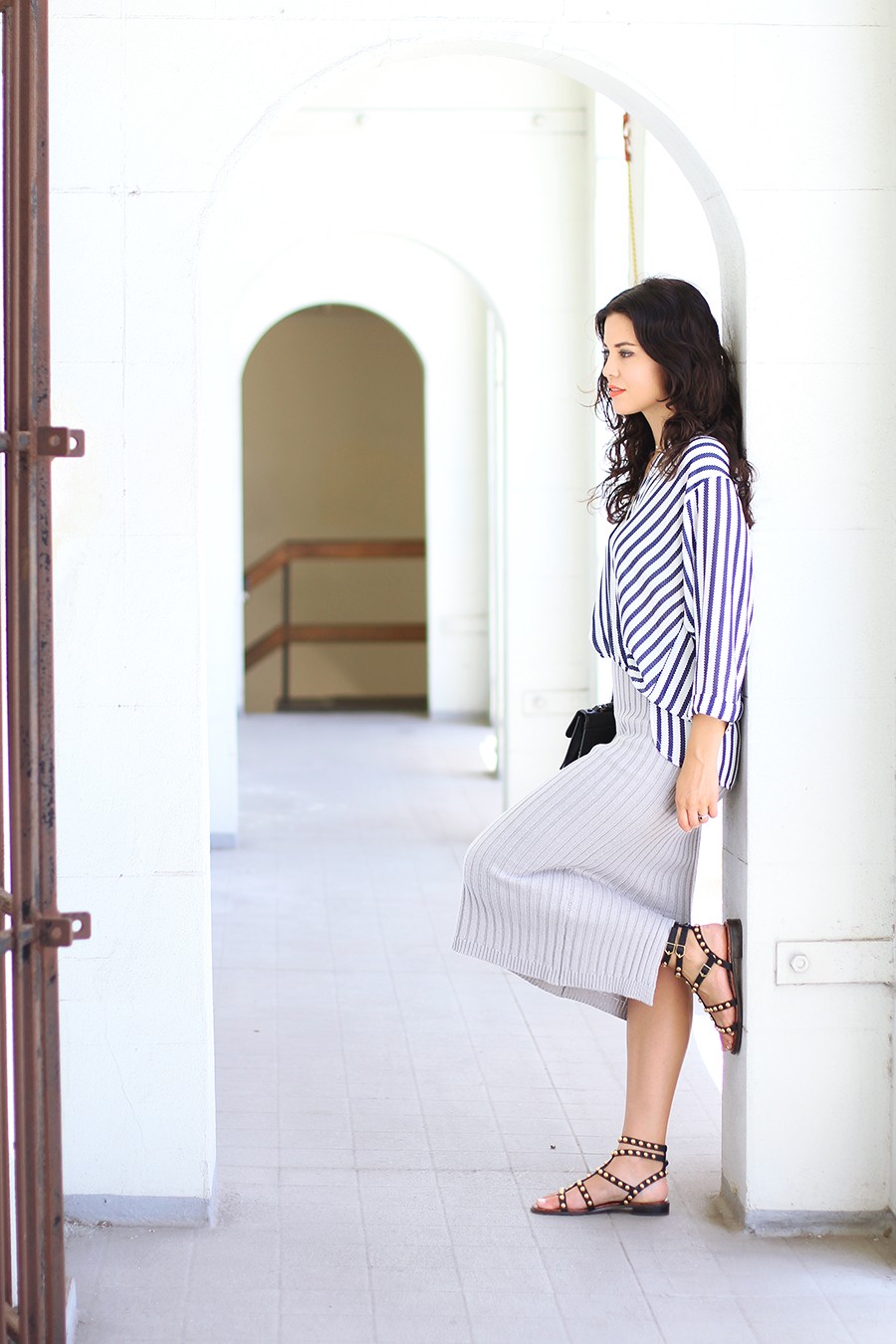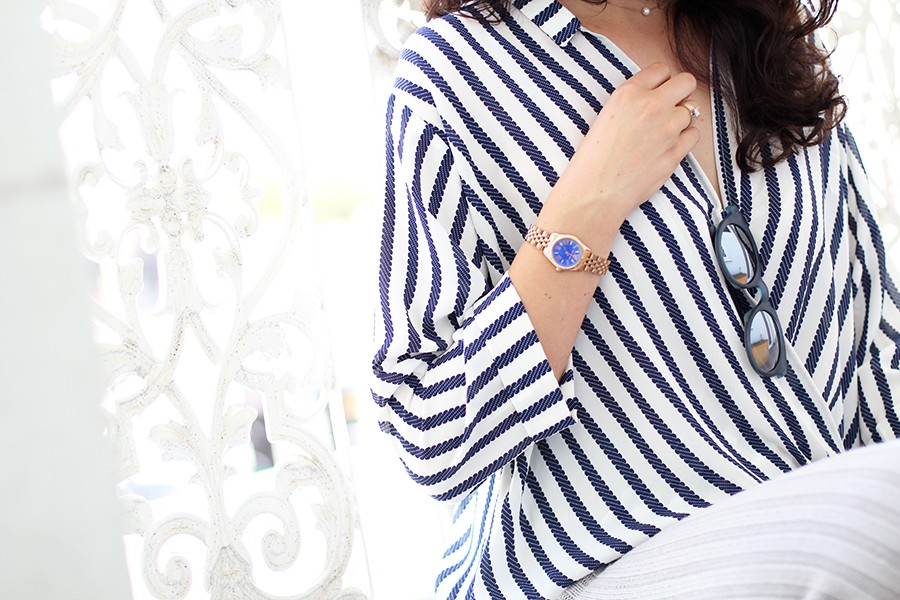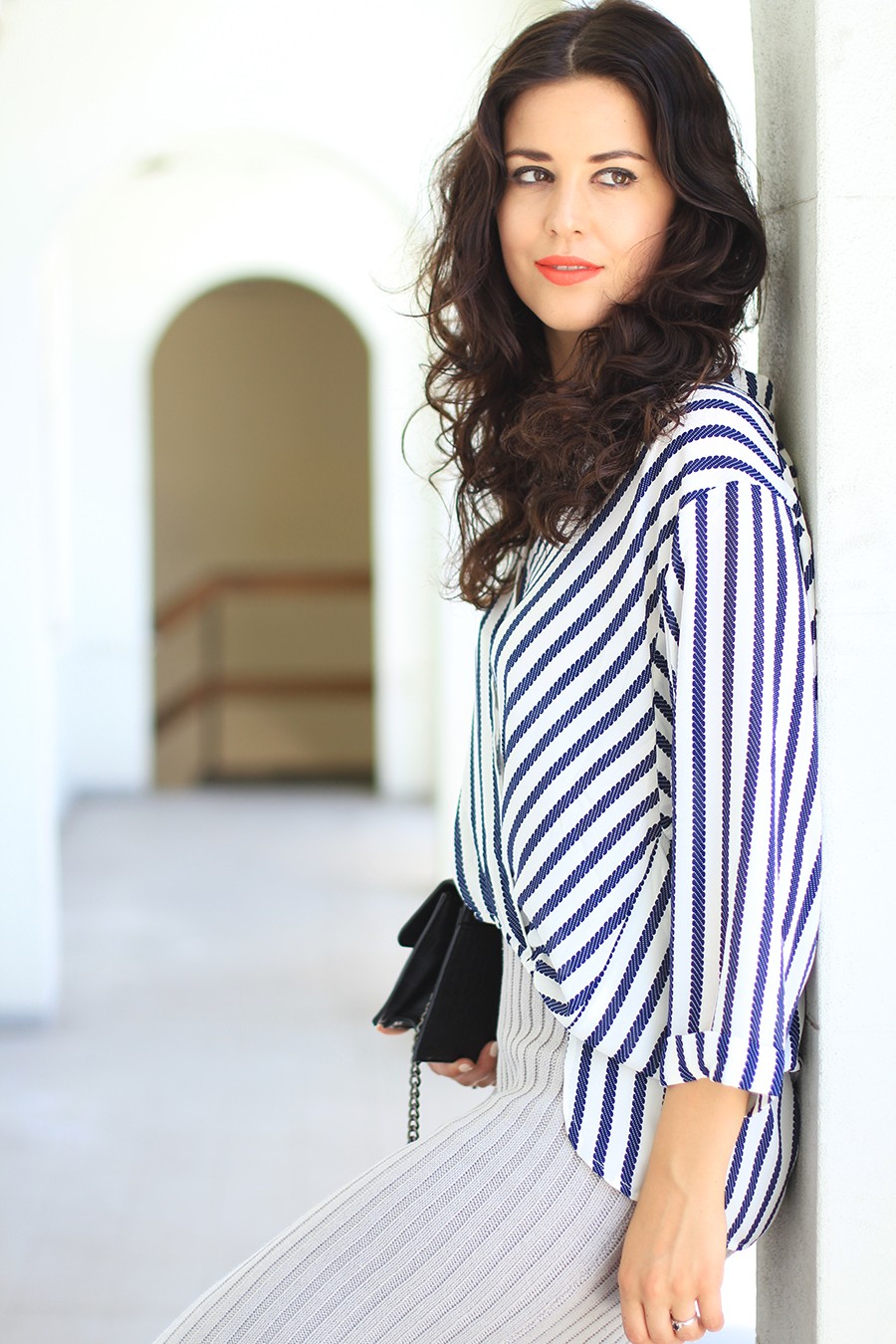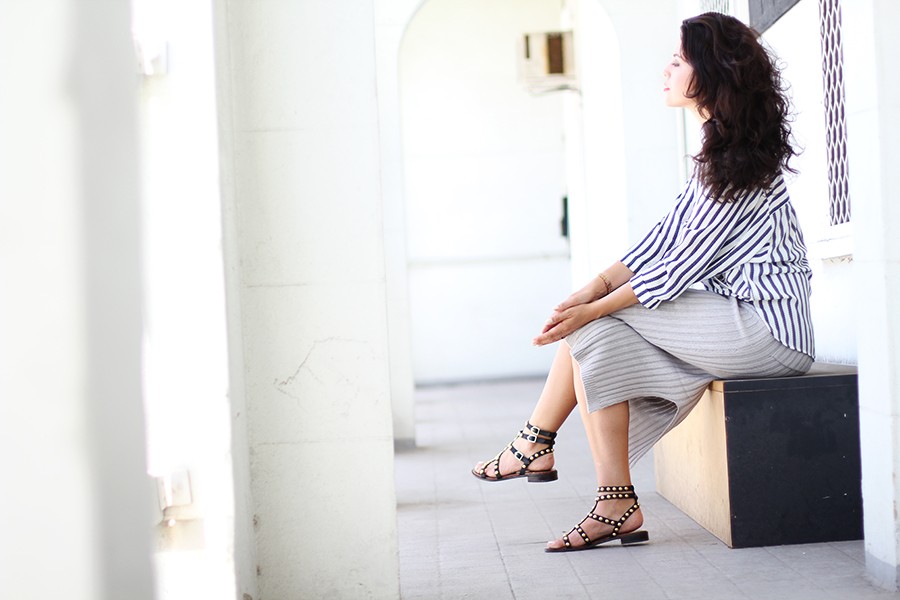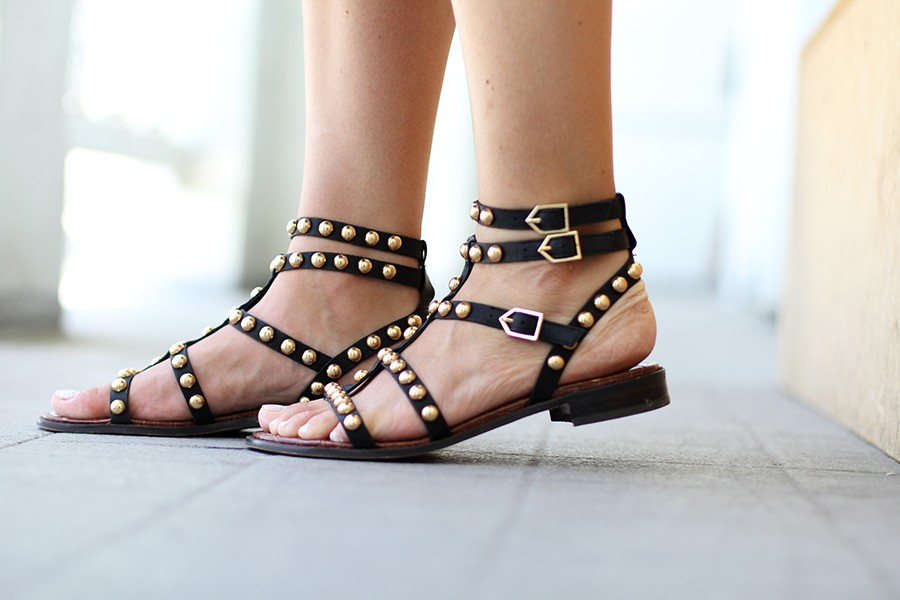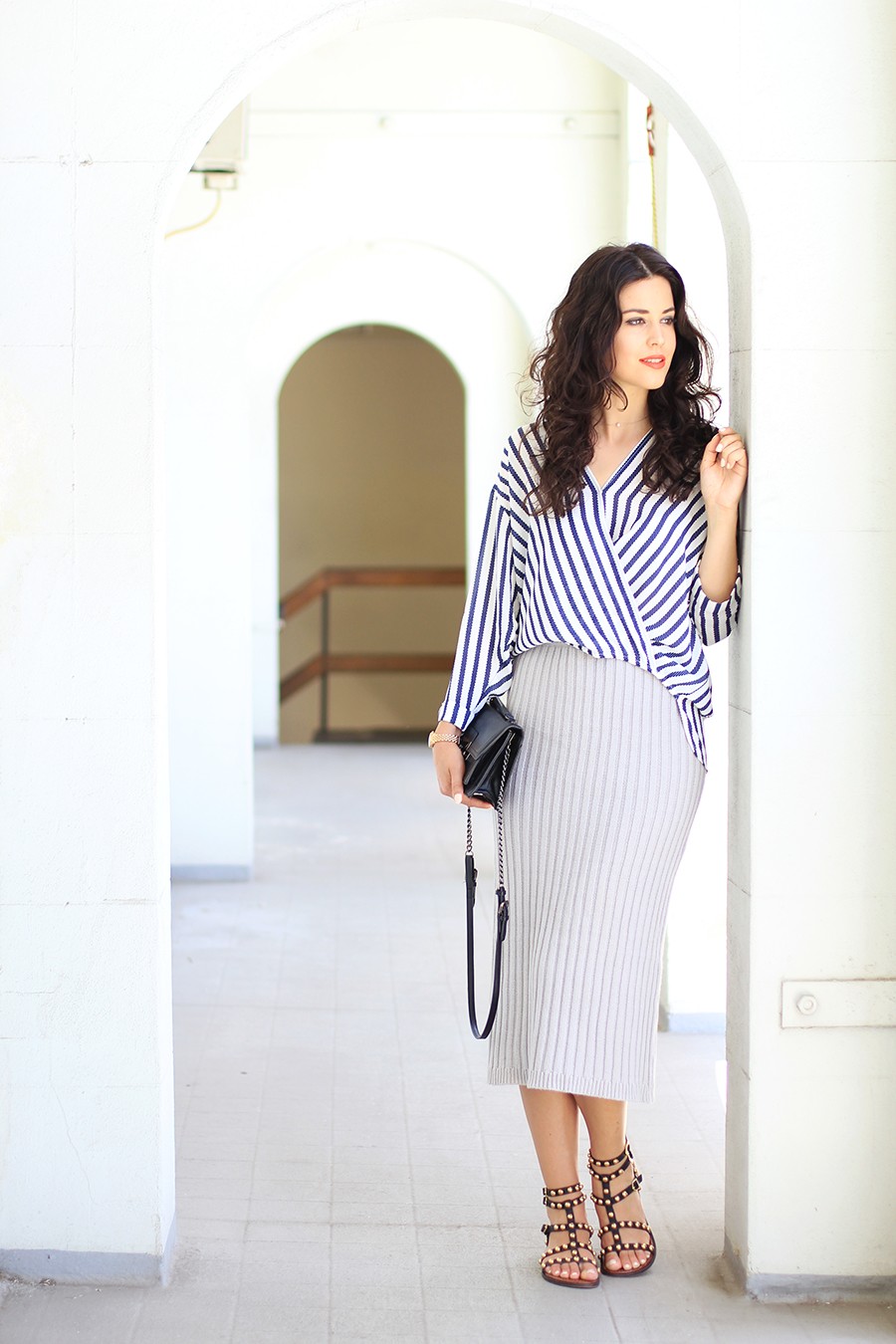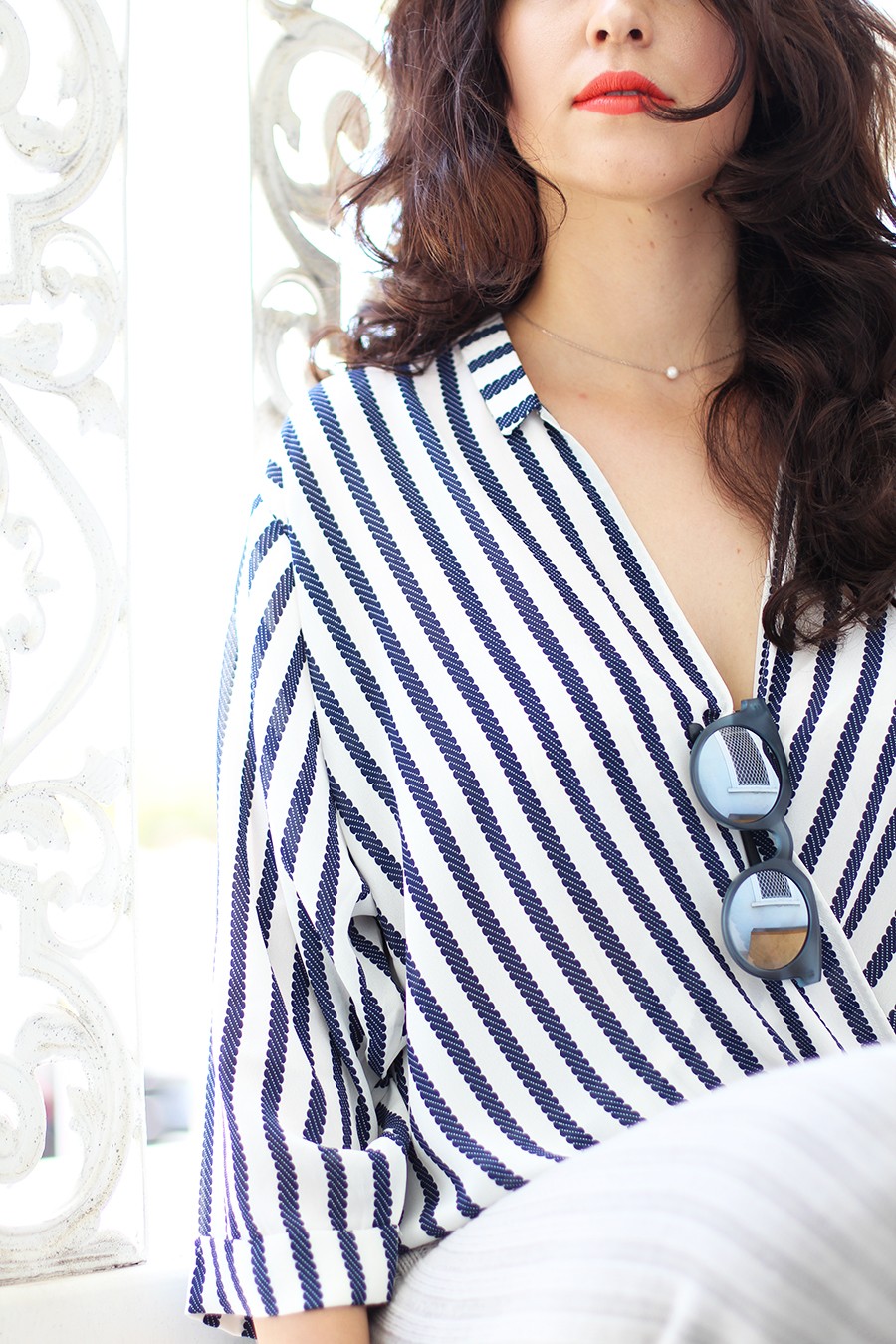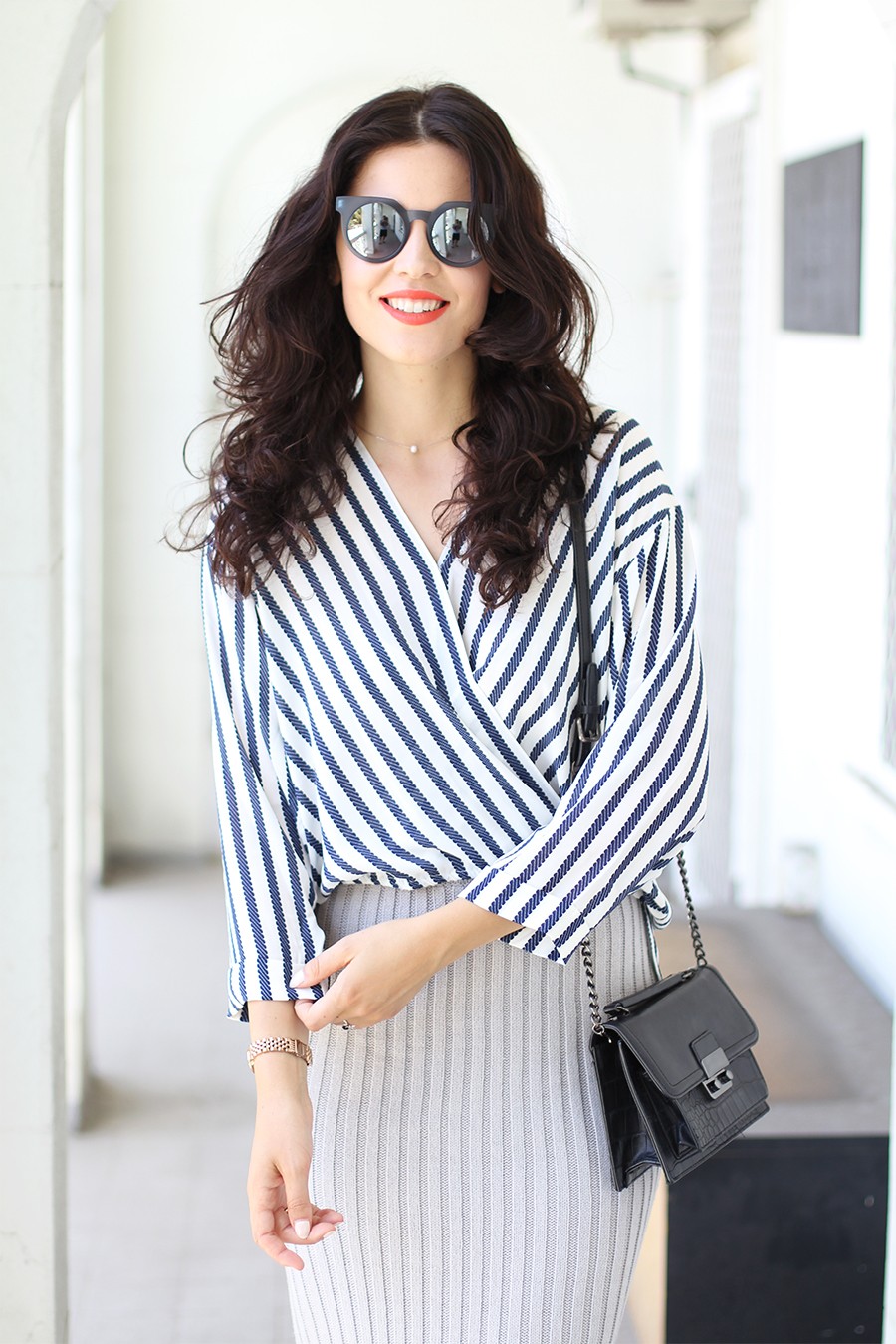 Wearing: Necessary Clothing stripe shirt, Necessary Clothing grey knit skirt, Sam Edelman studded sandals, Necessary Clothing sunglasses, Mango bag (similar here), Michael Kors lexington watch, Sportsgirl pearl necklace (similar here), MAC Morange lipstick
[show_shopthepost_widget id="475075″]