I've been loving Amsterdam life lately. The streets are always buzzing with people, there's always something to see or do and the city has an incredible amount of cool coffee places and restaurants. For today's post we had the pleasure of shooting a story at Hotel V Nesplein, a beautiful boutique hotel with the coolest quirky interior. A big thanks to the team for their warm welcome and hospitality!
The weather has been too chilly in the Netherlands for the time of the year (or maybe that's just me adjusting from Aussie temperatures), so having the opportunity to shoot for FashionContainer in the comfort and cozy warmth of our own suite instead of outdoor was a luxury!
With only 4 hours of sleep the previous night (and a few drinks, ahem), looking fresh faced in the morning was a little harder than usual. I travelled from Apeldoorn to Amsterdam the day before, quickly dropped off my stuff at my friend's place, followed by a super fun evening watching the Netherlands VS Spain match in the Amsterdam arena. Can you imagine that I've never been to a match in the arena before despite being a gigantic football fan? Ridiculous. What can I say, 2015 is all about doing all those things I've always wanted to do and so far it's looking good. OK, I'm getting off topic here. The one thing that I immediately reach out for when I have tired looking face is a bright lipstick! My favourite one is the one from MAC called 'Morange' that I'm wearing. The warm orange shade works wonders.
Outfit wise I picked something that would be appropriate for both dinner and drinks that night (of course with black tights on to protect from the cold!). During the daytime I usually don't shy away from a pop of colour, but for my night time looks I always tend to gravitate towards dark colours. In order to keep my repetitive black looks a little interesting, I like to play around with different textures, such as I did for this outfit with lace and leather. This crackled leather skirt has been in my closet since ages, but in Australia I've literally only been able to wear it once. The lace top from Oasis with high neck and fine detailing has the perfect fit and has such a sophisticated look to it. I added my silver metallic heels from DVF with the outfit to easily make the outfit night time appropriate. Every once in a while I allow myself to splurge on items that can't really be considered a 'necessity' or a 'basic', but surprisingly enough these heels turned out to be exactly that.
When we arrived to the hotel, Tatiane and I first took our time to wake up with a great cup of coffee. As a self confessed coffee snob, I often judge places by the quality of their coffee and The Lobby in Hotel V Nesplein (also open for non-guests) definitely passed the test! Oh, and how cute is the latte art? (see second last photo)
Now let's get to the pictures! At the very end you'll be able to read which make-up products I've used to achieve this look and easy to shop links to what I'm wearing.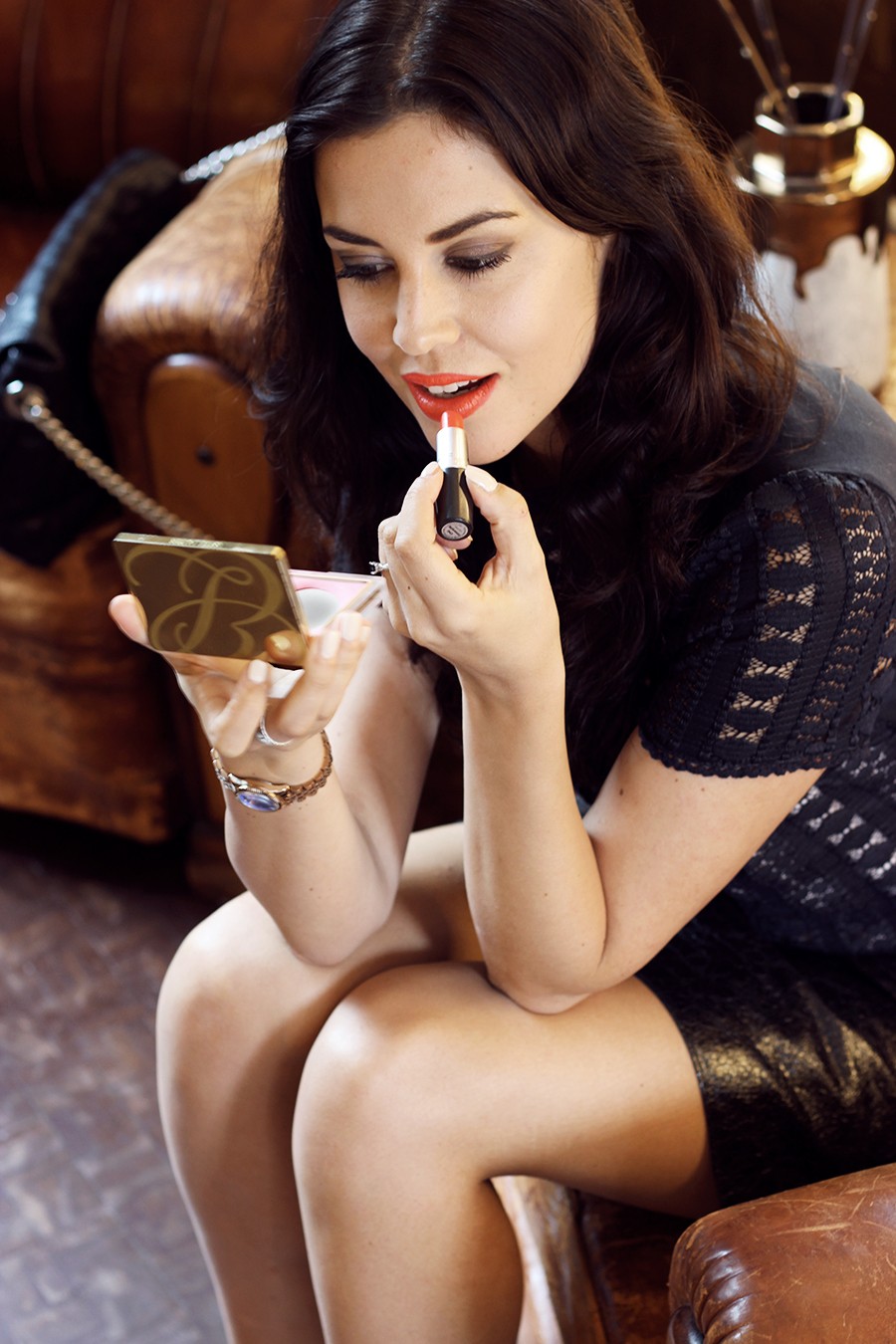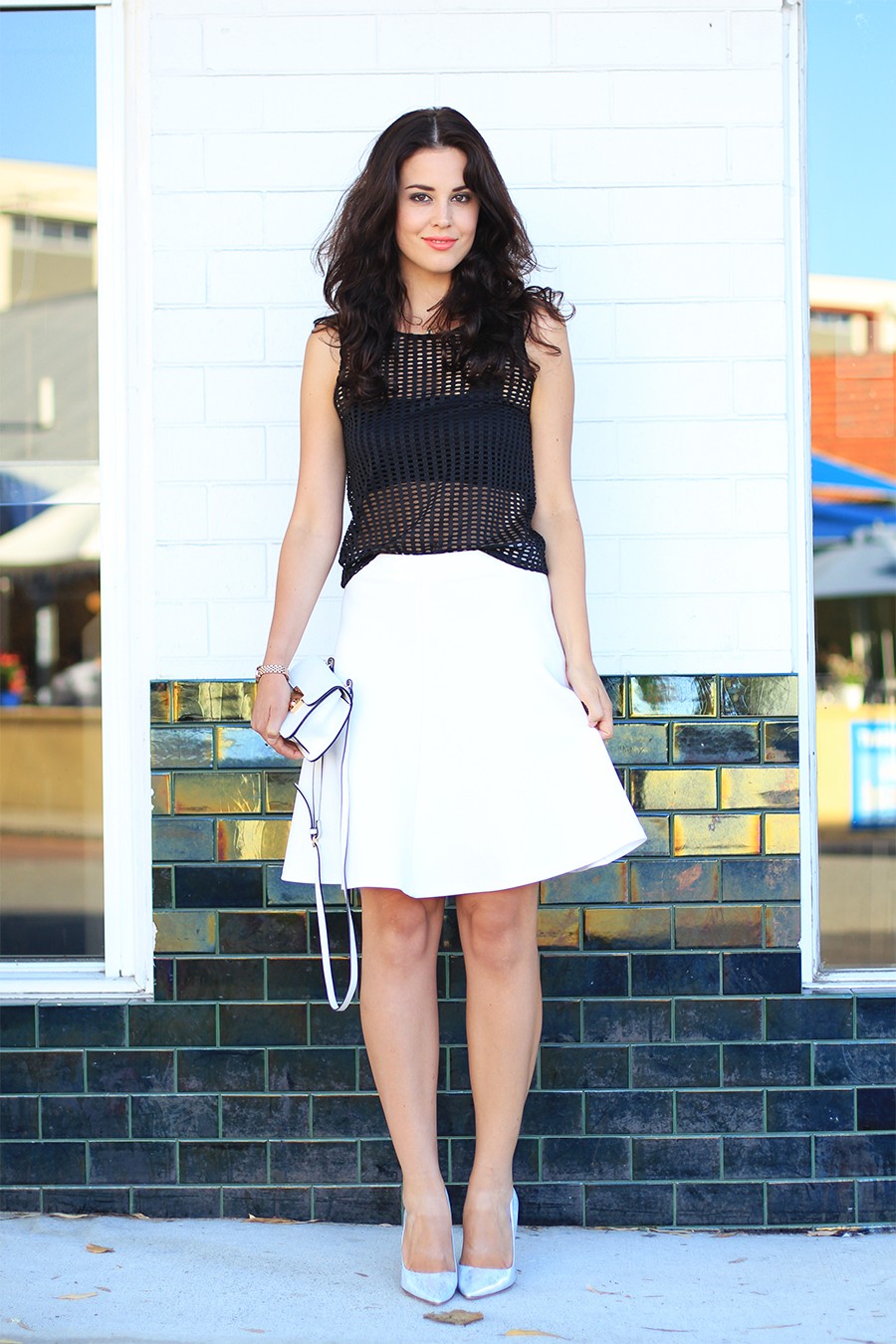 Location: Hotel V Nesplein | Address: Nes 49, 1012 KD Amsterdam
Pictures by Tatiane Kozijn
Make-up: MAC Prep & Prime Moisture Infusion, MAC Studio Fix fluid NC20, Dior 5 couleurs 646 – 30 montaigne, Maxfactor False Lash Effect mascara, Maybeline Lasting Drama Gel Eye liner, Estee Lauder Pure Colour blush 2, MAC Lightscapade highlighter
I'm Wearing: Zara blazer (similar here), Oasis lace top, Asos leather skirt, DVF silver heels (similar here), Calvin Klein bag, Michael Kors watch
[show_shopthepost_widget id="649026″]