Is het niet jammer dat we in dit digitale tijdperk vaak onze foto's maar op de computer laten staan in plaats van ze uit te printen? Als ik eerlijk ben heb ik zelf in geen 5 jaar  foto's  van vakanties of verjaardagen laten uit printen, wat eigenlijk ontzettend jammer is. Vandaag laat ik daar verandering in komen en ga ik van mijn eigen foto's een collage op canvas maken. Hoe cool is dat?
(English translation below)
Voor mij persoonlijk zijn herinneringen van mijn reizen me het meest dierbaar, dus toen ik moest kiezen wat ik precies op canvas vereeuwigd wou hebben, wist ik meteen dat mijn reis naar Brazilië twee maanden geleden er op moest staan. Mijn vriendin Tatiane en ik hebben daar een geweldig tijd gehad. Ontzettend veel "1st times" en major bucketlist momenten, zoals de zonsondergang vanaf Sugarloaf mountain, dansen tussen duizenden mensen bij een concert van David Guetta en capirinha's drinken tot in de vroege uurtjes aan het meer Lagoa Rodrigo de Freitas. You can find my Brazil Photo Diaries here and here)
De voorpret en zowel de napret van vakanties is misschien wel even belangrijk dan de vakantie zelf, dus waarom niet wat langer nagenieten met een canvas collage van je favoriete momenten? Mijn schilderij met favoriete Brazilië momenten staat nu in ieder geval naast mijn bed zodat ik me elke dag eraan kan herinneringen hoe mooi het leven is!
Herinneringen
Zoals ik net al vertelde zijn mijn persoonlijk favoriete momenten de vakanties en reizen die ik heb gemaakt, maar er zijn natuurlijk zoveel andere leuke momenten of herinneringen die je op canvas kunt printen! Wat dacht je bijvoorbeeld van een foto shoot doen met familie en daarvan de leukste shots uitkiezen? Of misschien een canvas schilderij met foto's in een bepaald thema, zoals de kerstdagen, een verjaardag of afstuderen? Mijn volgende canvas schilderij projectje is in ieder geval een overzicht van vriendinnen foto's van de laatste 10 jaar!
Cadeaus
Ik ben altijd best wel slecht in het verzinnen van originele cadeaus, maar ik bedacht me ineens hoe leuk het zal zijn om een canvas schilderij cadeau te geven aan een familie lid of vriendin
Hier zijn een paar ideeën:
Geef een canvas schilderij aan een pas getrouwd koppel met foto's vanaf het begin van hun relatie tot aan de trouwerij.
Verzamel de leukste foto's van jou en je beste vriendin samen en geef het cadeau voor haar verjaardag
Maak je oma blij met een collage schilderij met foto's van al haar klein kinderen
Neem een mooie foto van jou en je broers en zussen bij een fotograaf om vervolgens op canvas te printen aan cadeau te geven aan je moeder voor haar verjaardag of moederdag
Er zijn zoveel leuke dingen te bedenken om cadeau te geven! Aan wie zou jij een herinnering op linnen geven? Wat voor foto zou jij erop zetten?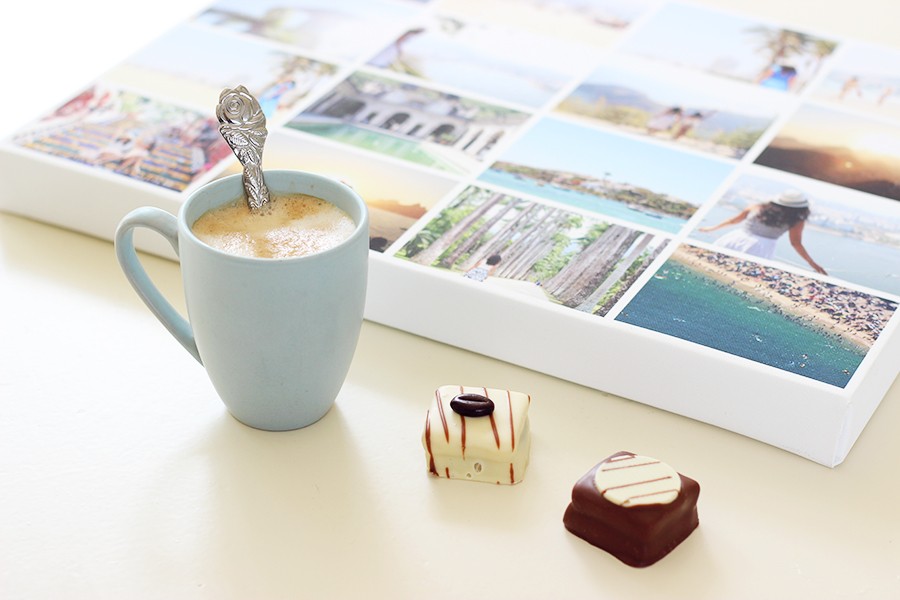 Interieur
Zoals je misschien wel al aan deze foto's hebt kunnen zien, kan een canvas schilderij een super leuke toevoeging aan je interieur zijn! Deze foto's heb ik genomen in mijn moeders huis (mooi, he!), maar ik heb zelf ook nogal een zwak voor lichte ruimtes en de kleur lichtblauw. Het kan super leuk zijn om je canvas schilderij aan te passen aan het kleuren palette of stijl van je interieur door zorgvuldig de foto('s) uit te kiezen. Zelf heb ik gekozen voor voornamelijk blauwe kleuren, wat eerlijk gezegd ook niet zo moeilijk is als je in Rio de Janeiro bent. Verder heb ik een voorkeur gegeven aan foto's waar het landschap meer central staat dan mijzelf en Tatiane omdat ik subtielere foto's wat meer charme vind hebben.
In welke setting zal ik het schilderij zetten?
Zet 'm neer op een plank in de woon, bijvoorbeeld zoals ik heb gedaan in foto …
Hang het schilderij op een lege witte muur die wat opfleuring nodig heeft
Leg het schilderij nonchalant neer op de koffie tafel naast tijdschriften en andere decoratie
Maak een 'foto muur' in huis waar je het canvas schilderij tussen hangt. Neem hier een kijkje op mijn Pinterest om tezien wat ik bedoel.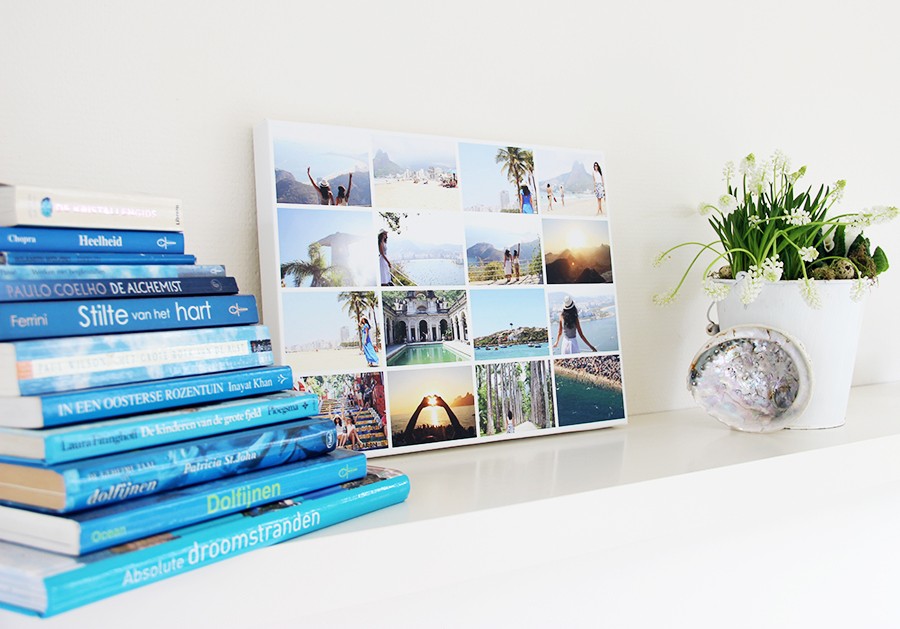 Stijling tips
Bedenk van tevoren waar je het canvas schilderij wil hangen of neerzetten, zodat je rekening kunt houden met kiezen van de soort foto's (kleur, stijl etc.). Zoals ik hierboven als had verteld, heb ik voor mijn schilderij voornamelijk foto's gekozen die iets van blauw in zich hebben en ook heb ik foto's gekozen waar ikzelf wel op sta, maar waar het landschap het middelpunt van belangstelling is.
Hou jij van een een interieur zonder kleur? Dan is het leuk om de foto's die je uitkiest voor het schilderij allemaal zwart/wit te bewerken in photoshop. Dit ben ik van plan voor mijn volgende schilderij!
Je hoeft niet eens perse je 'eigen' foto's te gebruiken om een canvas schilderij te maken. Ben je helemaal dol op Parijs of fan van Marilyn Monroe? Kies dan simpelweg je favoriete foto om uit te printen op canvas! Tip: ga wel voor een foto in high resolution zodat hij er mooi op komt te staan!
Now it's your turn, print je favoriete herinneringen op  linnen! Wat voor foto's zou jij uitkiezen? Waar zou je 'm in huis neer zetten? Deel je ideeën!
________
EN
In this digital day and age we often no longer print out photos but leave them on our laptops instead. Isn't that kinda sad? To be completely honest, I personally haven't printed any of my travel or birthday photos for about 5 years. Today I'm changing that by printing my photos on a canvas collage. How cool is that?
For me personally, my travel memories are dearest to my heart. So when I had to choose what I'd print on canvas to remember forever, I immediately knew it had to be photos of my trip to Brazil two months ago. My friend Tatiane and I have had the most amazing time while there, which you probably already know if you've read my travel diaries from Brazil (here and here). We've lived a crazy amount of 1st  times and major bucket list moments! From watching the sunset on Sugarloaf mountain, dancing in between thousands of people at the concert of David Guetta to drinking capirinha's at the lake 'Lagoa Rodrigo de Freitas' until the early hours.
The before and after fun of holidays and travels might even just as important as the travel journey itself, so why not live the good times a little longer with a canvas collage of your favourite moments? My canvas with my favourite Brazil moments now stands right next to my bed, so I can remind myself everyday how beautiful life is. Cheesy, but true!
Memories
Like I mentioned before, my personal favourite memories always evolve around travel and holidays. However, there are so many more beautiful moments or memories you can print on canvas! How about doing a photo shoot with family and then picking the coolest ones?  Or perhaps making een canvas with photos in a certain theme, like Christmas, a birthday or graduation? I've already decided that my next canvas project is going to be a collage with photos with friends from the last 10 years.
Presents
I'm pretty bad at coming up with original ideas for gifts, but I suddenly thought how fun it is to give a canvas to a family member of friend.
Here are a couple of ideas:
Give a canvas to a just-married couple with photos from the beginning of their relationship until the wedding day.
Collect the most fun photos of you and your best friend and give it as present for her birthday.
Make your grandma happy with a collage canvas with photos of all her grand children.
Take a beautiful photo of yourself and your brothers and sisters at a photographer to print on canvas and give to your mum for her birthday or mother's day
There's so many fun canvas ideas to think of! To who would you give a canvas with memories? What photo would you use?
In which setting should I put the canvas?
Place it on a shelf in the living room, for example like I did in photo …
Hang the canvas on an empty white wall that needs brightening up!
Casually lay down the canvas on the coffee table besides magazines and other decoration.
Make a gallery wall at home where you hang the canvas. Have a look here on my Pinterest to see what I mean.
Styling tips:
Make up your mind where you want to hang the canvas so you can coordinate the photos by colour and style. Like I mentioned earlier, I mostly picked photos that feature the colour blue and I also picked the kind of photos where the landscape is the centre of attention rather than myself.
Do you like a monochrome interior? Then a fun idea would be to Photoshop the photos for your canvas in black in white. That's my next canvas project!
You don't have to use your 'own' photos to make a canvas. Are you crazy about Paris or a big fan of Marilyn Monroe? Simply pick your favourite photo to print on canvas! Tip: go for a high resolution photo for the best result.
Now it's your turn, print out your favourite memories on canvas! Which photos would you choose? Where would you put it at home? Share your ideas!