A week in New York with an average of no more than 4 hours sleep per night, plenty of parties, sightseeing, work and meetings seriously took its toll on our energy levels. The solution?  A get away to the country side. Hello Long Island, Hello Oheka Castle! But was it really the calm getaway we expected it to be? You'll have to find out below…
Oheka Castle is beautifully situated on the highest point of Long Island, surrouded by lots of green, French style gardens, a beautiful golf course and just generally breathes a very extravagant ambiance. But hey, the level of extravaganza definitely doesn't come as a surprise, because the Oheka Castle has originally been built by Otto Hermann Kahn, who loved using his country residence to host lavish parties in the 20s. Even nowadays it's easy to imagine what those parties in the castle used to look like! There's something about the 20s that just fascinates. The over the top fashion, the music, the extravaganza. Seeing that atmosphere from the movies come to life at the Oheka Castle and actually living it ourselves was such a dreamy feeling!
Open up those gates
On Wednesday morning we took public transport from New York city to Oheka Castle. It's all about keeping it real, right? To our suprise it wasn't even that complicated. After a little wandering around (with luggage!) we found the "Oheka castle" sign and simply followed directions. When we arrived at a gigantic gate and got a glimpse of the castle in the background, we were certain that we were at the right place! Gates were being opened and there we were: stepping right into a fairy tale. Everything at the Oheka Castle breathes extravaganza, from the entrance to the posh cars at the front and the red carpet you find yourself on walking inside. Not bad for a first impression! After a quick and easy check in we were shown to our room on the 3rd floor of the hotel. The hallway on the 3rd floor is another one of those "wow" moments, with beautiful marble floors, marble statues and gold detailing. It was a cold, little drizzly day and decided to take some relaxing time before starting work. Which meant? Trying out the gigantic bubble bath! So. Super. Relaxing.
It's a big happpening!
Oheka castle isn't only the place to come for a nice weekend getaway or to stop by for a tour of the mansion and lunch. Over the years it has also proven to be a very popular and demanded venue for weddings. I mean, how could it not? It's so dreamy. There is actually a whole lot of movies that have been recorded here too! A personal favourite: a couple of scenes from the "What happens in Vegas" movie with Cameron Diaz and Ashton Kutcher! And more recently… Taylor Swift's gorgeous video Blank Space! Pretty cool, right? The Oheka Castle is also frequently used for other events suchs as fundraisers (there were 2 while were there, quite a happening), sweet sixteen's and corporate events. Us Europeans aren't really all that used to these extravagant events, which is why we absolutely loved having a peek into the beautifully dressed crowd and having a chat here and there.
Hello from food heaven
You could say that we really made the most of our stay in the Oheka Castle when it comes to food: we had a beautiful dinner at the castle's restaurant both nights of our stay, followed by drinks and socializing with other guests. But now I'm getting ahead, let's first talk about the food and then about what we did next! We kicked off our first evening by trying out some of the cocktails on the menu, then went on to try delicious starters of Buratta mozarella and the beef carpaccio, followed by the salmon and crusted sea bass as main. Ofcourse along with a bottle of Sauvignon blanc to share! I love how so many of our great travel memories are made around food, socializing and chats! After dinner we found out there was a fundraising event going on in the other side of the castle and while we initially just went in to have a peek, we ended up staying up way too late once again. Well, what do you expect? After all, we're in a castle that breathes "let's party like it's 1919", so better take full advantage of it, no? As we're still on the top of 'food heaven', let's also not forget to point out what a heavenly breakfast menu the Oheka Castle has! I think the photo below speaks for itself.
The Welcome feel
We've mentioned this before in our hotel lifestyle stories, but it's just so true. The staff really has the ability to turn a stay from great into AMAZING and this was definitely the case at Oheka Castle. The staff is all super attentive, friendly and fun. It was comforting and made for such an easy and happy atmosphere. What we also loved is the fact that the owner of Oheka Castle personally comes to meet his guests at dinner, always in a for a chat. Well, if that doesn't make it personal?
Queen
An extravagant place like this asks for a lavish dress! This beautiful burgundy one from Necessary Clothing was the perfect choice to match the beautiful baroque style rooms and marble hallways. I love its open back and subtle straps both at the front and back while the voluminous length finishes makes for the ultimate touch.
Concluding…
A fairy tale all the way! the FashionContainer urges you to live the Oheka experience at least once in your life. Luxury, style, top service and a fantastic location; the Oheka Castle has it all. & off to JFK airport we went, in style with our Blacklane ride.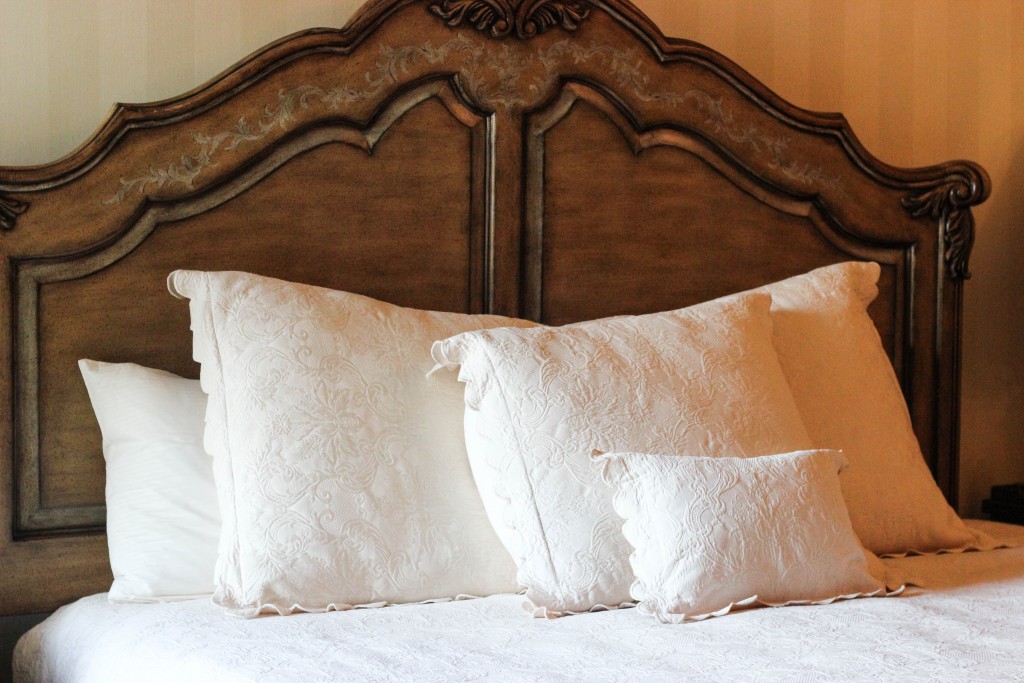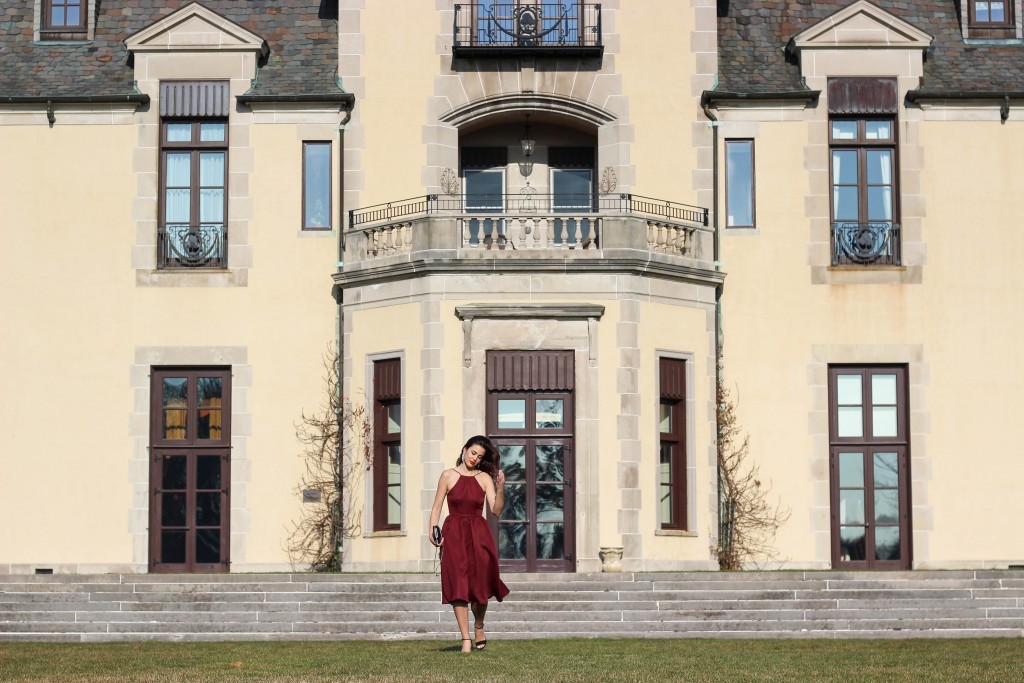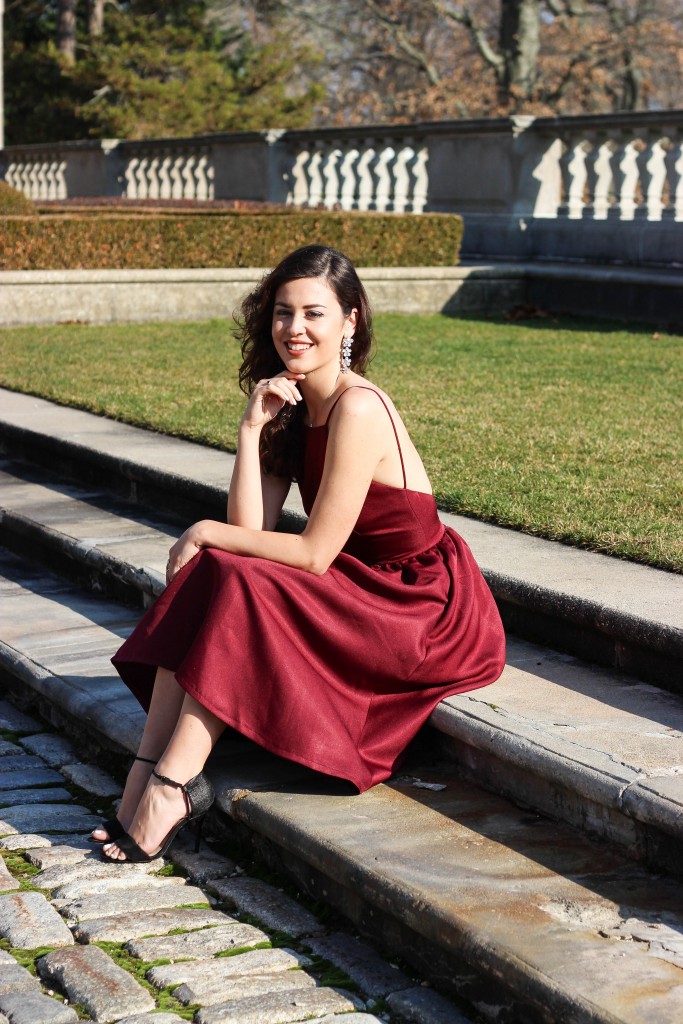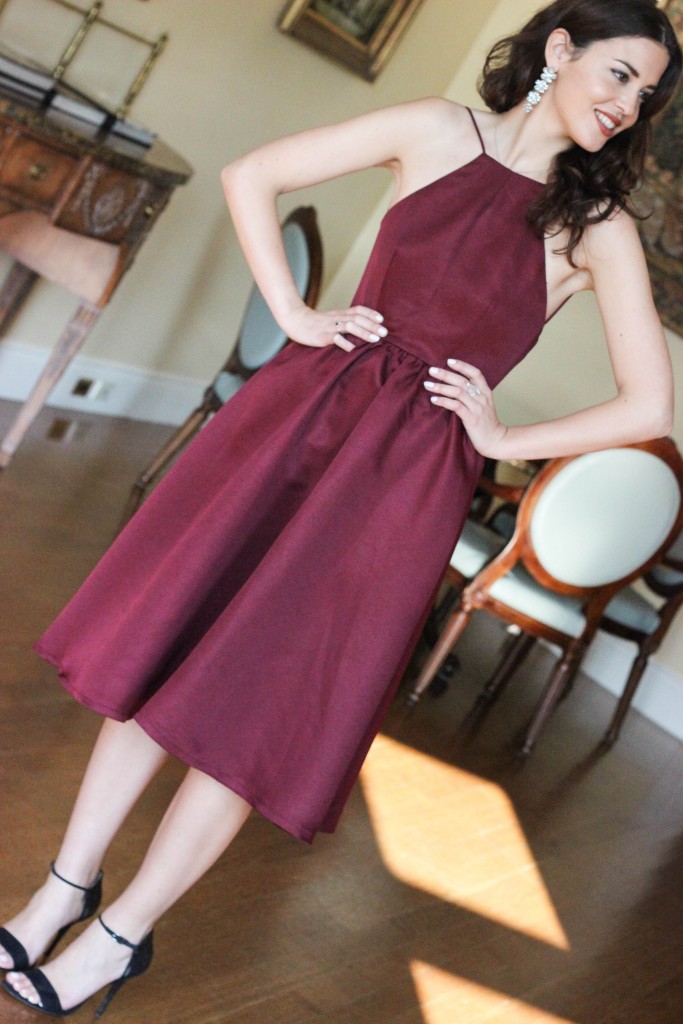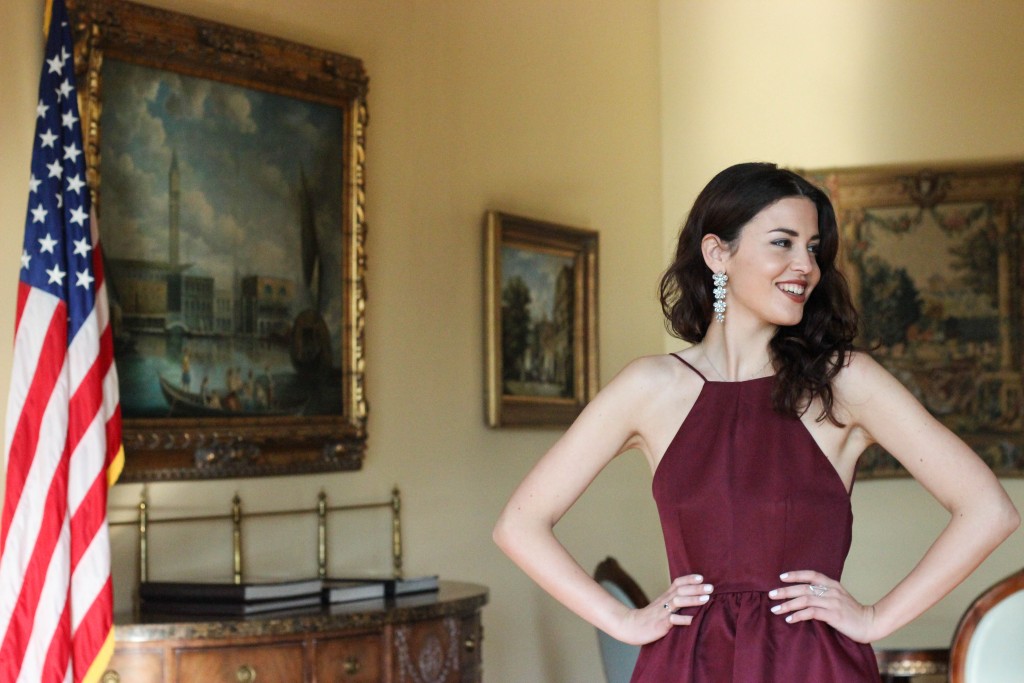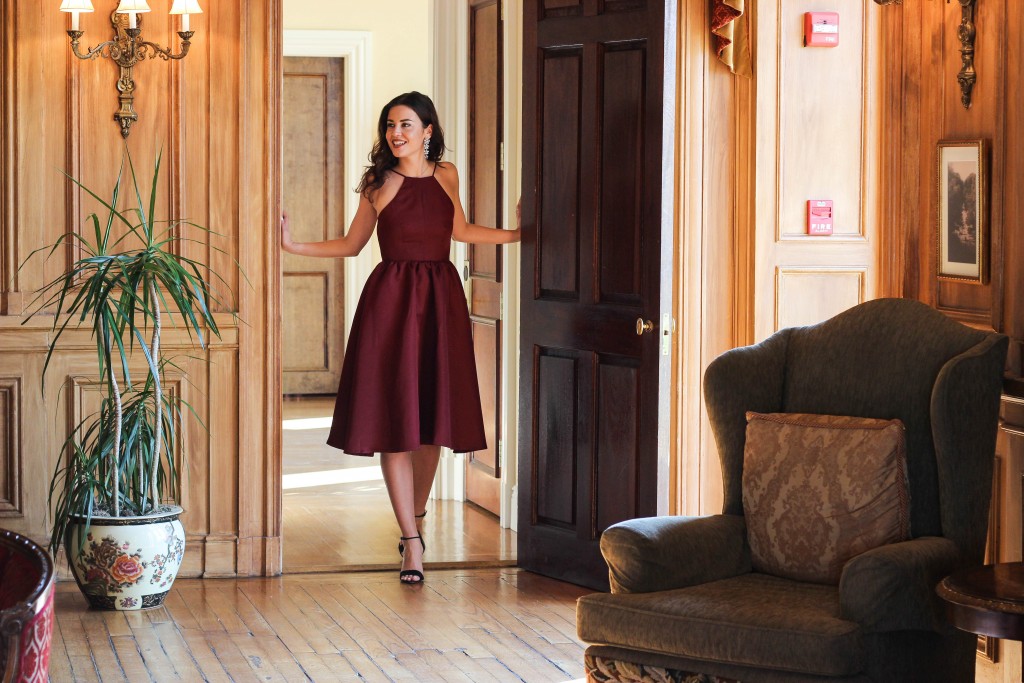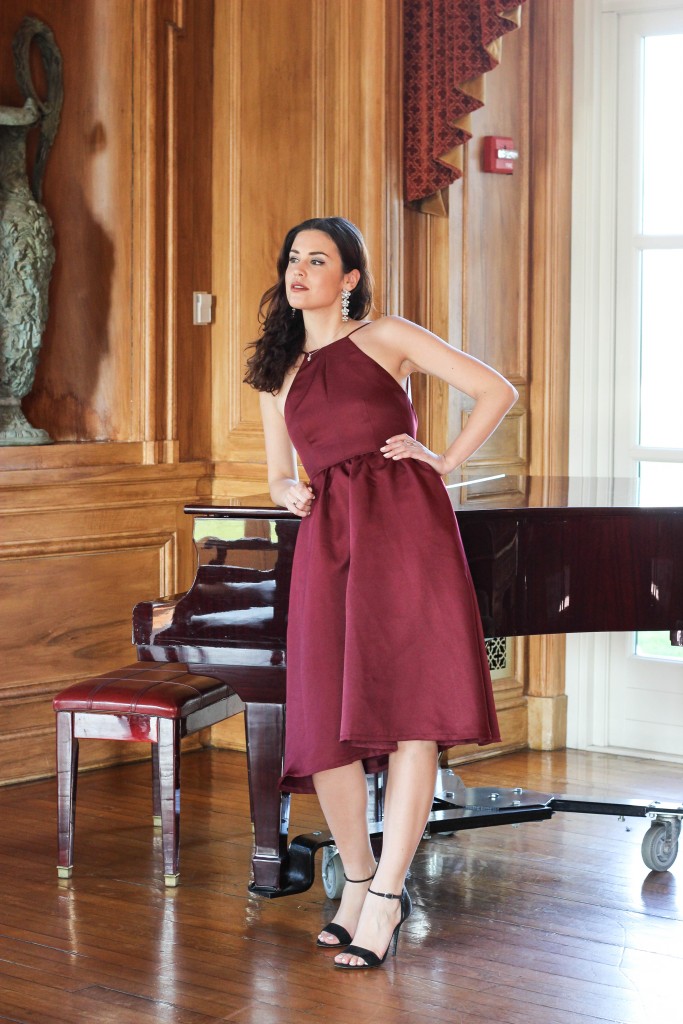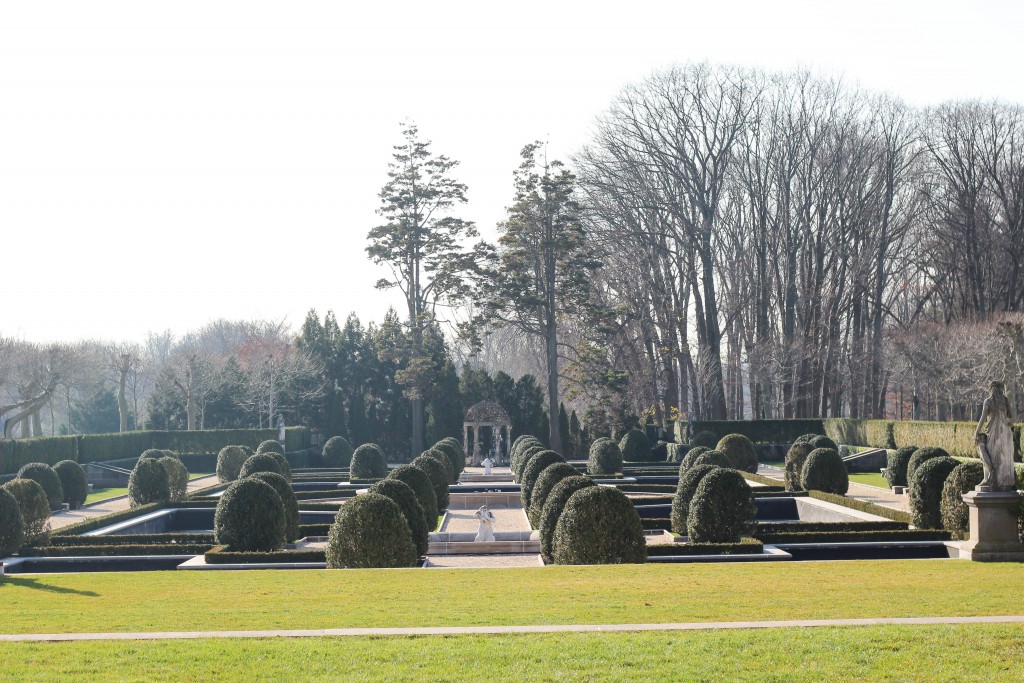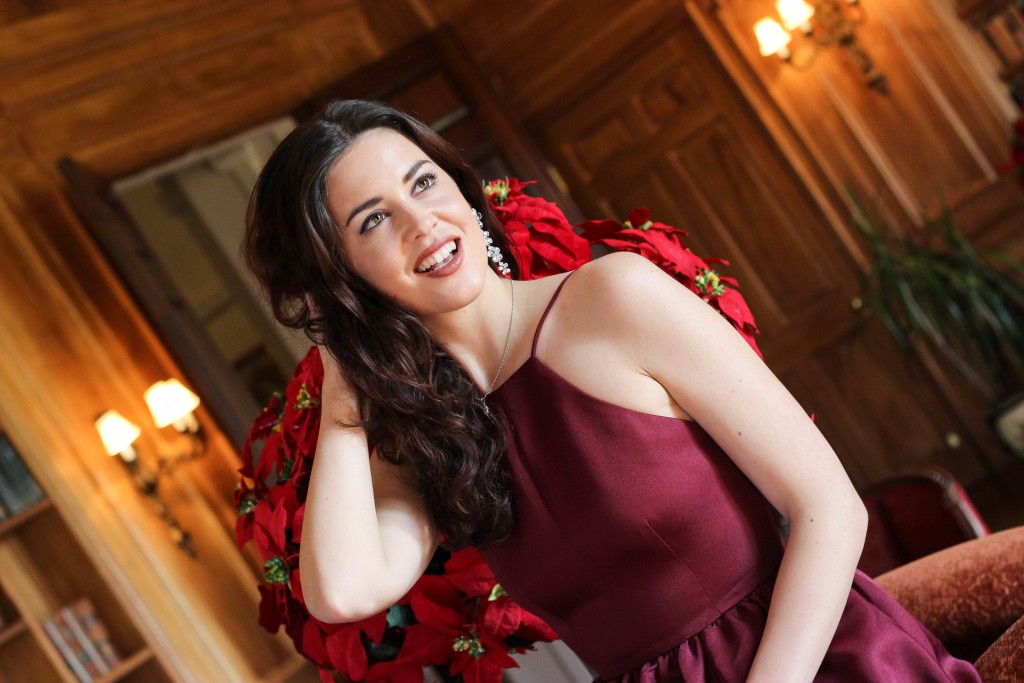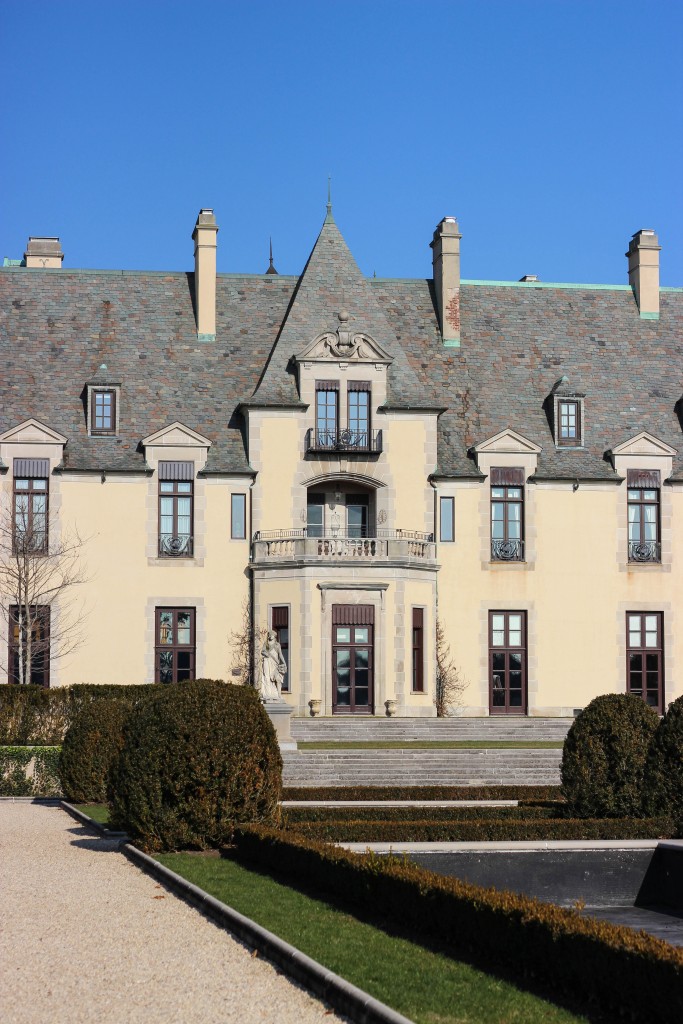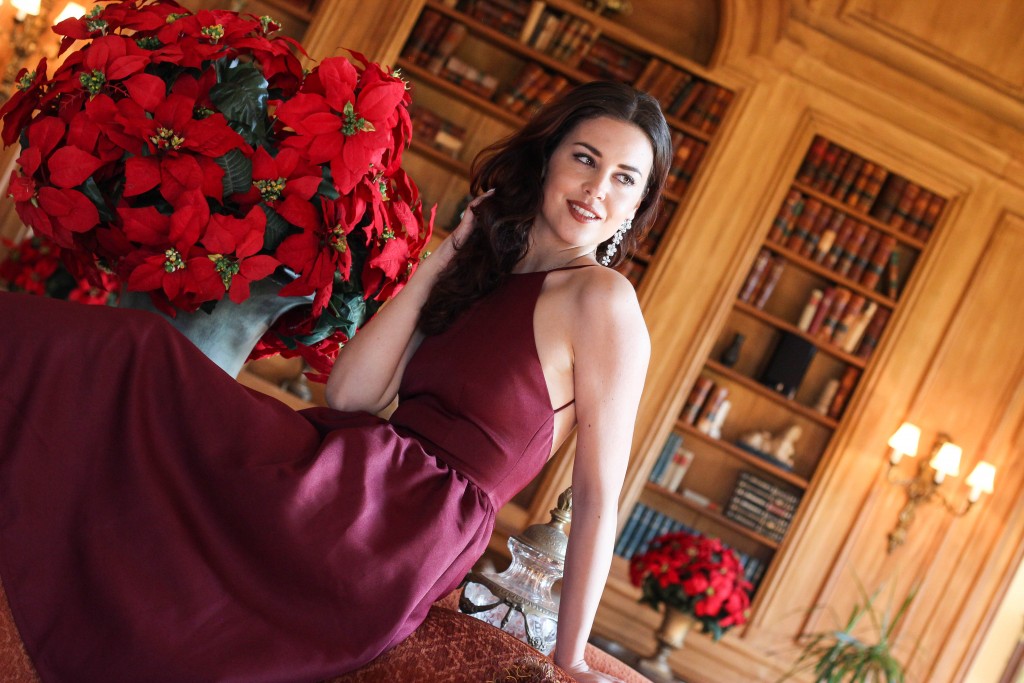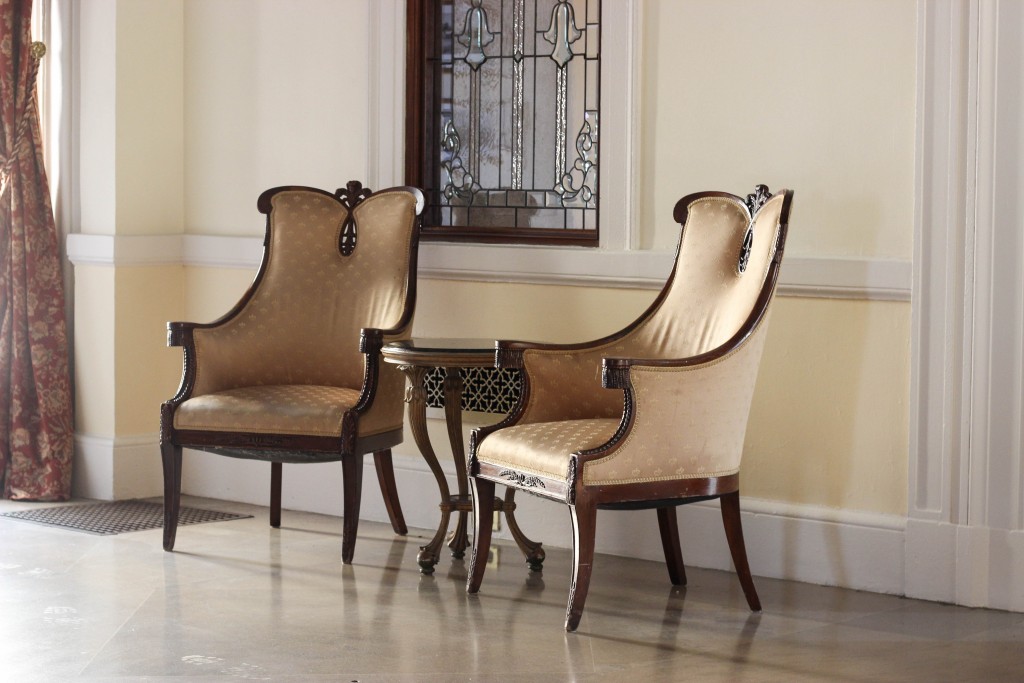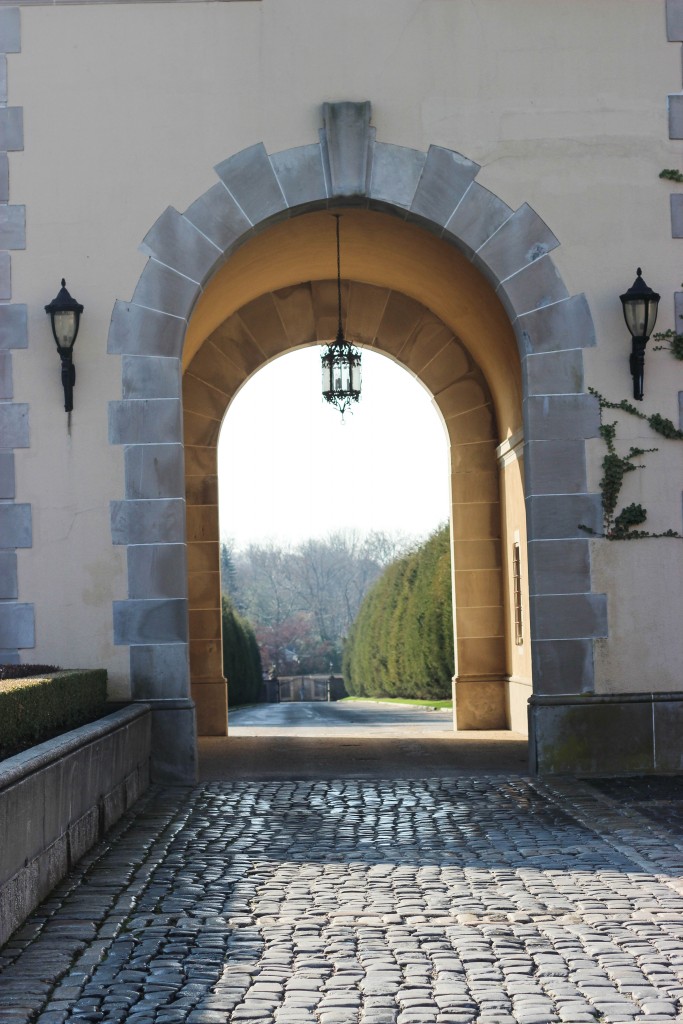 What I'm Wearing: Necessary Clothing dress, Zara heels (similar here), H&M earrings (similar here)
Location: Oheka Castle, Long Island
Photographer: Tatiane Kozijn | Instagram: @tatianekozijn