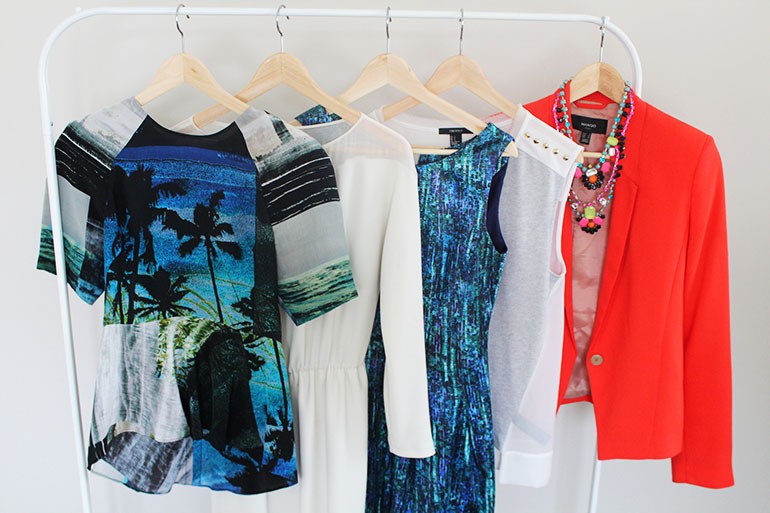 Eyecatching prints, neutrals, a touch of black and not to forget bright colours. That's the balance which represents my wardobe right now. Today I'm going to take you through what I consider my 10 wardrobe essentials. This selection ofcourse changes with time, but right now these are the the items which I 'build up' most of my outfits with.
1) Palmtree peplum top 
(Saba). An eyecatching, crazy print top (in this case a palmtree print), is something that you can wear in many different ways. Personally, I see tops like this as an easy way to get dressed. Match a print top with basics such as simple white jeans or a beige skirt and you instantly have a great outfit. // Buy similar 
here
2) Off white dress
(Zara). Dresses like this look elegant on its own, but are also great to have in your wardrobe to pair them with bright colours. I wear this dress very often with one of my bright coloured jackets, such as the red one which is seen in the picture. // Worn 
here.
Buy similar 
here
3) Blue print dress
(Zara). For going out, I like wearing dresses like this a lot. Especially when it involves a spontaneous plan and I don't have much time to get ready, it's great to have a dress like this in your wardrobe. It's beautiful on its own without much accessorizing. //Worn
 here.
Buy similar 
here
.
4) Grey/neutral top 
(Forever21). Basic tops don't have to be boring. This one has some interesting details, such as the sheer back and the few gold studs. //Worn 
here.
Buy similar 
here
5) Red blazer 
(Mango). Great with neutrals such as the dress and top shown in the picture. Personally I am not a big fan of the very common combi of black and red, because I feel it doesn't do justice to the red colour. //Worn 
here.
Buy similar
here
6) Gold pants & Black strappy heels 
(Berschka & Zara). Gold pants as a wardrobe essential? For me, yes! It's might be the season or maybe just my taste at the moment, but when I wear jeans lately it's only in an eyecatching colour or fabric, such as this gold metallic pants. Surprisingly enough, they are very easy to match. I found this killer combi the other day, when I paired the gold jeans with the grey/neutral top and red blazer as shown in the picture. //Worn 
here.
Buy similar 
here
.
7) Denim blouse
(H&M). I find these things so incredibly versatile. I especially like to use a denim blouse to dress down a very chique item, such as the lace skirt pictured or with a pair of printed pants. //Worn 
here
and 
here. 
Buy similar 
here
.
8) Black contrast top (Sheinside). If I wear black, it has to have some interesting structure or fabric. Wear a top like this for example with denim shorts or jeans. I just got this top new and I am thinking to pair it with a skirt in a light colour such as light blue, yellow or beige.
9) Lace skirt
(H&M). Wear it casual with a denim blouse or for going out with a sheer white top. //Worn 
here. 
 Buy similar 
here.
10) White blazer
(Sportsgirl). I don't like wearing
too
dark outfits, so whenever I wear a black dress or top I like to thrown on a white blazer to balance the whole look. This blazer is just new, as I have totally worn out my other white blazer. Worn
here
. Buy similar 
here
or 
here
.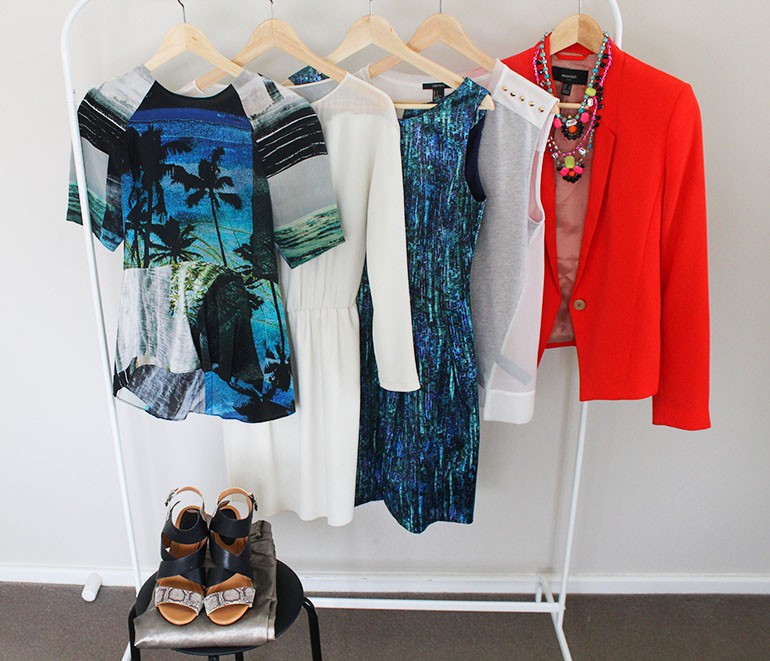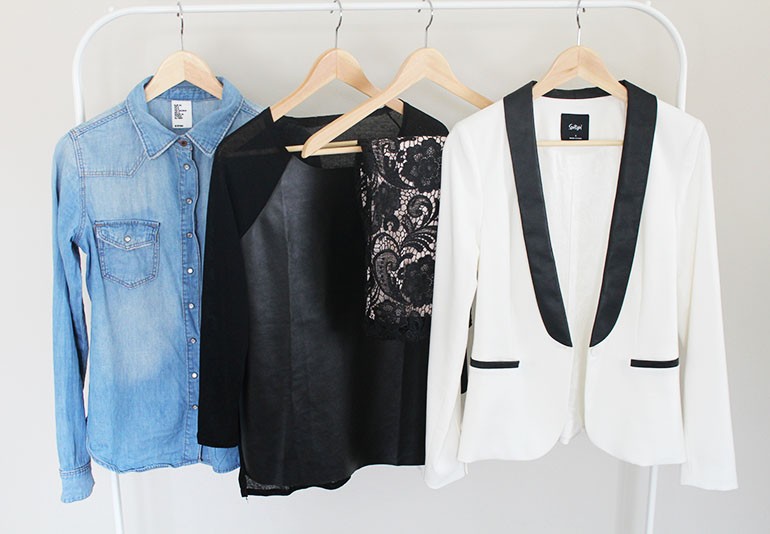 Fashioncontainer is on: