Our one week in Brazil can best be described as a whirlwind of emotions, being on a constant high and overwhelmed by the great energy and vibe. Because I've got so many photos to share with you, I thought it would be fun to start with the basic, most behind the scenes moment all captured with my Iphone.
Time is a funny concept when you're travelling. A week flies by in what feels like a second, yet you feel as if you've been away much longer because every day is filled with so many new experiences. Even right now when I'm sitting on the dining table in my Airbnb in Buenos Aires, my head is rushing in emotions not even knowing where to start! My trip started with an incredibly long flight, 26 hours to be precise. And that's minus the layover in Dubai. I mean wow. Strangely enough I landed in Brazil with absolutely no jetlag, which I explain by the fact that my bodies already spent so much time in the plane transitioning to different time zones that by the time I landed in Brazil it was completely adjusted. I met Tatiane who flew in from the Netherlands at the airport in Rio, after which we took a cap to our hotel located in the heart of Copacabana.
It was late afternoon when we arrived and we headed straight to the beach to catch the last light and explore the neighborhood. It instantly became clear to us that night that Brazil is a completely different world and extremely dangerous if you're not taking your precaution. We got lost too many times on the way back to our hotel and even around 8 or 9 o'clock, I wouldn't recommend wandering any of the streets other than the main beach road in Copacabana. You can definitely say that I was a little naïve, especially because the next day a Brazilian girl who we got to chat with while stopping a cap, insisted I'd take off my watch immediately for my own safety. It's hard to describe, but in some areas you really feel like there's a ticking time bomb for something bad to happen. Anyway, from that day I tried to dress more low key with no accessories whatsoever and my camera kept inside my bag at all times if I wasn't using it.
Rio is absolutely insane, there's so much energy everywhere. Despite the fact that nobody, literally nobody, speaks a word English you immediately feel some sort of bond. We especially had lots of fun with the taxi drivers, who were all so funny and helpful. From singing to Whitney Houston songs (which he obviously didn't know the lyrics of) to a guy who insisted us talking to a friend of his who speaks English and could give us some tips on where to go. The taxi drivers were also extremely humble; giving them a tip really seemed to make their day.
Rio exceeded all my expectations, what a breathtaking place. I love fact that urban life and nature balance seem to blend in together just naturally. Having the rainforest, ocean and the lively city life all at your doorstep make it such a unique city to experience. We unexpectedly went to David Guetta's concert, standing in between thousands of only Brazilians dancing until the sun came up the previous day we were standing in utter silence in the Barra da Tijucca rainforest. Making new friends on the Sugarloaf mountain, drinking Caiparinhas on the boat in Buzios, applauding when the sun goes down (it seems a tradition in Brazil!) from Ipanema beach and trying out all the beautiful sweets being sold in street stalls such as Tapioca, rice pudding with coconut and last but not least….Acai. My god, Acai. Love it. Oh, and let's not forget about our performance on the steps of Lapa, check it out here if you haven't seen it yet.
Anyway, for now I'm going let my Iphone photos do the talking. There's going to be more photo diaries from adventures online soon. Editing and curating the photos from my Canon 600D just always takes a little more time. What do I say, it takes a lifetime ha ha. For now I'd like to say that I feel incredibly blessed to have experienced Brazil and I hope to meet this wonderful, intriguing, energetic country again soon.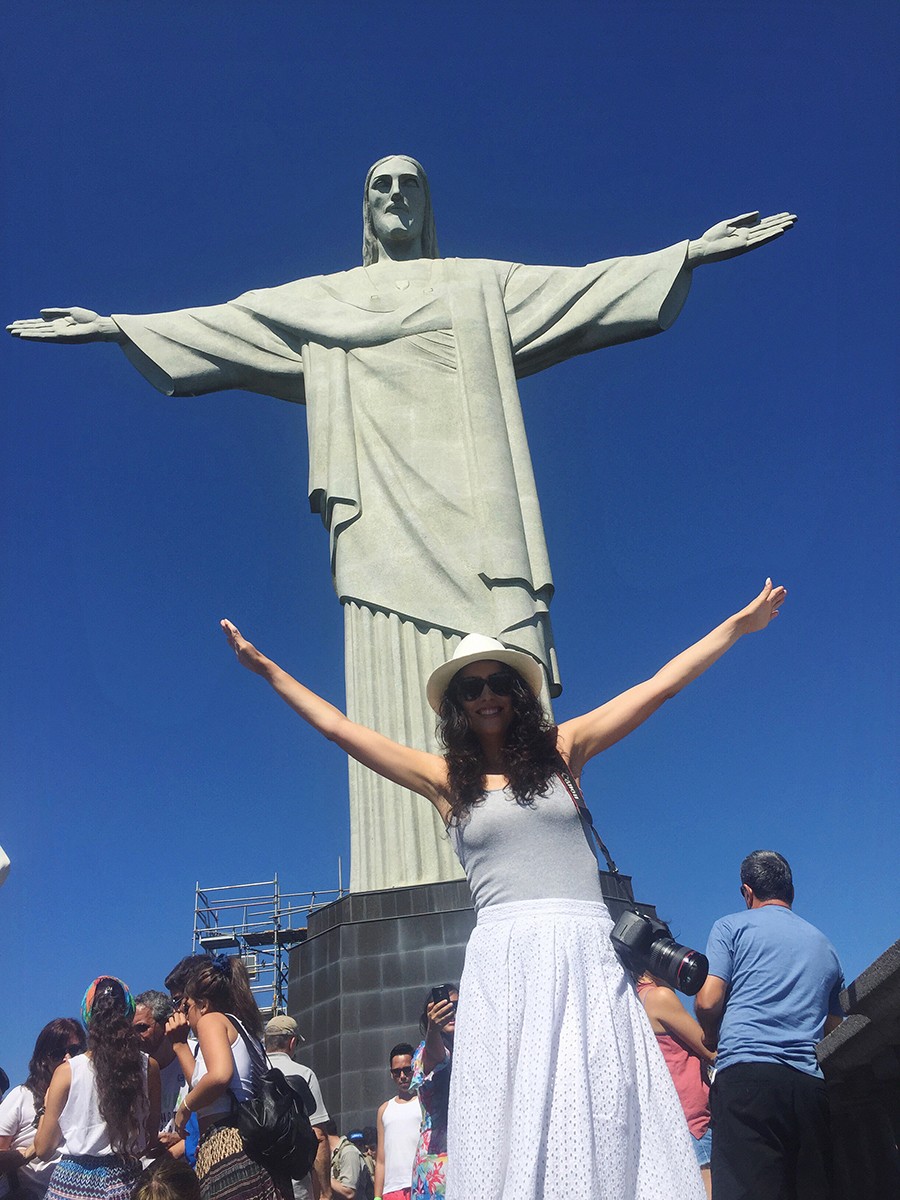 A huge bucketlist moment! This monument itself isn't only incredible, the view from the mountain over Rio is amazing too. As you can see it was super duper busy around though.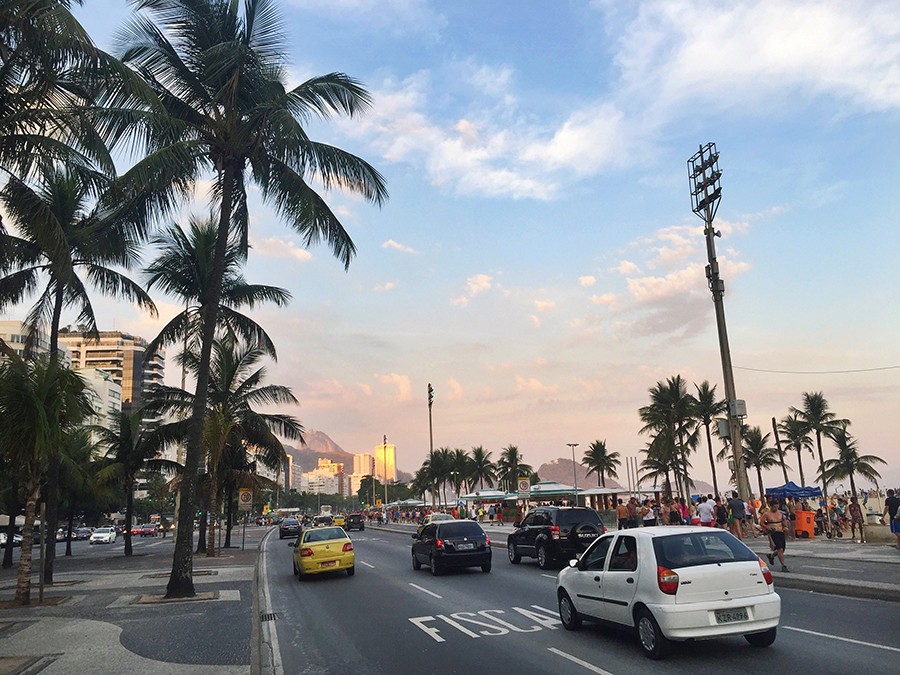 Our first night in Rio when we headed to Copacabana beach. The skies were mesmerizing and I was wowed by the general vibe!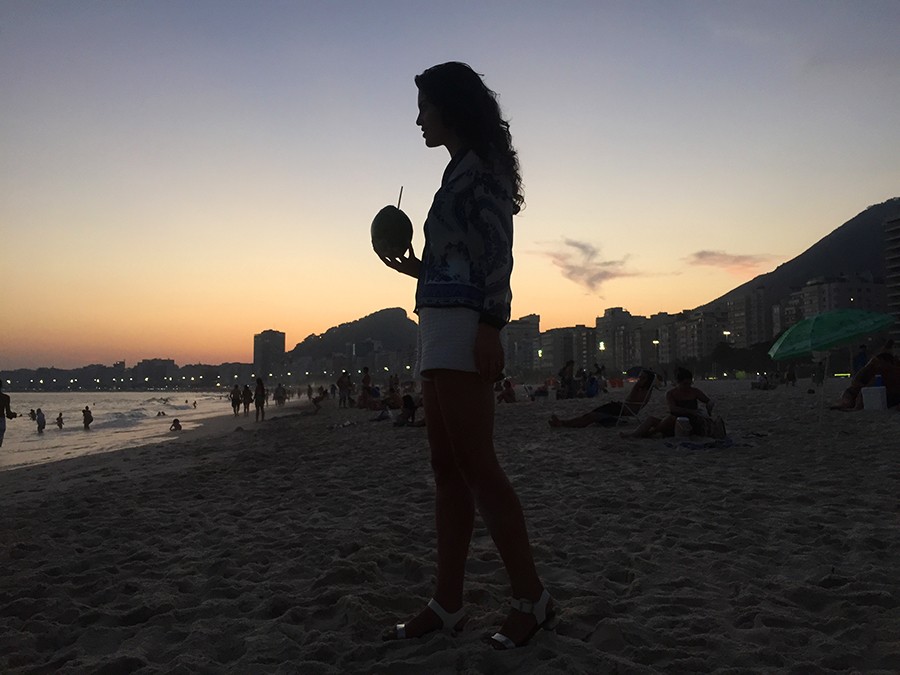 Fresh coconut is really the best when you're de-hydrated after a flight or on a warm day. I've probably had around 2 or 3 every day during my time there.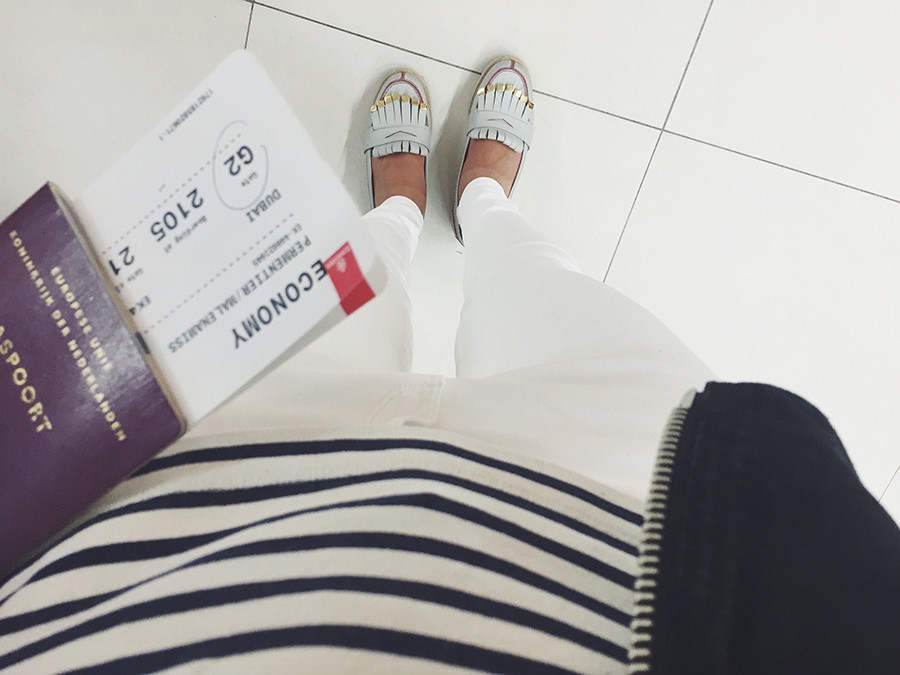 Flight attire. I'm wearing coated skinny jeans from Zara, a simple stripe top, loafers and a suede jacket. This was at Perth airport before doing some duty free shopping. I bought a Chanel powder because my current one is almost finished.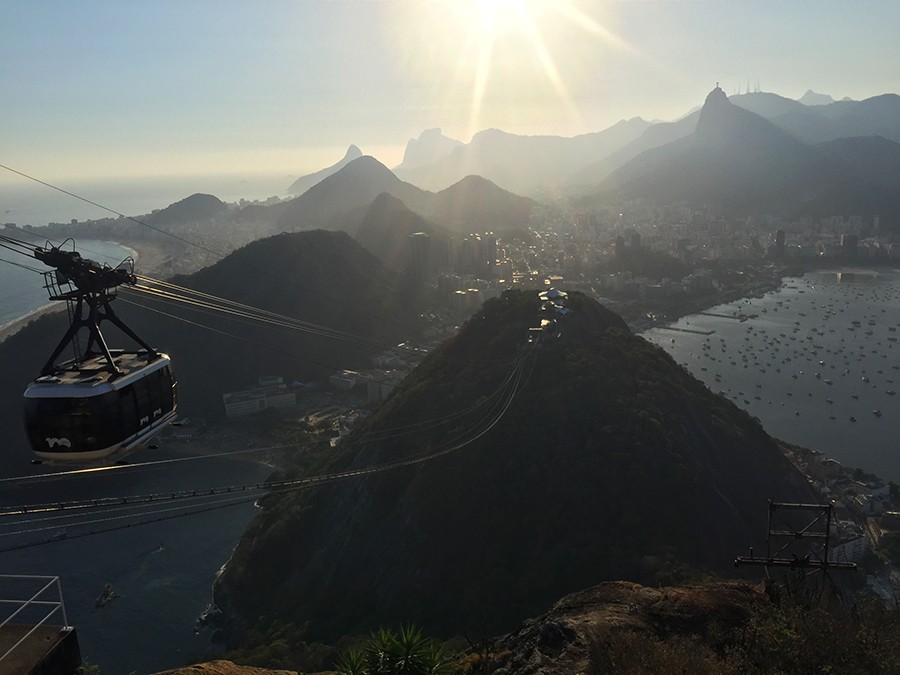 No words for the view from Sugarloaf mountain. Wow! The ride up to the mountain is so scary, it's all glass so you can see all around and beneath you.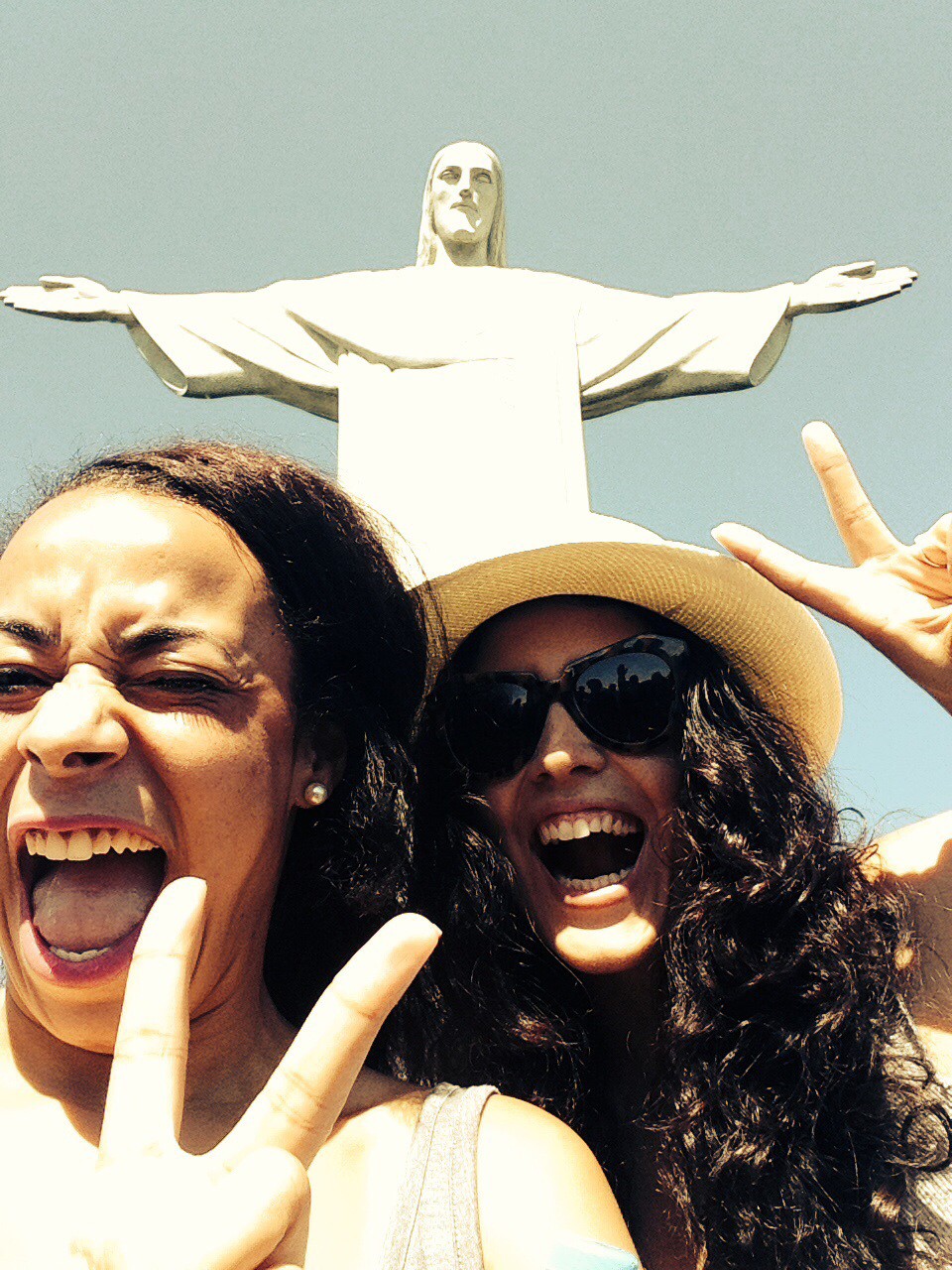 WHOOP! We made it to the top. Ultimate selfie moment…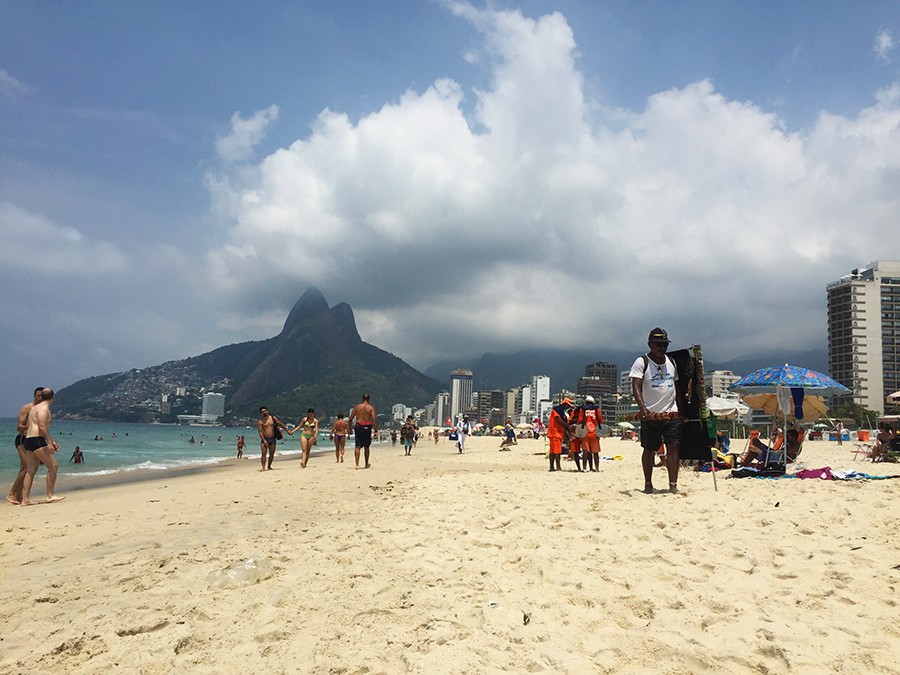 Photogenic Ipanema beach. Loved it here, so beautiful. The great thing about the beaches here is that you can buy everything without even having to get up from the sand. Cold drinks, ice cream, sandwiches and even bikinis and jewelry. Why don't we have that in Australia?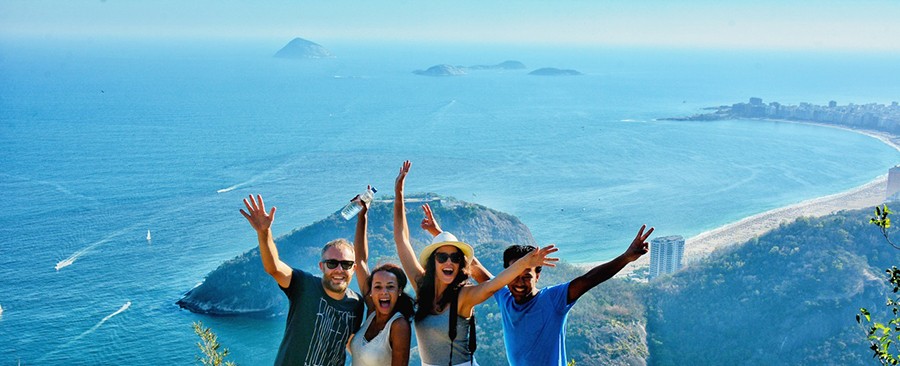 Cheers to making new friends! We had so much fun with these two Dutch guys and their Brazilian friends.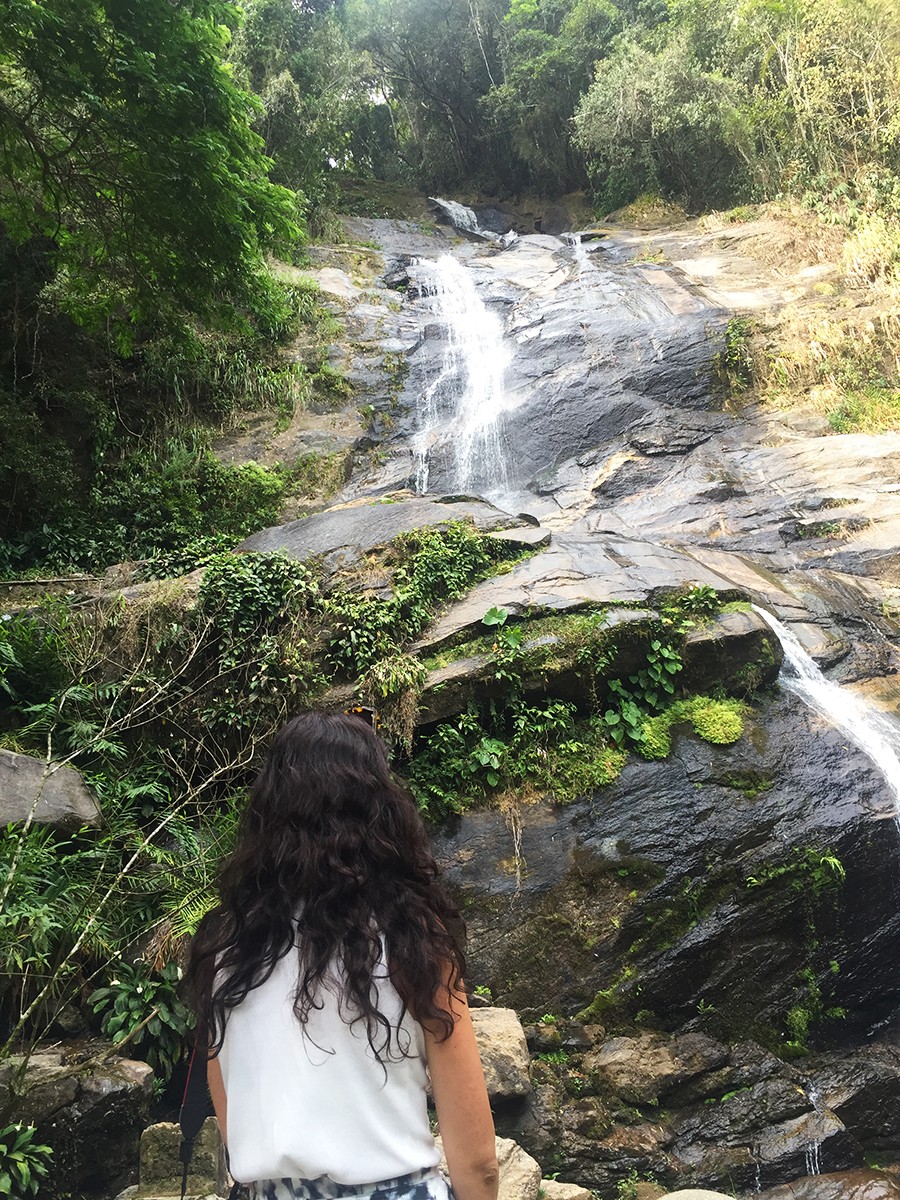 We took a taxi up to Barra Da Tijucca around 4pm thinking it was a park, not an actual 32 km² rain forrest that you have to take an entire day for. It was a massive drive, for some reasons heavily armed police was everywhere and the taxi driver thought it was a good idea to drop us in the middle of nowhere. After all, it was what we asked for when we told him to drive to Barra da Tijucca. Well, you can learn from us: don't do it. There's no taxi's, it's hell dangerous, just don't. Anyway, we ended up paying the driver to wait for us when we made a small walk to some point of views and this gorgeous waterfall. I'm all in for impulsive plans, but Brazil isn't really the place to be irresponsible like we were!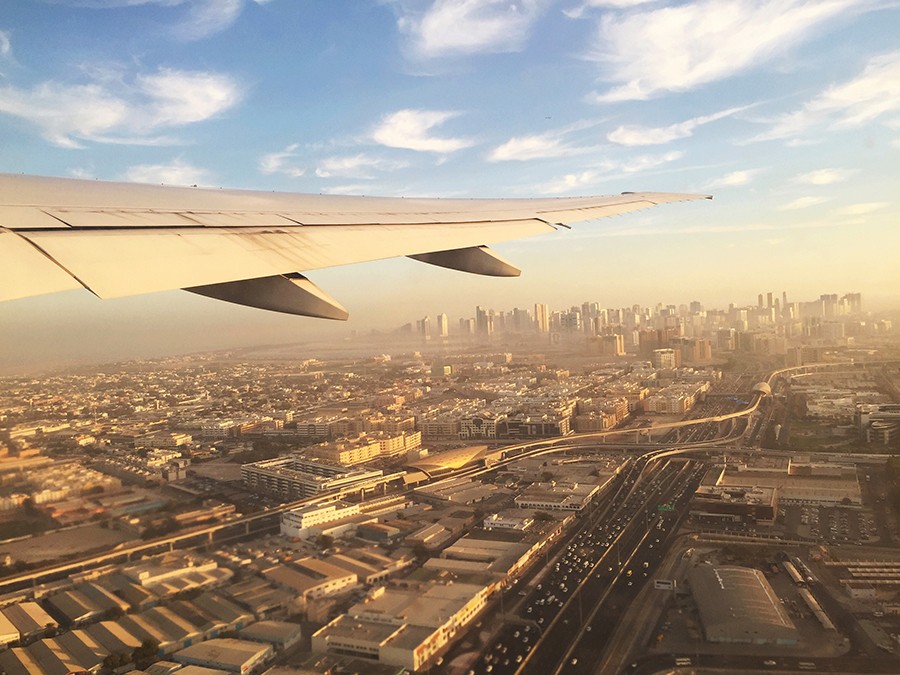 Incredible view while flying out of Dubai early morning. I absolutely LOVE these moments, worth everything.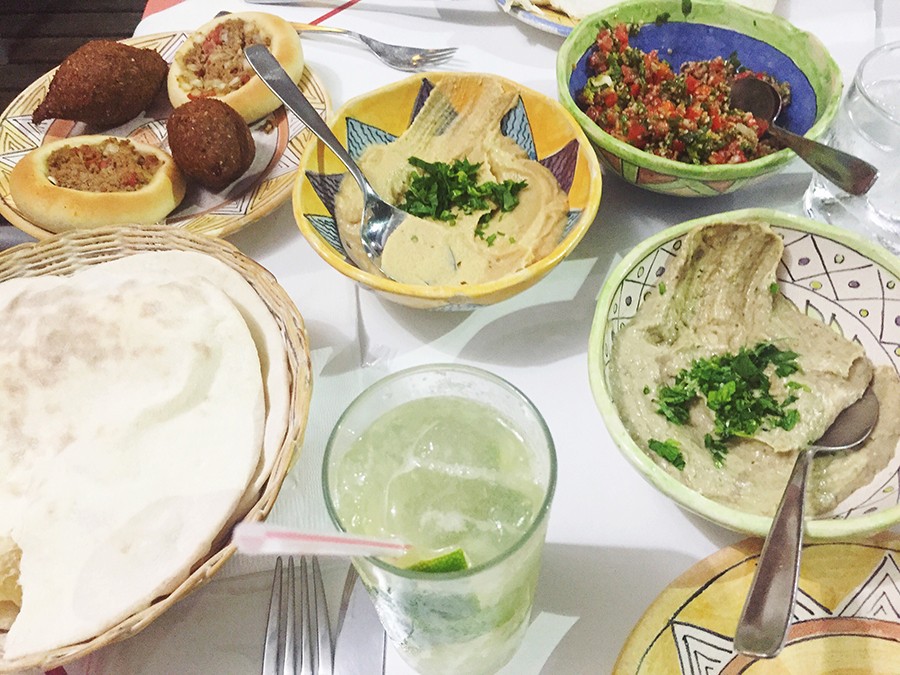 We found this amazing Lebanese restaurant on Copacabana beach called Especialidades Arabes and I can't recommend it more! We ended up eating here at least 5 times, alone and with new friends, lunch and dinner. SO good! their Caiparinhas are amazing too.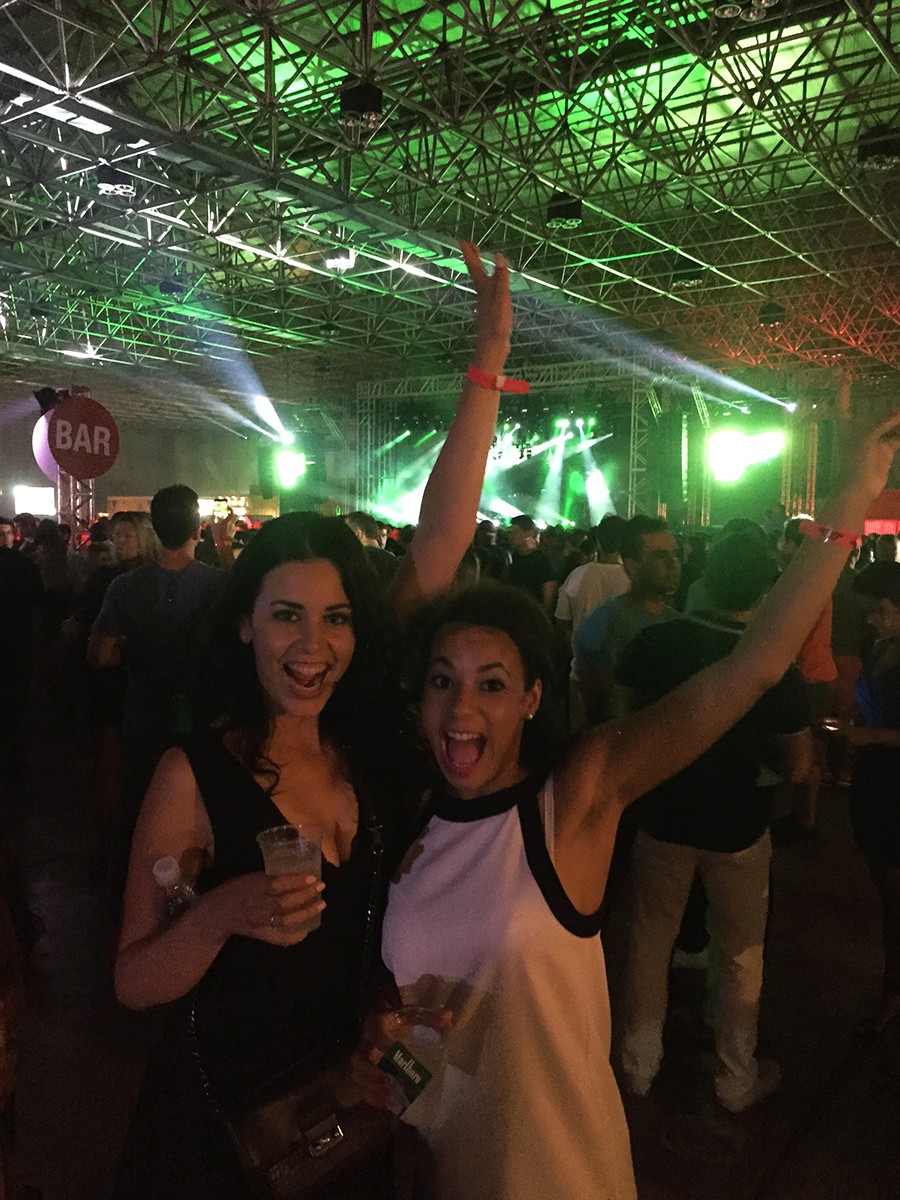 One of the trips highlights was unexpectedly booking tickets for David Guetta! We didn't even know he'd be in Rio, such an amazing coincidence. I was once at a party in Portugal where he performed and I have got such great memories from that. Anyway, the night was incredible! The venue was MASSIVE, fitting at least 20.000 people and it was located about an hour out of Rio and the energy was great!!! The crowd went crazy when David came on stage with the Brazilian flag wrapped around him. After the party finished and with thousands of people leaving at the same time, finding a taxi was….impossible. For some reason we were incredibly lucky, because after wandering around for half an hour, a driver preferred to take us instead of others because he'd be in for a long ride to Copacabana. We weren't back in the hotel until 6am and totally crushed, as you can imagine.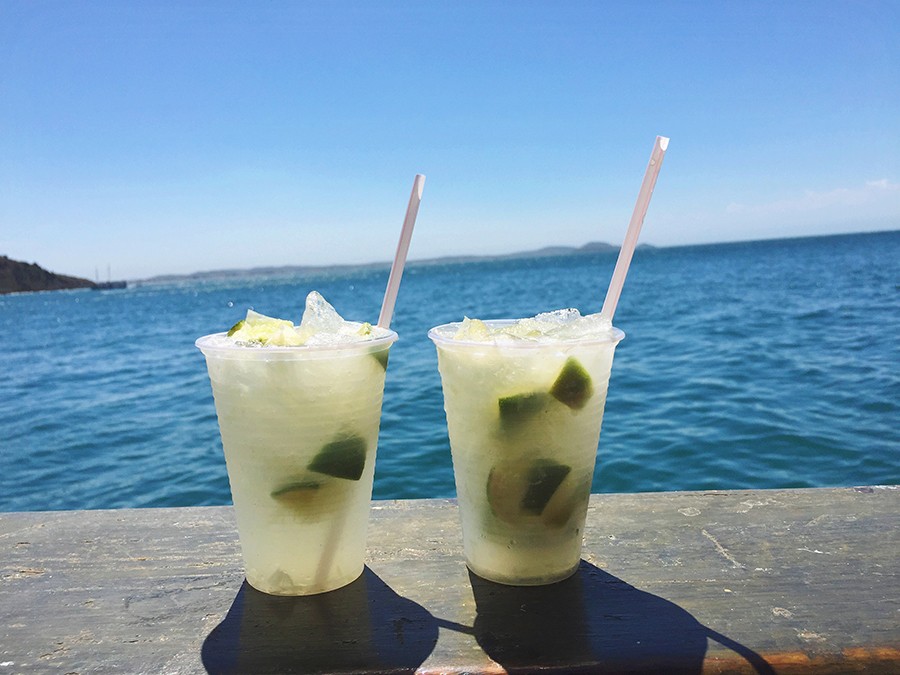 Caiparinhas, more Caiparinhas. This was one the boat in Buzios, a gorgeous peninsula located a couple of hours from Rio. The boat stopped in different bays for a swim, there was music, there were drinks. Fresh meat and shrimps were grilled on the barbecue to eat, yummy.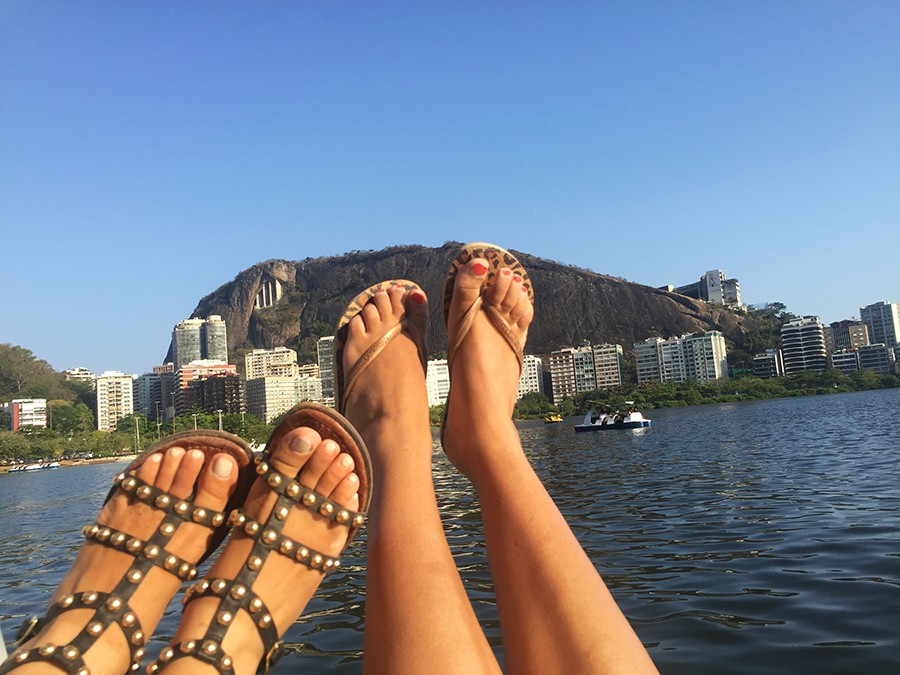 Rio really has it all! This is at 'Lagoa', a lake close to the city centre in Rio where we drove passed on our way back from Park Lage. We instantly asked the driver to stop and rented one of those wicked paddle boats. We cruised around the lake watching the late afternoon light over Rio with a coconut and snacks. Honestly, can it get any better?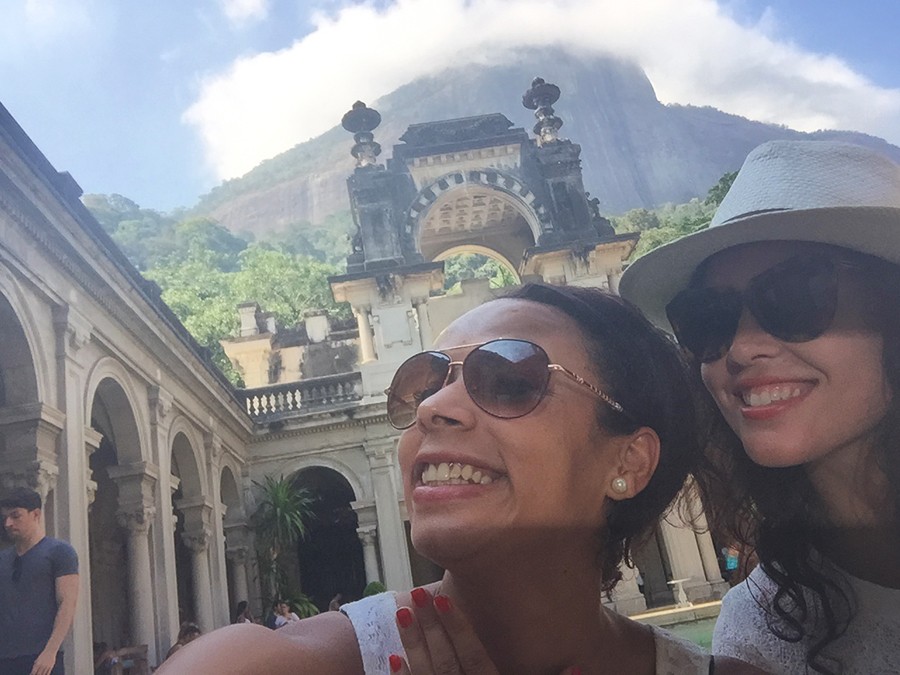 Stunning Park Lage. I got this a recommendation from an Instagram follower and I'm so glad we went! A beautiful setting and some really authentic architecture. There's a cute cafe were we sat down, you can even see Christ the redeemer high up in the mountains when the clouds are gone!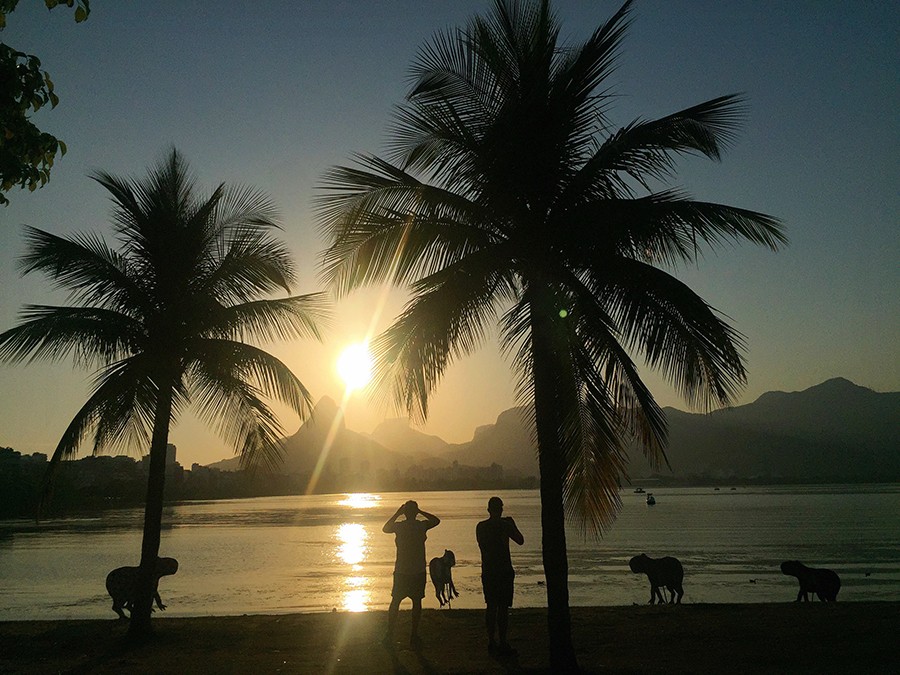 Sunset drinks at Lagoa.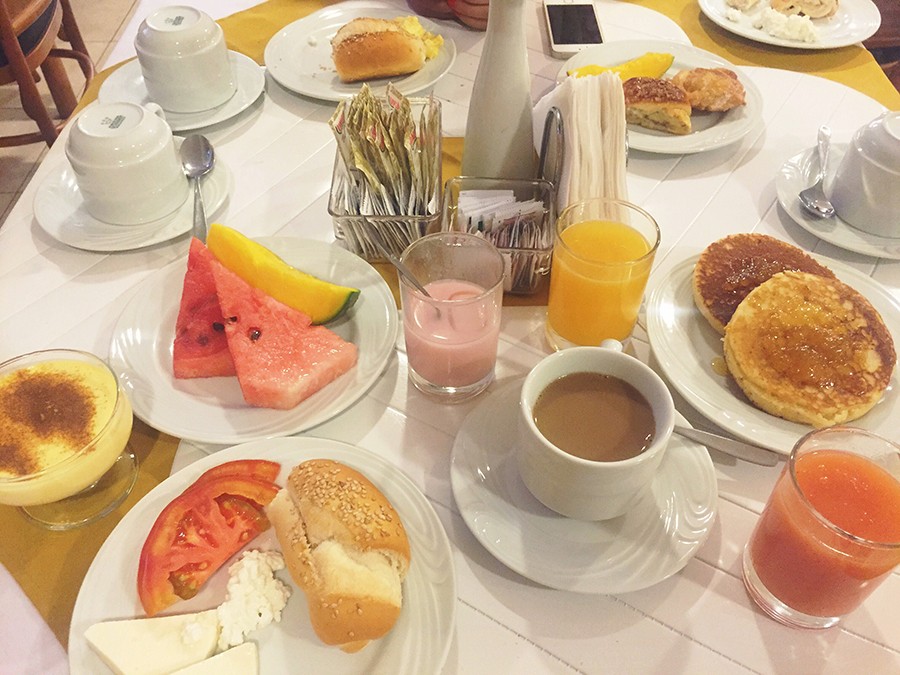 Making the most of hotel breakfast. The hotel where we stayed was quite simple, but it had a good breakfast and is very conveniently located.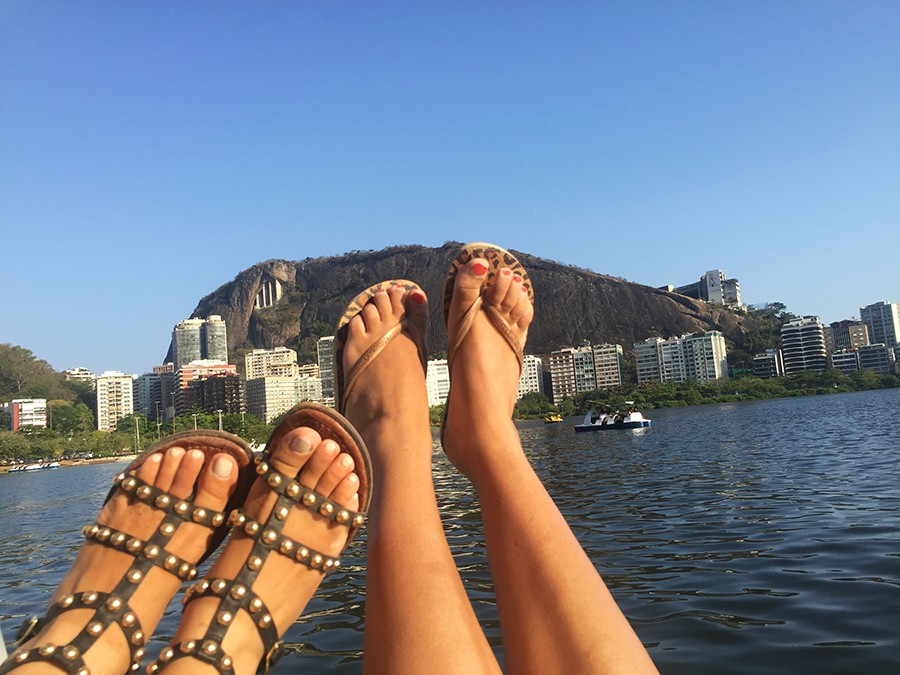 Feet in the air on our paddle boat somewhere in the middle of Lagoa.

We did some shooting on Copacabana beach! 40 degrees, midday; I wouldn't really recommend it. Ha ha. When I still lived in the Netherlands, Tatiane was the one who helped me with outfit photos most of the time so working together was easy.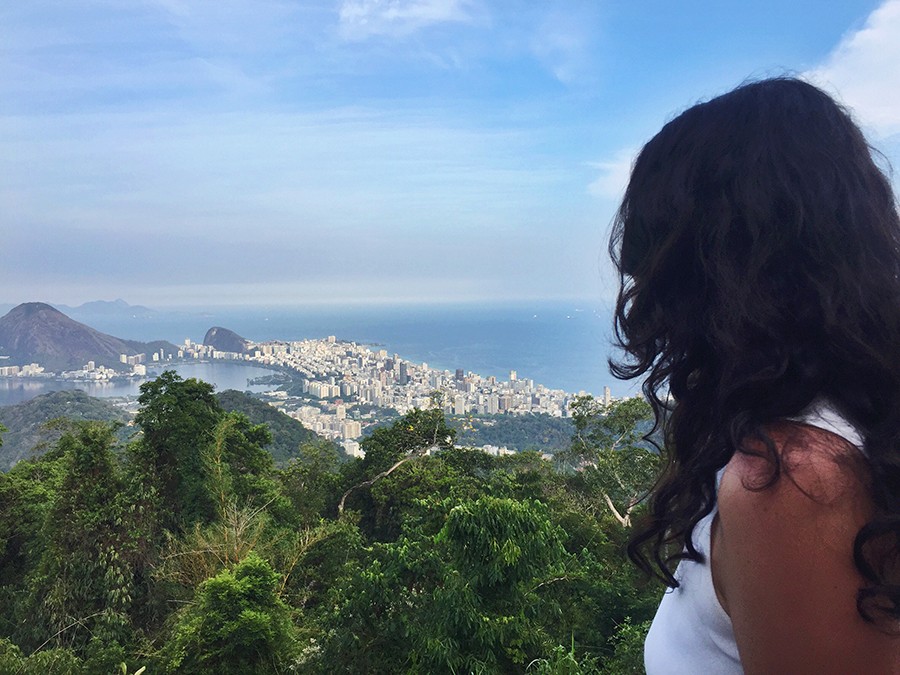 Scenic views over Barra Da Tijucca.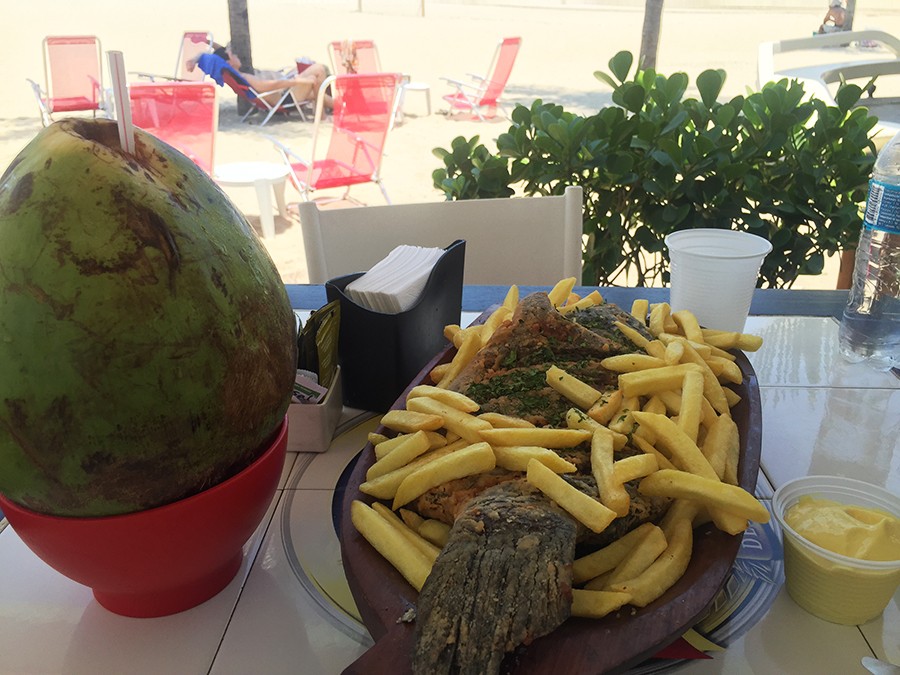 Believe it or not, but I ate the whole fish. This was after shooting on the beach and I was starving.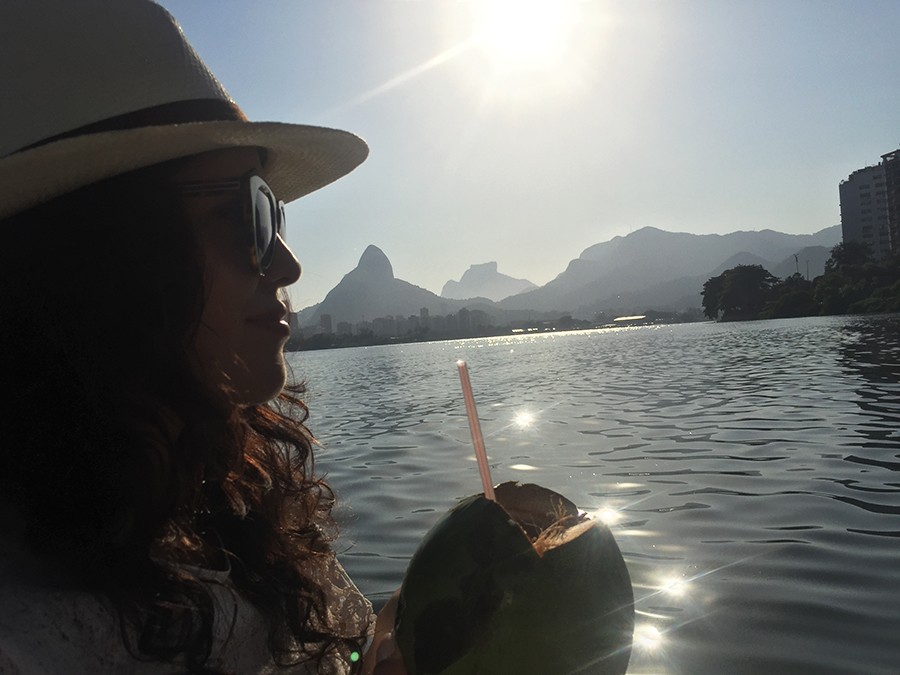 One of those pinch-me moments. Chilling on the lake, enjoying the view and sipping on fresh coco.

Early morning skies before flying out of Dubai.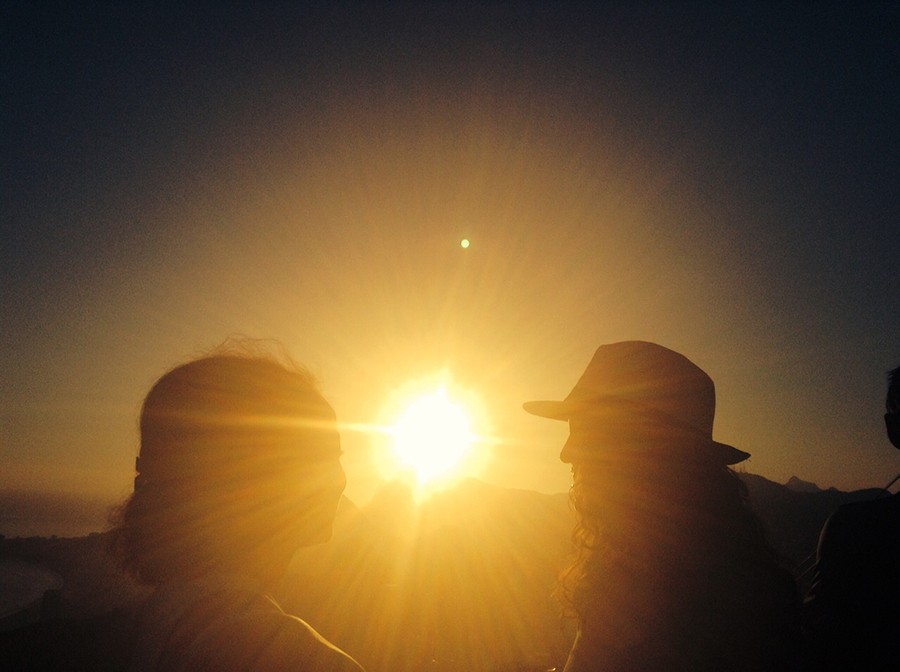 Watching the sunset from Sugar Loaf mountain is one of those 'once in a lifetime' moments. I've lived so many of those moments while in Rio! Seeing the sun disappearing behind the mountains is breathtaking and makes you ask yourself if it's this even real. Our new friends told us that people have the habit to applaud when the sun goes down in Brazil. All in for new traditions, we wanted to be first ones the applaud and cheer, which resulted in a massive crowd following our lead. It was hilarious!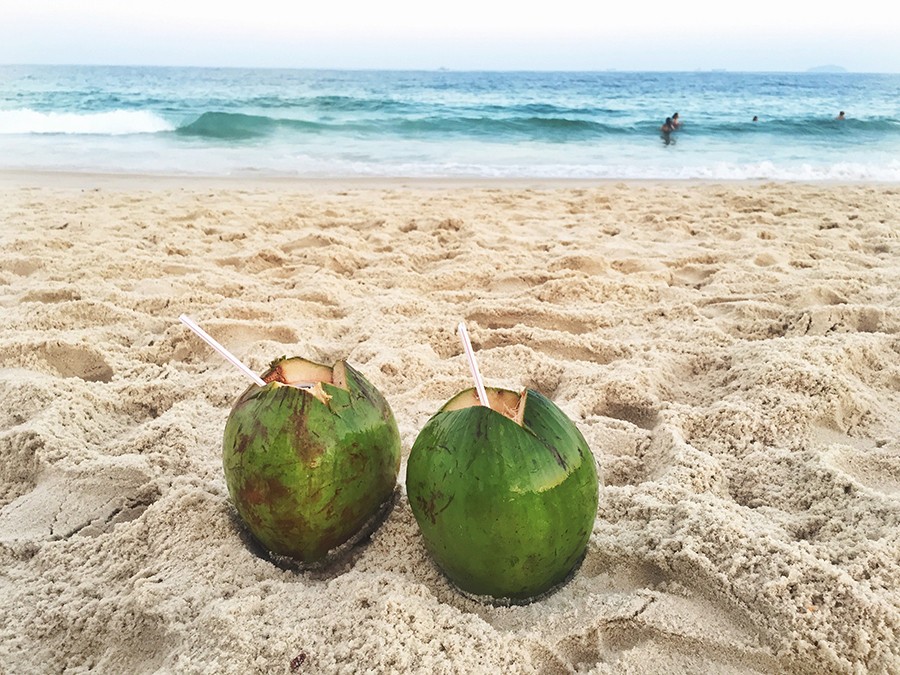 Fresh coco on our first night in Rio.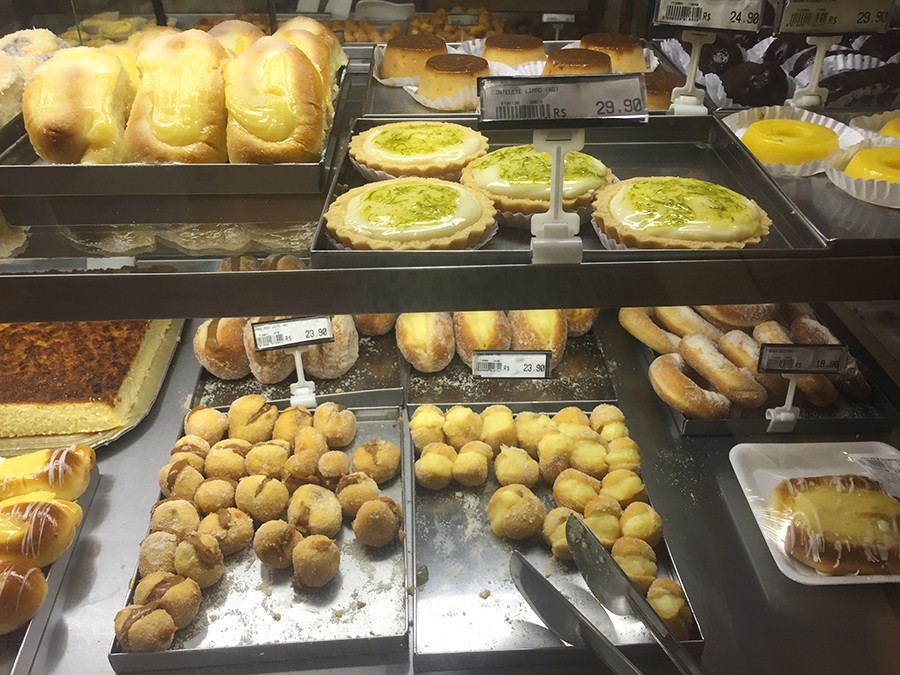 They sure do some killer pastries in Rio. Churros and donuts filled with cream, puddings and creamy tarts. My goodness! We must be in food heaven.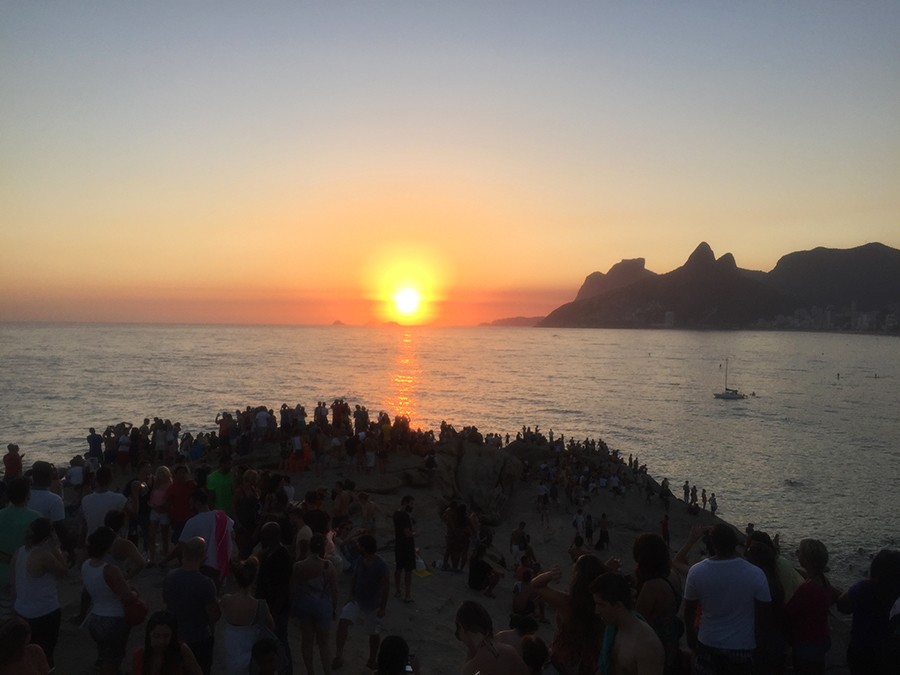 Sunset on Ipanema beach from the rock. I'm not sure what's the reason behind, but two drones were flying around, heavily armed police was everywhere and there was even a police helicopter with someone ready to shoot sitting in the door. My goodness!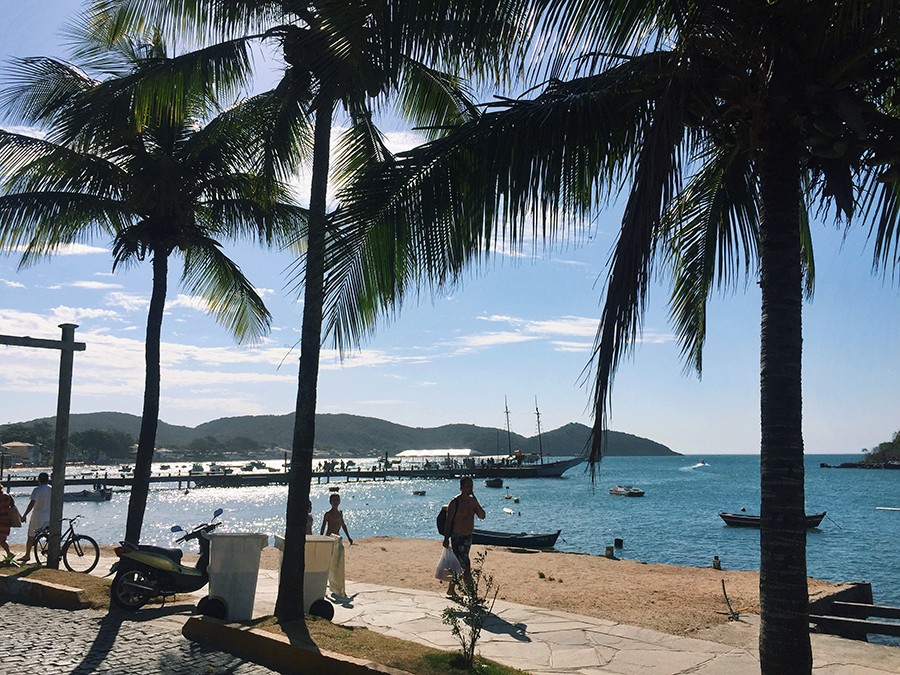 Gorgeous boulevard in Buzios.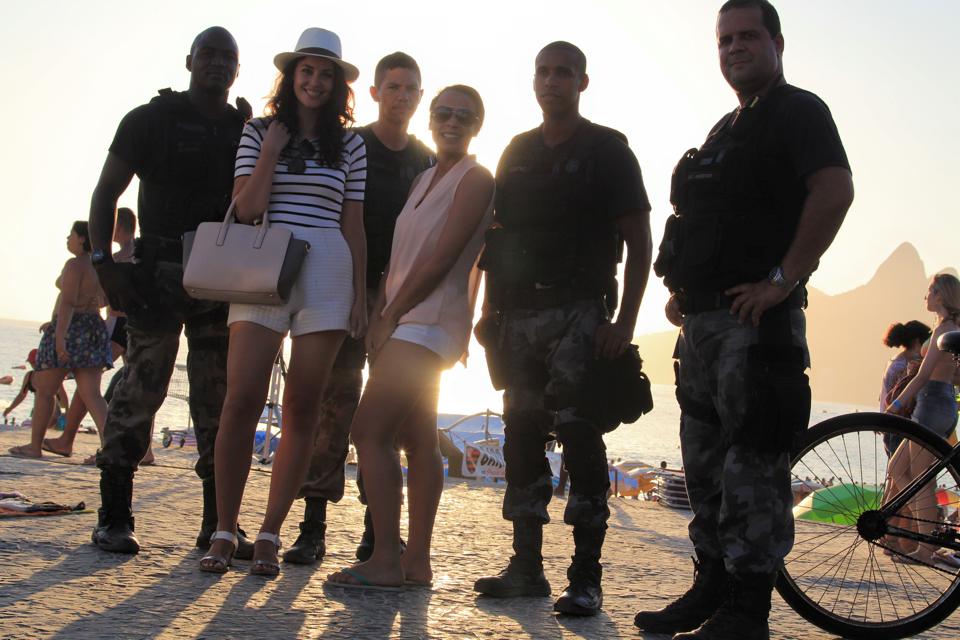 Tatiane insisted on a photo with the police force present on Ipanema beach and while I expected them to say no, they were happy to be in our photo. Hahaha! Such nice guys.
[show_shopthepost_widget id="524644″]