I usually write these photo diaries in my lunch break at work, but being able to do today's one from my own home office feels like a luxury. The fun thing about living abroad is that there are public holidays that you didn't calculated, like today which is off in honour of the queen's birthday. Well, that works for me.
If you're hungry I'd have to warn you  to not read any further, because the amount of food pictured below is outrageous. Hassan and I have been having quite some setbacks this week (more on that later), so I guess we both felt like escaping in some comfort food. While I'm normally not a big emotional eater, this week I was. And you know what? I did make feel lots better. Ha!
The work week was like usual, except for my lunch break escapes to Garden city shopping centre. Aside from Zara window shopping, I made it my mission to try a different coffee place every day. My conclusion is as following: Jamaica blue officially does the best coffee in Garden City and the new Zara collection is way too good to resist. I also purchased a brand new bottle of Moroccan oil (photo 2), which is my holy grail when it comes to hair care. The last few weeks I've been keep walking passed this super bright and vibrant home decor shop and last week I just had to walk in. I saw these Turkish porcelain plates (photo 4) that brought back so many memories from when I lived in Turkey during 2009. There are tourist oriented shops everywhere selling this porcelain and I still have some myself at home in the Netherlands.
Let me take you through my week…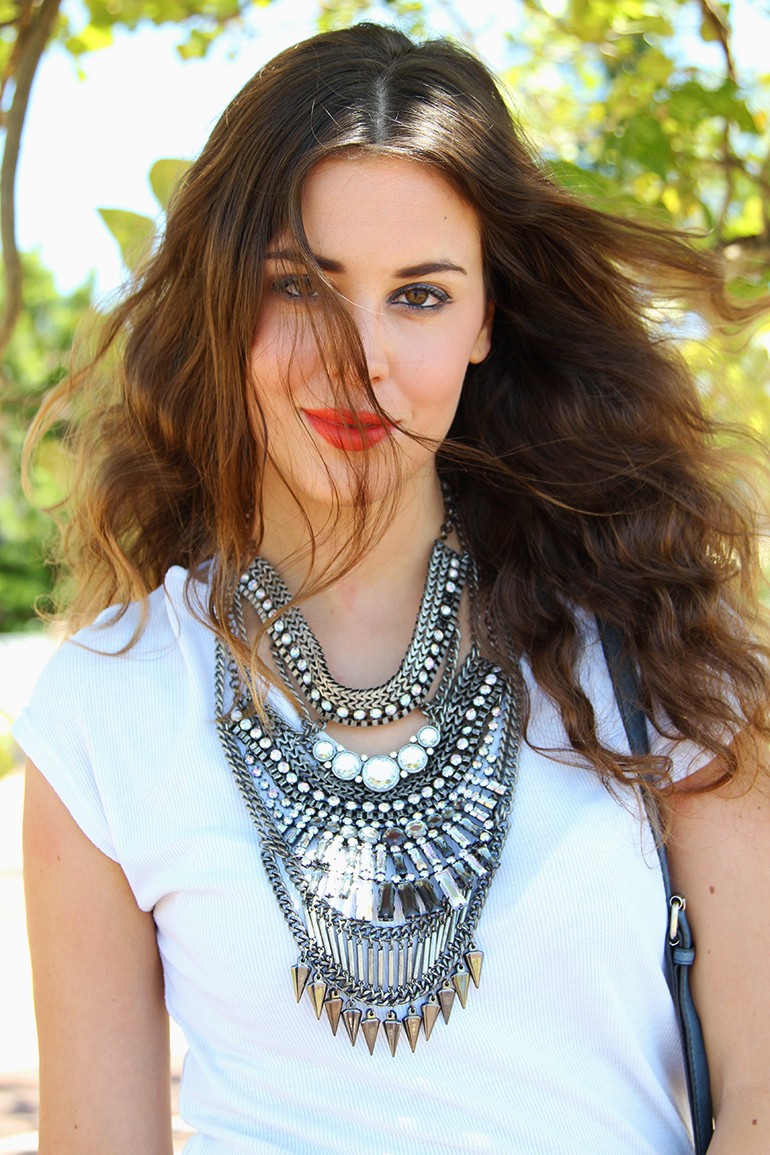 The photos I usually post on the blog are taken a few days ago, but today I'm very 'live'! This was today while strolling along Trigg beach, my favourite beach in Perth. The wind was quite strong, but with a little sun and chilly air it was so refreshing! I'm wearing one of Hassan's caps to keep wild curls in place.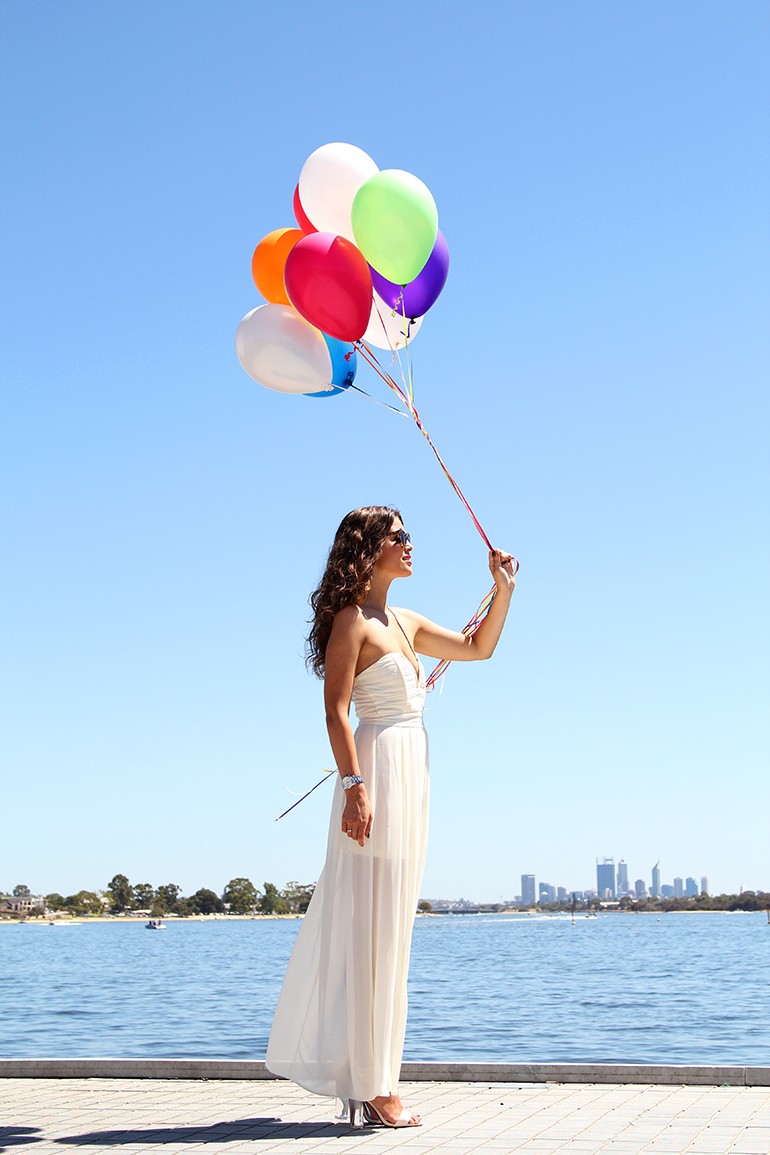 Colour coordinating some of my favourite goodies. Turquoise cuff from Samantha Wills, other jewelry from Totallyjewel, Michael Kors gold/blue lexington watch, O.P.I blue and green nail polish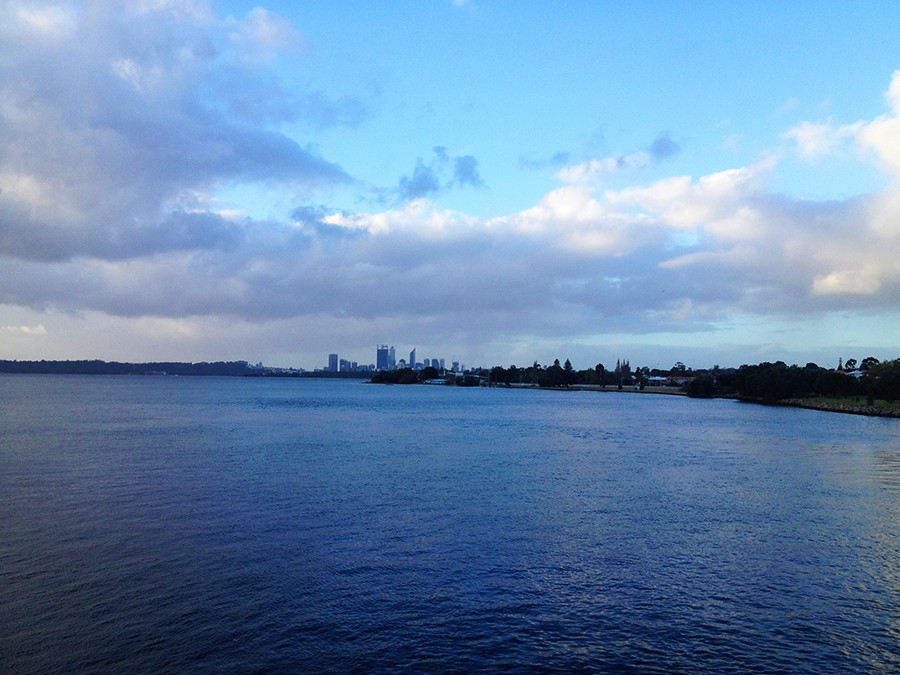 One of my lonely walks along the river side. This was Saturday late afternoon from the bridge in Applecross which has a beautiful view on the city.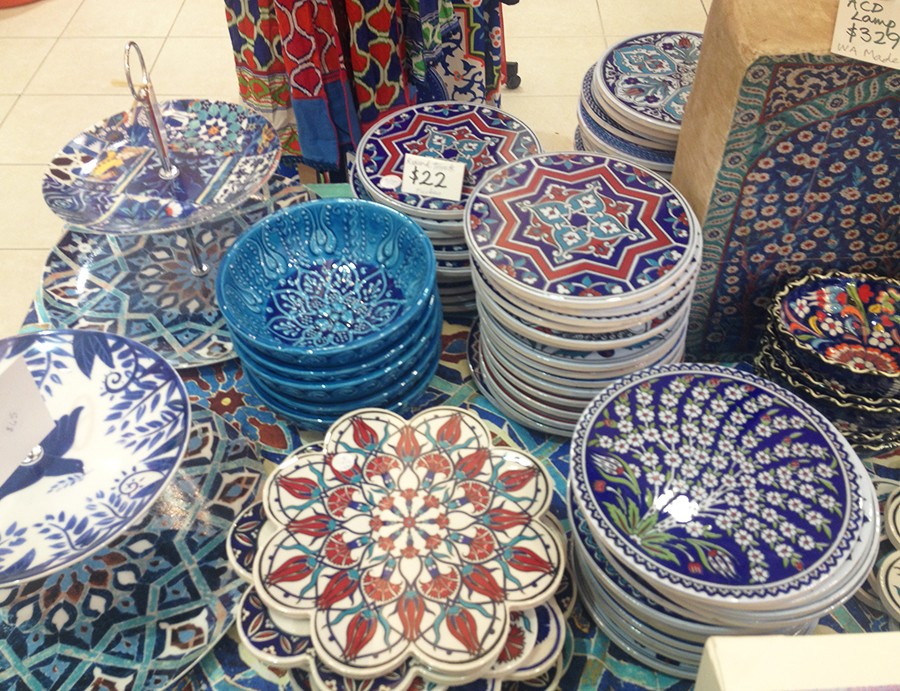 Beautiful porcelain in the shopping centre. I really need that cake tray. What do you think?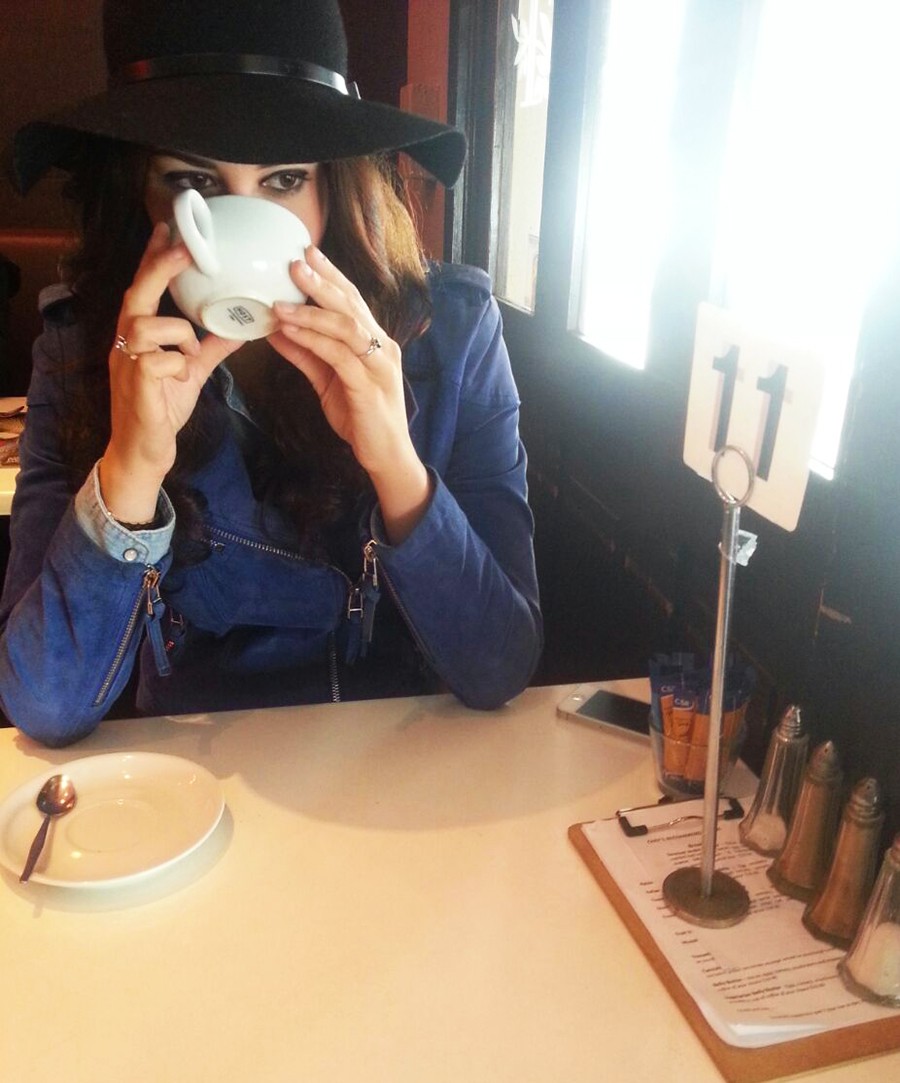 Saturday we woke up to a rainy day, so to make it a little more fun Hassan and I decided to go for a big breakfast at Toscanini's in Applecross, which does great coffee and a killer breakfast as you can see in the photo below.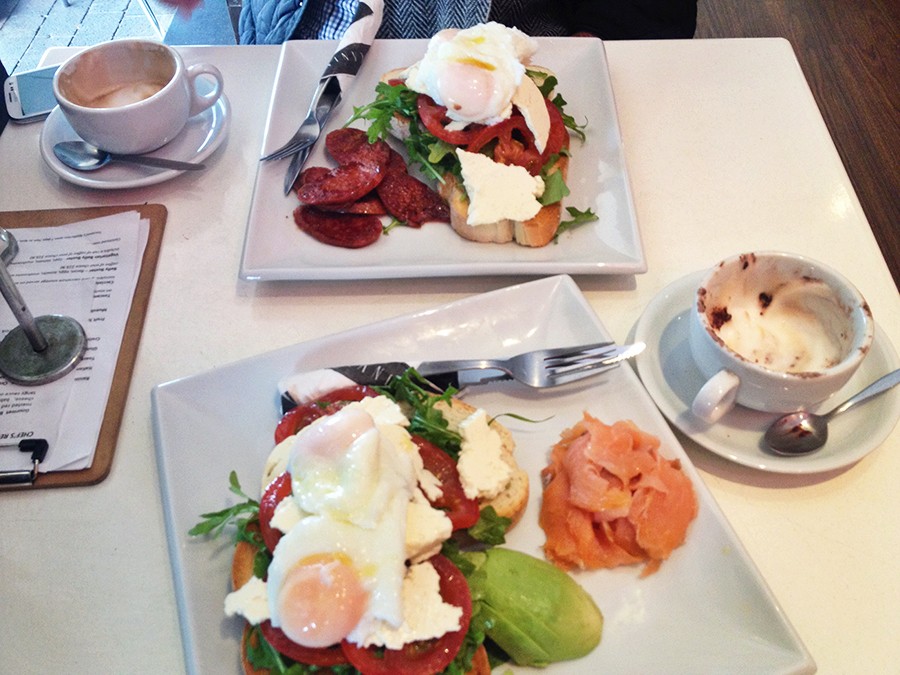 I had sour-dough toast with poached eggs, tomato, feta, avocado and smoked salmon. Really yummy but so filling that I didn't eat for the rest of the day.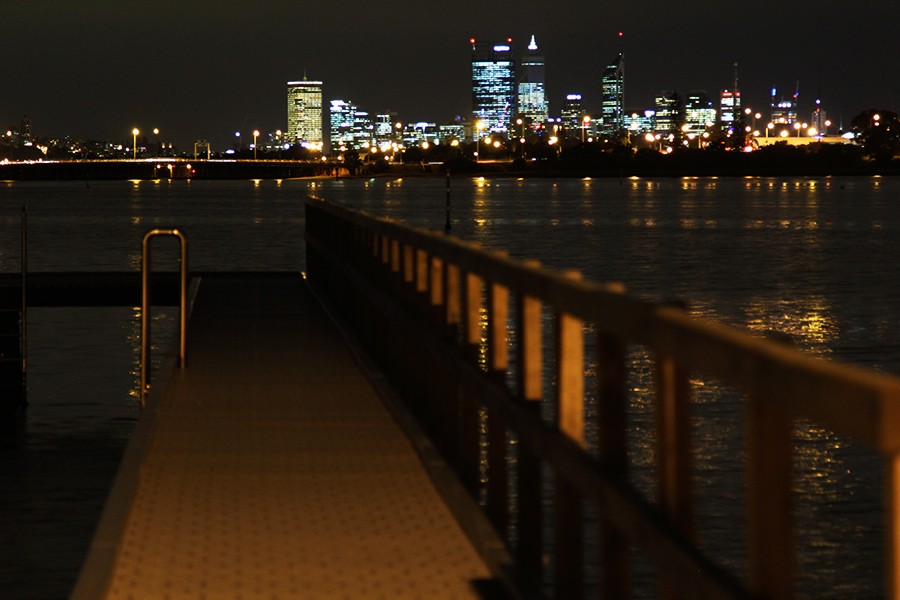 Photo courtesy to Hassan, who went to the riverside in the evening to take some photos with our beloved Canon 600D. It's nice to be able to show you a photo of the river side view by night, as my iphone snaps don't do justice to how beautiful it looks.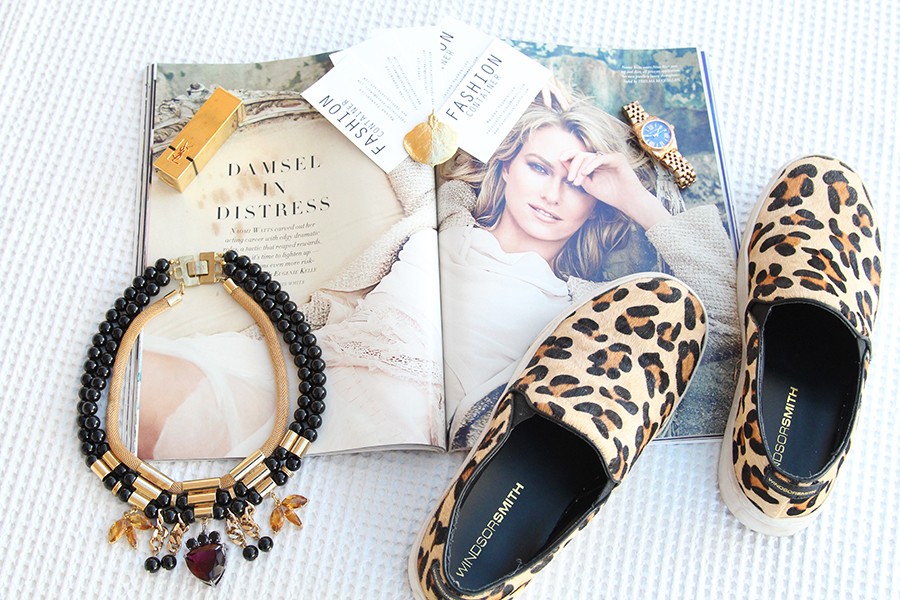 De-stressing with editorials in Harpers Bazaar and some other pretty things. Does anyone agree with me that putting together flatlays is such a relaxing and mind calming thing to do? The beautiful necklace is from Natkent, which I've been having since a while but strangely enough never have shown you. Shame on me.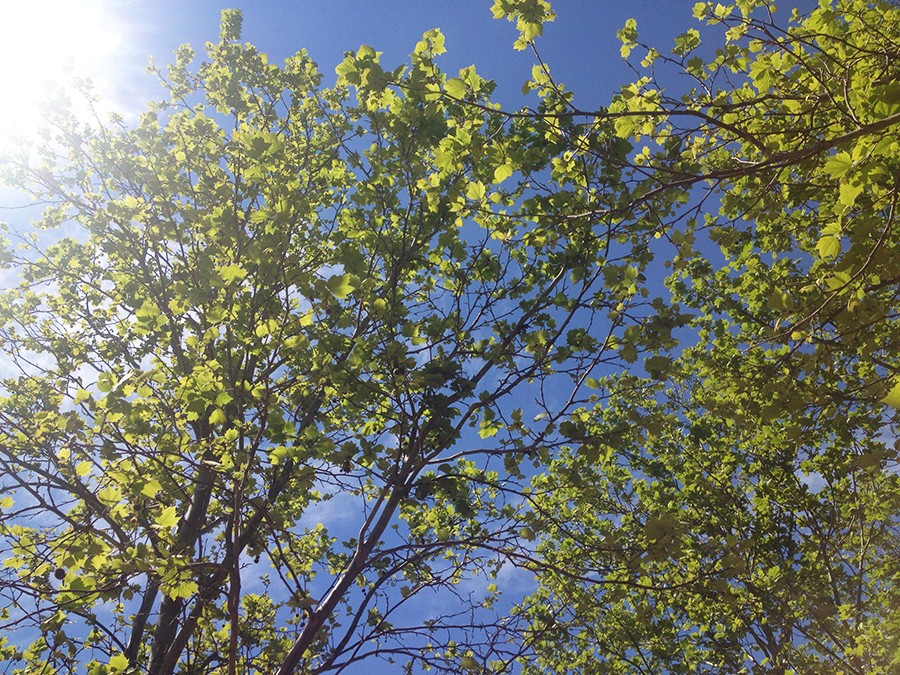 Ultimate spring feeling with clear blue skies (even though that's most of the year in Perth) and fresh green leaves. Love it.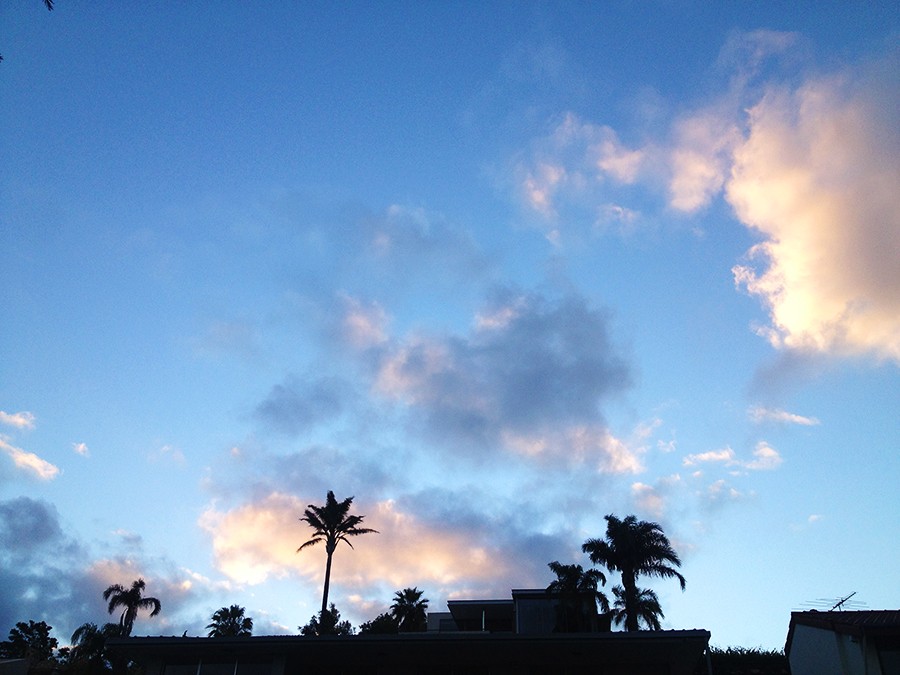 Fluffy pink clouds and palmtrees when I went for a walk after the weather cleared up on Saturday.

Helping ourselves in a food coma while chocolate fondue-ing at San Churro's in Fremantle on sunday. Dipping churro's, macarons, brownies and fresh fruit in chocolate is probably one of the most delicious things you could eat on earth. All of that with a flat white of course. "Flat white" is one of those words that I had no clue what it means when I came to Australia, so in case youo don't know: it's a coffee made with espresso and hot steamed milk, but not fluffed up like a cappuccino.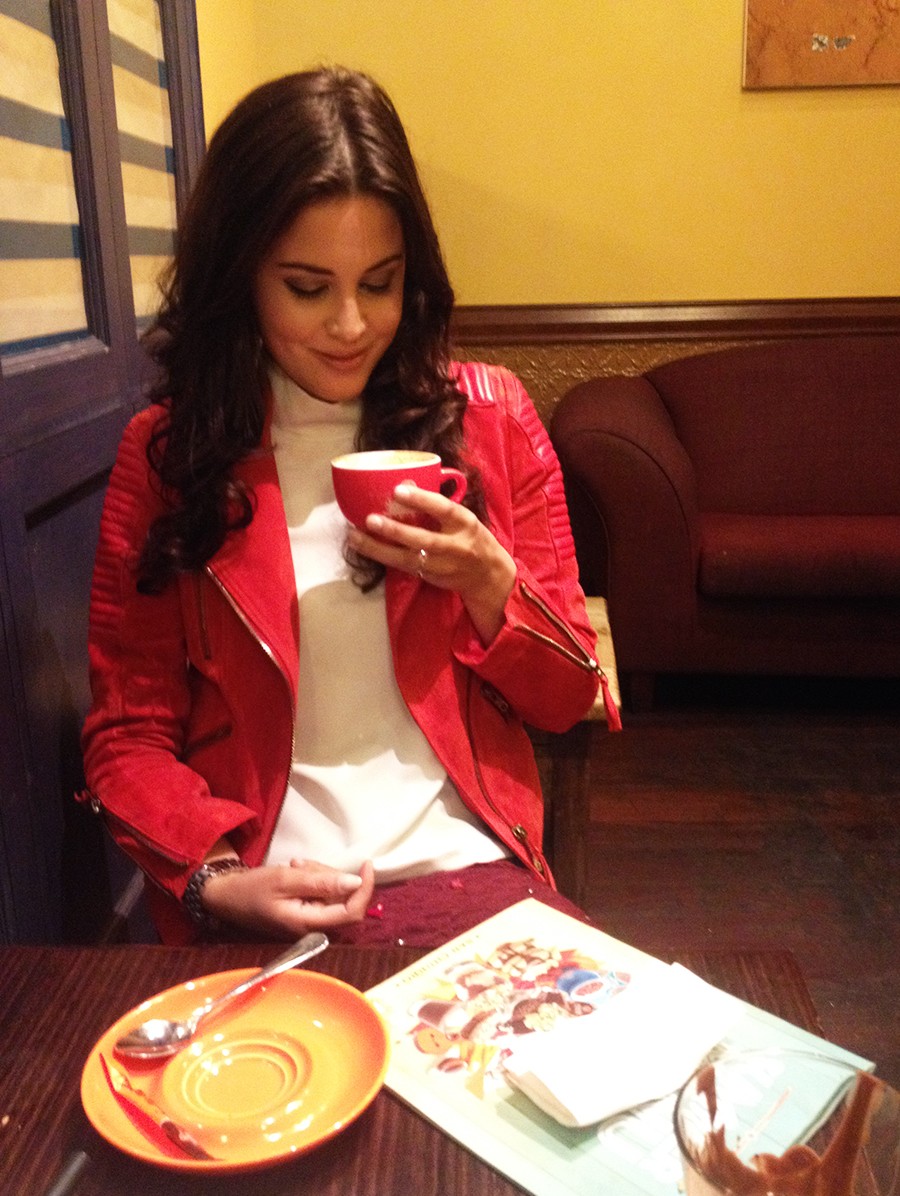 The good things in life! I'm wearing a red biker jacket and a white top with high neck from Asos.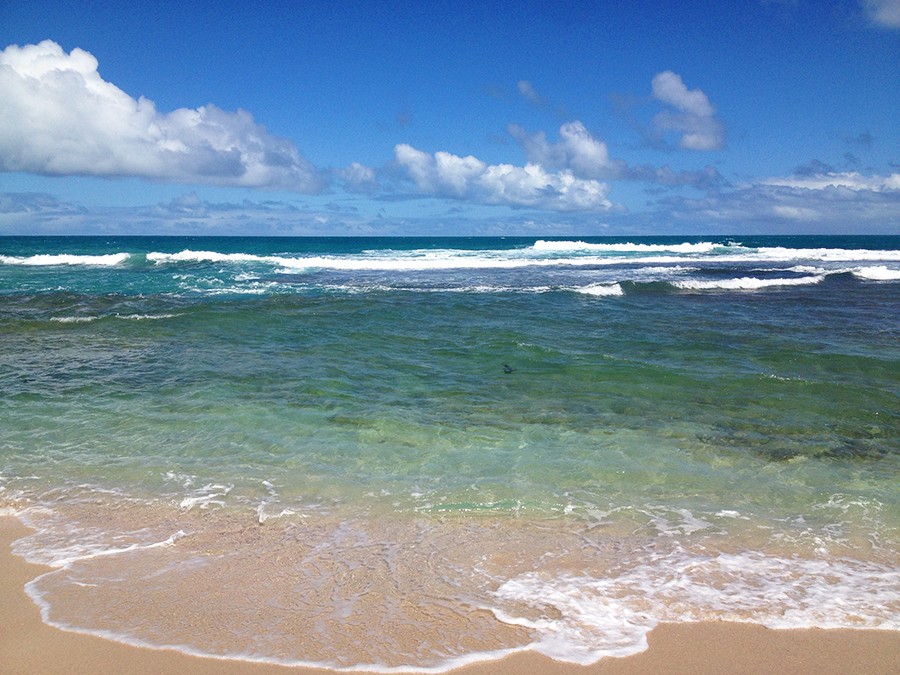 Beautiful clear blue ocean at Trigg beach today.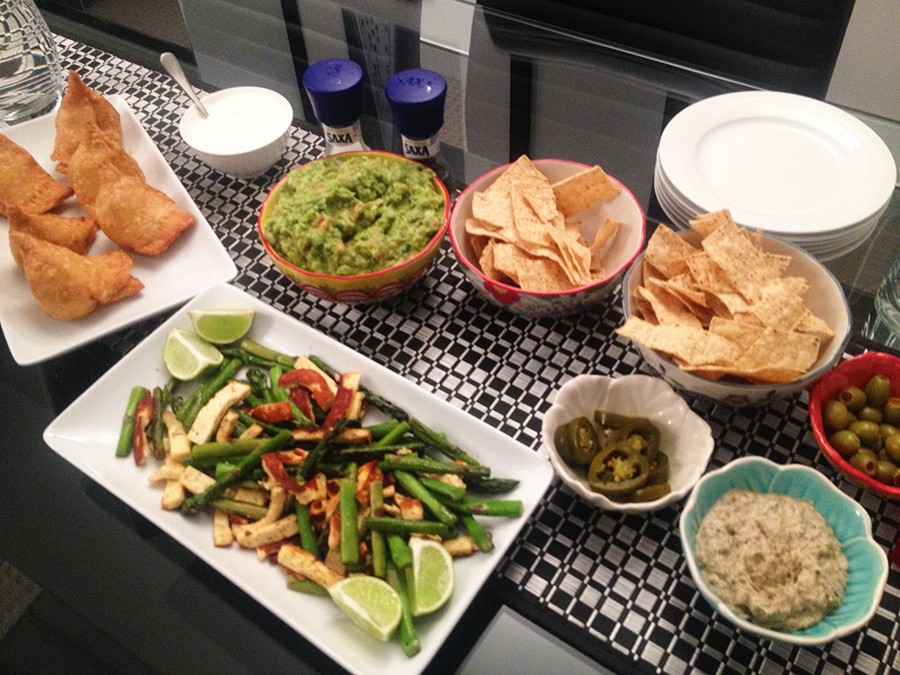 Hassan and I were invited at a friend's place for dinner on Sunday and they spoiled us as usual! These were only the starters, can you imagine. We had chicken and beef fajitas afterwards. The perks of having a group of multi cultural friends is that you get to taste so many different kinds of food, it's seriously so much fun (and tasty!)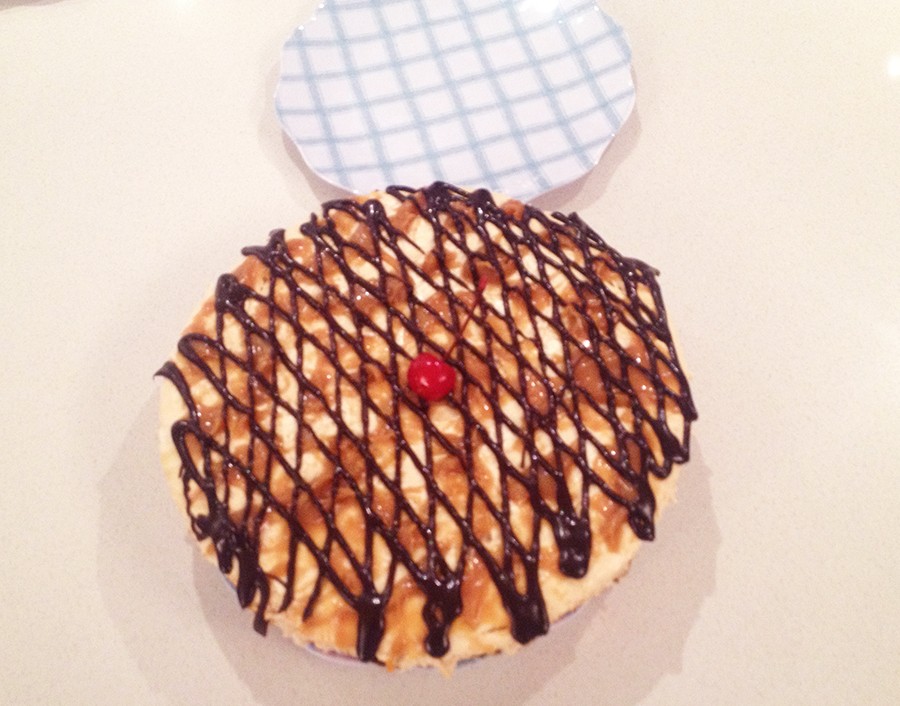 …And like all the food we had wasn't enough there was a massive caramel cheese cake as dessert. This was by the way at the same day that Hassan and I had the chocolate fondue. Oops. One of the reasons I went for a long walk today, ha!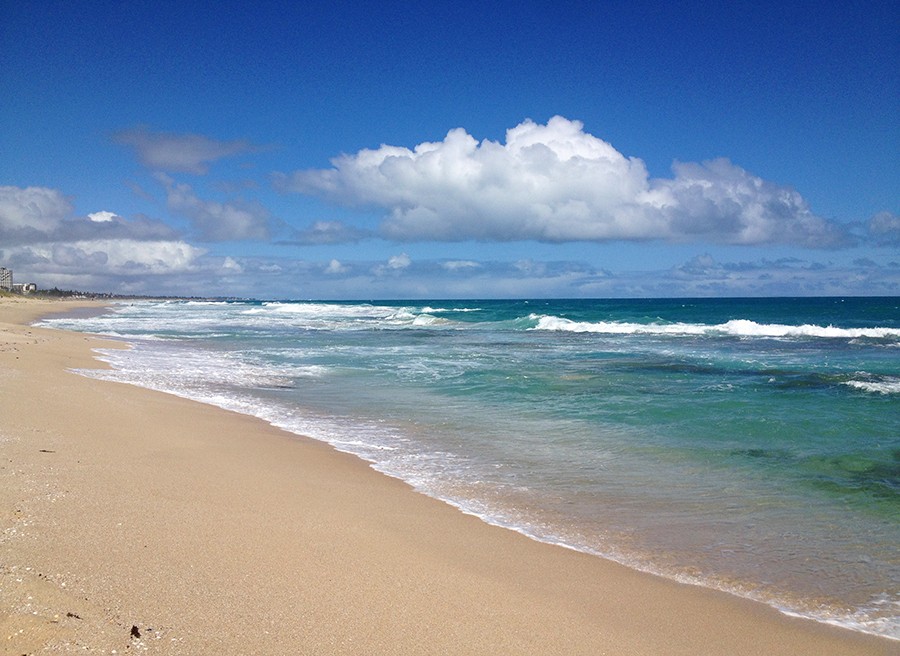 I couldn't help to show you another picture of today's stunning scenery. This beach is amazing. We had coffee at Yelo cafe afterwards, really a must try if you're living in Perth. Very good food and juices too!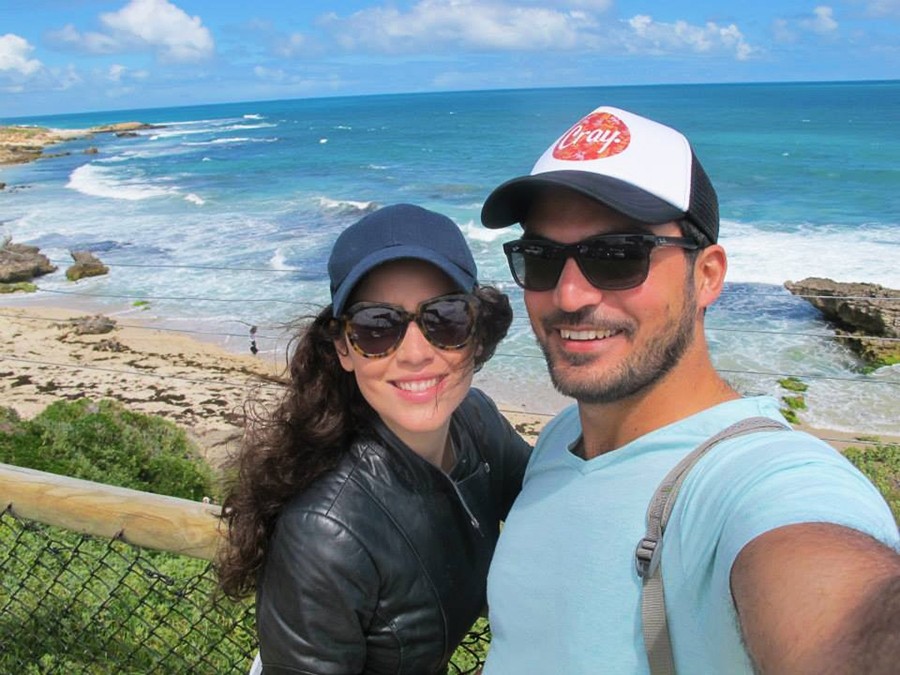 Hello! View from above Trigg beach today. I'm wearing my all time favourite Karen Walker number one sunglasses. I should probably purchase a more subtle pair than these as well. Maybe a classic pair of Rayban's?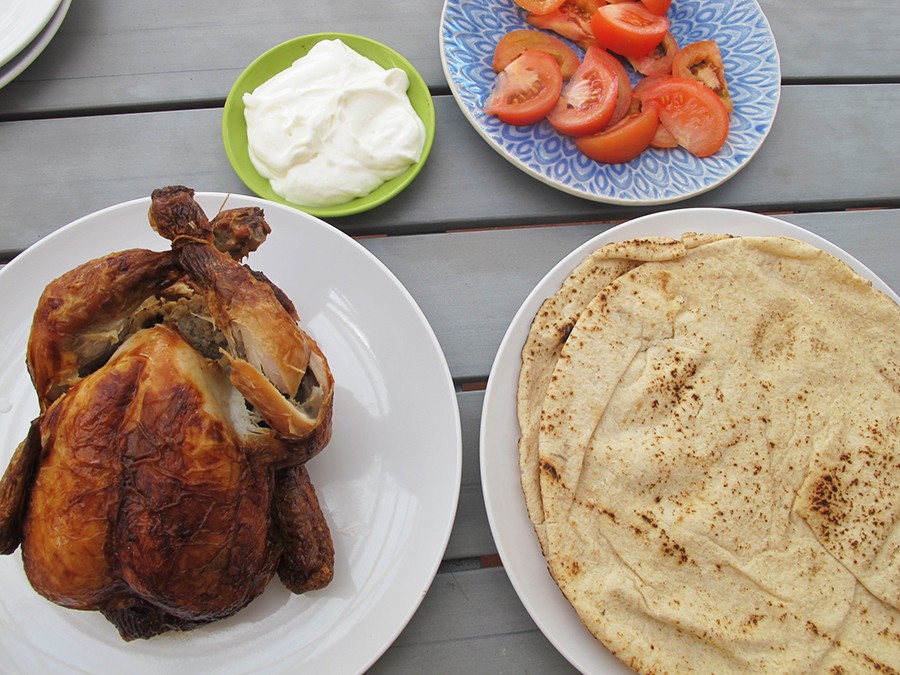 Today's big lunch on the veranda with roast chicken, garlic paste (home made by Hassan), Lebanese bread and tomato. Seriously SO good!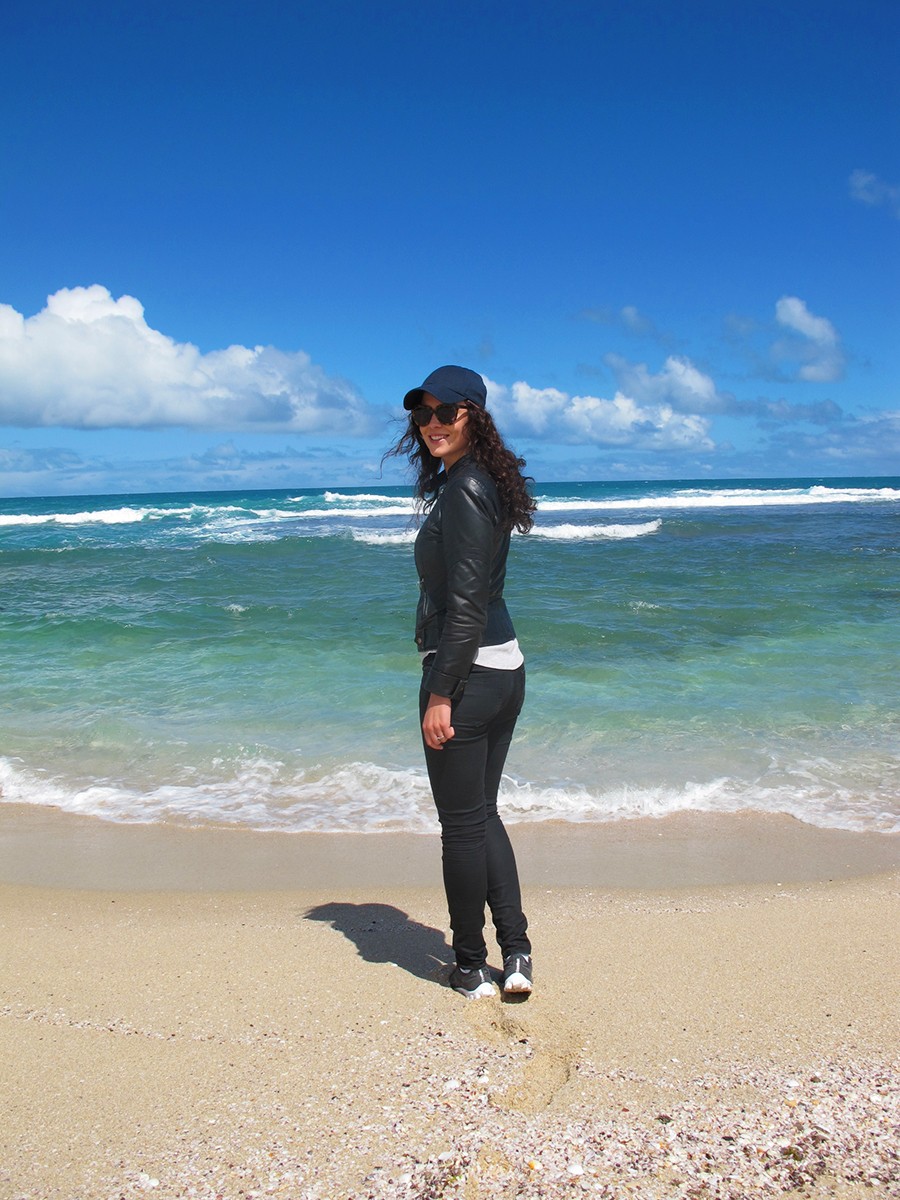 Today's outfit wearing skinny jeans and comfortable running shoes on the beach.
This is probably the first time that I had too many photos to show you! I guess that can only mean that my week was fun. And what have you been up to? Hassan and I shot some cool content for FashionContain again this weekend, so stay tuned for new posts.