There's only so many ways you can wear a bright skirt like this (you can find a previous outfit of mine here), but worn with a geometric boxy top and black moto vest it became a fresh, new ensemble.
Wearing: Geometric print top (Sportsgirl), Black leather biker gilet (Portmans), Asos cobalt scuba skirt, Lace up heels (Windsorsmith), Studded black bag (Target), Michael Kors silver sport watch, Silver statement necklace (Sportsgirl)
[show_shopthepost_widget id="298103″]

I could honestly write a novel about the importance of having boxy, slightly cropped tops in your wardrobe. So let's get started, shall we?When you wear a pencil skirt or a skirt with a high waist like the one I'm wearing, it doesn't always look flattering when you tuck in a top.That's where the boxy, structured top comes in. It's preferable to opt for a top that's a little cropped so your waistline (the skirt's waistband, not necessarily your skin) is visible. That's probably also the only comment I have on the top I'm wearing: it could have been a tad shorter. And that was the story of the boxy top. Did it make sense at all?
I wore this outfit in town on a day that the weather just didn't seem to make up its mind, with rain coming and going. Luckily we managed to snap my outfit before another storm started, making our way to a cafe to sit down for a coffee just in time. I've been extremely lucky that Hassan has been willing to help me out taking outfit photo's for such a long time now. The funny thing is that he became so good at understanding the light, one outfit shoot rarely takes us longer than 30 minutes. Which totally is a win-win since I only have time in the weekends to take my outfit photos.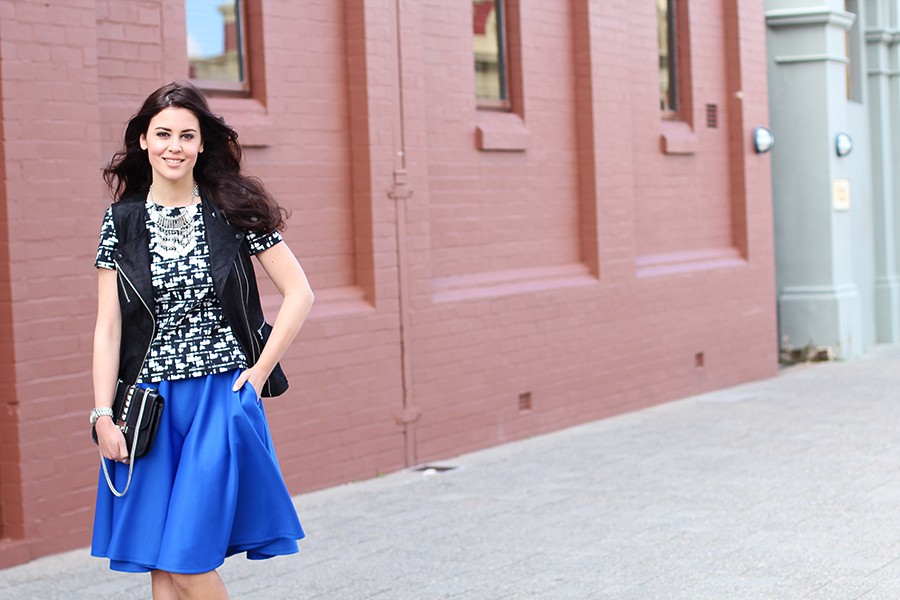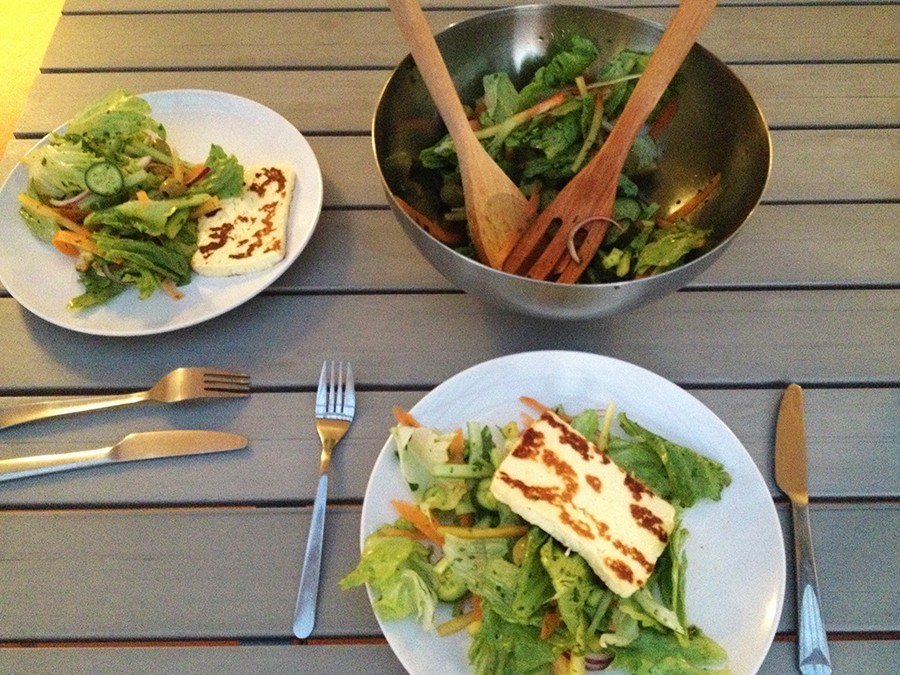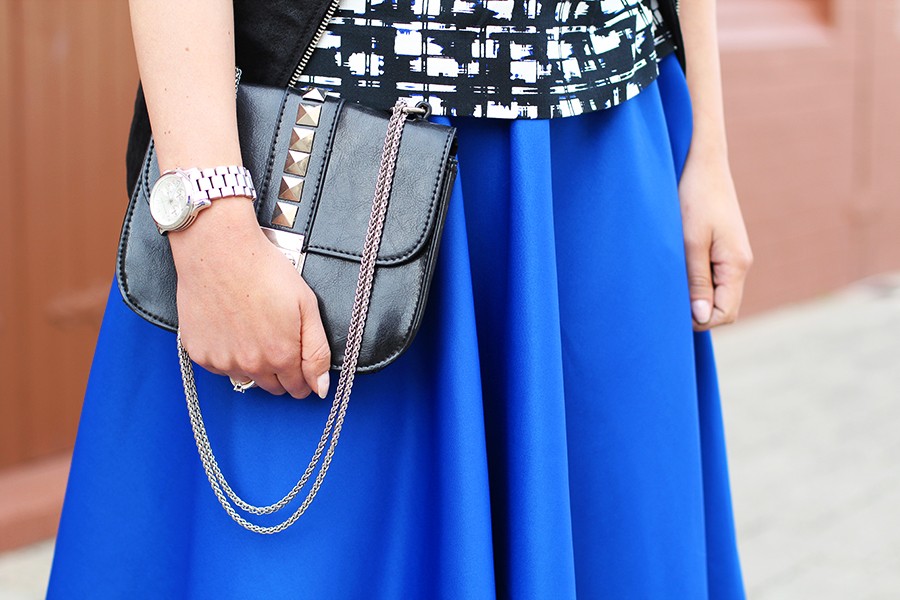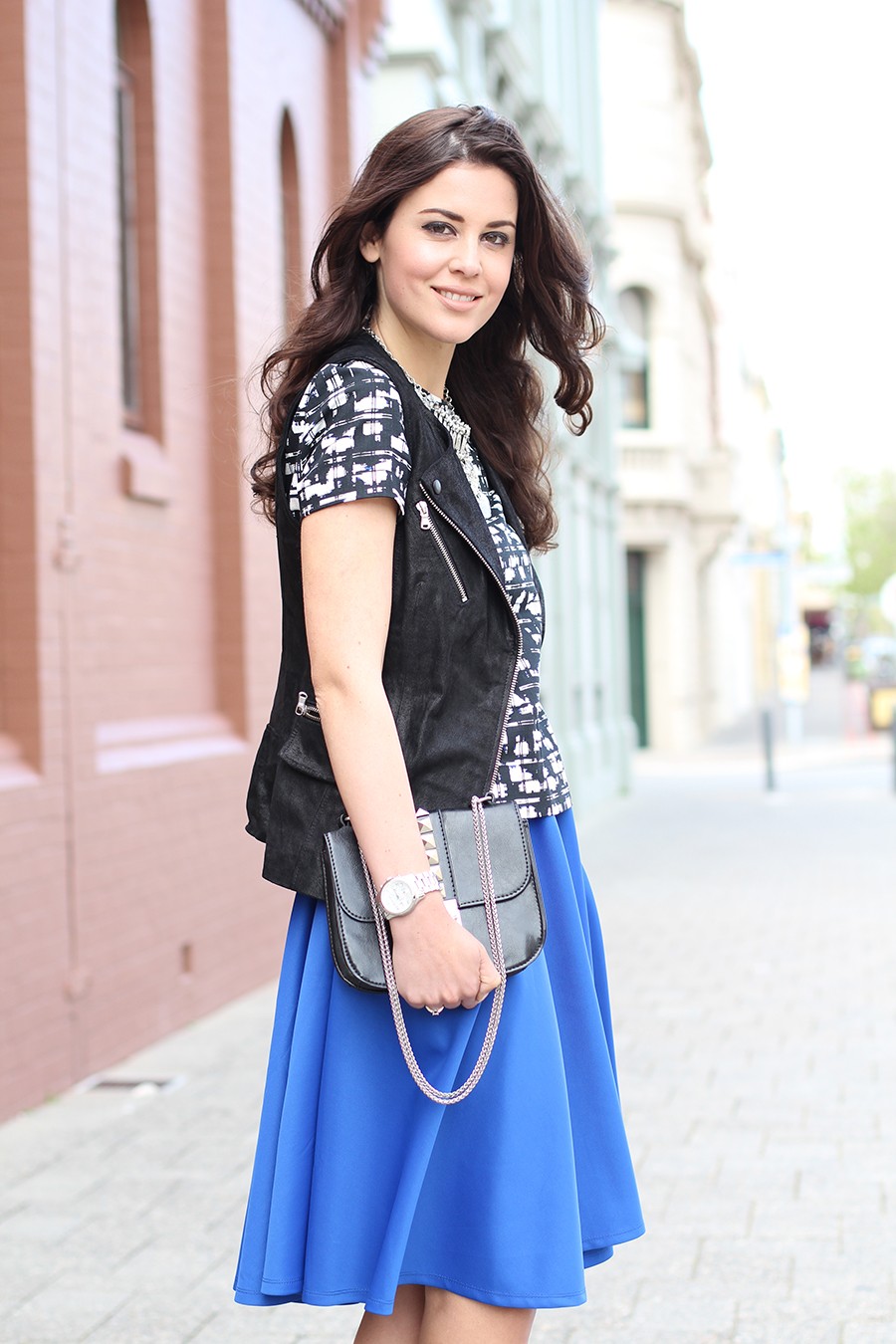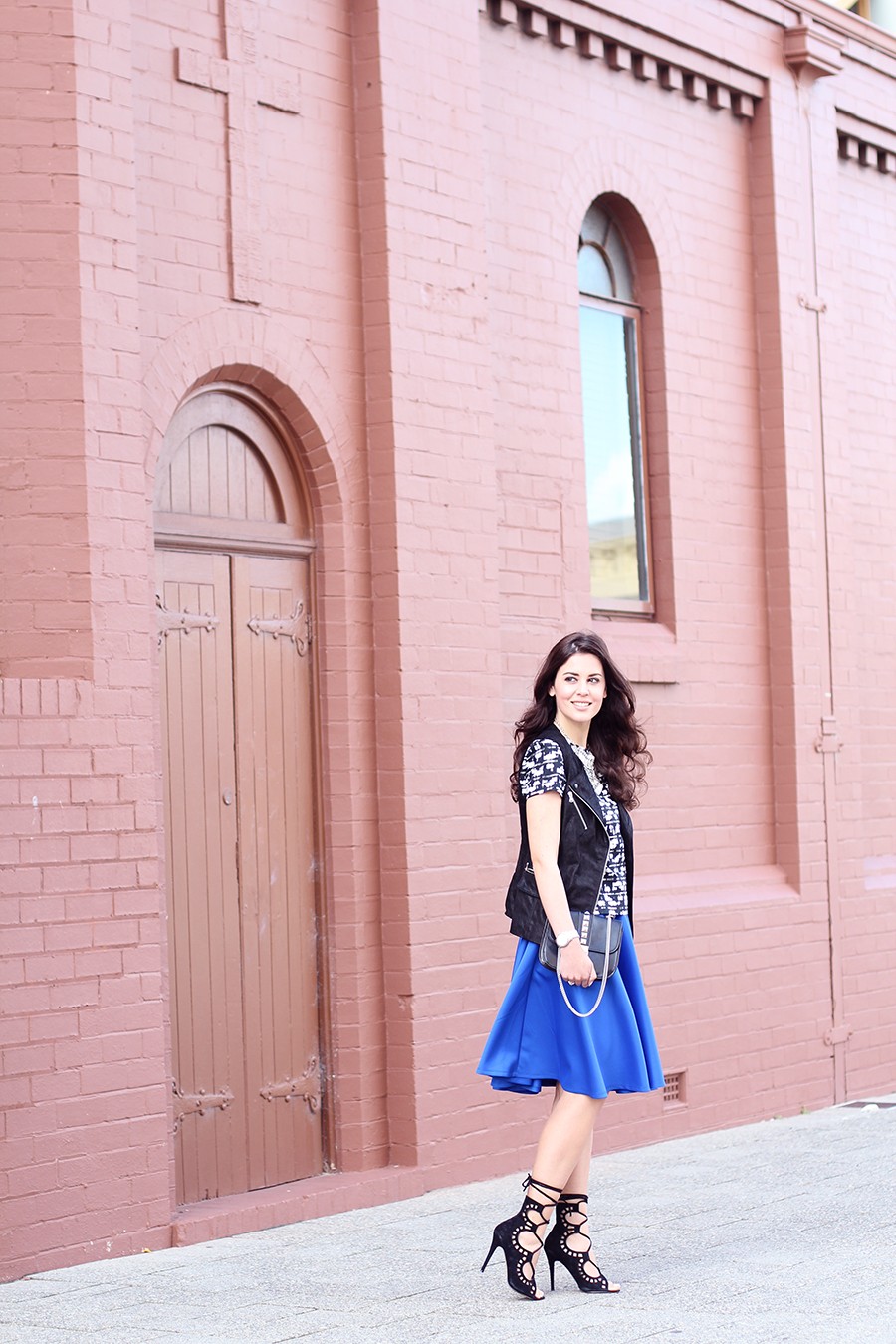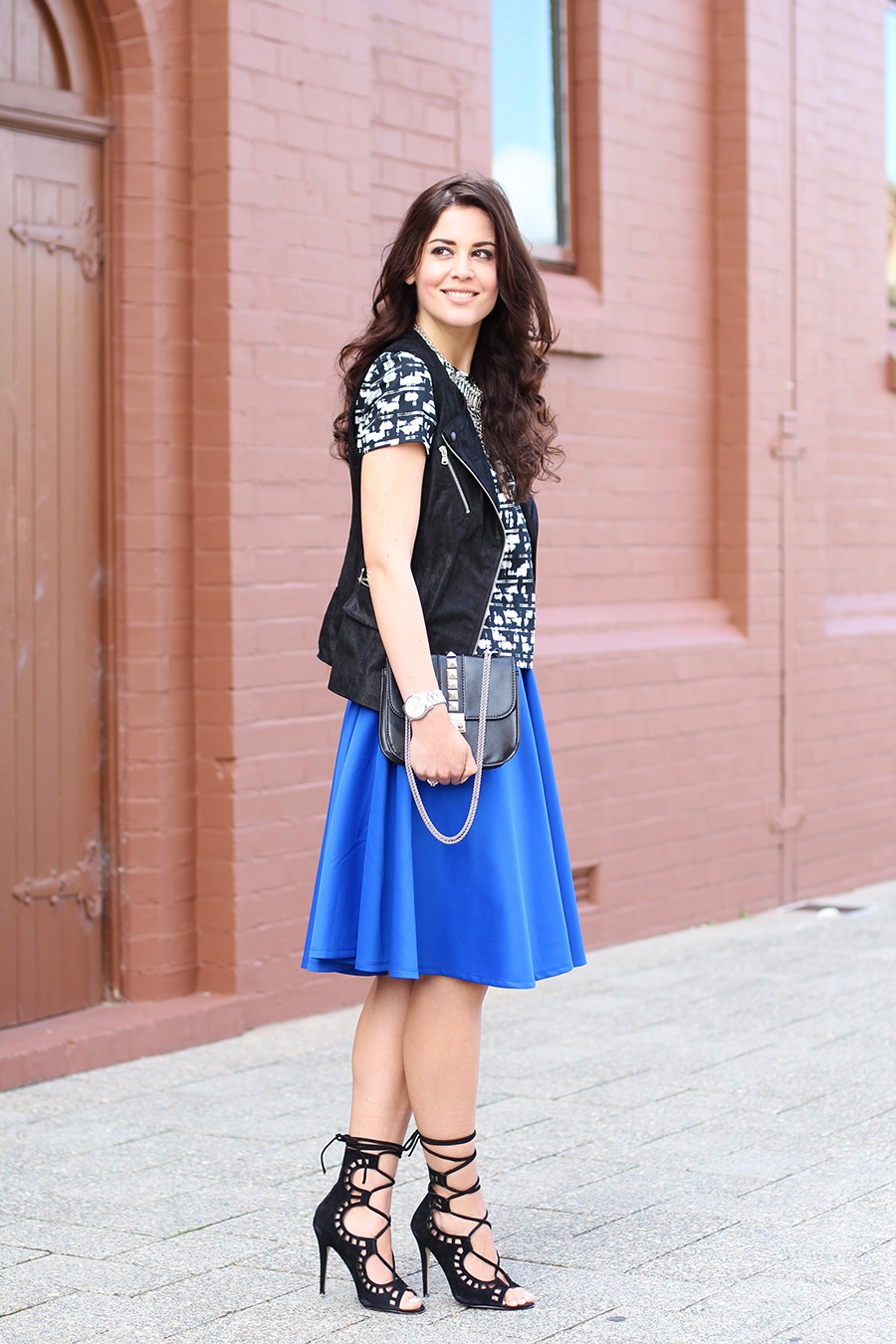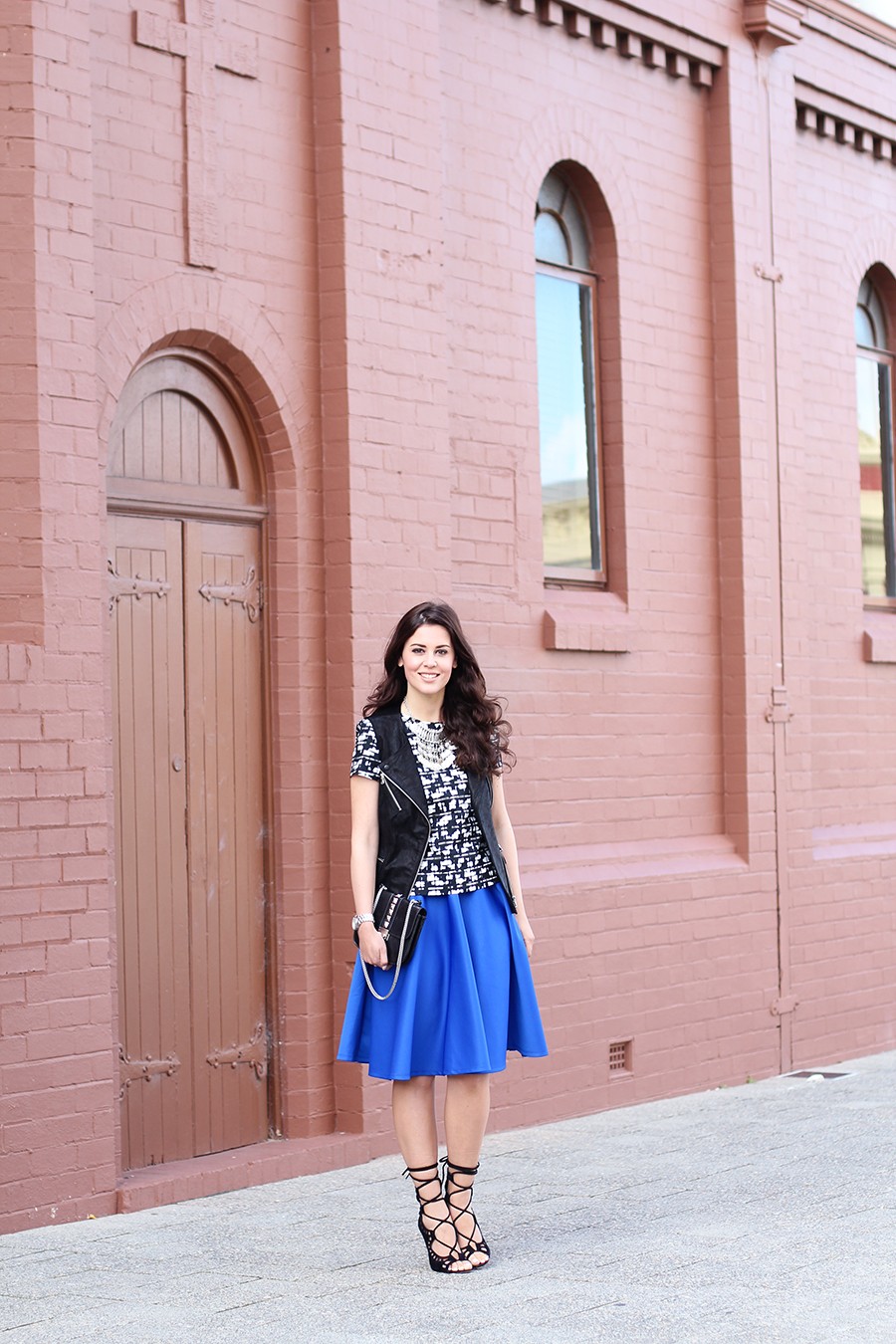 Wearing: Geometric print top (Sportsgirl), Black leather biker gilet (Portmans), Asos cobalt scuba skirt, Lace up heels (Windsorsmith), Studded black bag (Target), Michael Kors silver sport watch, Silver statement necklace (Sportsgirl)
[show_shopthepost_widget id="298103″]