Palazzo trousers! The first thing tha pops to mind when thinking of them is a boho hippie kind of festival vibe, am I right? Sure, they can be worn like that. But personally I'm a big believer in making palazzo pants work as everyday attire. And you know what? With the right styling and accessories, that's easy!
I wore this outfit for a day of exploring Prague's old town (and a little shopping, ahem) and even though it wasn't nearly as warm or sunny as I'd hoped, at least I felt like my outfit brightened up the day a little. The trousers are made from such a nice, thick but breathable fabric by the way! Looooving it.
My number one rule to look sophisticated in palazzo trousers is to choose a polished top and jacket to go with it. This high-neck cobalt top and white tailored blazer from Marks & Spencer just do that without even trying. While I have to admit that normally I'd be a bit self-conscious combining a pair of printed pants with a bright coloured top, I personally feel that in this combo the two only enhance each other. Plus, it's nice to dress out of your style comfort zone every once in a while, right?
If you're convinced that you should own a pair of palazzo trousers, then here are my top 3 tips for styling them:
1. If your palazzo trousers have a bright print, it's recommend to keep the other parts of the outfit quiet and clean. Go for a plain, preferably fitted shirt without prominent texture or details.
2. Heels look great with palazzo trousers and have the ability to make you look 10 times taller. Seriously, wide leg trousers and high heels are such a killer combo. However, you can also wear your palazzo pants ballet flats or sandals. If you go for flats, opt for a pointy pair. Flats with a round nose will disappear under the wide leg, pointy ones strike the right balance.
3. Wearing palazzo trousers as proper day time attire requires a nice finishing touch here and there. Add some subtle jewelry, a good watch and pop of lipstick. Heck, you could even get away with wearing your palazzo trousers to the office now!
How do you feel about palazzo trousers? Will they be in your wardrobe this summer?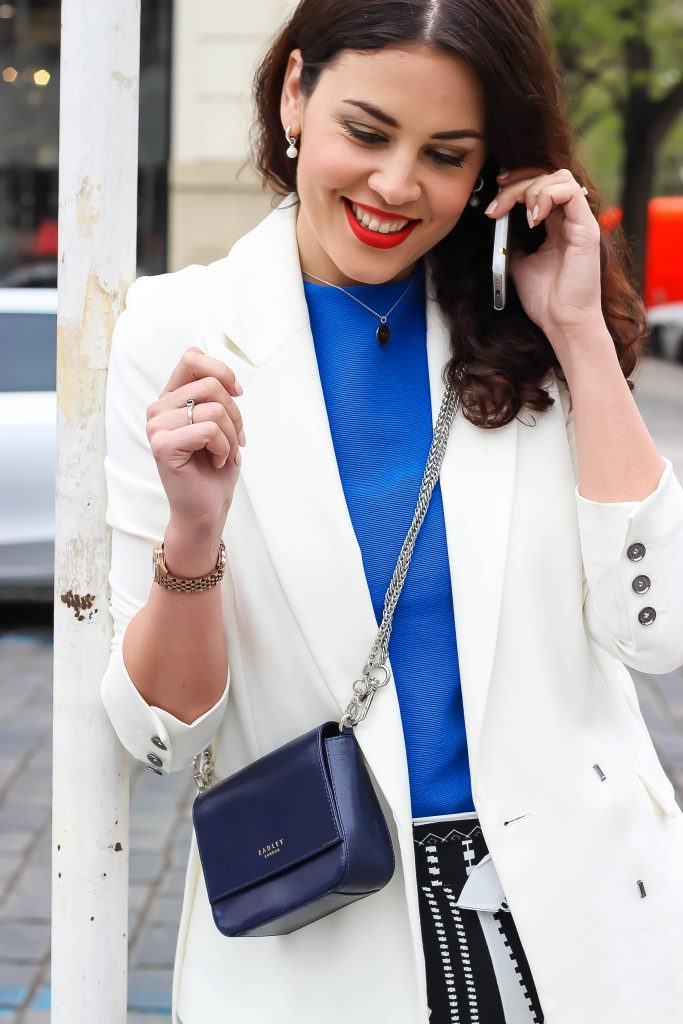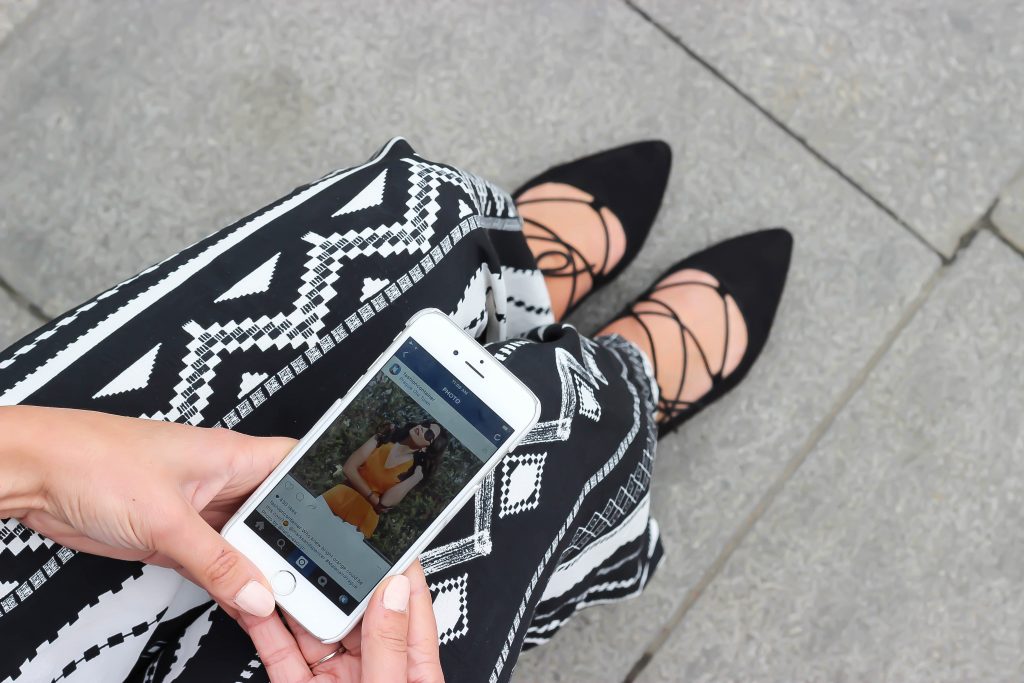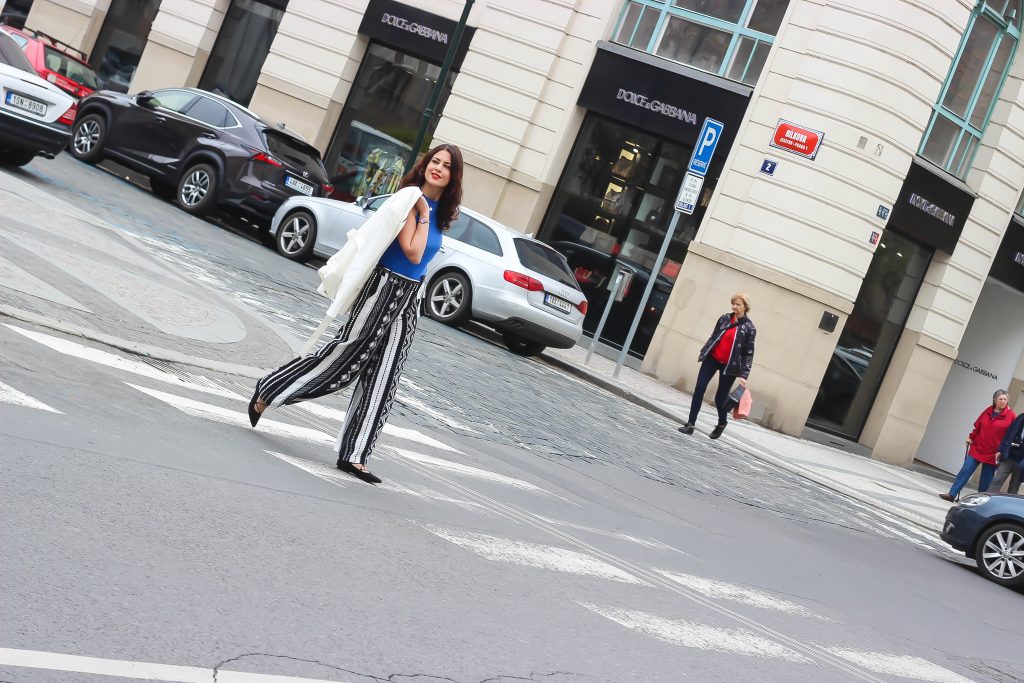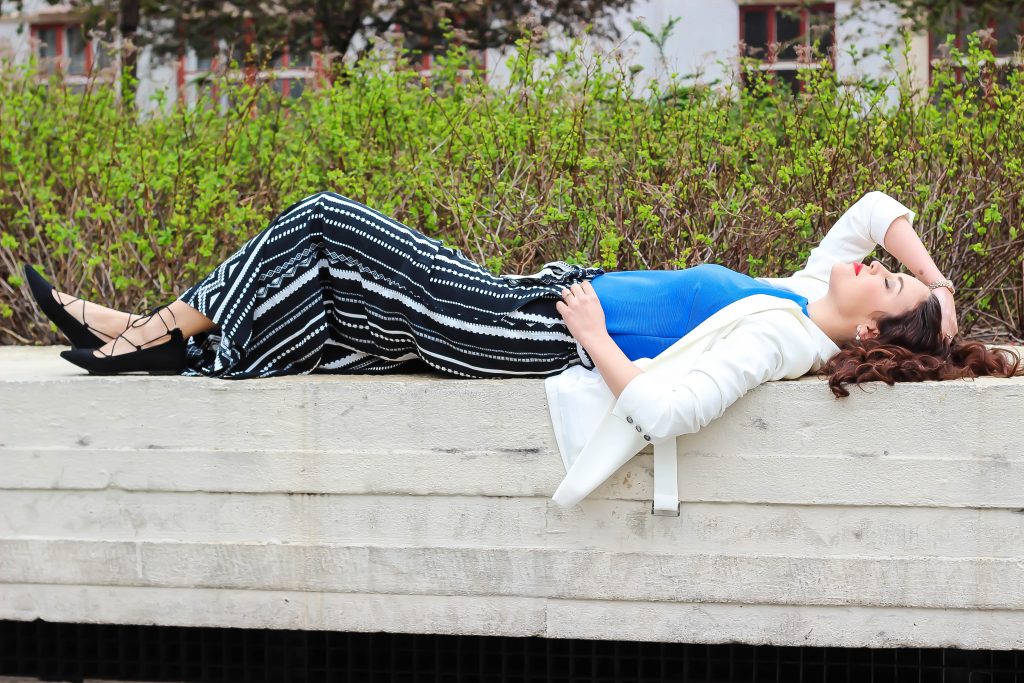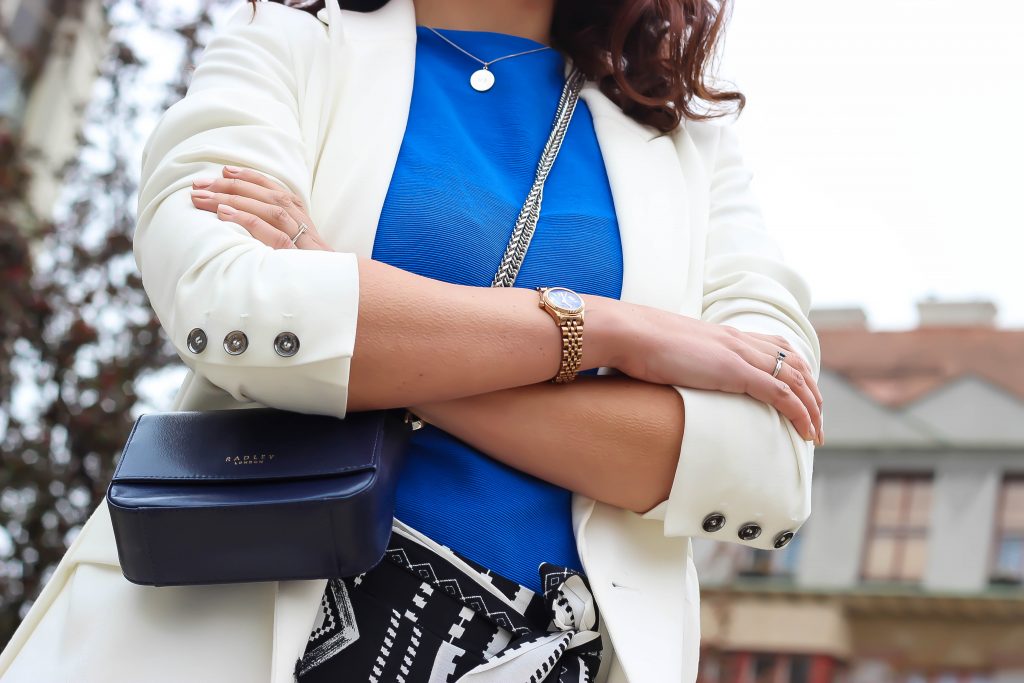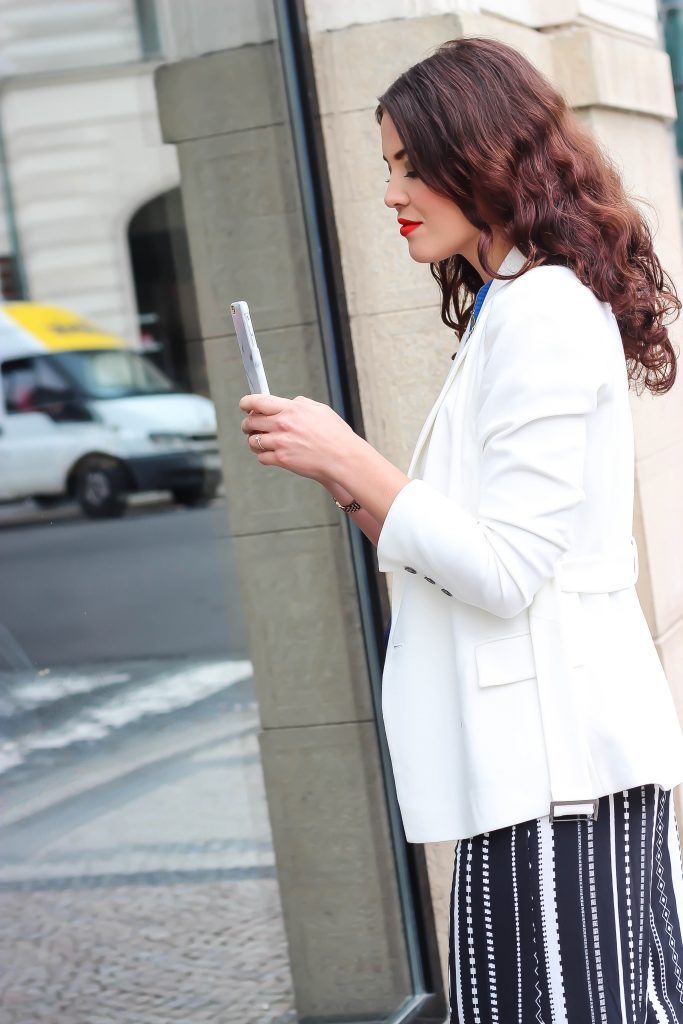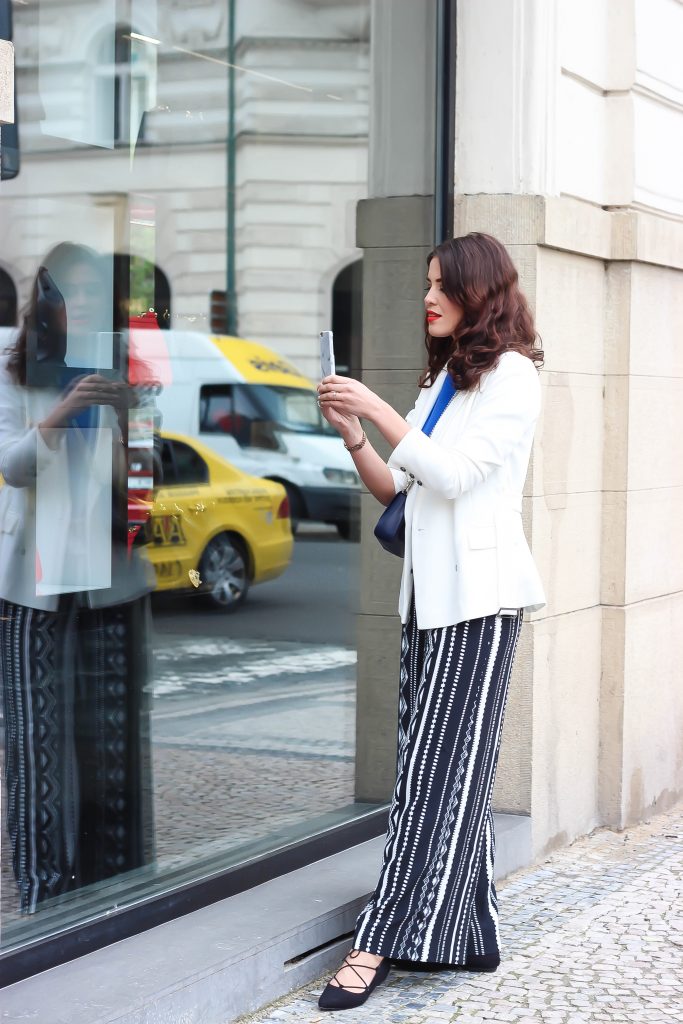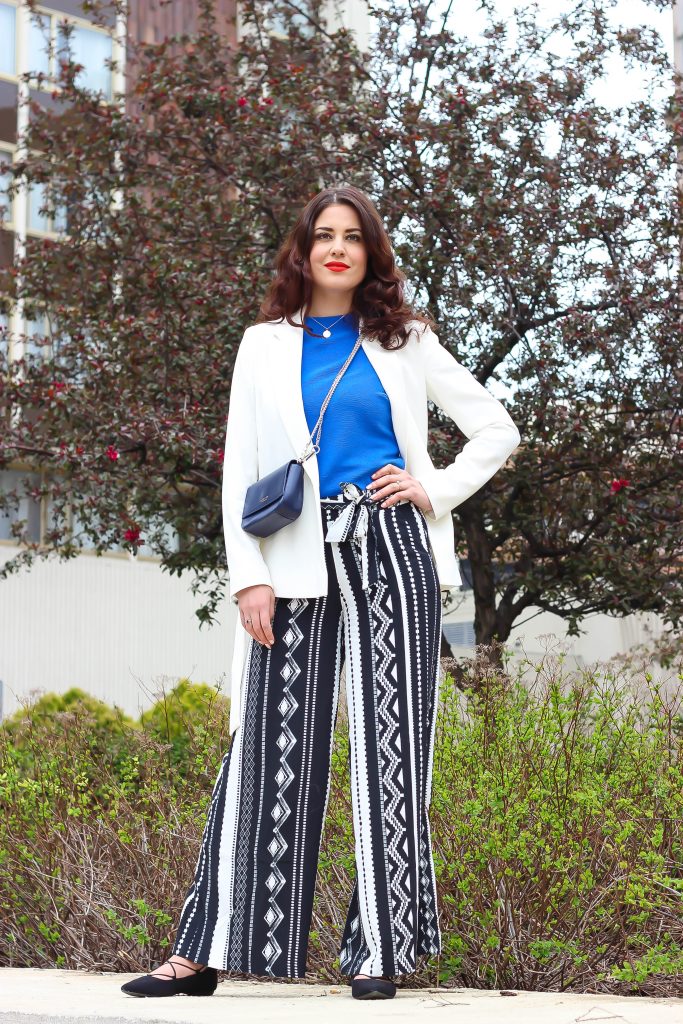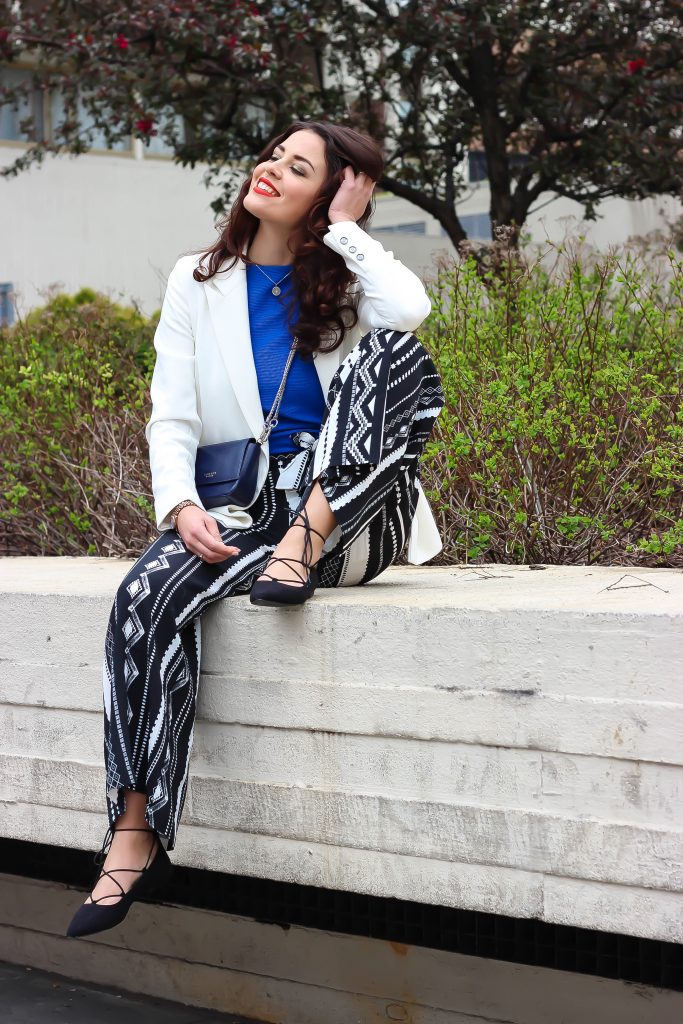 What I'm Wearing: Marks & Spencer palazzo trousers, Marks & Spencer cobalt top, Marks & Spencer white jacket, Marks & Spencer pointed lace up flats, Radley bag (chains added by me), Michael Kors watch
Photographer: Tatiane Kozijn | Instagram: @tatianekozijn