Weeks prior to the big trip my packing nightmares began: what on earth am I going to bring with me for a month of travel? While the packing dilemma didn't get any easier, the way I can move around with my suitcase did! Hello pretty, brand new American Tourister suitcase complete with easy to move around 4 wheels and matte silver finishing…
You could say that both myself and Tatiane have thoroughly put our suitcases to the test. Running in the streets of New York in order to catch the bus to the Hamptons, stuffing too much clothing in it because… that's what happens when you're on the road for a while. This the first time I'm travelling with a suitcase that has 4 wheels and my oh my, what a difference does it make. Easy turning, running: it's all possible.
As we're talking everything suitcase, I'm sharing my 5 favourite tips that will successfully help you live out of a suitcase for one month..
1. Invest in Basics

Packing for a month of travel all begins with choosing the right basics. Items like a loose grey tee, a fitted white tank top and white shirt are my absolute musts. The white shirt you see me wearing here has been my most versatile item in my suitcase. Whether I wear it with a casual outfit or for a night out tucked in a fitted skirt, it always looks good. Before chucking in your best basics, please do a little check on how easy each item creases. Does it crease too easy? Leave it out! Ain't nobody got time for that.
2. Accessorize

Wear similar outfits without anyone noticing by changing up your accessory game. Bring different sunglasses, hats and necklaces to create a different outfit easily. Hats are also a must for the following reason: it hides your bad hair days which for some reason happen a lot while on the go. I really loved the one I'm wearing here, but sadly enough I forgot it in our last hotel in Los Angeles before flying back to Amsterdam.
3. Share clothes

If you're travelling with a friend that's similar in size, you can agree to share clothes prior to departure and coordinate your packing habits this way. This worked very well for myself and Tatiane!
4. Buy on the way

Let's be honest here: we always tend to go shopping prior to our holiday and then stuff our suitcase with a lot of things that are being left unworn. It's often not until you arrive at your destination you figure out what items you wear often, which ones are being left out and what items your travel wardrobe need more of. That's why it's better to only bring the necessities with you and buy the other things on the way.
5. Comfort first

It doesn't really matter if you're going on a big Europe city trip or a backpacking through Asia: travel involves a lot of walking and thus 90% of the items you put in your suitcase should be comfy. Invest in good quality sandals, bring a pair of converse (or running shoes) and stock up on shorts and soft t-shirts. Comfort doesn't mean you should ditch all the glam from your travelling wardrobe. Items like midi skirts or cotton maxi dresses can look super chic while being very comfortable at the same time too.
And now let's get ready for the final judgement. Did American Tourister pass the test? After running, sitting on it, twisting and turning we can safely say that it's a keeper. Plus, it's super lightweight too meaning you can bring more!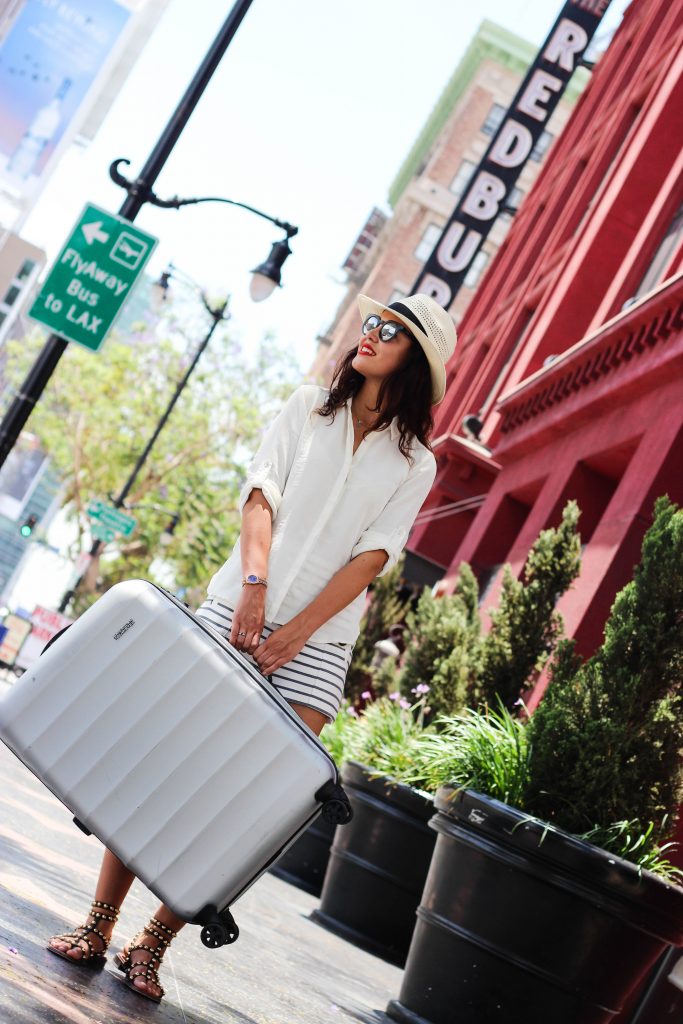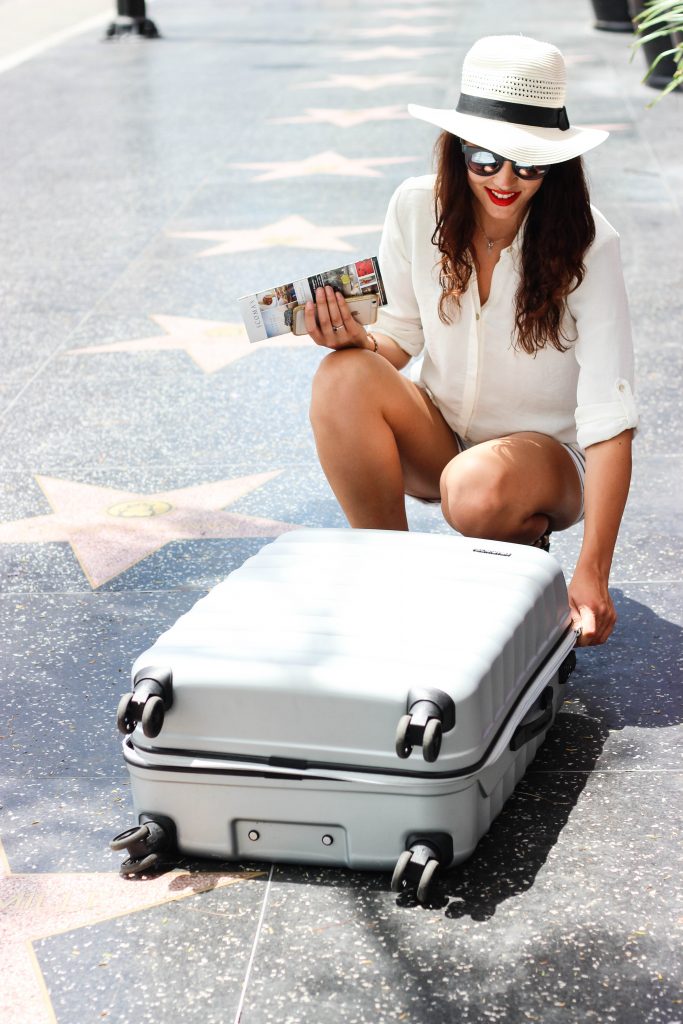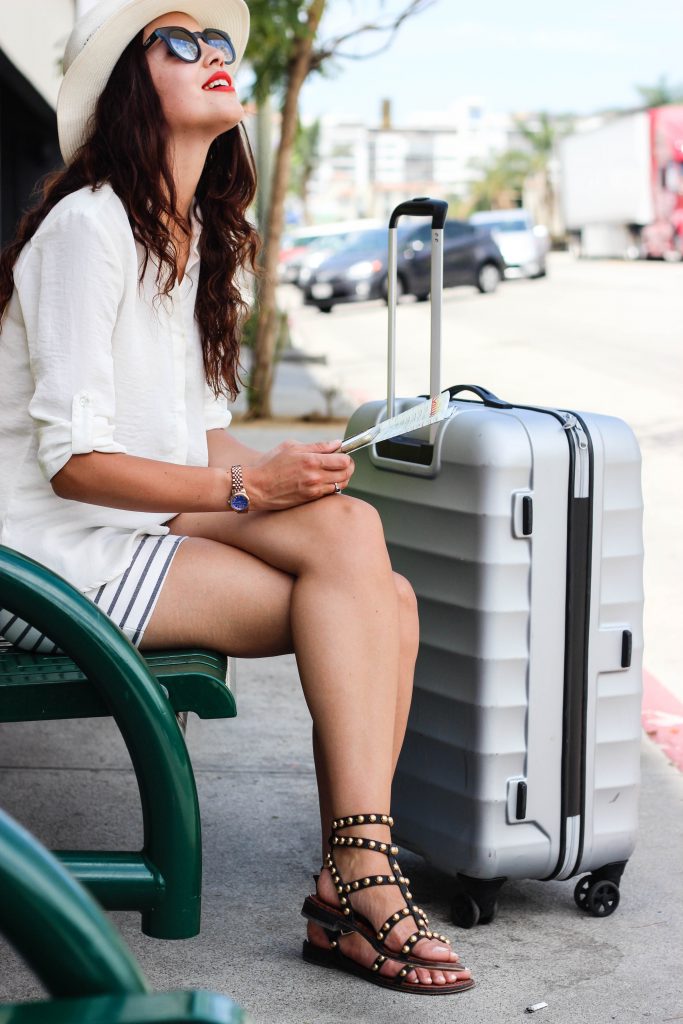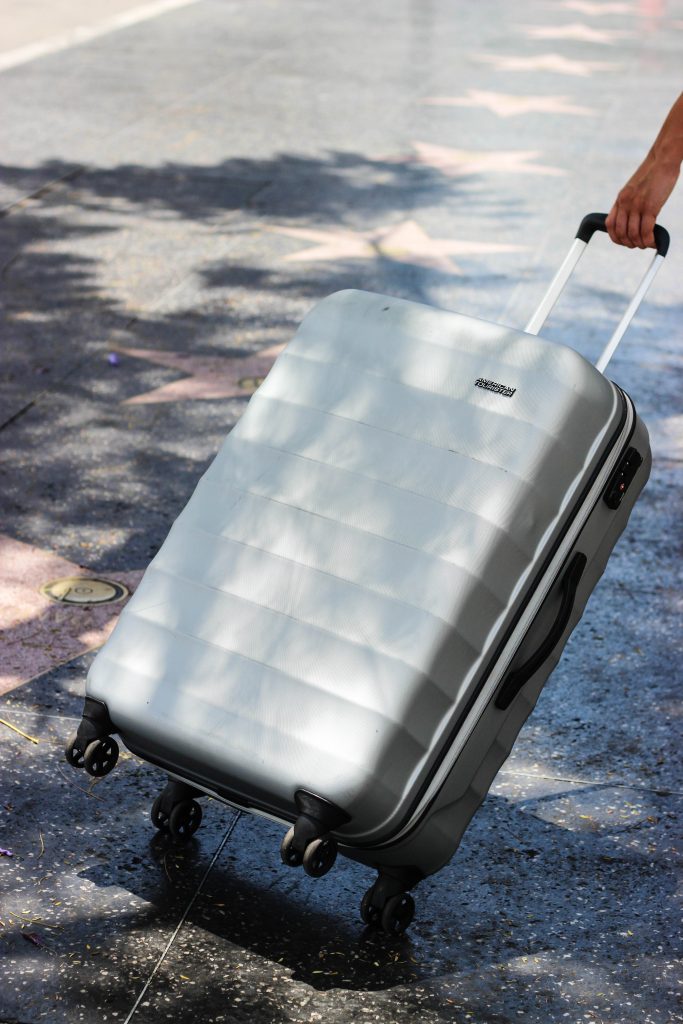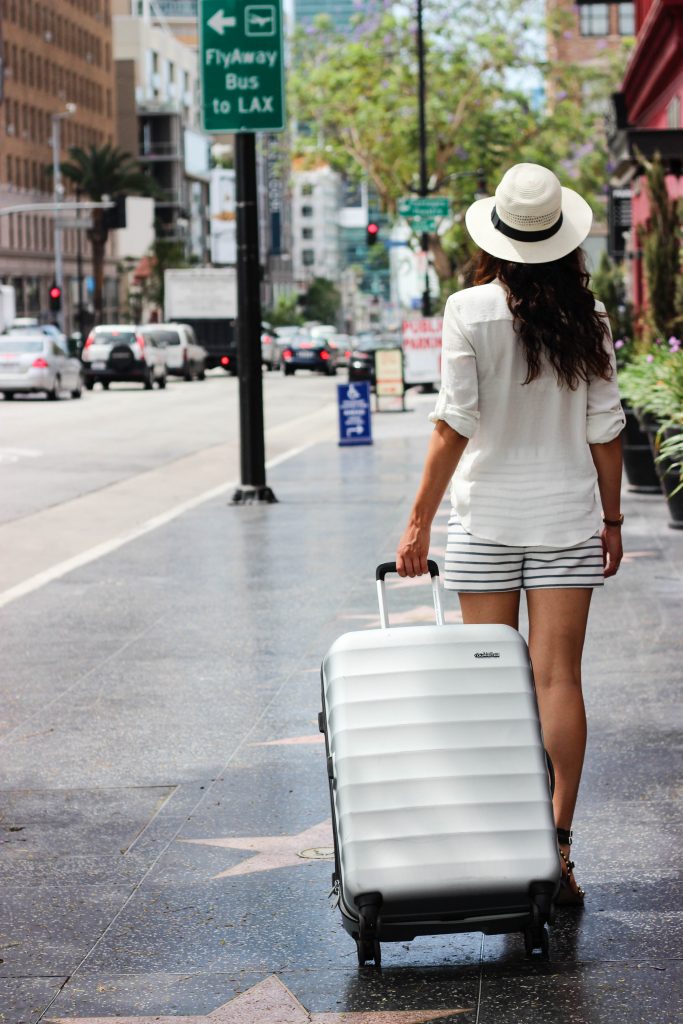 What I'm Wearing: BCN white shirt (similar here), Zara stripe shorts (similar here), Sam Edelman studded sandals, Hat purchased in Argentina (similar here), Michael Kors watch, American Tourister Palm Valley suitcase in silver
[show_shopthepost_widget id="891740″]
Photographer: Tatiane Kozijn
Location: Walk of Fame, Los Angeles