Whenever I'm doing research for an upcoming trip, I always feel a little overwhelmed by the overload of information on what to do and see. It leaves me clueless how I should organize my day! That's why today I'm sharing  how you should spend one day, morning until night, in Amsterdam from a local's perspective. Let's do this!
 09:00 AM Brunch at Kessens | Address: Rozengracht 24
What counts for probably every touristic city in the world, counts for Amsterdam too. If you want good food, in an authentic atmosphere that serves quality coffee, you're better off avoiding the main spots and squares that Amsterdam is renowned for. Of course there are exceptions, but you understand the point. Just a little off the main tourist track, you'll find Kessens on the Rozengracht that also happens to be at a short walking distance from de Westerkerk and Anne frank huis, but more about that below.Especially during the warmer days, you'll love the outside terrace at Kessens to soak up some sun and is situated perfectly for some people watching! The clean but cozy Scandinavian inspired interior and airy feel of the place instantly puts you in a good mood, the staff is super friendly and helpful, not to mention do they serve quality food. I don't know about you, but a good sandwich and coffee really make my day.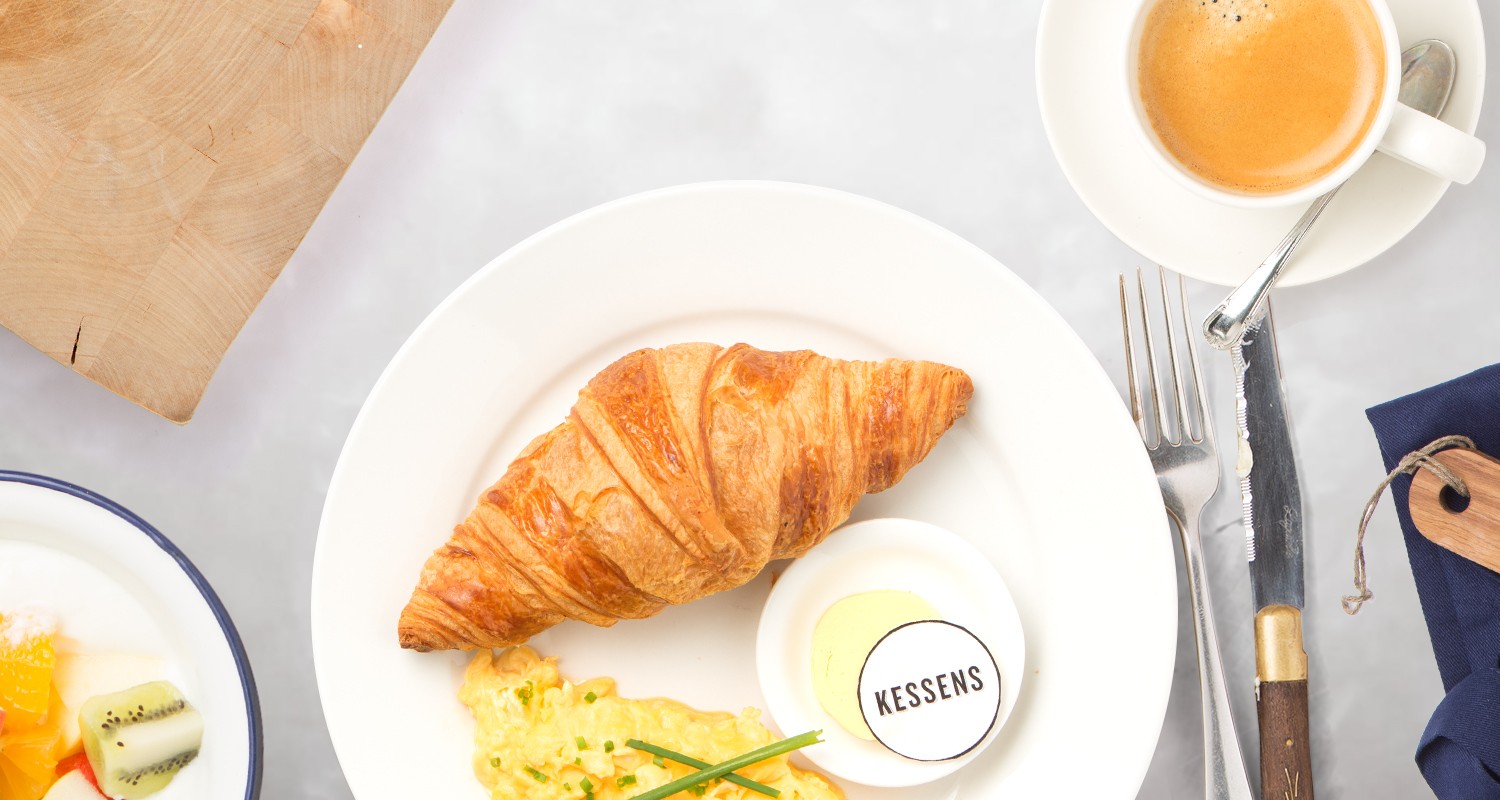 10:00 AM Canal walk and tourist sights | Westerkerk & Anne Frankhuis
Enjoyed breakfast? Now let's get moving. The distance from De Rozengracht (the street Kessens is located on) to the Westerkerk is only about 500 metres, so you'll be there in the blink of an eye.  So why visiting de Westerkerk? It's the biggest church in Amsterdam (built 1619 – 1631) and it's the most important Protestant church in the city. The inside is absolutely mesmerizing and during the tourist season, you can also climb the Westerkerk tower. I can tell you this: the view over the old city centre is amazing. Not to spoil it for you, but see below.
After the Westerkerk visit, it's time for a little walk along the canals! The Jordaan district has some of the best canal views if you ask me, so don't forget to take a few snaps. Only 100 metres from the Westerkerk you'll find what can perhaps being considered as one of the most important cultural things to while in Amsterdam. I'm talking about the Anne Frank huis. An unique and moving experience. Queues here are  always long, so be prepared for some waiting.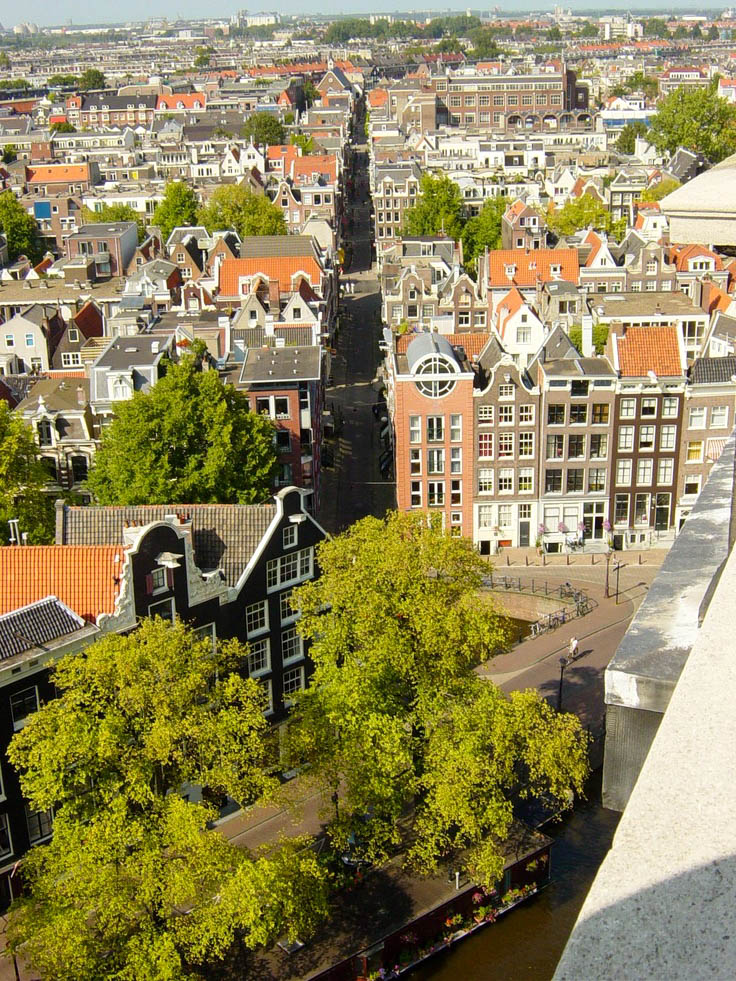 13:00 PM Lunch + de 9 straatjes
The old city centre of Amsterdam isn't too big and much of it can be covered by foot. It's actually even better, because you'll miss too many good sights when you choose to take the tram instead. From the Anne Frankhuis we'll be walking towards the 9 straatjes district (which means: "the 9 streets"). This district with an unique atmosphere features many boutiques, cool coffee places and much more. Even if you're not interested in either shopping or coffee, these streets are a must just for their picturesque ambiance. For more info on what to do and see exactly while wandering de 9 straatjes, have a look at this handy website.
It would be ridiculous to spend your day in Amsterdam and not have lunch with a view over the canals. Well, in spring and summer at least. For lunch we'll go to Ellias Gourmet Burger at the Prinsengracht 422. They definitely live up to the "Gourmet" part in their name, so don't expect just a burger! I've tried the Baby spinach Salmon burger and it was out if this world delicious. There's long tables for a cool vibe right next to the canals, perfect for soaking up some soon and to enjoy a fantastic view while you're eating. They're serving some great wines too, so why not stick around a little longer?
As we're in the food ambiance anyway, we'll continue our walk to Koffiehuis de Hoek which is located at the Prinsengracht 341 to have some traditional Dutch Appeltaart. Don't miss it!
Let's go to an entire different part of town now, one that isn't quite overrun by tourists yet and thus shows Amsterdam in its most authentic and local way. From the Prinsengracht walk to the nearest by tram station and take line 1 or 2 to Amsterdam Central station. When arrived, walk through the station and get out again on the other side. Now you should take the Houthaven Ferry to the other side of the river. It's for free! Enjoy the 20 minute ride with some spectacular views.Arrived in Amsterdam Noord, get ready for a little wander.
Are you there in the weekend? Then make sure to check out
De Hallen calendar
, a hall where cool thrift markets are being organized during the weekends. During the week there's enough to see too. What about these super cool graffiti walls as seen below for example?
The ferry ride from Amsterdam central station to Amsterdam Noord and wandering passed the graffiti walls. 

17:00 PM Lounge & Dinner at Pllek | Address: NDSM werf
The new summer hangout for locals, you shouldn't miss this uber cool spot. The bar and restaurant is built from used shipping containers, there's a massive outdoor area with the comfiest bean bags to hangout with a drink after a long day. They serve some really yummy food too. And wine, and cocktails and snacks. Well, you understand the point. Another plus: they only use organic meat and sustainably caught fish.
To start the night, let's go to Bar Italia. There's always a nice crowd (not too young!) and they serve some really good cocktails. Thursday is personally my favourite night to be here, but the weekend is good too. Bar Italia is located on Rokin 81/83 (super close to the Dam square and Red light district).After that, we're making our way to Jimmy Woo. Some think it's a bit pretentious but I personally think it depends on the party that's on that night, so make sure to check the Calendar. This is THE place to spot Dutch celebrities by the way! Which you'll most probably not recognize if you're a tourist, but hey. Went there but didn't like it? No worries, Jimmy Woo is located right next to the Leidseplein with countless of bars.