1.| Getting my colour block on in one of my latest outfits. You can view the outfit post here.
2. | Too many times I stand in front of my closet when I get dressed in the morning, having a meh feeling about everything I try on. I've got too many clothes, even after I've done a clean up several months ago when I moved to a new place. I've got garments that I couldn't part with because they hold so many memories. Oh no, I can't get rid of that pair of shorts, I wore them during that great night in Barcelona. Then there are those items I bought online which don't fit quite right. Too big too, small. Anyway, I decided that none of these excuses are valid to keep items that I no longer wear. I just want to have an organized closet, with items that represent who I am right now. My personal style has become more classic, so my closet content should look like that too.
Today I've done a massive clean up and I'll be selling my wardrobe (clothes, shoes, bags, accessories) next Sunday the 25th on the Melville markets in Perth from 05.30am until 10.30am if it's not raining that day. I'll confirm on Twitter the night before, so if you're thinking to come by, please keep an eye out on my twitter. It would be awesome to meet some of you!
Address: Melville plaza shopping centre carpark (cnr stock road & canning highway)
Time: 05.30am until 10.30am
3.|  I've only announced it on instagram, but for everyone who isn't following me there I should make it official here too. Because if not on the blog, then where? Hassan and I are engaged since a month (I actually had to look that up, shame on me haha). Hassan proposed at this beautiful spot looking out on the Perth skyline as seen in the picture. We were super lucky that a tourist who passed by was willing to take a few pictures of us, which he send us a few days later. I felt so grateful to have this moment captured on camera. We haven't set a date for the wedding yet, but it's going to happen in Lebanon, Hassan's home country.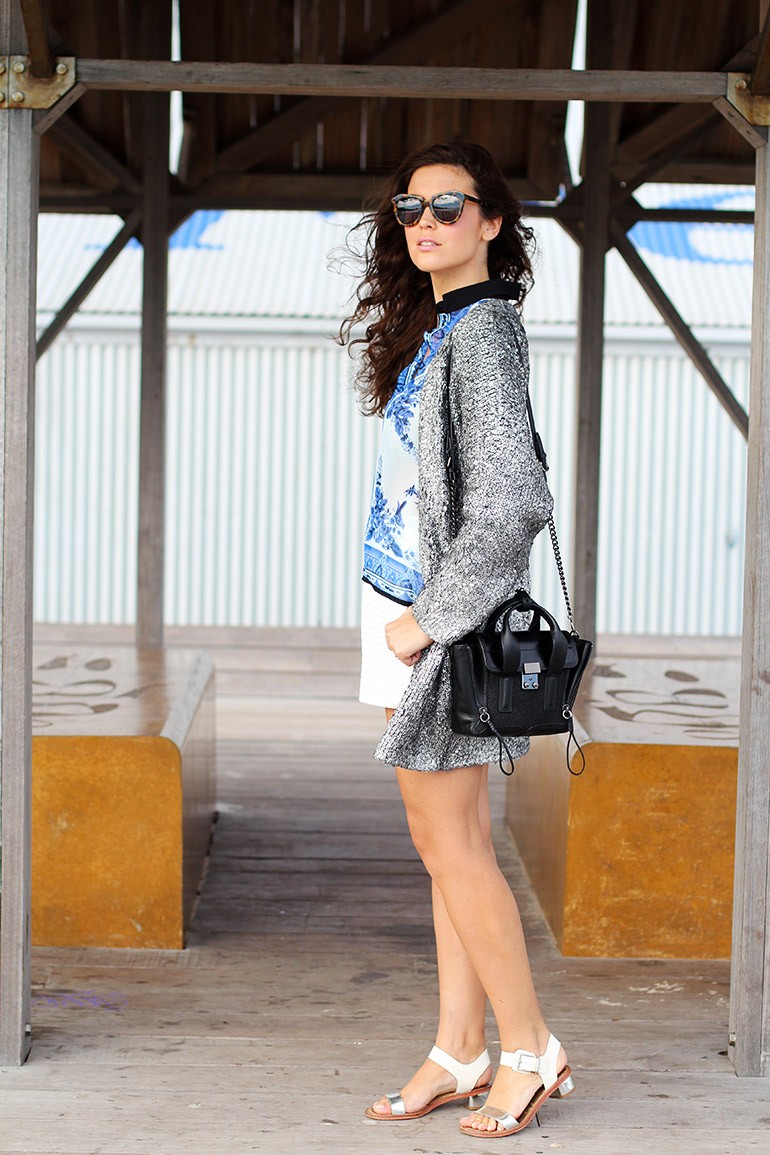 Wearing: H&M cardigan, 3.1 Phillip Lim mini satchel, Sam Edelman sandals, Karen Walker sunglasses
4.| There's quite some outfits that never make it to the blog. I like to keep the content on FashionContainer at a certain quality and I when I feel an outfit is a bit boring or too casual, I don't dedicate an entire post to it.
5.| Probably the most wicked creature in Australia (after the quakka), meet the Kookaburra, if you didn't already know them. Their whistle sounds like an old lady laughing in a very creepy way. Go ahead, just try to imagine that. Hassan shot this picture a few weeks ago during a walk in the park next to Perth CBD. Isn't he beautiful?
6.| I wonder, are permanent under eye bags one of the side effects of working a full time job and running a blog? I'm not sure what the reason is, but I look tired constantly lately. I haven't taken care of myself very well lately, eating too much sugar for an energy kick and a seriously lack of workout. I'm starting to tackle these issues one by one and I hope that regular exercise and a healthier diet are going to make me feel better.
7.| I posted this picture on Instagram a while ago, when my mum from the Netherlands visited us in Perth. My mum has always been a great example when it comes to healthy eating, so having her around  gave me a lot of inspiration. Eating healthy in Australia is MUCH harder then in the Netherlands and I feel that ever since I moved here my eating habits have become so much worse. Supermarkets in Australia offer very limited healthy options. The bread is low quality, all cereals are packed with sugar and the ones that don't taste like paper. Want plain fish without crap on it? forget about it, 95% of the freezer section is beer battered. Want a quick dinner fix? take away salads or are non existent unless you want the kind with fatty dressing all over it. I'm trying to make the best of it…
8. | Say hi to one of my favourite spots in Perth. I like to come to Trigg beach for a walk to clear my mind in the weekend or have brunch at Yelo cafe, healthy, fresh food and great coffee all with an ocean view.