The New Year is here! The ultimate time to re-think your closet, spice things up and invest in quality pieces with just that little special detailing that will make you stand out. Today I'm sharing three Anthropologie looks with you that perfectly embody how I like to kick off 2016. Bold, bright and classic with a little glitter and glam!
If you've been following along on Instagram you've probably noticed that the FashionContainer team spent the month of December in a rollercoaster travel journey. It all kickstarted with a week in New York that we finished with a getaway to one of Long Island's most extraordinary locations: the Oheka Castle. Both the castle as the grounds surrounding it look like they've come straight from a fairy tale, so I couldn't have imagined a more suitable location to shoot these looks that are all about kicking off the new year in the best possible style. Literally.
The sequined bomber
Not exactly your basic jacket, but you'd be surprised how an eye catching item like this can be incorporated in so many daily outfits! Here I wore the bomber in two completely different outfits, but I love how it complements each look regardless of how casual or extravagant. The look with the metallic skirt is perfect for a New Year's reception or party; I love how it's a mix between elegant, modern and funky while still staying perfectly elegant. The outfit including the bomber, jeans and chambray top is a lot more casual and day time appropriate, while still spicing things up with playful details and textures. How would you wear this jacket?
The patterned jeans and chambray top
I'm all in for a well fitted skinny jeans that has just that little exra. In the case of these jeans, that little extra comes in the form of the paisley pattern! I love the combo with the grey chambray top, but I'm sure the outfit will look equally great with a white shirt. But let's just take another moment to talk about the chambray top, because its detaling is the best! The back buttoning makes for a playful and easy look that works well in outfits with jeans but would also be a great match with for example a chic sequined skirt to strike the perfect balance. Simple but to the point accessories such a necklace and metallic sunglasses are the finishing touch for this look.
Bold blue
The colour, the fit, the details: it's safe to say that this skirt got me from the first moment I spotted it. My personal favourite way of stying such bold and eye catching items, is by complementing it with something more understated and mimimal. This white shirt is just that! Casually tucked in the skirt and finished off with not much more than a pair of metallic pair of pointy heels and a beaded clutch. I'm ready to go! I think this look is great to wear for a lunch out with friends in town or simply because you feel like dressing up a little!
Now back to you. What's your favourite look?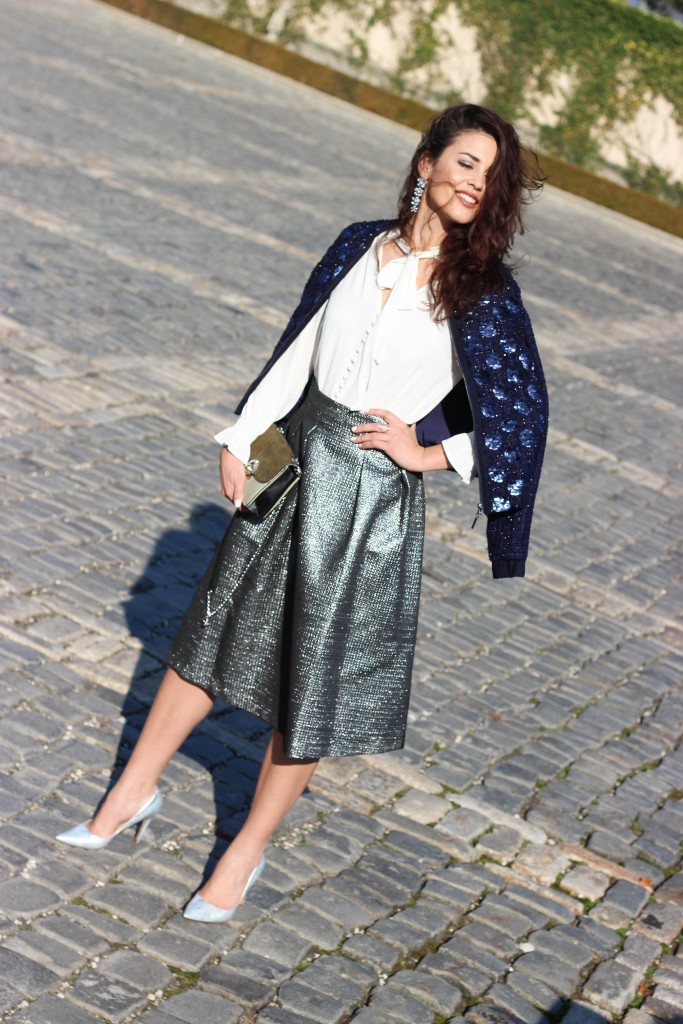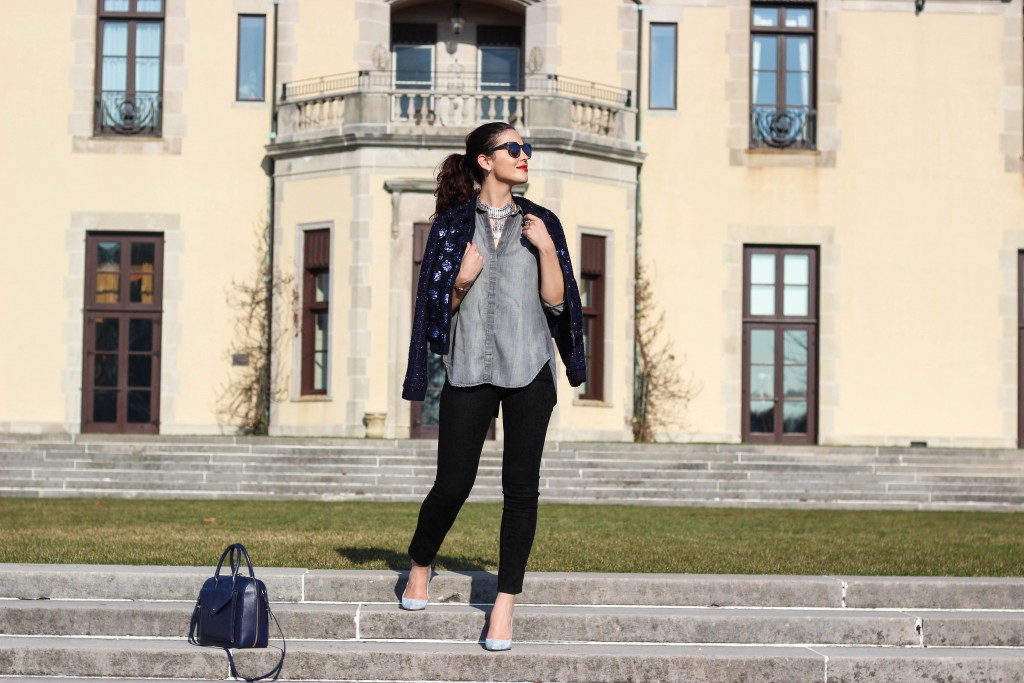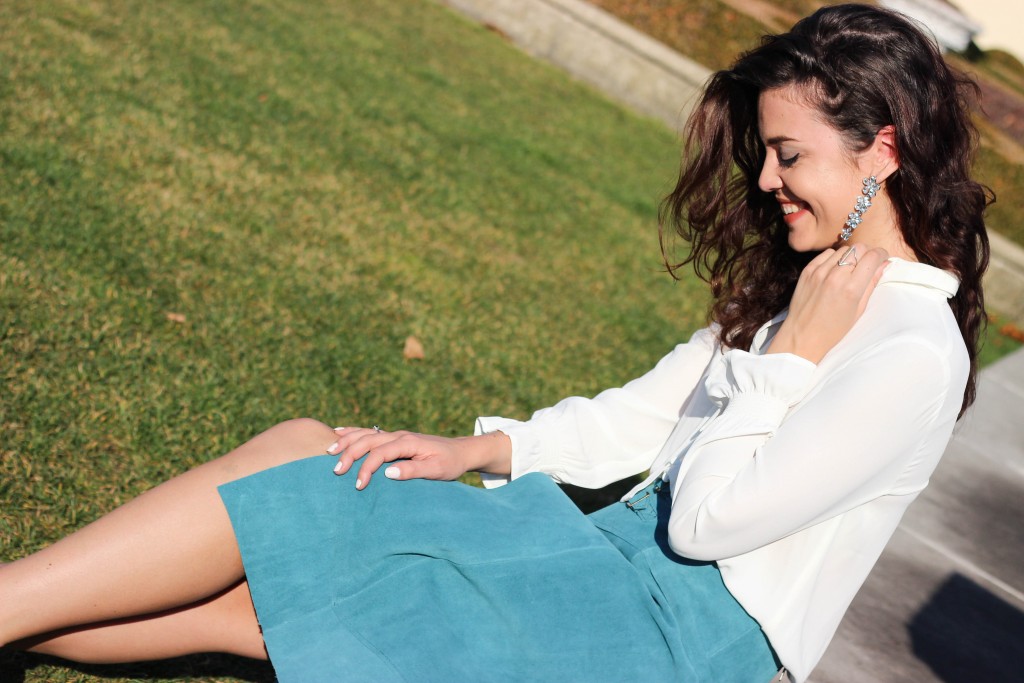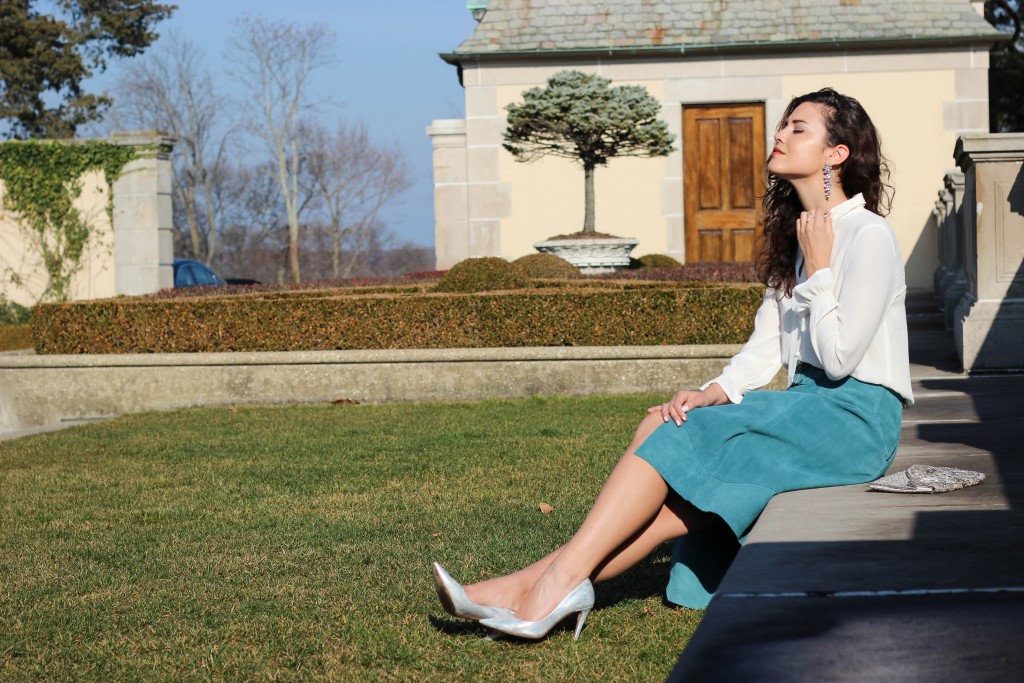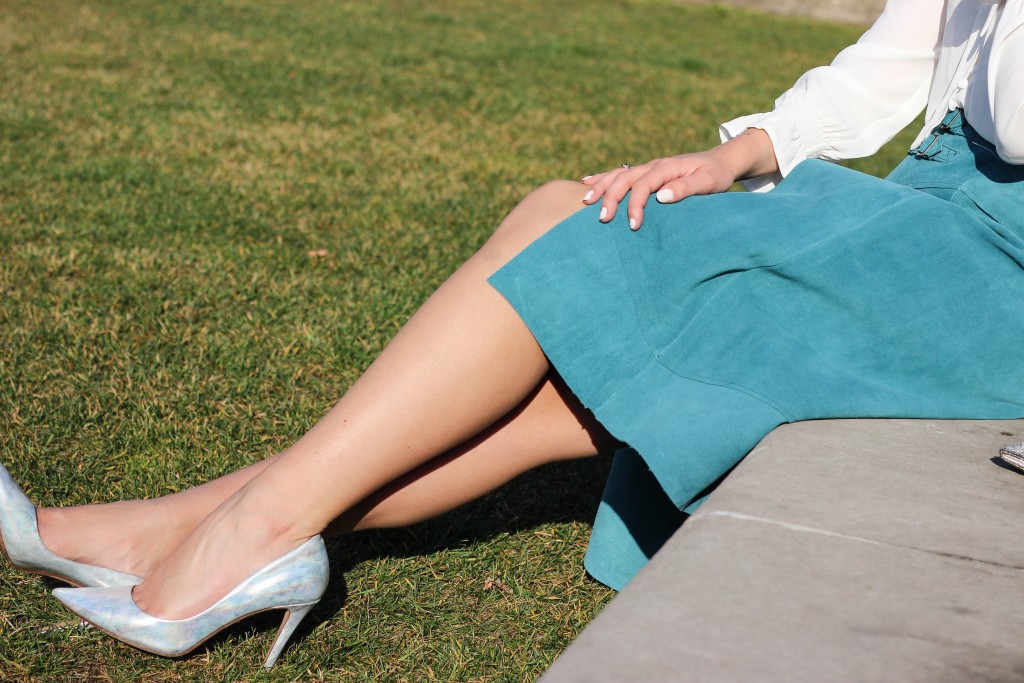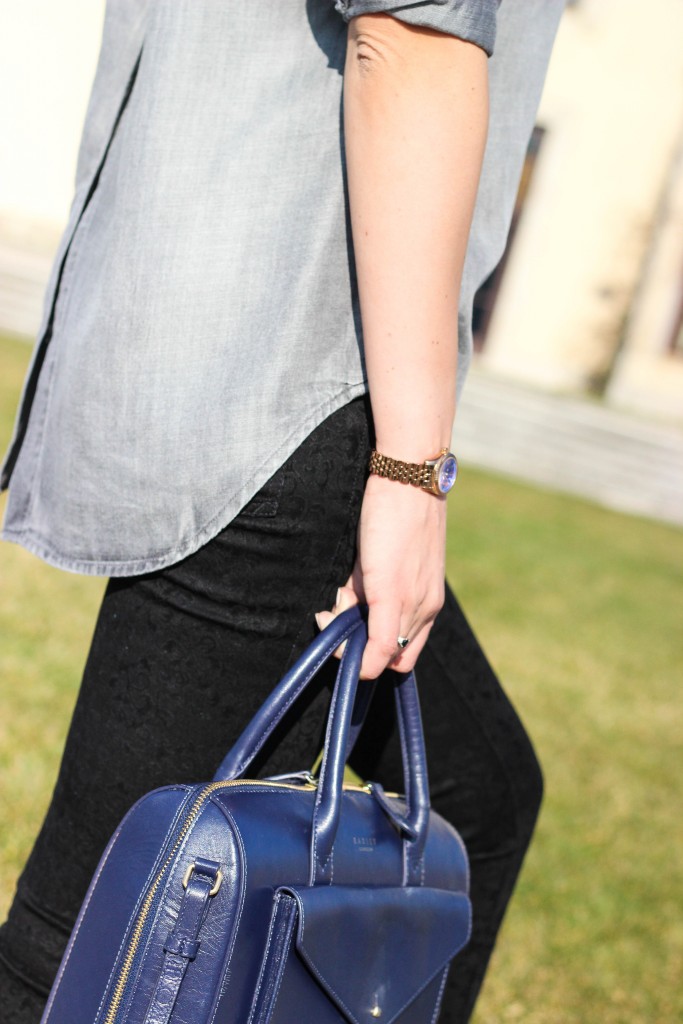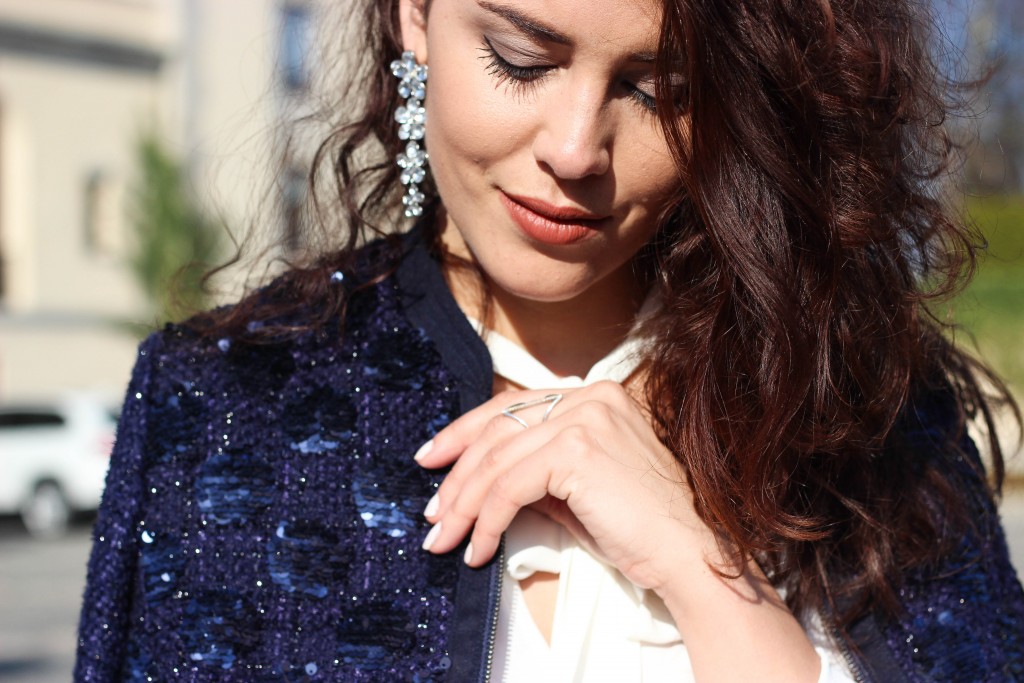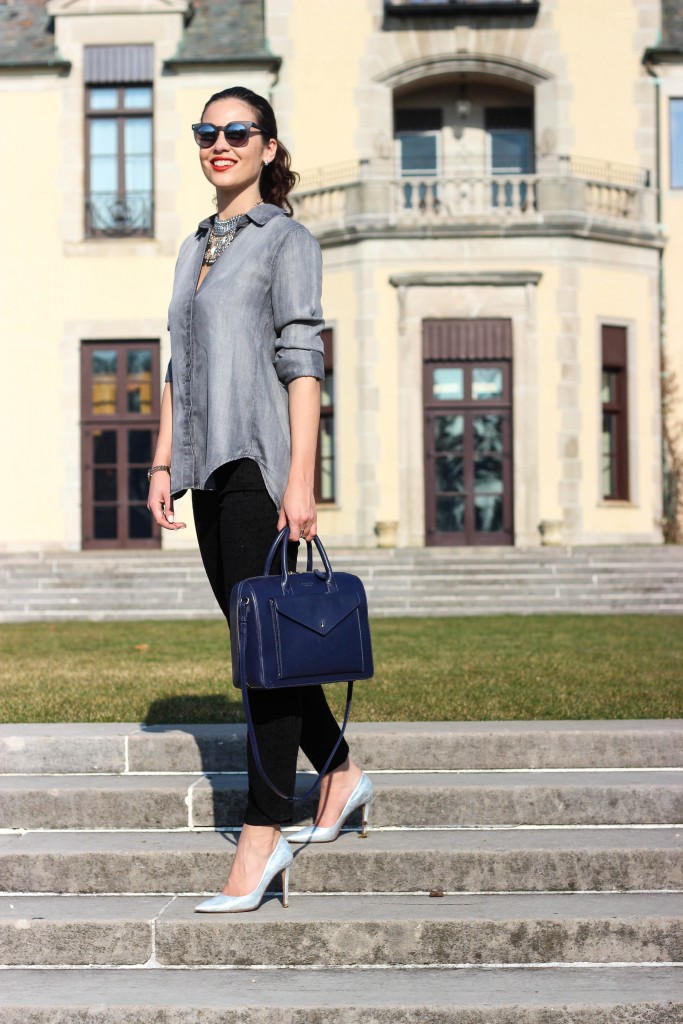 What I'm Wearing:
Look 1: Anthropologie Sequin Sky Bomber
Look 2: Anthropologie Greyscale Chambray Button Down, Anthropologie Flocked Jeans 
Look 3: Anthropologie Suede Wrap skirt
Location: Oheka Castle, Long Island
Photographer: Tatiane Kozijn | Instagram: @tatianekozijn