There's no better time to escape to a warm destination than when the first chilly, drizzly weeks hit the country. So we hopped on a flight from Amsterdam to Lanzarote with Easyjet. Adventure ready?
You've probably seen some of the previous destinations we've been to with Easyjet, like Tel Aviv or Tenerife, which were both equally amazing. There's no denying that Easyjet is constantly growing and adding more and more destination to its database. We won't be surprised if they'll soon be flying to New York too ;-). Another new feature we like that you can now order food in advance of the flight. Very, very convenient especially for the longer flights like to Lanzarote.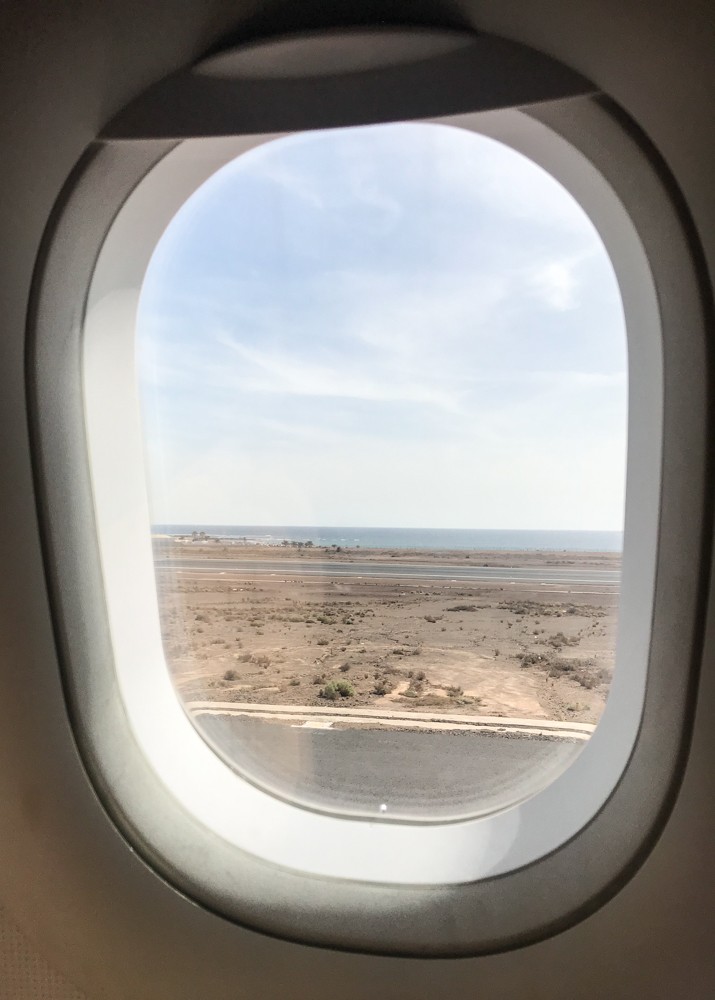 About Lanzarote
Lanzarote is one of the Canary islands off the West African coast, with year round warm weather and an extraordinary vulcanic landscape. Actually not just vulcanic, the island has a variety of different landscapes, from red rocks to white sand dunes and dramatic black rocky mountains. It feels a little otherworldy, to be honest. That's also how our tour guide Angela described it as we were making our way to Timanfaya national park.
What to do?
So here are the absolute 3 things you have to do in Lanzarote, according to us and our humble but always accurate opinion. Joking. But for real, this is what you have to do:
1. Tour Timanfaya national park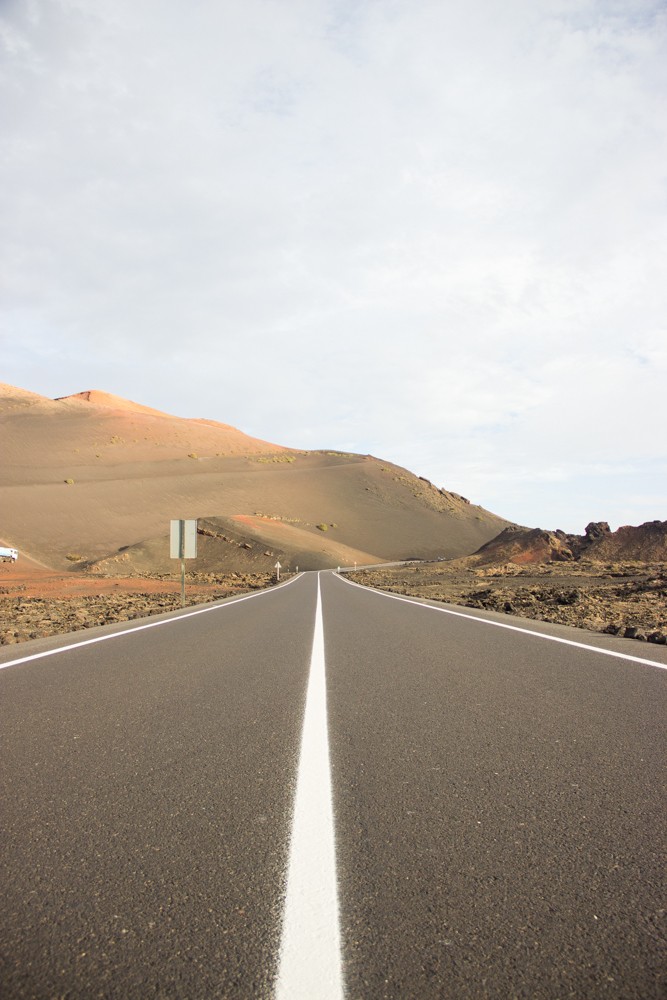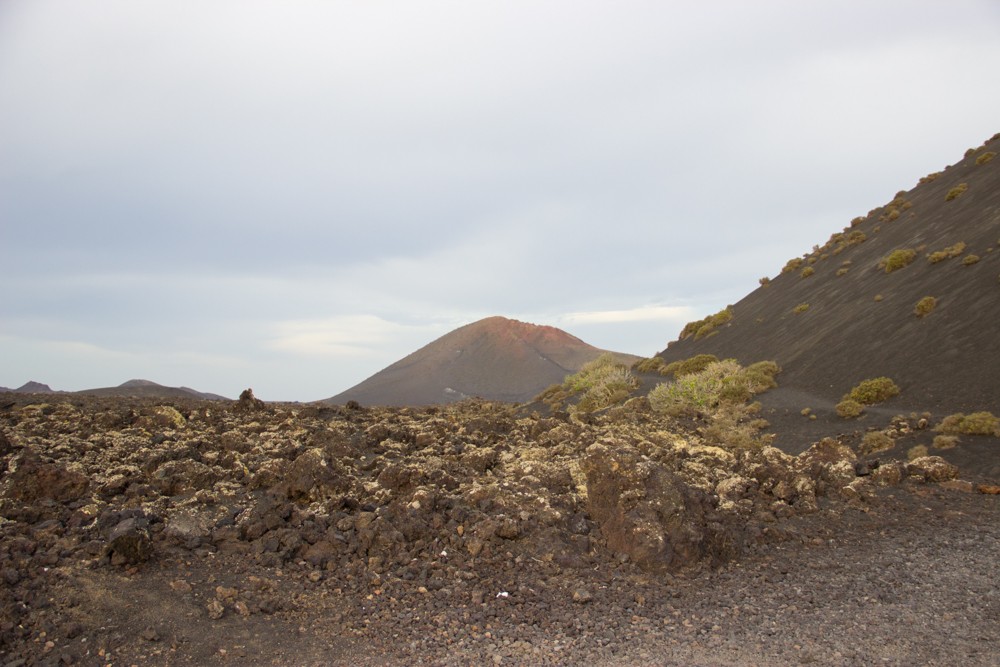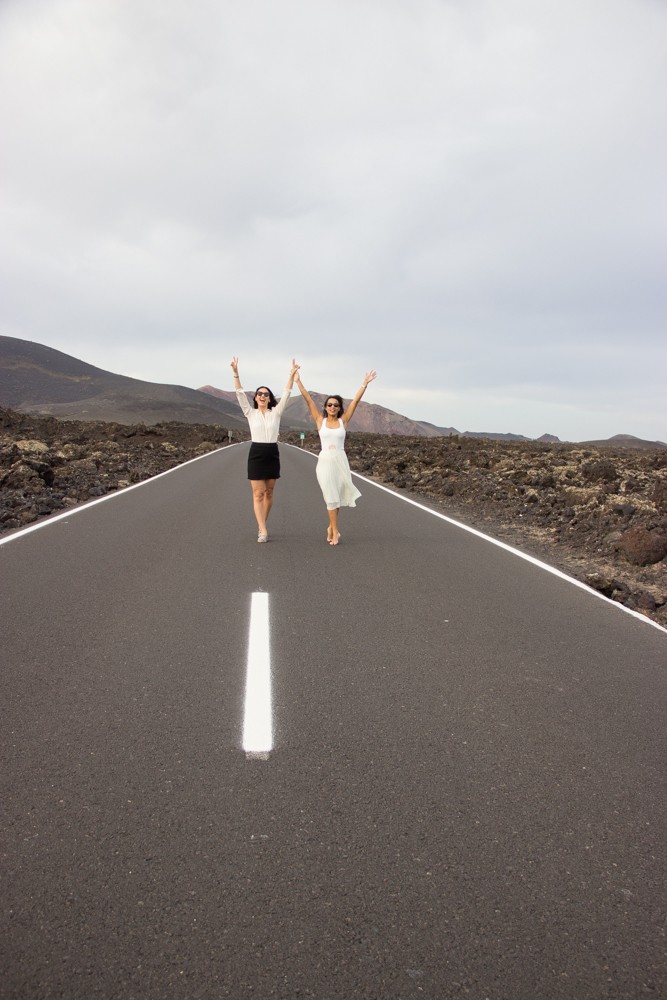 We took a tour in Timanfaya national park with the lovely Angela from Lanzarote experience tours. Can I just first of all say how incredibly photogenic the national park is? Seemingly endless roads with nothing but red mountains as backdrop. We said hello to a group of camels, took a walk in nature, tasted some local wine and simply admired all the pretty sights the park has to offer.
2.Take a sail along the coast to Graciosa island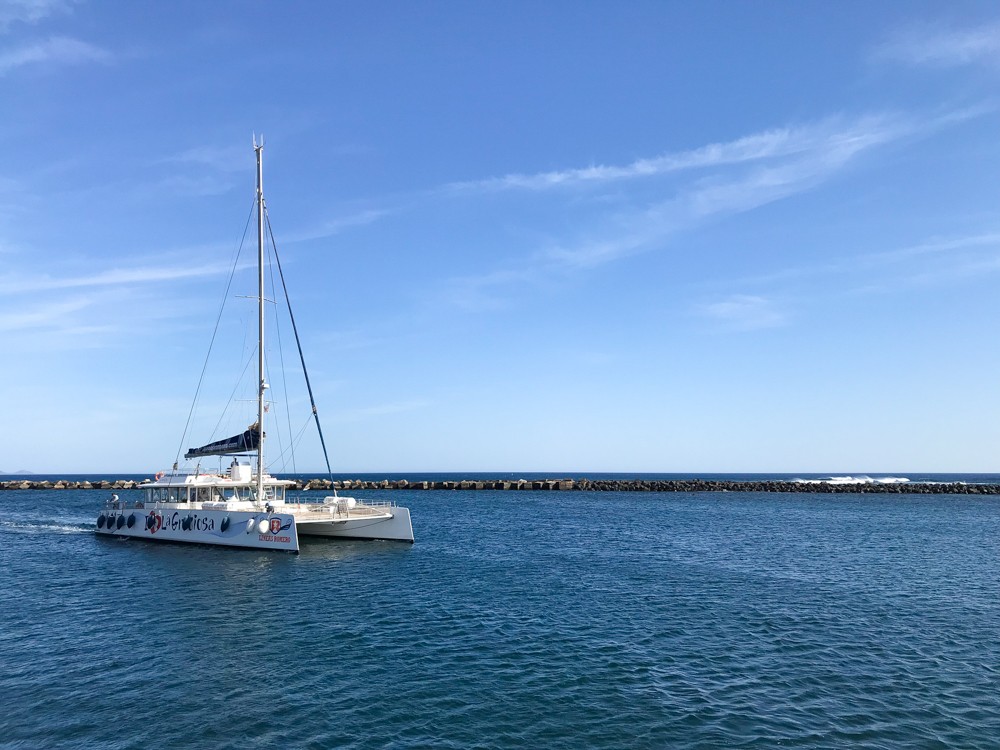 Yes, a must do! You can't experience Lanzarote if you haven't been on a boat. Or in our case, a catamaran. We had a lovely day on the Graciosa cat with Tourist Ticket. While on the catamaran you get a good taste of the variety of landscapes the island has to offer. From clear blue water (and excellent snorkelling) to white sand dunes, black mountains with lots of goats on it and more. A beautiful day on the water and oh so relaxing. The paella lunch accompanied with mojito's was also a good plus.
3. Scuba dive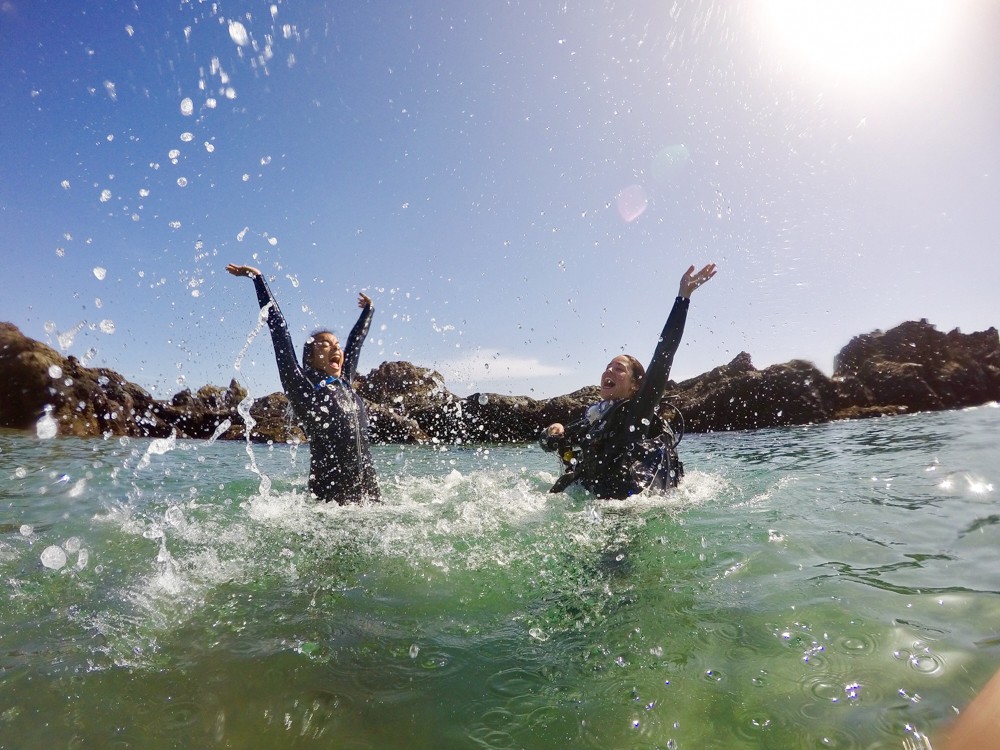 There's no place better suitable for your first Scuba dive than Lanzarote. I have to admit, we were both a bit afraid to hop on this adventure for the first time. I mean, breathing through an oxygen tank while sinking to the bottom of the sea with 6 kilo of weight around your waist sure enough is a good reason to freak out? But here is the thing, it's so so good to do things you're afraid to do. Because once you go through with it and beat your fears, it's the most fulfilling feeling. The team at Manta diving was simply amazing, professional with lots of positive energy and clear, easy to follow instructions. Plus, their office is located just metres from Playa Chica (the diving spot), so it's very easy to reach. I absolutely loved the experience and was blown away by how much underwater life you can find so close to the shore. From the most flamboyant coloured fish to the weirdest creatures you've never seen before. I guess scuba diving is a bit like surfing: once you've done it, you want to do it again and again! Absolutely recommended while in Lanzarote: a scuba dive with Manta diving
Where to Stay – Nautilus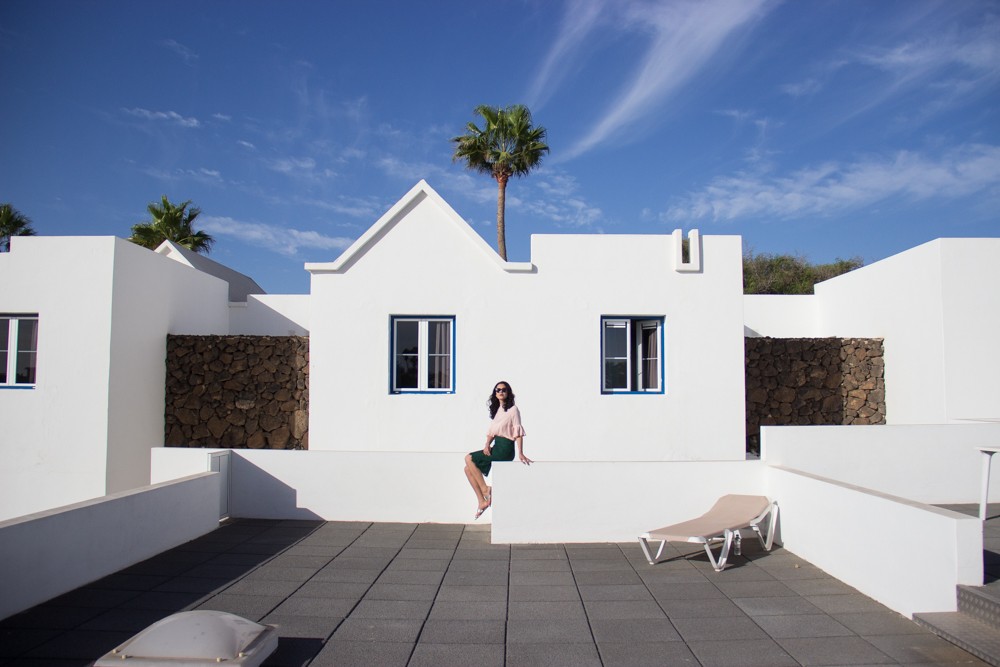 We stayed at the very convenient located Nautilus, a relaxed apartment hotel just minutes from the beach and close to the airport. Despite being a family oriented accomodation, it's also perfectly suitable for friends, couples and younger people. Our apartment was spacious, with a private terrace and looking out over some beautiful palmtrees. The service and reception is very friendly, a lovely welcome feeling. The complex is situated on a hill, so at sunset you have the most beautiful view! The beach, restaurants and bars are all at just a 2 minute walk, as well as the super market and anything else you might need. You can read more about the hotel in our dedicated post.
Conclusion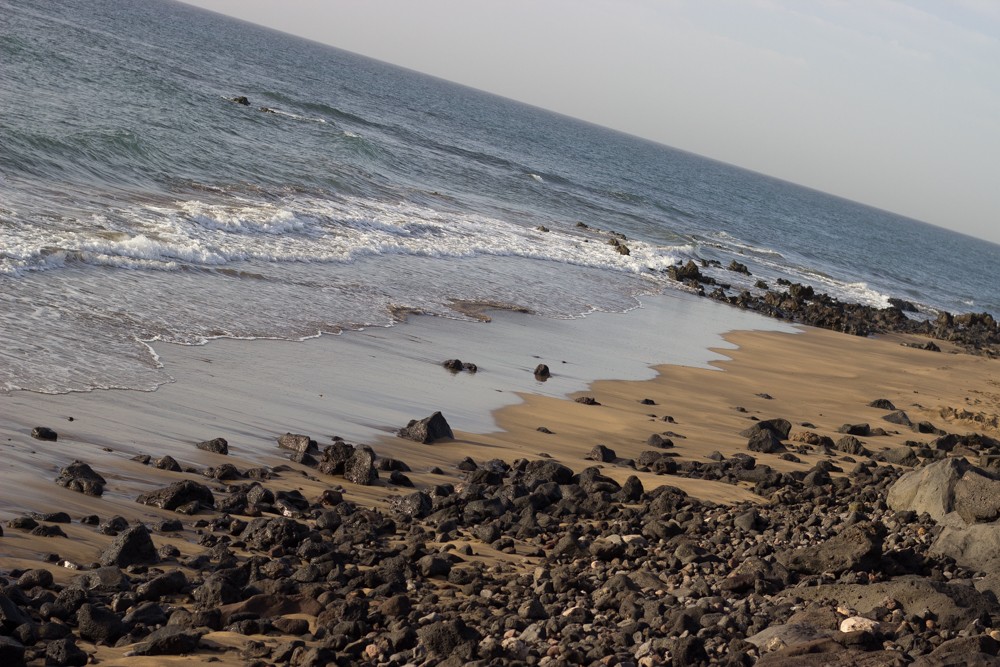 Lanzarote is perfect for a little sun escape! We were surprised that even in October, we had temperatures of over 30 degrees throughout most days. The island is quiet, easy going and just has a very relaxed atmosphere. The perfect spot for a short getaway, especially now that the cold weather is hitting us in Western Europe! Onto the next adventure, thanks for the ride Easyjet.
Photographer: Tatiane Kozijn | Instagram: @tatianekozijn
Location: Lanzarote, Spain