Source: Stylizimo
I have to admit, it still feels a little weird to write a fashion article based on what season Australia is in. There's always that voice that tells me: no!  We're not in autumn; we're in the middle of spring! I guess I'll always keep that European mindset. And who blames me; Australian Autumn and European Spring are pretty much the same thing temperature wise. Western Australia might even be a little better. Ok, I will stop making you northern hemisphere people jealous.
It's those in-between temperatures during spring and autumn that are always a little tricky when it comes to getting dressed. I got an email from reader who is based in Perth the other day and she asked me if I could give some advice on winter dressing. Yeah, sure!  By the way, I absolutely love receiving emails from you guys. So if there's anything on your mind you would like to ask or tell me, don't hesitate to shoot me an email.
Today I'm listing 10 must have items that will easy get you through the tricky weeks of transitioning seasons. For the Australian gals reading this: most of this is winter appropriate as well!
Blazers are key in any transitioning season wardrobe. If you're going for a basic colour, I personally think a white blazer is more versatile than a black one. Why? Because you usually buy boots or jeans in dark colours, so you want to break that up with some lighter colours. The blazer as seen in one of my outfits below, has been completely worn out so a replacement pair from Asos is currently on its way to me.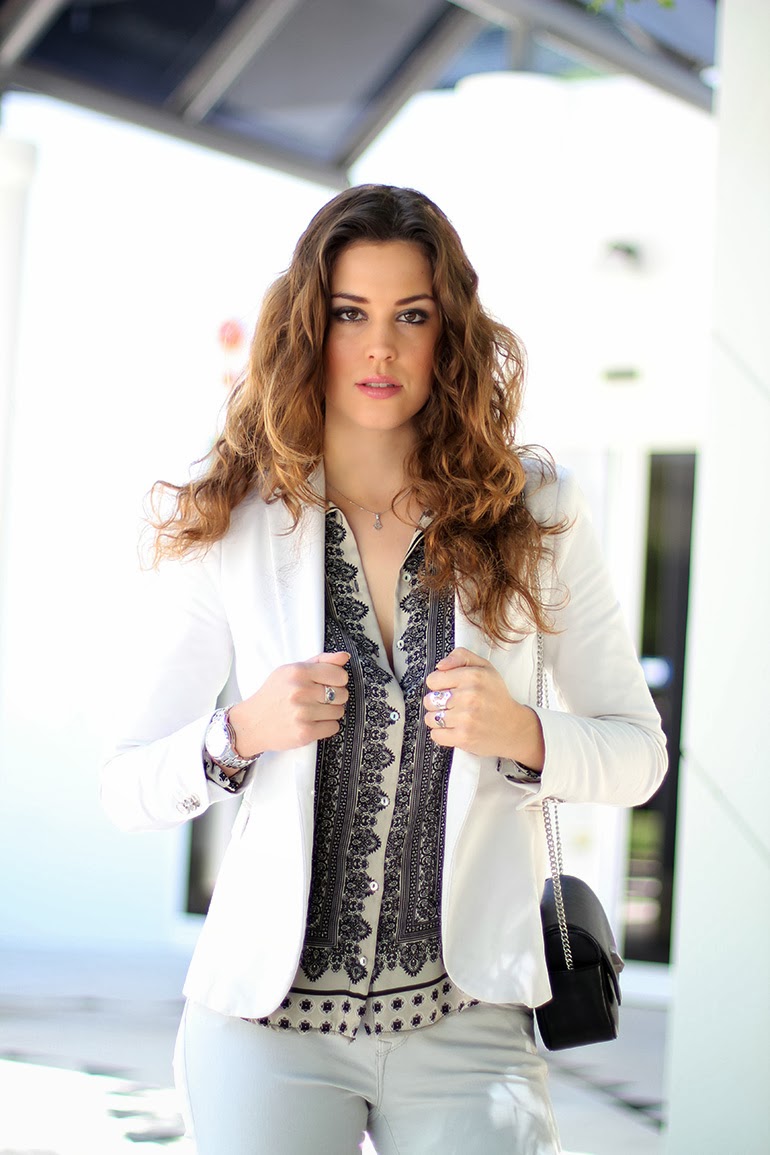 View the Outfit Post here
2 Loafers
I have a black patent pair, which I've literally worn to dead so a new pair is very high on my wishlist. Queen of loafers Sincerely Jules does the best job at styling them and has a collection anyone will be jealous of. I personally love wearing them with jeans and when you slip on one of those invisible socks, they keep your warm enough during the colder days too. I prefer loafers over ballet flats, because loafers are a little bulkier and generally look better when you're wearing jeans and a jacket.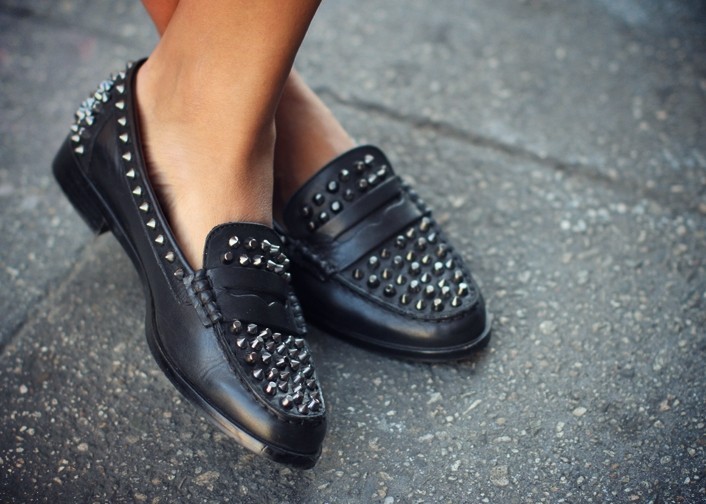 Source: Sincerely Jules
An absolute essential for layered outfits is chambray shirt. Wear it under a sweater to give your outfit more dimension (and warmth!) or wear it buttoned down a little with a coat on.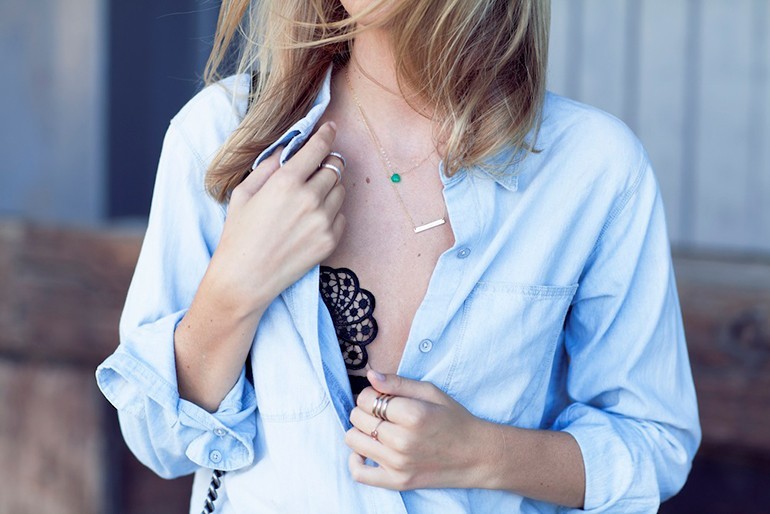 Source: Tuulavintage
First of all let me state: I'm not a big fan of tights, but they're unfortunately necessary if you want to wear dresses or skirts during the colder days. I highly prefer black tights which are a little sheer, which gives you the warmth you need, yet it shows a little skin. This usually gives more dimension to the outfit  than the tights that don't show any skin at all.
FYI: 120 DEN is the kind of tights that don't show any skin, 50 DEN is a little sheer.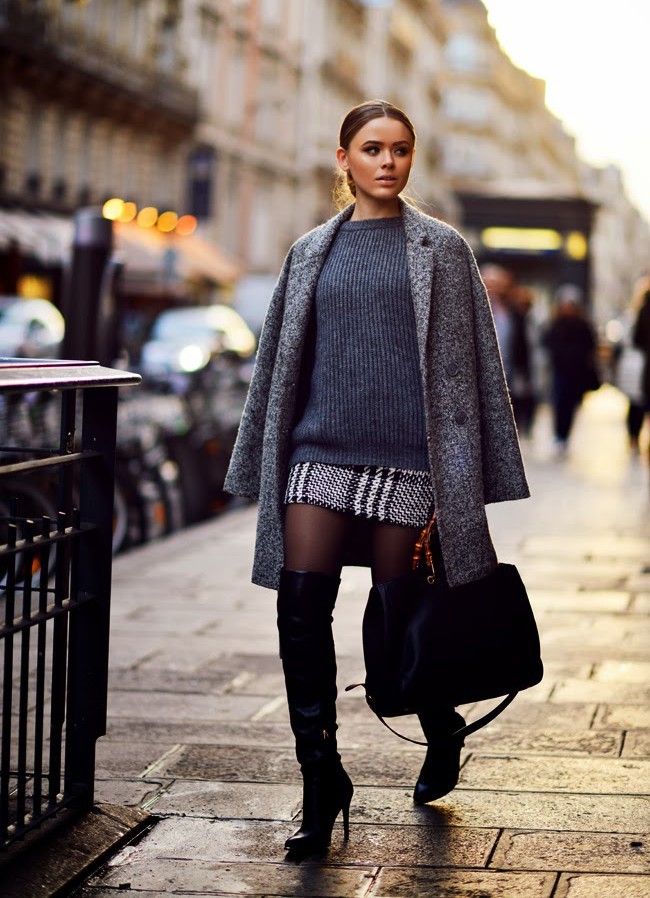 Source: Kayture
 5 Sweaters in multiple colours
I'm a firm believer that you can never have enough sweaters in your closet. Not only are they great layering material with a (chambray) shirt underneath, they also look awesome when worn over a dress or a skirt. A smart way to style sweaters is by casually wearing it over dresses or skirts that would otherwise not be day-time appropriate.

Source: Sincerely Jules
Despite carefully shifting my interest from only skinnies to flared pants as well, my skinny jeans are still the glue that keeps my outfits together. Coated black skinnies are one of those items that I swear by, because they're so incredibly versatile and flattering on any body type. Besides a black skinny, I'd strongly suggest a pair of denim jeans too. I like incorporating denim in my outifts to create the right balance.  Want to wear a sheer top during the day? with a pair of distressed denim jeans you'll never look overdone.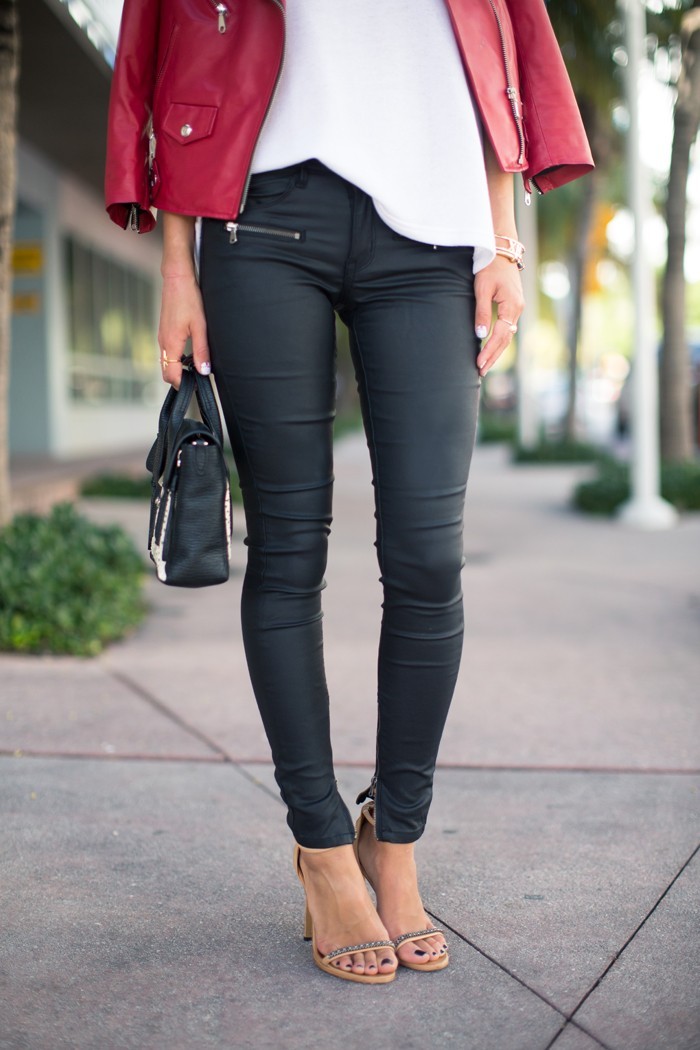 Source: Song of Style
7 Coat
You don't want to go die-hard black in those softer in between seasons days, so instead opt for a coat (wool or trench) in white, beige or camel. Coats in lighter colours work exceptionally well with denim.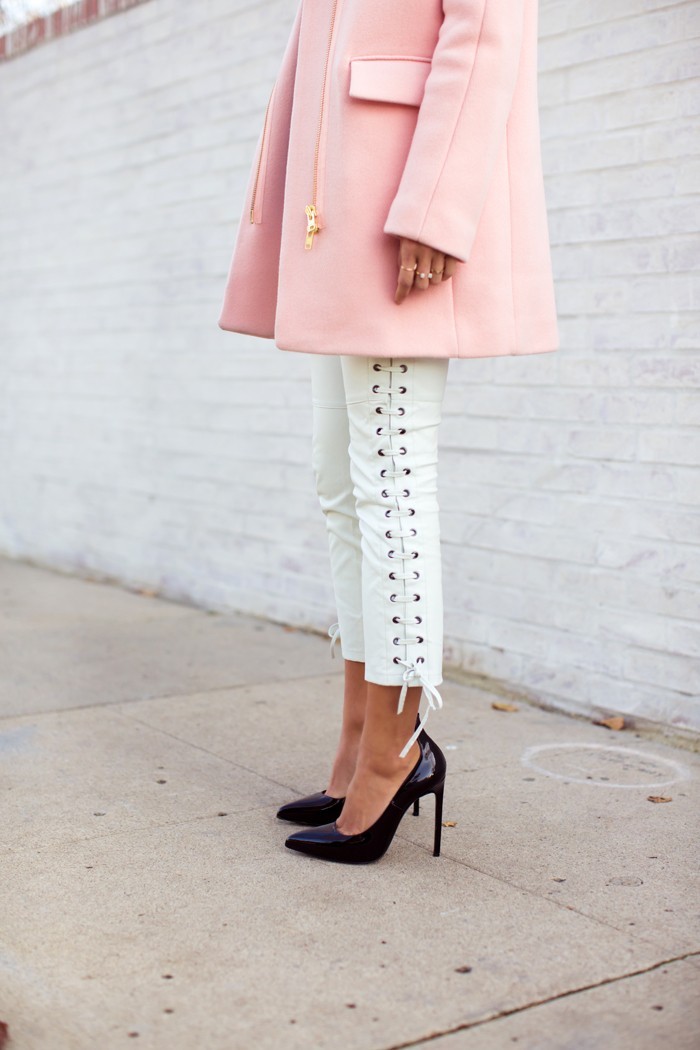 Source: Song of Style
Scuba (midi) skirts are easy layer material because they allow enough room to tuck in a denim shirt or a sweater if desired. They've proofed to be an essential in my wardrobe and I know they'll be in yours too once you start wearing them.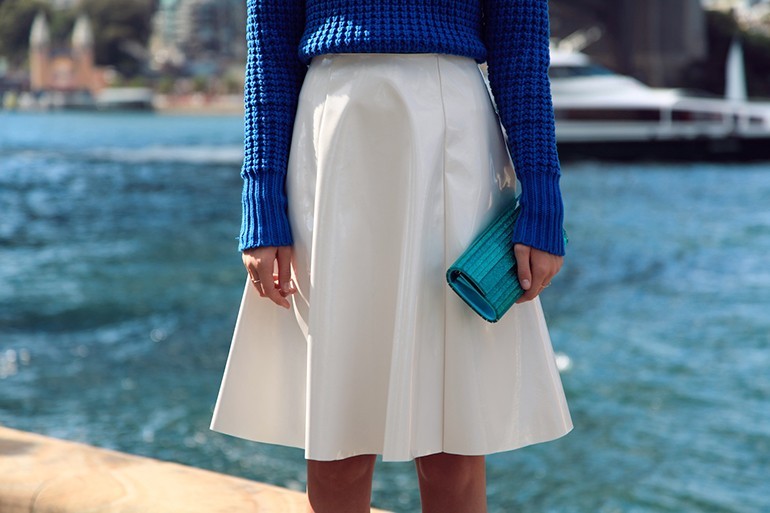 Source: Tuulavintage
I love wearing maxi skirts during colder days. They allow you to create the illusion you're bare legged, while your actually wearing some leggings underneath. Style your maxi with boots, a sweater and a leather jacket.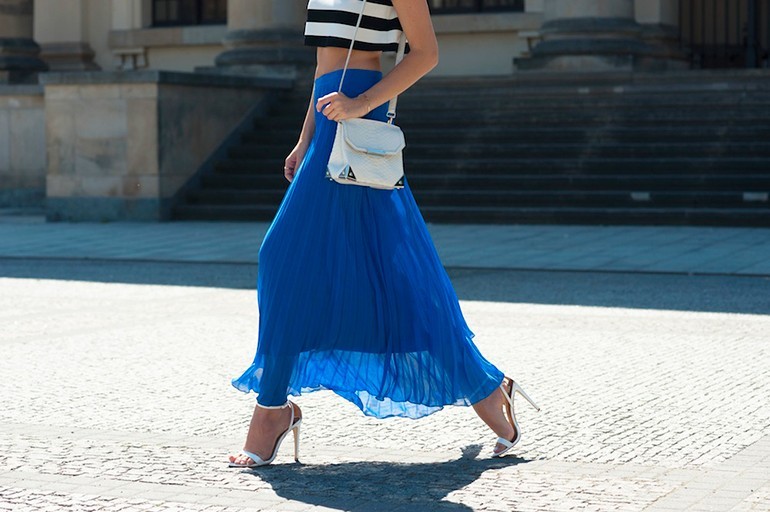 Source: Tuulavintage
10 Boots
No, not a pair with sky high heels. A pair with either no heel at all, or a very small one. Go for a black pistol boot; the most versatile boots you can possibly find. You'll be surprised how easy they're to style and in how many outfits you can incorporate them.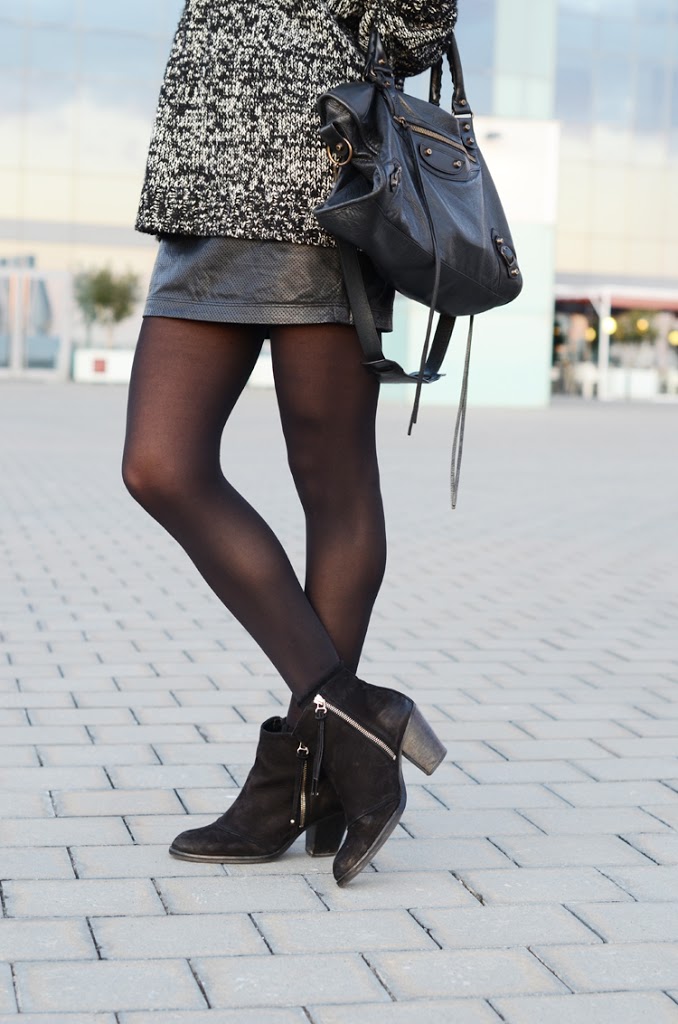 Source: FashionVibe
Shop Wardrobe Essentials