My love affair with prints is one that comes and goes, but this red floral blazer from Oasis instantly got me excited. The print reminds me of a water colour painting, oh so charming. The weather here in the Netherlands is still somewhat unpredictable but luckily the sun showed up for a few minutes while shooting this outfit in Amsterdam last week. Because honestly? I was feeling terribly cold wearing only this light and breezy blazer.
Wearing: Oasis  floral blazer, Oasis embellished top, Zara white coated jeans (similar here), Oasis leather tassel loafers, Zara grey tote bag (similar here), Michael Kors watch, MAC Lady Danger lipstick
[show_shopthepost_widget id="699881″]
To me, this outfit is a great mix between dressy, casual and functional. When I know that I'll be spending much of the day on my feet, I usually opt for a pair of comfy loafers, but I always try to make up for it by wearing a dressy blazer, jacket or top. I'm a huge collector of all kinds of small bags, but in everyday life I generally get much more wear out of tote bags. I often drag along my camera, some make-up and a note book while on the go, so I have no choice but to opt for a bigger size bag like this one. Am I the only one who finds it hard to find a good quality, bigger size bag that doesn't look bulky or unflattering? Very happy with this one I recently purchased at Zara though, now I only need a few more options to choose from.
I just travelled from Amsterdam to the east of the country to visit family for the weekend, which is also a great opportunity to re-charge. Both my mind and myself have literally been all over the place lately and I struggle to find some peace of mind to relax. I've been living between Rotterdam, Amsterdam and Apeldoorn for 1.5 month now and while I love the thrill of being somewhere else all the time, it's difficult at times to not have one base. BUT! The main reason that I'm feeling a little overwhelmed lately is because of the many positive and exciting things going on in both my personal and professional life. Like I've been hinting several times before, my friend Tatiane and I are onto something HUGE business wise kicking off on the 1st of June in faraway places that takes a lot of our time preparing. Then I've also got daily meetings, emails to deal with and content to write for FashionContainer , which sometimes makes me end up feeling like I don't have a grasp on my schedule AT ALL. But then I remind myself: "If things seem under control, you are just not going fast enough". To stay updated with everything that goes on in my life from day-to-day, make sure to follow me on Instagram (@fashioncontainer)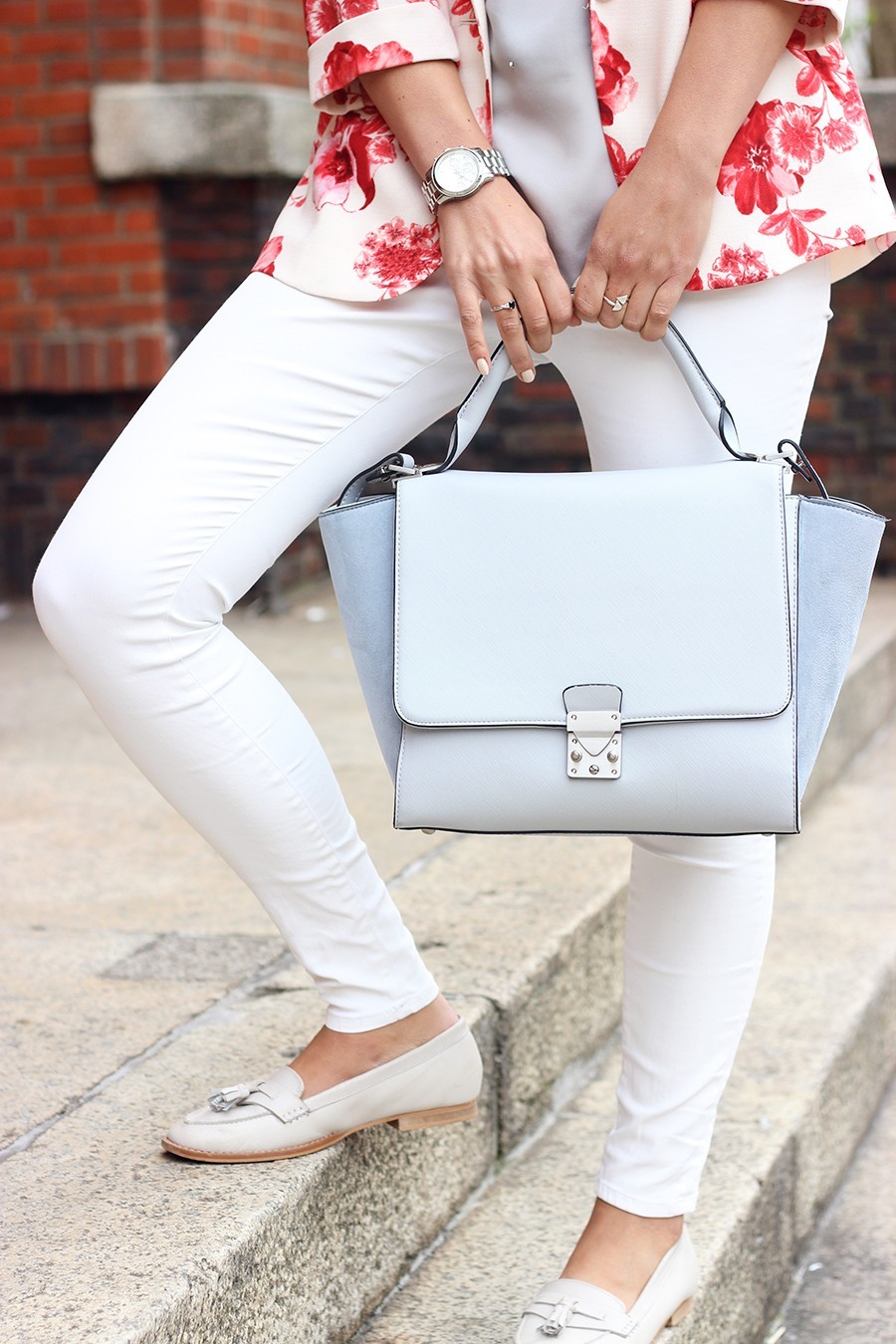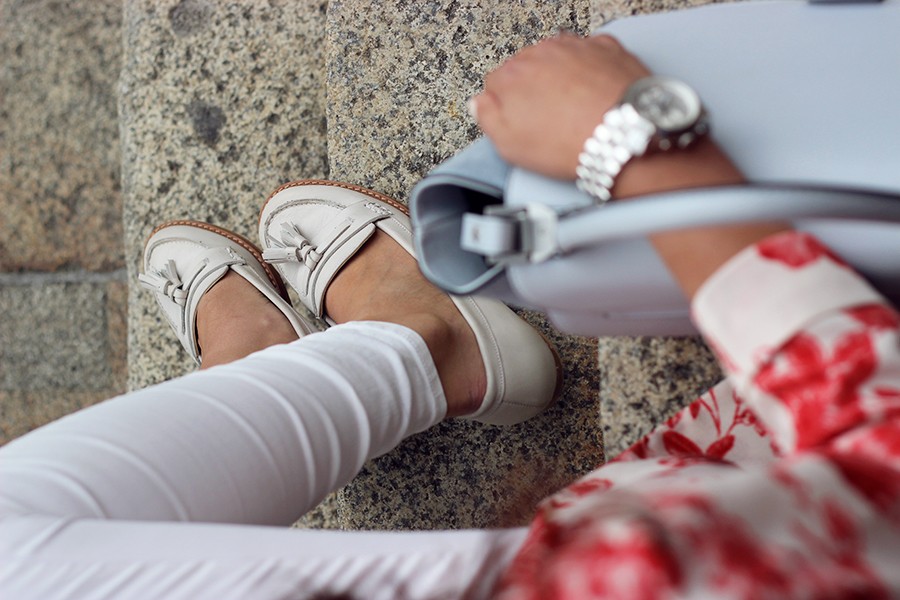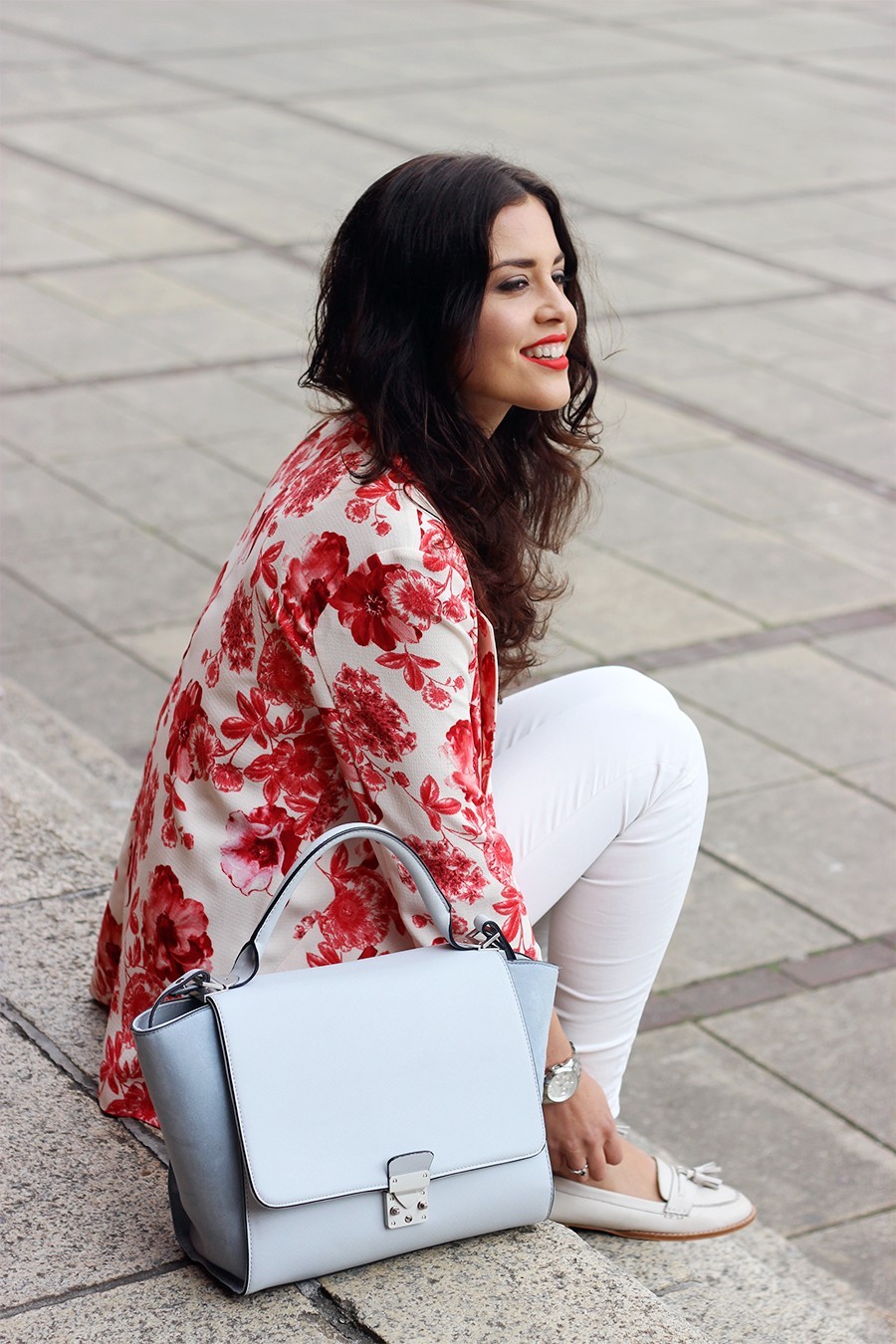 Wearing: Oasis  floral blazer, Oasis embellished top, Zara white coated jeans (similar here), Oasis leather tassel loafers, Zara grey tote bag (similar here), Michael Kors watch, MAC Lady Danger lipstick
[show_shopthepost_widget id="699881″]
Pictures by Tatiane Kozijn