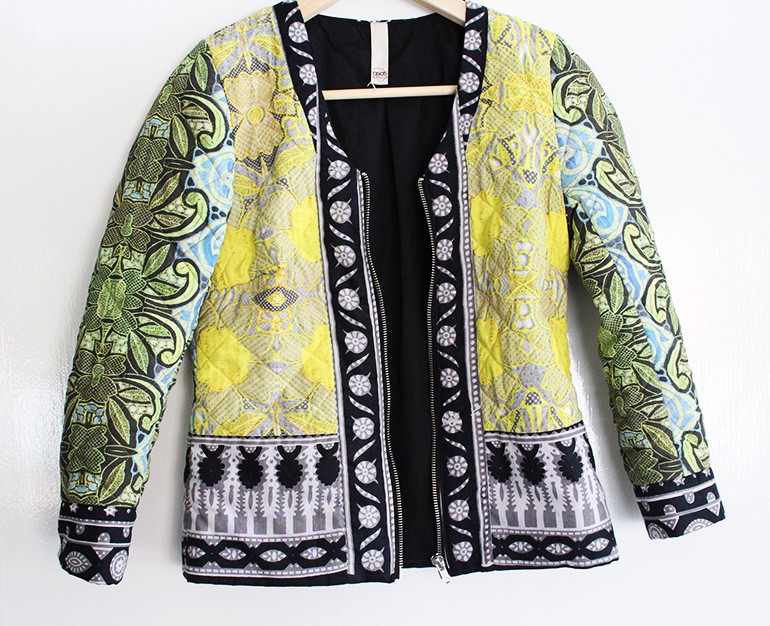 Immediately ordering this quilted jacket from the ASOS 'Africa' collection once I saw it, turned out to be the right decision, because the next day it was sold out.
Green and yellow aren't colours that are overrepresenting in my closet, which is ofcourse a good reason (or excuse) to purchase this beauty. I really love its unique pattern and the fact that it looks totally designer instead of high street. If I was told it was an Isabel Marant jacket I would have believed it. Wouldn't you? Unfortunately this one has been sold out, but there are some more awesome items from this collection, for example a pair of 
pants
 in the same print as the jacket.
Are you having a good sunday? After having delicious banana pancakes for breakfast, I spend some time tidying the house. It's unbelievable how much of a mess I make every week, especially in my closet room.   Since a while, sunday has become cleaning up day. Only to make it a big mess the next 6 days after… But ok, I guess that's the way it goes right?
After the obligatory household chores, my boyfriend and I went for coffee with two of our good friends and somewhere in between we also found time to take outfit pictures. Tonight we're invited to a friends place for dinner and then the weekend has already come to an end unfortunately.
Find a similar jacket 
here
Follow Fashioncontainer on: