I'm totally aware of the fact that I haven't posted a photo diary in two weeks. Whoops. Truth is that I had to step away from my laptop for a bit (not voluntarily), because there's just so much going on in my life right now. And of course, I also took a few day break to Margaret River (did you read the post?)

Like I briefly mentioned before, Hassan and I moving to a new home the next few weeks. Slight problem: we just haven't found the home yet. Lol. Our lease is finishing soon and we don't want to renew it for an entire year again. I find renting tricky here in Australia, because for many leases there's no such thing as giving a 4 week notice and thus having the freedom to leave when you want.
Since we got back from Margaret River on Sunday night we got into a roller-coaster of events (not bad, but so busy). On Tuesday Hassan and I were invited to a cocktail party to welcome the new MBA students (Hassan, not me). Hosted by the the chairman of the MBA himself and with many of WA's business leaders present, it was such an interesting evening. I haven't met so many talented and ambitious people in a long time! I found it very inspiring and it helped me see Perth in a completely different light. I didn't take any photos myself that night, but there was a photographer so I hope I'll get my hands on a photo of myself and Hassan.
On Friday we went to a goodbye party of a friend of Hassan, one of the disadvantages of having a big expat network is that there's always people leaving. I've made quite a few good friends during my time here in Perth, but I've unfortunately seen most of them leaving to other parts of the world again. Even though it encourages you to meet more new people easily and to be more resilient, it's kinda sad at the same time.
On Saturday I went to the hairdresser (photo below and photo 12), for a semi-permanent colour treatment and a cut. The strong Aussie sun makes my hair a lot lighter and a little dull. Where have you gone, natural shiny hair? perhaps it's the age, I'm hitting the big 25 in a few months after all. Any way, I'm very happy with my dark brown hair colour! A lot closer to my natural shade, so I'm feeling like myself again. At night Hassan and I went for dinner with friends at an Indian restaurant in the neighbourhood. Did I already tell you that I've been eating a scandalous amount of food this week? I'm not sure what's going on, but my colleagues are keep buying icecream ("it's warm today"), cookies ("but we need it for morning tea") and chocolate ("afternoon pick me up") that I can't refuse and on top of that Hassan have been eating out for about 10 days straight. Time to cut the bad habits.
Sunday we spend the morning cleaning (another home inspection this week, sigh) and later that day we headed to town for a good lunch at Little Bird café (photos 8,9,13). They do such amazing food and the cakes are seriously to die for. At night a few friends came over to my place and we ordered takeaway pizza, of which I barely ate anything, because I had such a gigantic lunch. Is it just me, or are you excited for the New Year too? 2014 wasn't a very good year for me, so to start 2015 on a different foot I made some crazy travel plans mid-January to shake things up. Get me outta here. More on that later!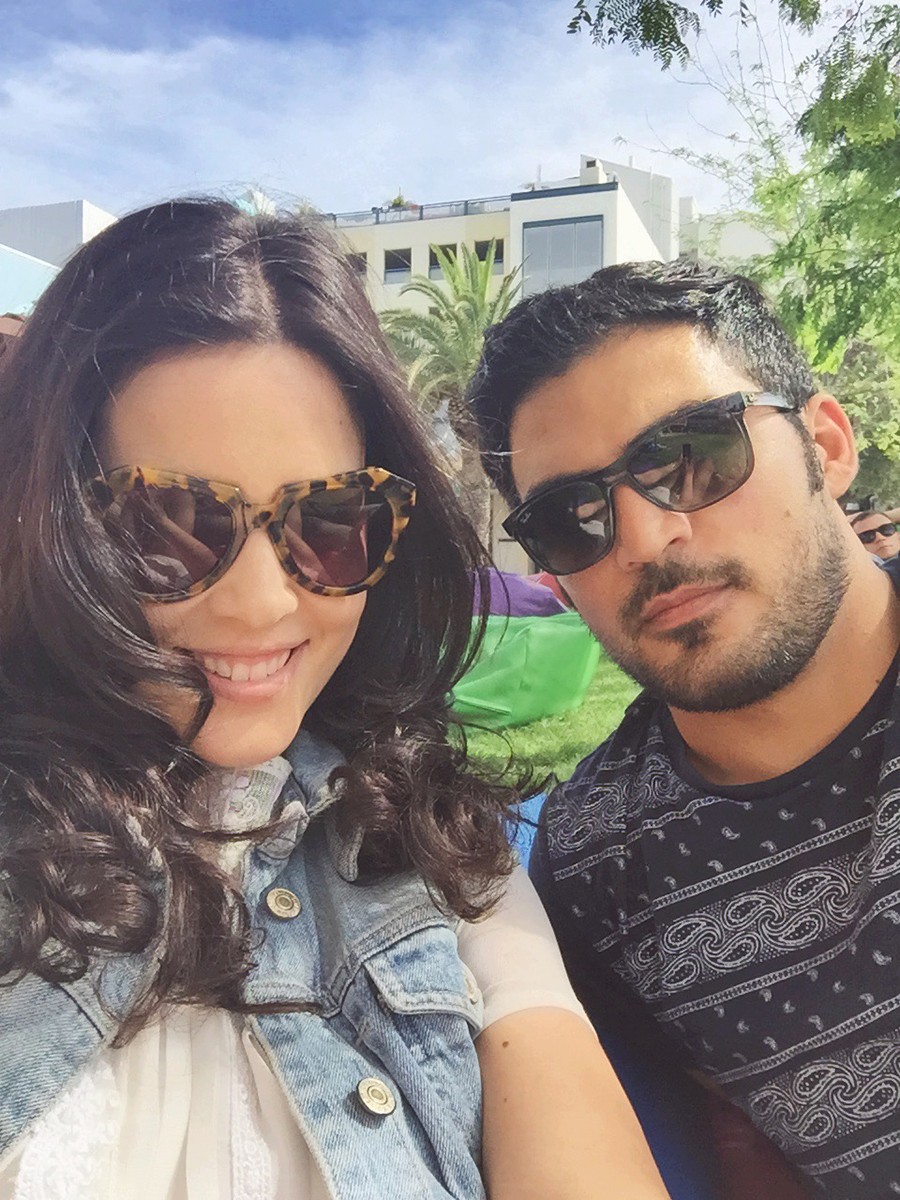 On Sunday afternoon there's bands playing at the Northbridge Piazza. Lay down on one of the lounge pillows with a drink and just listen to the music. Chill.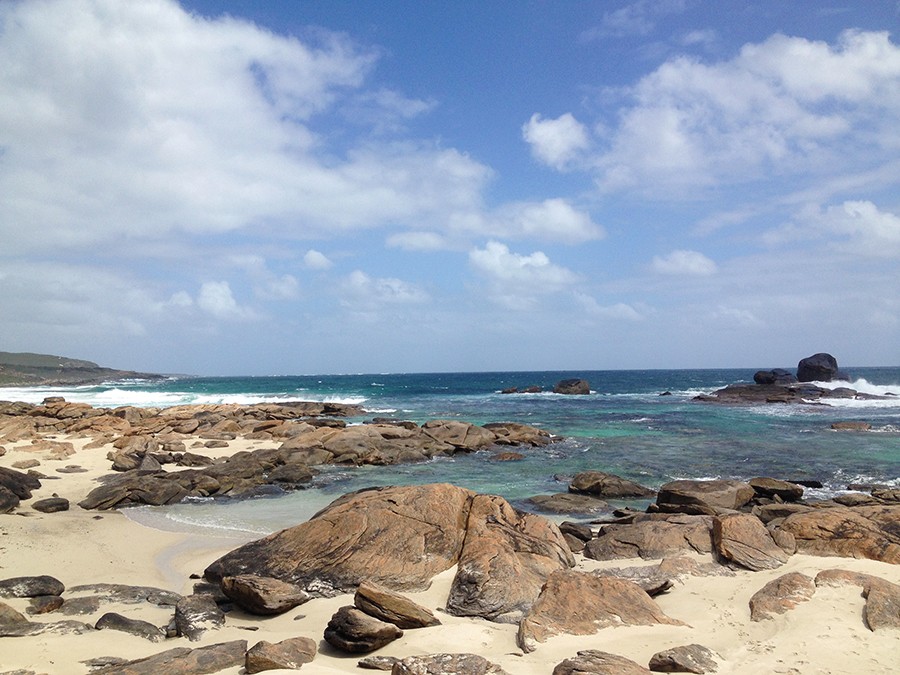 Redgate beach from my Iphone. Impressive, right? Other than the impression this photo give you, it actually wasn't so warm at all that day.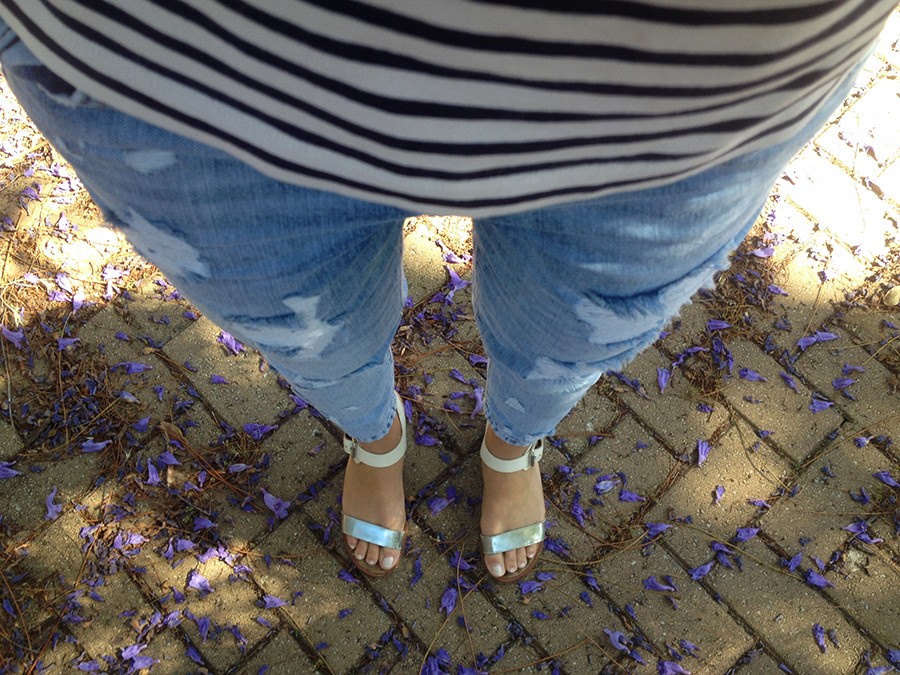 Casual outfit in my garden before heading to work. These Sam Edelman sandals simply rock, second season I'm wearing them and still love 'em.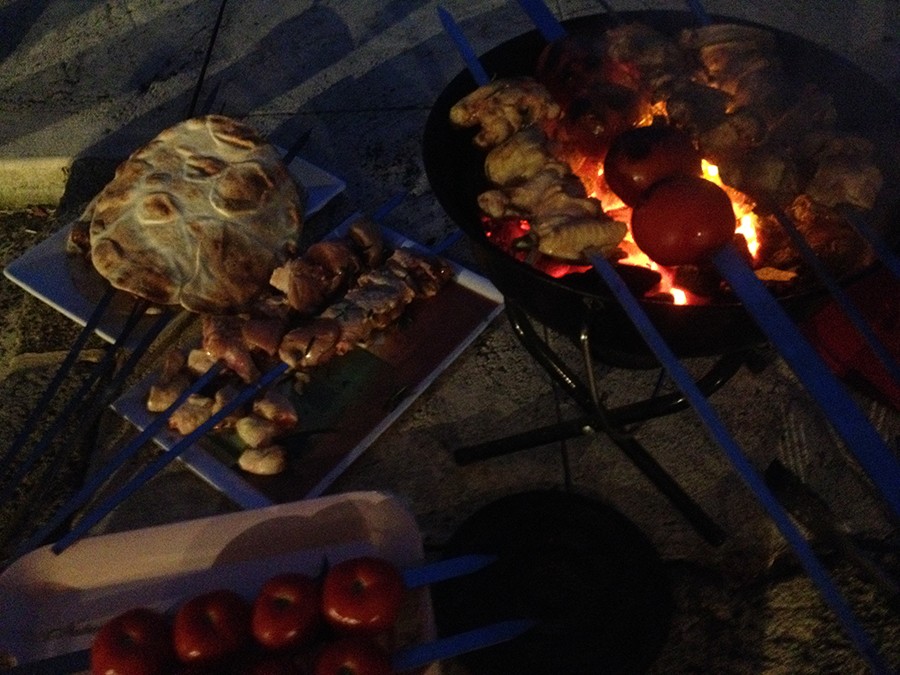 Barbecue at my friend's place. What can I say, Persians do it better ;). This barbecue actually reminded me a lot of the food I used to eat almost every day when I lived in Turkey.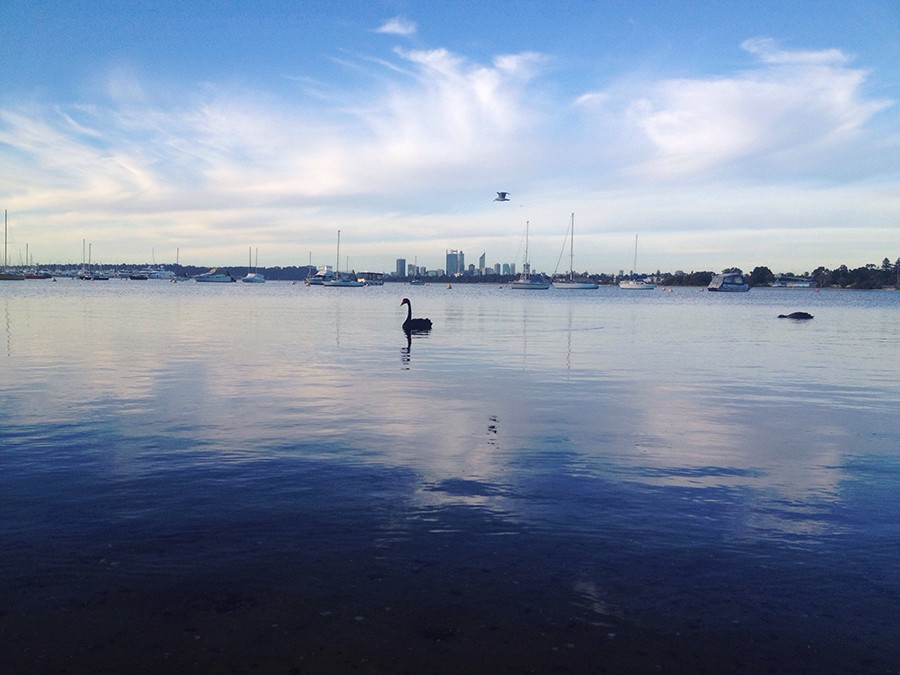 Swan River picture perfect in Applecross. Never get tired of my daily walks here…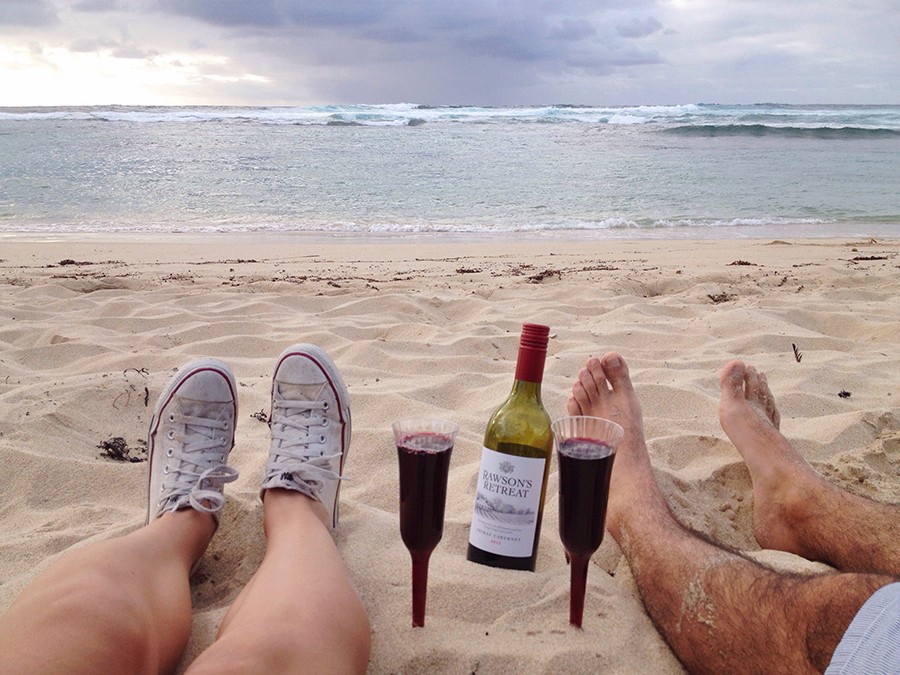 Feet in the sand, drinking red wine from fancy plastic glasses and a sunset.  Well, if that isn't the ultimate relaxation, then I don't know. Seriously, if you're visiting Western Australia you just have to go to Yallingup. Just have to.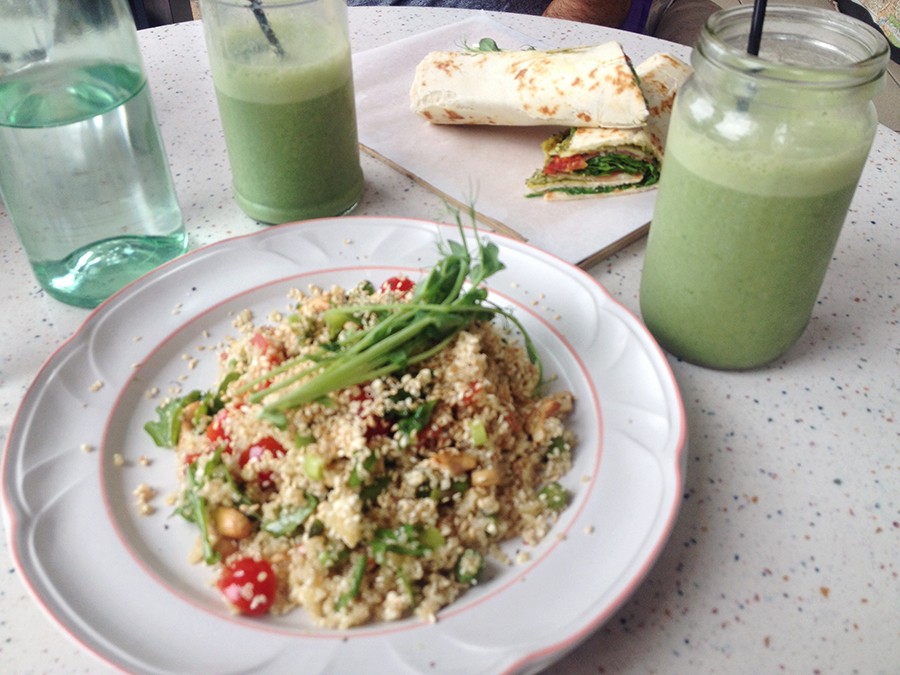 Delicious quinoa salad & green juice at Shaana cafe in Yallingup.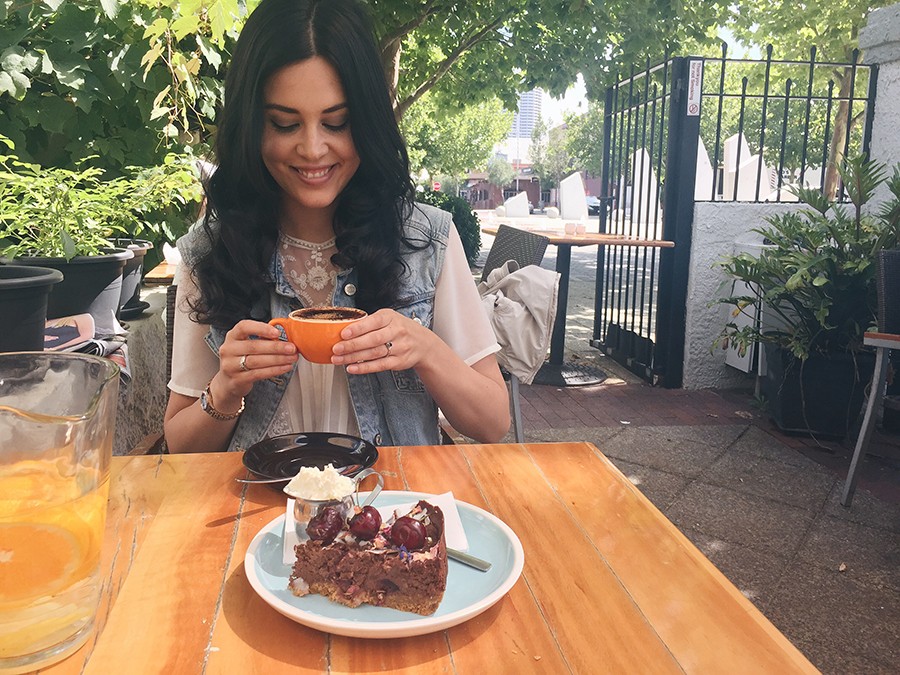 Lunch (+ sweets and coffee) at Little Bird cafe in Northbridge. And yes, that cake was just as delicious as it looks. If you're hungry I'd not look at the close up below.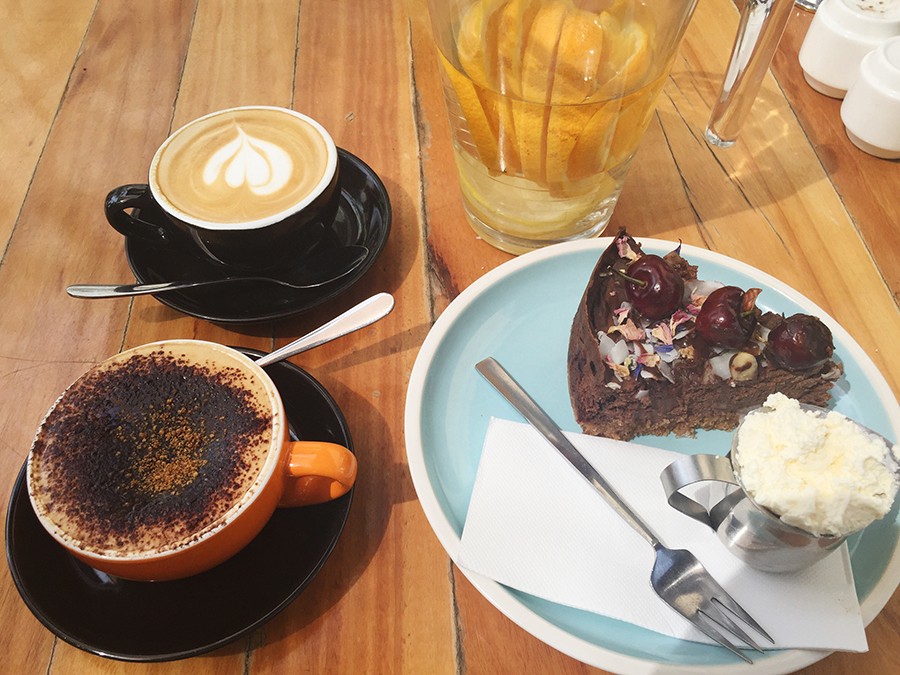 OK, that cake was really out of the world delicious!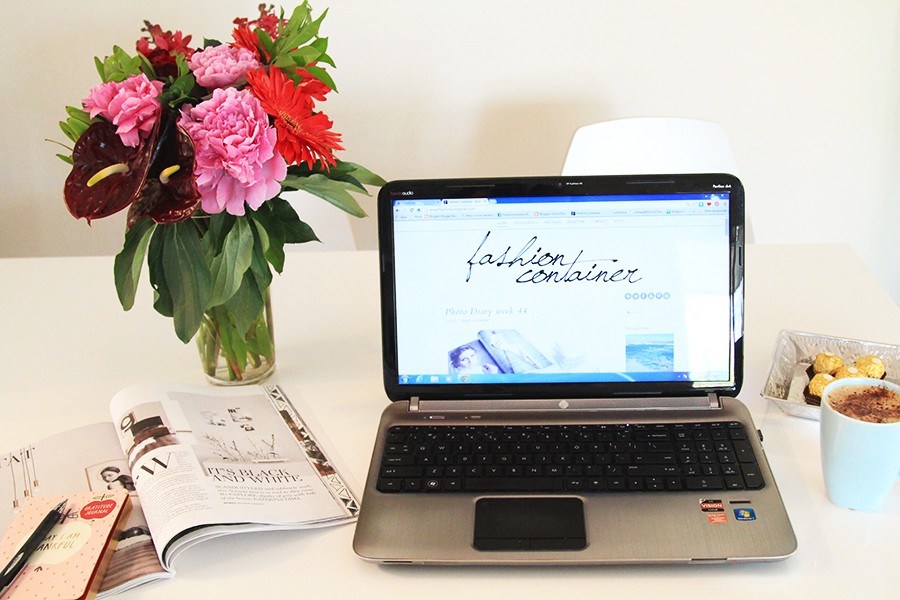 Solving a writers block and lack of inspiration one cappuccino (and chocolate) at a time. I should set up my workspace like this more often. Truth is that I can never really keep it looking pretty and organized for long.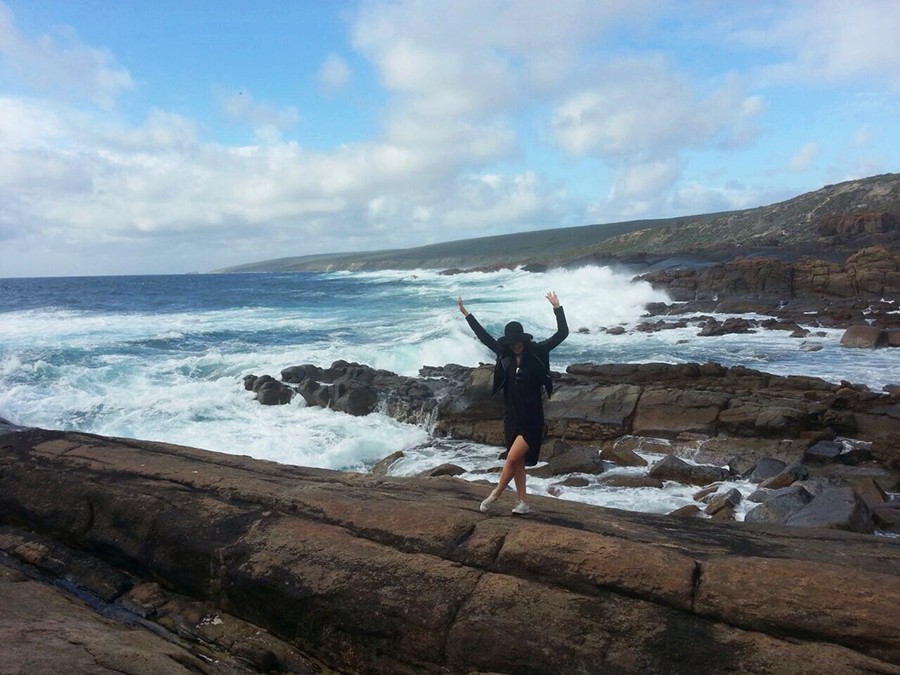 WEEE! I was afraid I was going to be blown into the ocean. The wind was super strong. Almost lost my hat several times too.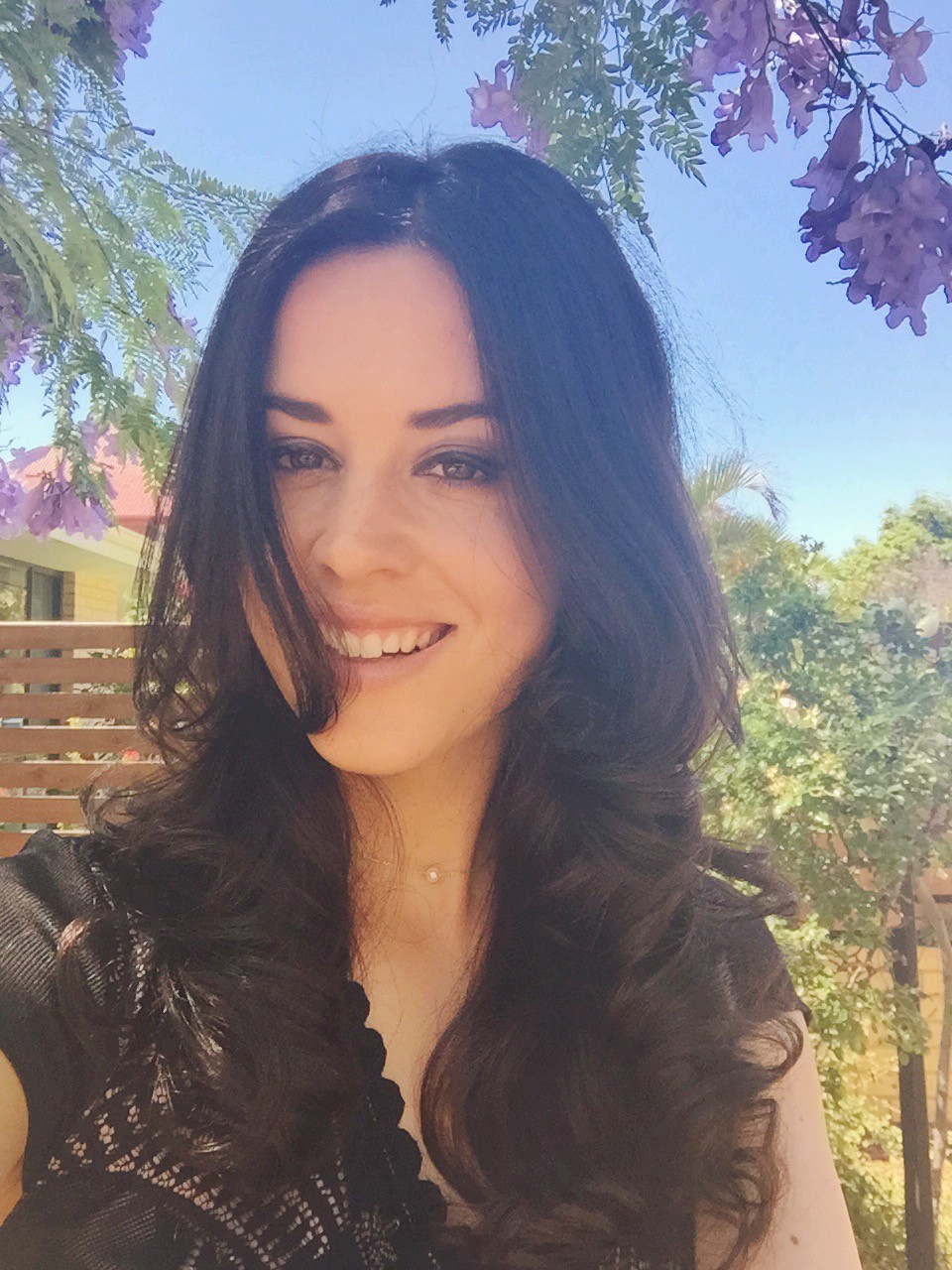 A fresh cut, colour and blowdry done at Reno's hair care in Garden City. They did a really great job. This is my garden, aren't the purple blossoms gorgeous?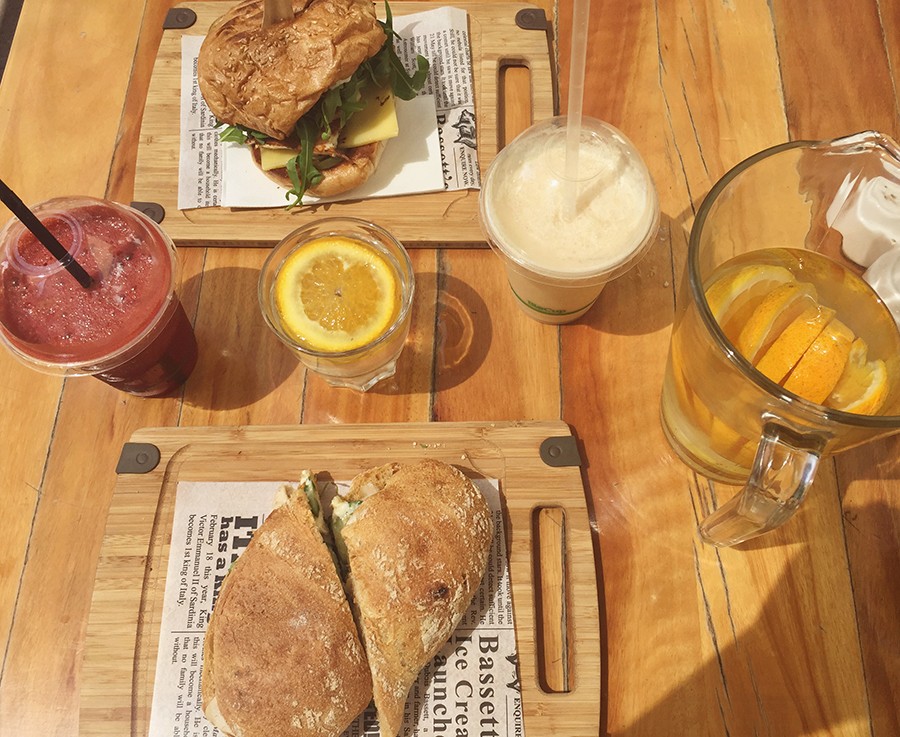 Chicken Panini for me, Chicken burger for him.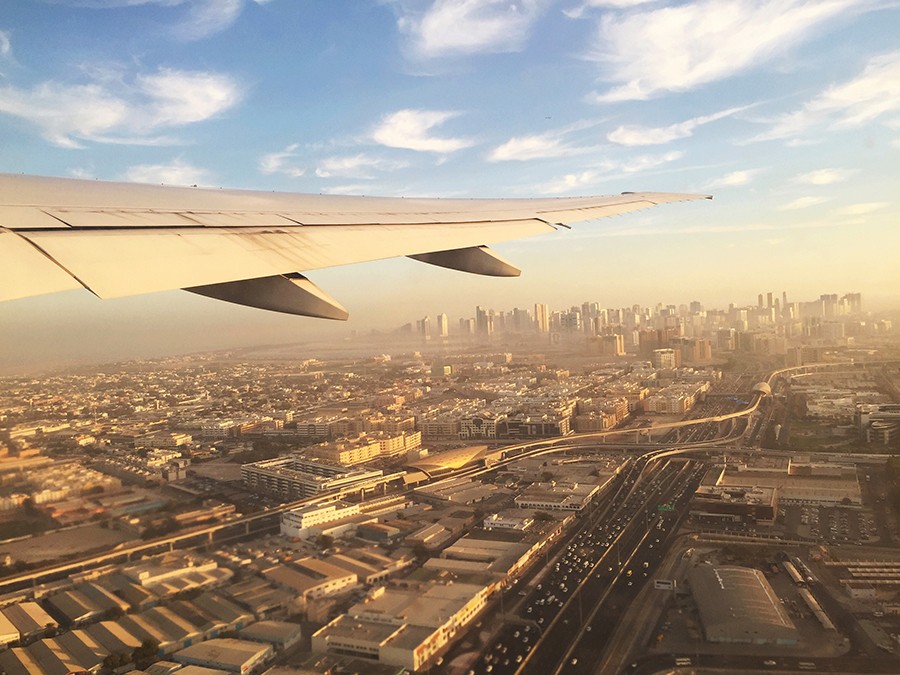 On the 14th of January that's me. WHOOP. 

Thursday night in Garden City shopping centre. I got myself a new Iphone 6, absolutely obsessed with it already! The quality of the camera (not really done justice in this photo), is seriously so good. I'm wearing this polkadot skirt (only $29!) and grey bardot top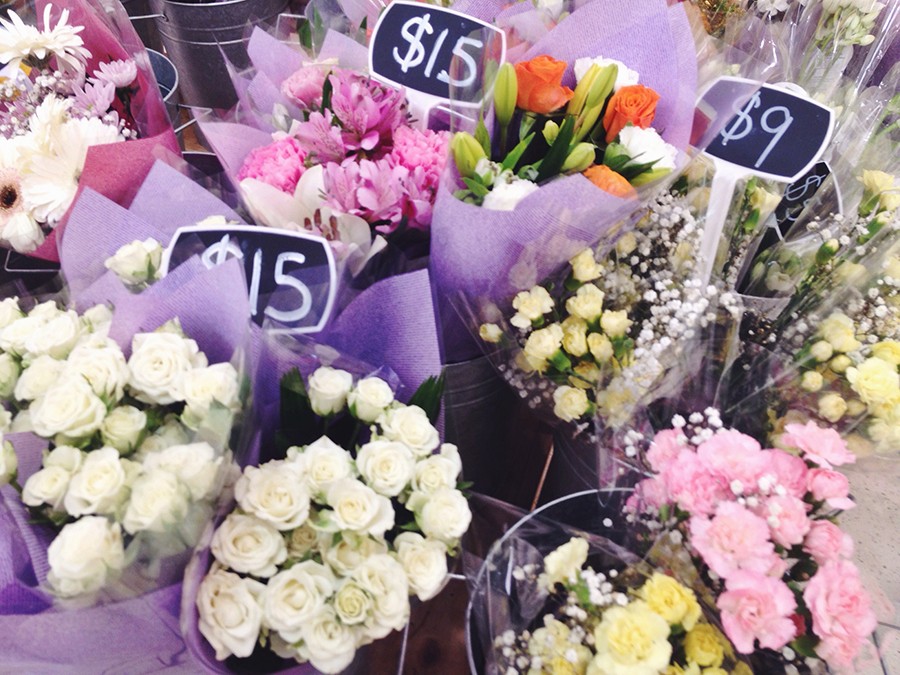 Pretty blooms while grocery shopping in Dunsborough to prepare for our barbecue.