Do you ever get that feeling: "I just need to get away from it all"? When I first entered the grounds of Olas Verdes I could instantly feel the tension lift of my shoulders. Surrounded by jungle in the quiet village of Nosara and just steps away from the beach, this place must be the definition of relaxation. Go here to refuel. To simply be. Or as the Costa Rican's would say: Pura Vida. Life can wait.
Eco friendly
Did you know that Olas Verdes is the world's first LEED Certified surf hotel? Everything from the use of water, sun panels, construction of the hotel and lights is environment friendly. It's a beautiful thing to see that these principles have been put through in every part of the hotel's soul and makes such an important statement.
The rooms & more
The Olas Verdes hotel doesn't really consist of rooms, but more like actual apartments. With a large living room, bed room with plenty of storage space and kitchen with all amenities, it feels like you're at home. But then with all the services of a hotel. There's the El Manglar restaurant serving local Tica food, rooms are made up every day and there's also a complimentary laundry service to use. We personally can't praise Olas Verdes enough for making laundry complimentary for guests. We've been on the road for 1.5 months now and with most hotels charging crazy fees such as 4 dollars to wash one piece of clothing, we felt so happy to finally be able to do our laundry! Aside from that, we also loved the warm welcome with a personalized water bottle and home made carrot cake. It's really the little things that make us feel welcome and ease into a new hotel and place without even having to try.
Outside…
The set up of the hotel is beautiful, left very natural with flowers and plants in full bloom and if you're lucky you'll spot the occasional leguana here and there too! Next to the restaurant there's also a common space where movies are being played at night or where you can play a board game(yayy!). We found this a very nice way of organizing get togethers between guests in a natural way! Next to the pool you find the outdoor restaurant where breakfast, lunch and dinner, wonderful juices, snacks and more are being served daily. Special requests are absolutely no problem and everything from the bread to the pies is freshly home-made daily. The hotel borrows bikes to its guests and within a few minutes you can explore the centre on your own easily or head for dinner or drinks at one of the sea side lounges and restaurants. Perfect.
Green on green
I'd like to tell you that the outfit planning happened coincindentally here, but that's not exactly the case! When I first explored the Olas Verdes website and saw the prominent green and wooden theme, I knew that this olive green do-it-your-own-way dress from Oasis would be the perfect fit. I love how it allows you 9 ways to style the dress, feeling completely different in each look. This time I simply twisted both cords around the waist, then around the neck and tied up with a knot at the back. Not much more needed than bare feet and hair loosely tied!
Concluding…
We believe that the Olas Verdes hotel embodies everything that Pura Vida is all about. A quiet, relaxing, peaceful sanctuary that's all about living in the moment. Whether that's barefoot wandering in the jungle or yoga on the beach: up to you. Embrace the moment, life can wait.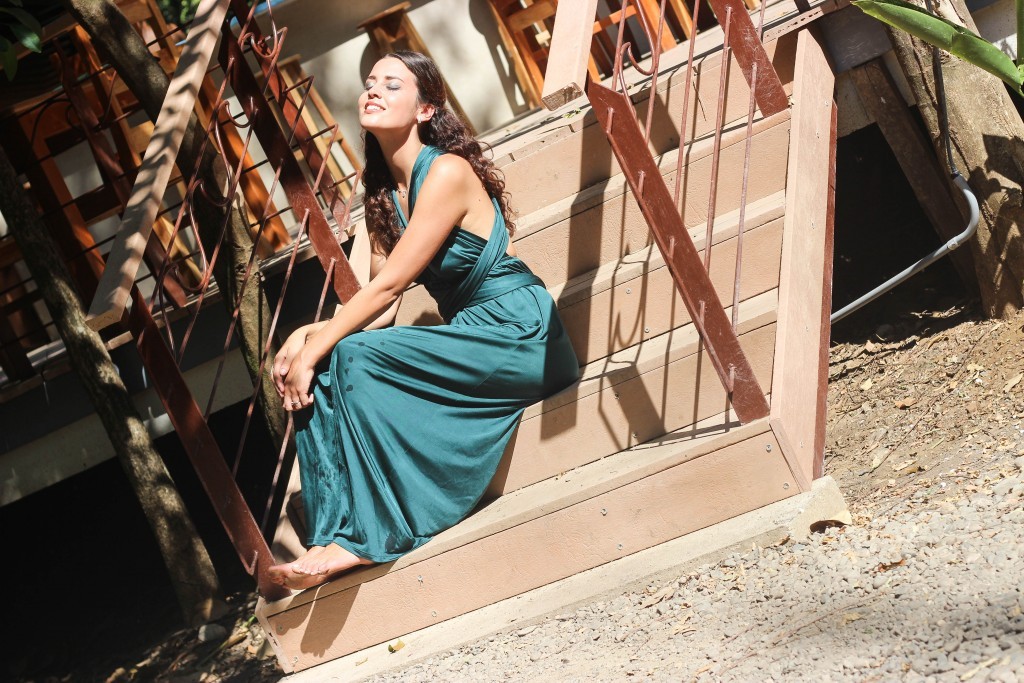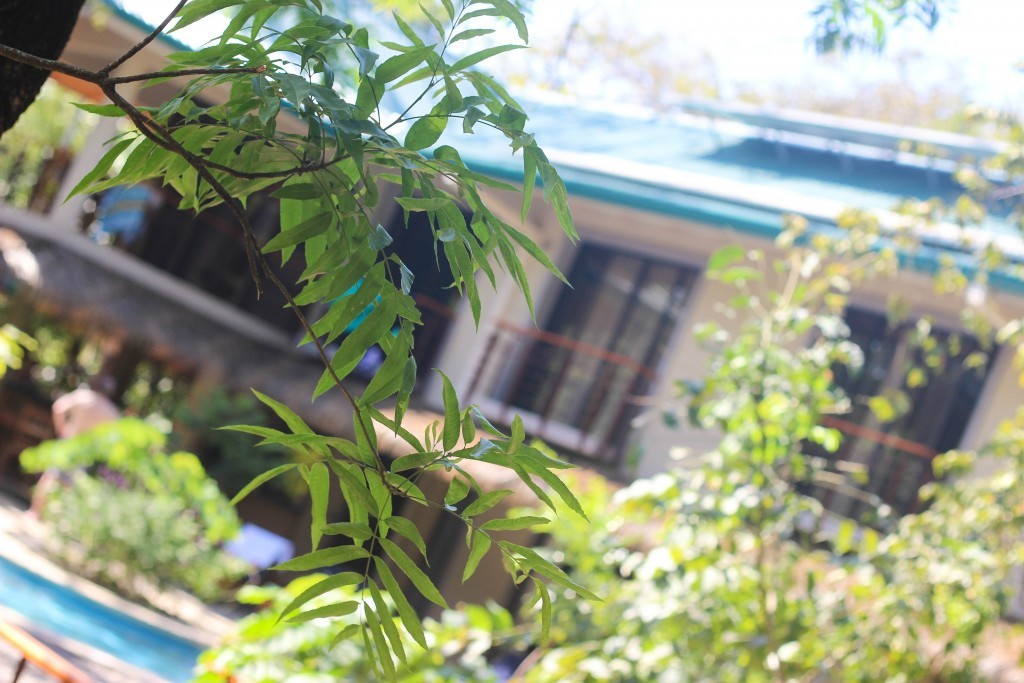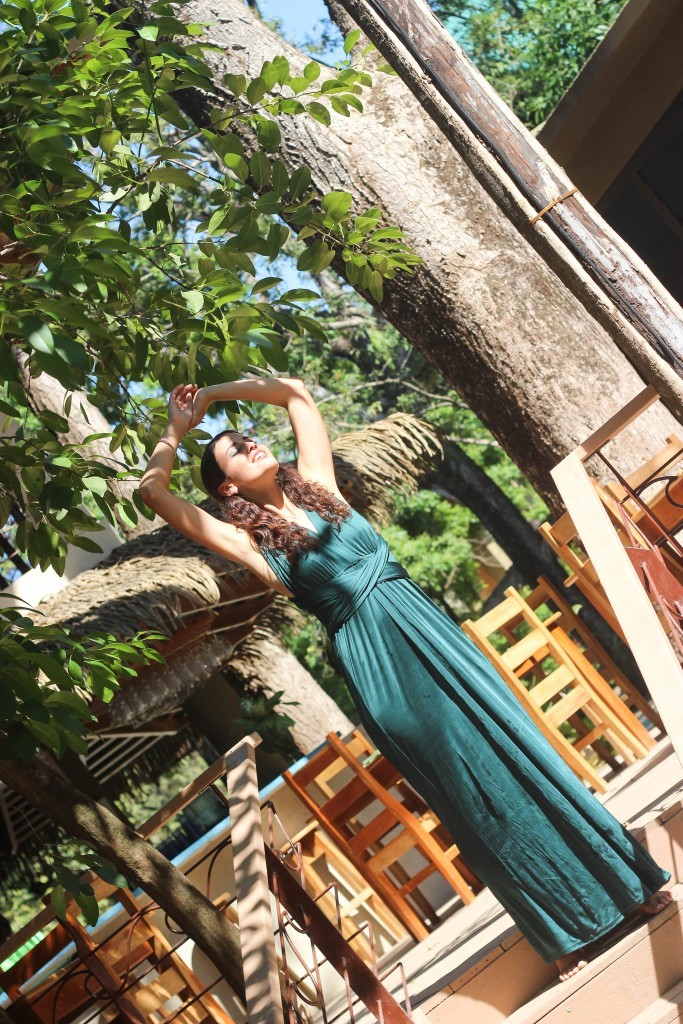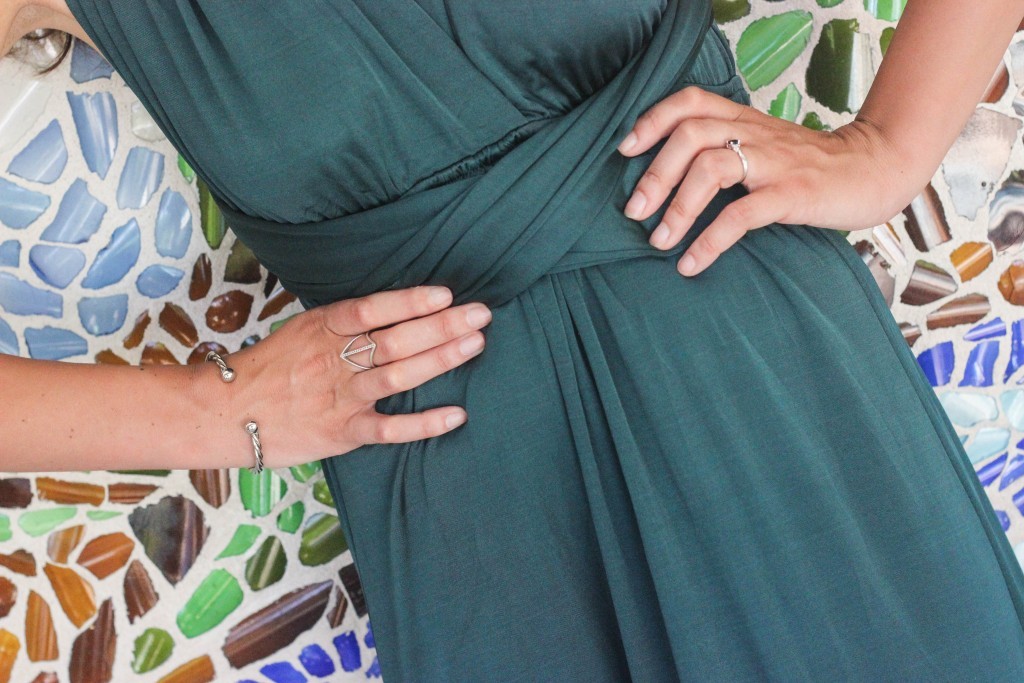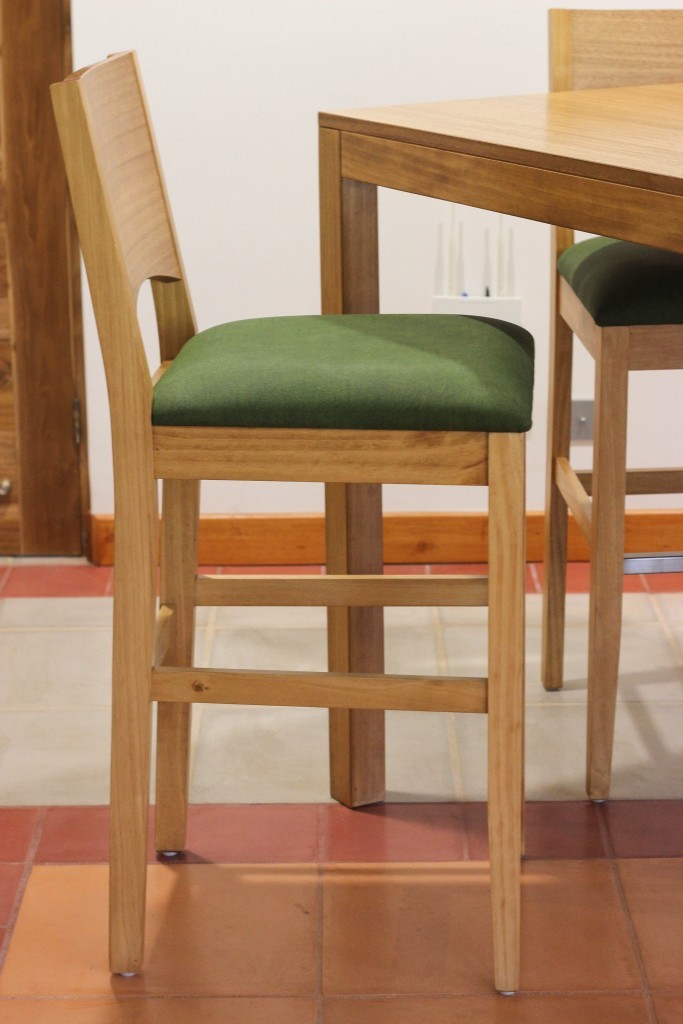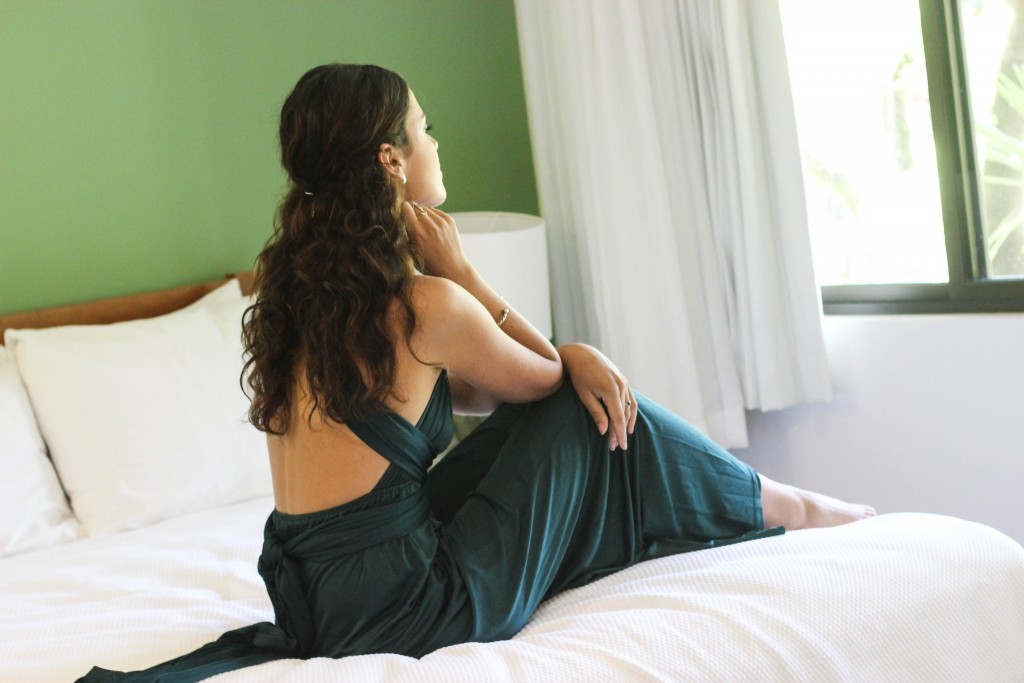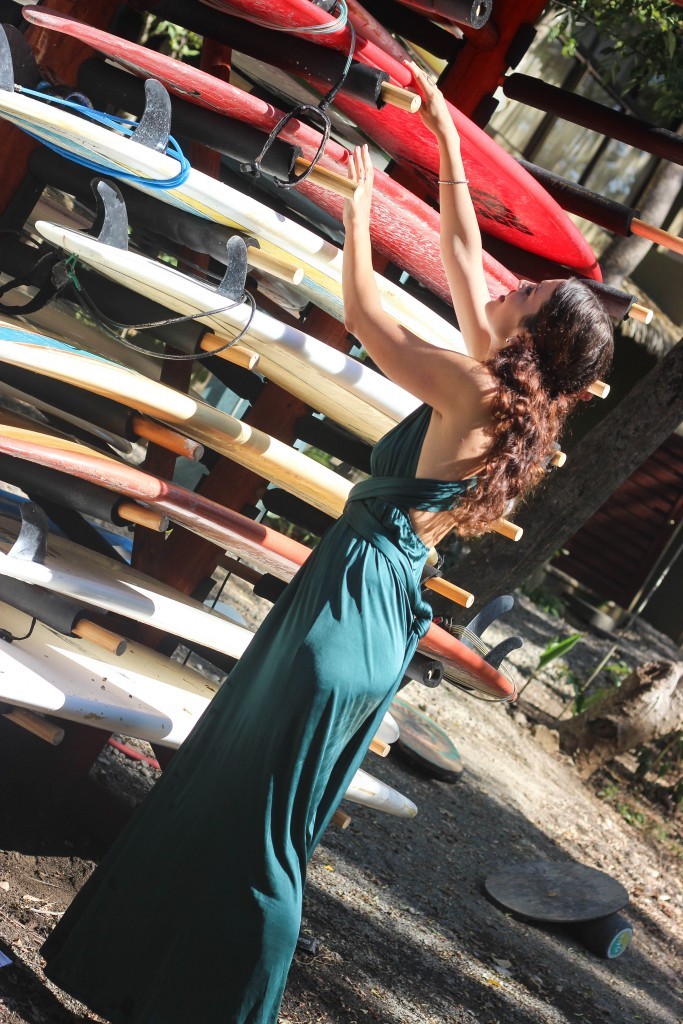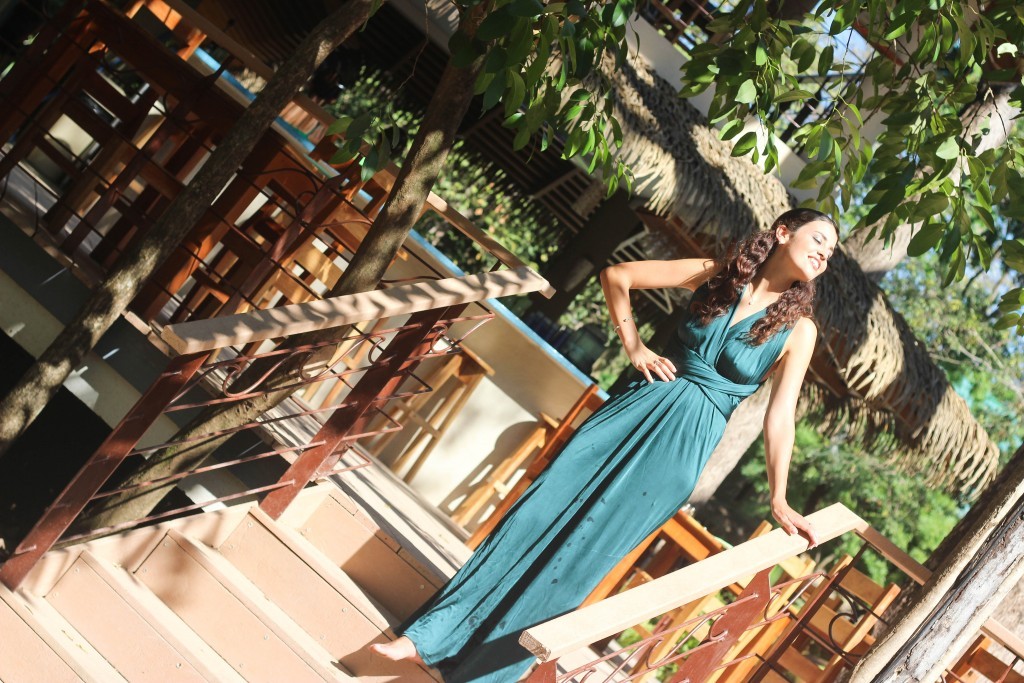 Wearing: Oasis wear it your way dress
Location: Olas Verdes hotel, Costa Rica
Photographer: Tatiane Kozijn | Instagram: @tatianekozijn