Imagine this: you wake up after a not so long night, a little bit hangover and while getting ready for the day washing your face you notice a silver little plate right next to the wash table that says: "the best way to make your dreams come true is to wake up". Unexpected, original, inspiring and fun: that's how Qbic hotel is best described.
Entrance & Lobby
The cool things begin from the moment you enter. There's a classic Dutch bike with a carrier right in the middle of the room, followed by the quirky check-in desk where someone greets you. Surrounded by other funky features, a canary yellow wall this place feels more like a modern art gallery than a hotel. Which is great, if you ask us! The lobby are is also where breakfast is served, where to chill with a drink or simply read the morning newspaper. Either way, the space is really impressive with cool neon quotes on the wall, Scandinavian-like furniture pieces and a pop of colour here and there. It took me a while to figure out but apparently the "Treacle" in the neon light quote "Alright Treacle?" means sweetheart. Correct me If I'm wrong. The late breakfast until 12 was a big hit with us, especially considering the fact we didn't go to sleep before 4am both nights. Because well, we're in London so!
The room
Funky, funkier, funkiest. The interior of the room is really mood uplifting with unexpected features like a beside lamp made of hosepipe, a gigantic wall poster of a bulldog with sunglasses and the neon yellow walls in the bathroom to name a few things. Bed is big and comfy; always a must!
I'm wearing
This was definitely the type of place to be wearing a shirt with pussybow, pink lipstick and silver brogues. I felt a little hipster, but in Qbic hotel there was no other outfit I'd rather have worn. Kind of loving it how your environment can really inspire your dressing for the day and we had so much fun shooting this story making use of all the different quirky details and hidden corners to discover in the hotel.
Location
Qbic hotel is very conveniently located only metres away from many restaurants, hotspots and the tube. Traffic in London is killing everywhere, so it's really recommend to make use of the tube when you can. We went all over town from this location and had no trouble getting around at any time of the day. The hotel is considered budget, but personally I feel like the look of the rooms and general atmosphere doesn't give that away at all. Big score and a lot of fun. One of our favourite features? The ever changing, hilarious quotes on the elevator walls.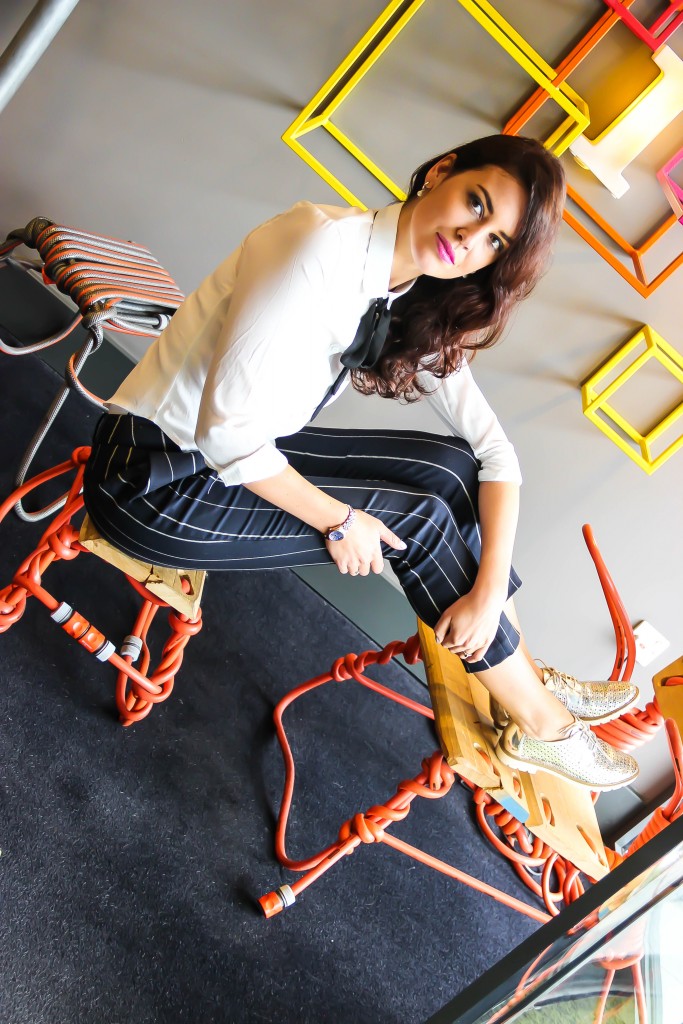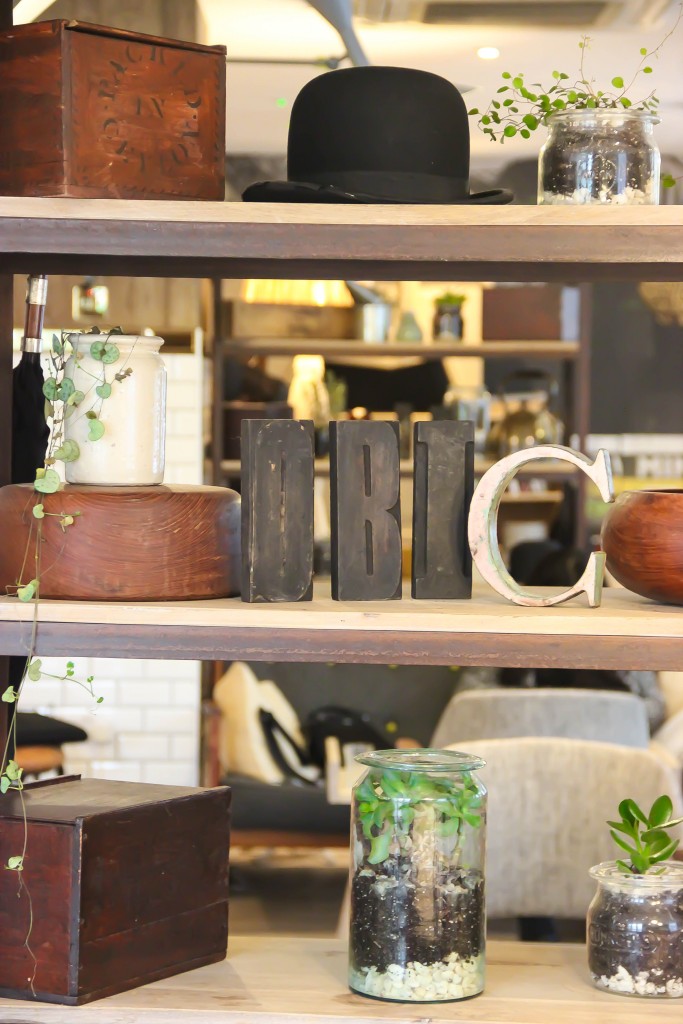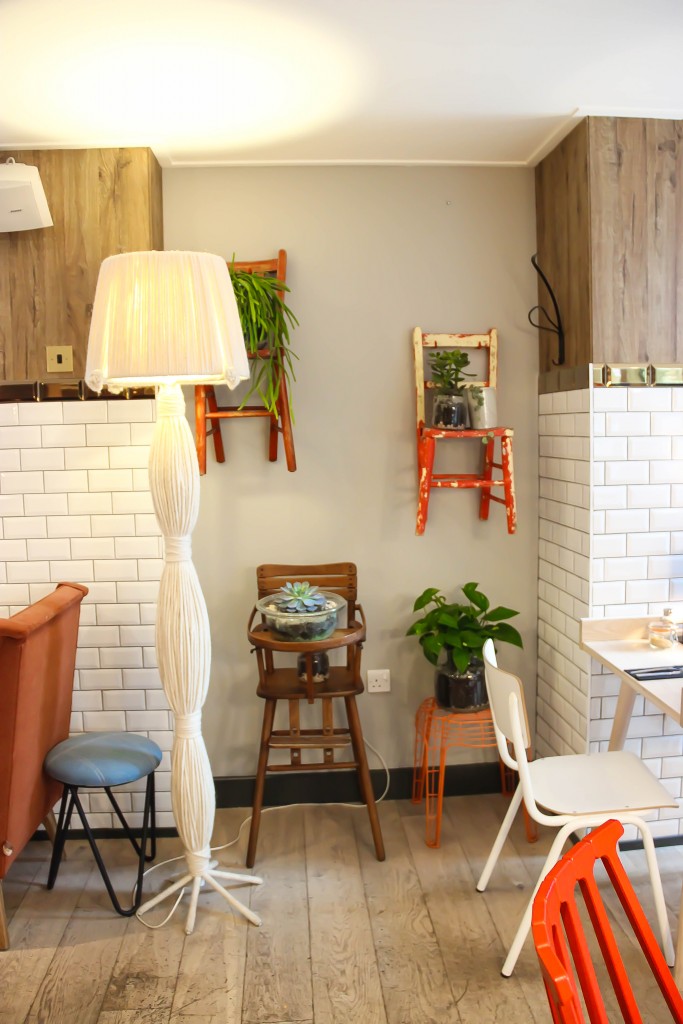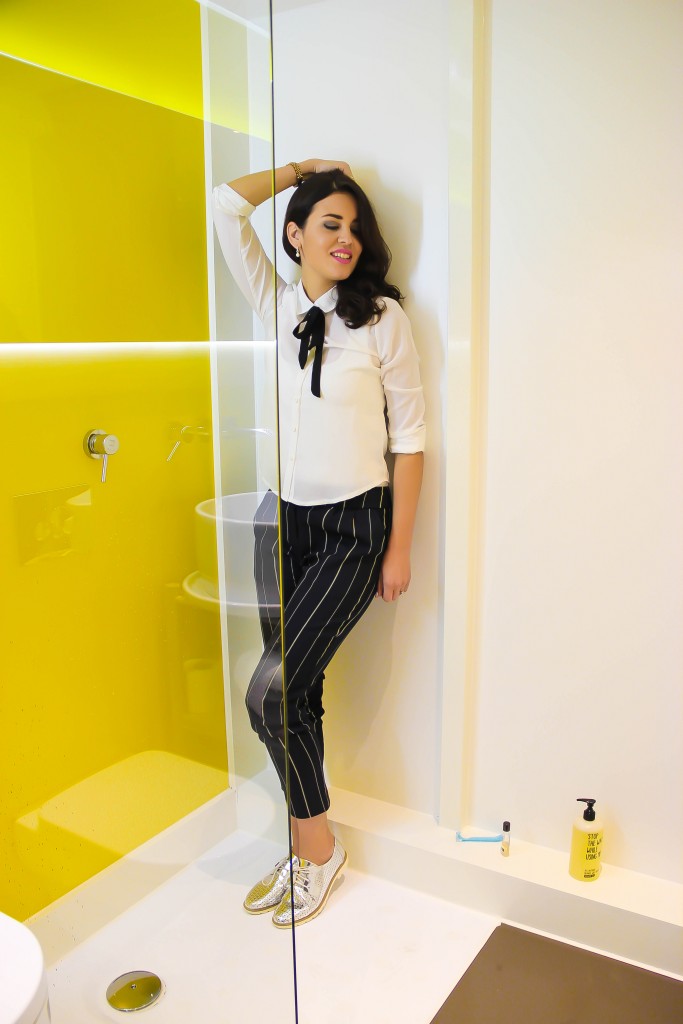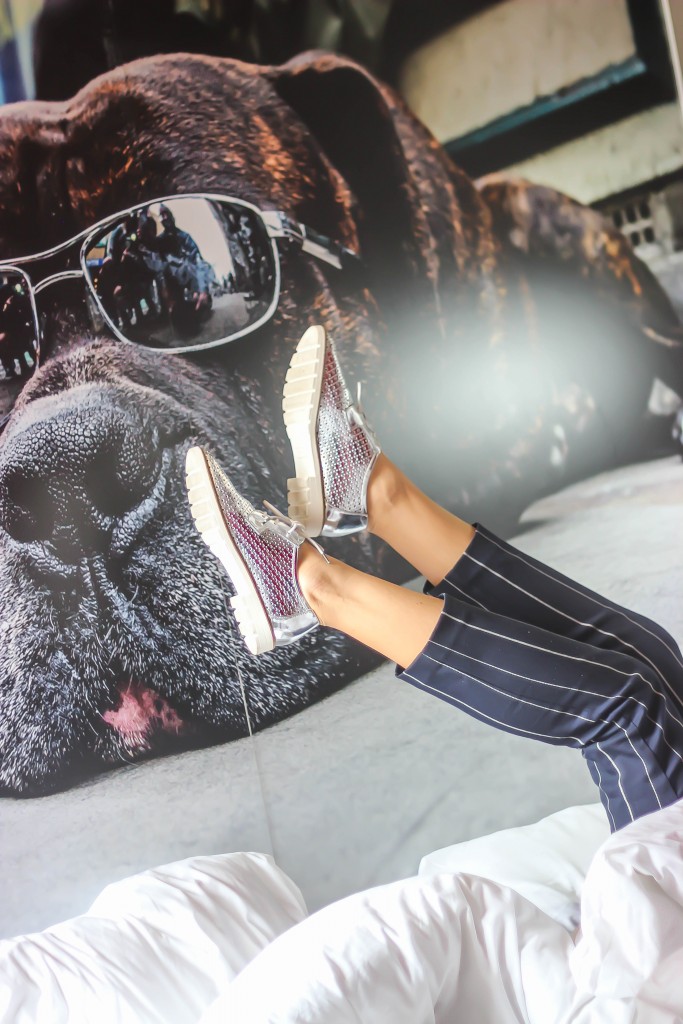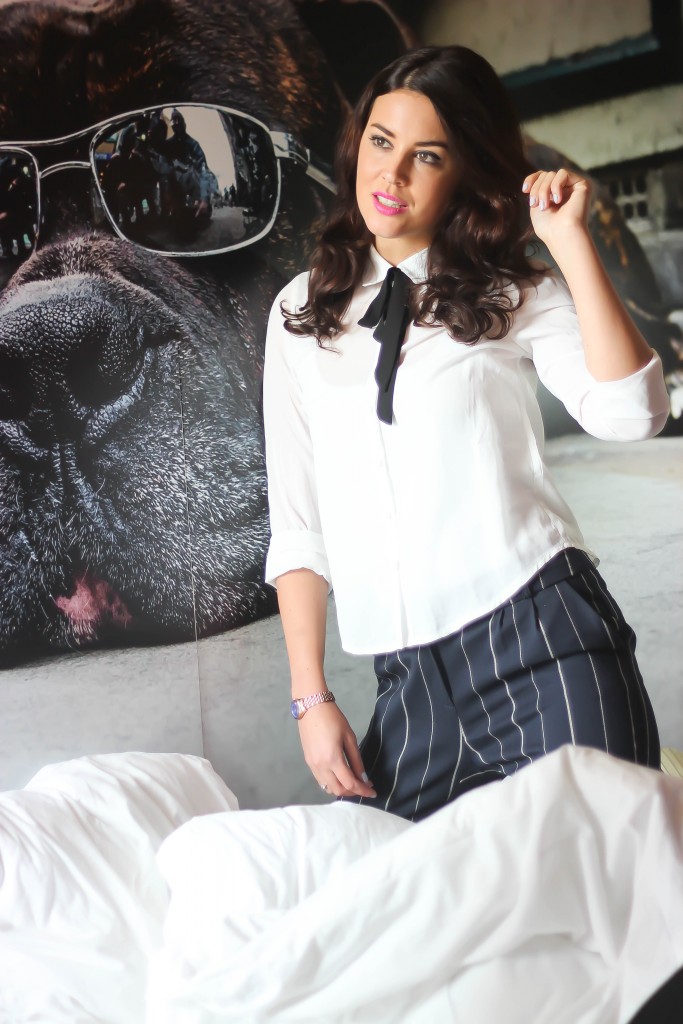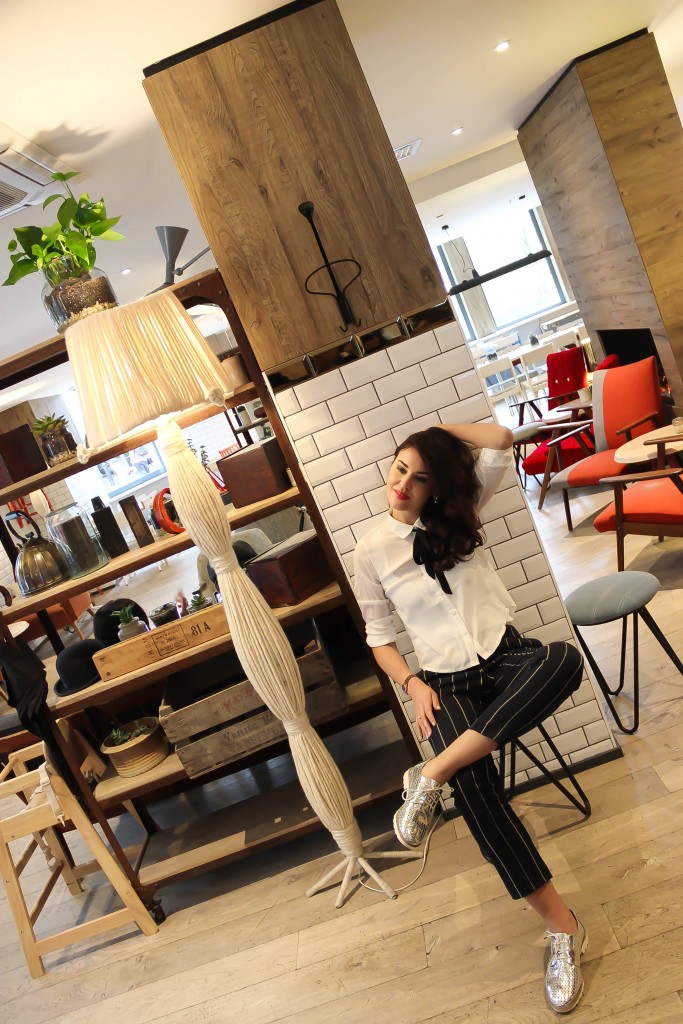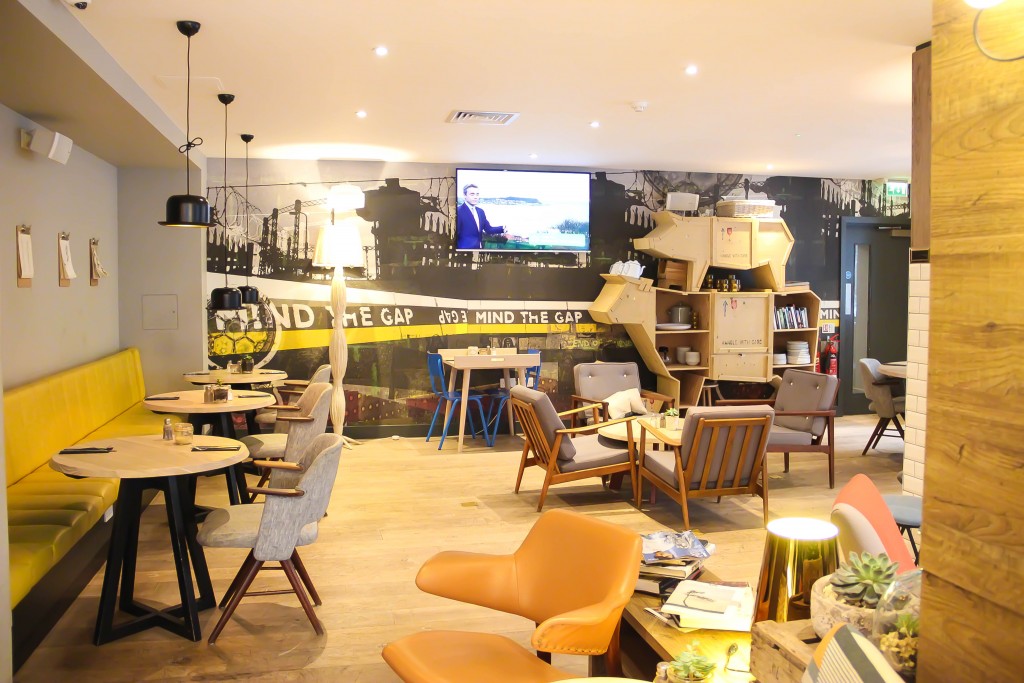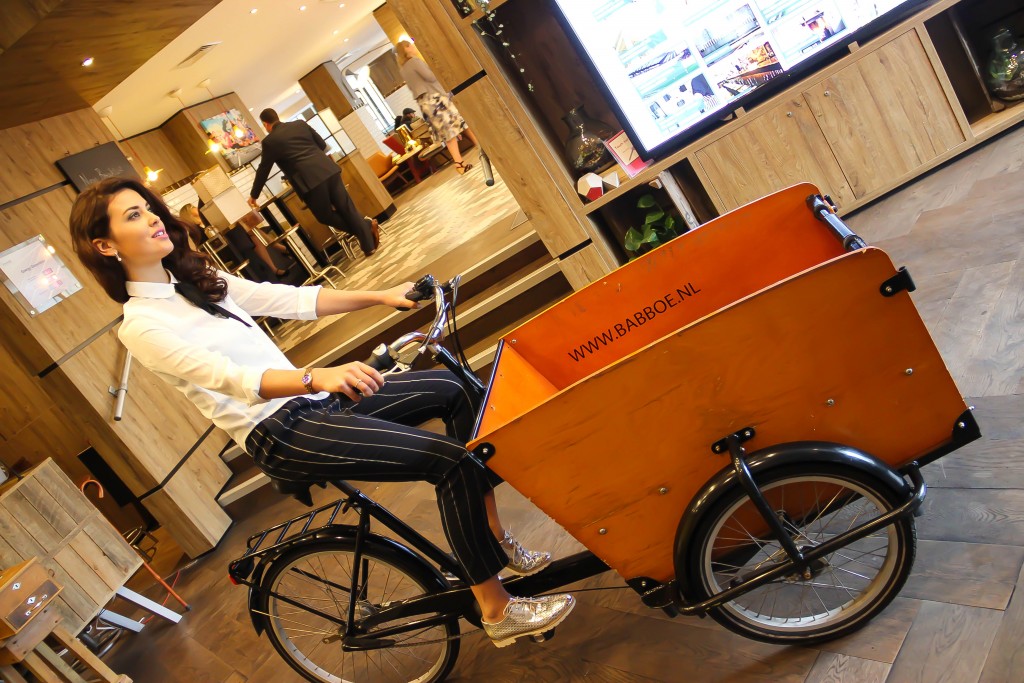 What I'm Wearing: Jennyfer pussybow shirt, Oasis stripe trousers, Tamaris silver brogues, Michael Kors watch
Photographer: Tatiane Kozijn | Instagram: @tatianekozijn