Travelling and looking stylish aren't things you would normally link together, but perhaps you'll feel differently after reading this! I'm one of the firm believers that comfort doesn't have to sacrifice style, so today I'm sharing my best tips on how to achieve that casual, comfy AND chic travel outfit.
1. Always choose a dark shade of trousers. I've done white several times before and I don't know how or where it happens, but once I arrive at destination the white trousers are far from white.
2. Avoid heavy fabrics: you know, the kind that won't allow you to put your feet up or manoeuvre yourself in a comfortable position on the plane. I really like the trousers I'm wearing, because the leather at the front gives a polished look, while the soft, stretchy fabric gives the right comfort level.
3. When I'm getting off the plane after a long haul flight, I'm never in the mood for bright colours. That's one of the reasons why my travel outfits are usually in non-colours like black, grey and a little bit of white. S0 before deciding on my travel outfit, I always ask myself: will I still be in the mood for this after I get of the plane?
4. It's recommended to pick a shirt or knit that is a little longer (meaning: covering your butt). You'll thank me for it when you're squeezing yourself out of your seat or take out your carry-on luggage from the cabinet. Less awkward if your behind is at least a little covered.
5. Plane air is killing, which is why you should always bring a scarf with you. If it's too hot to wear prior your flight, at least make sure you've brought one in your carry on luggage.
6. Isn't it crazy what a few hours on a plane can do to your hair? I love wearing a hat just after I get from a flight, not only to hide bad hair but also to distract the attention from tired, red eyes!
7. Put on a pair of shoes that is slightly loose. I bet you're all familiar with what a flight does to your feet (major blow up!) and nothing more annoying than being unable to zip up your boots upon arrival. Happened to me several times! That's why a pair of loafers like these are the right choice for me. Just bring with you a pair of socks in case you get cold.
So, now I've shared HOW to pick a travel appropriate outfit that brings me to the following: Why make the effort to look nice while travelling?
Ofcourse that answer is different for everyone, but I'll just go ahead and share my reasons. First of all, I truly see dressing nice as a way of good manners. I don't want to change my personal style simply because I'm travelling, that's why I make the effort to find the right balance between comfort and style. On top of that, you really never know who you're going to meet! Potential future employer? a new romance ;))? I can only say that some of the most fun, interesting encounters with people have happened while I was on the go, at the airport or on the plane. Just keep that in mind when you're about the chuck on your jogging pants before heading to the airport.
On another note, how cool are these pictures we shot at our hotel in Croatia? We had just arrived and checked in when we noticed these awesome luggage trolleys. I've always been obsessed with them, especially when they come in a fancy looking gold style like these! Stay tuned for more Croatia content going live on FashionContainer soon. All outfit details can be found below.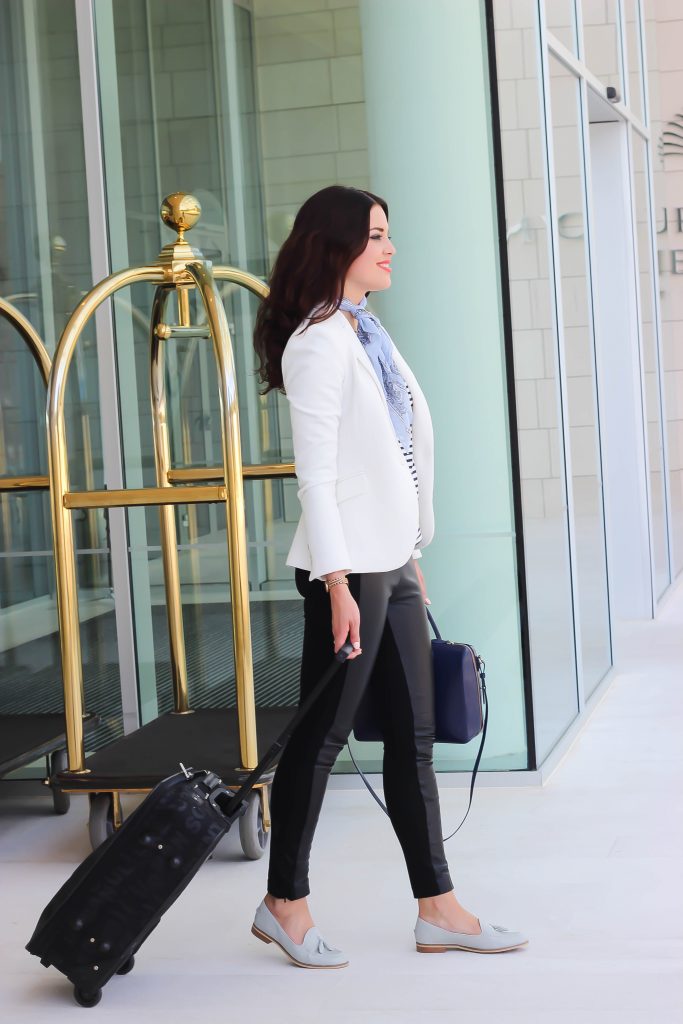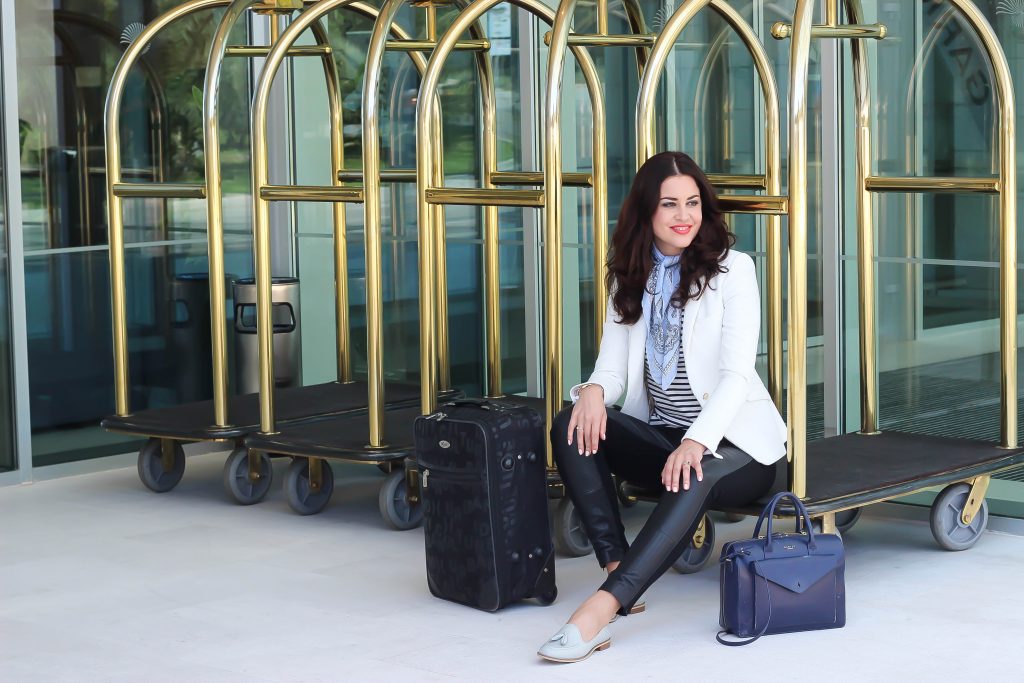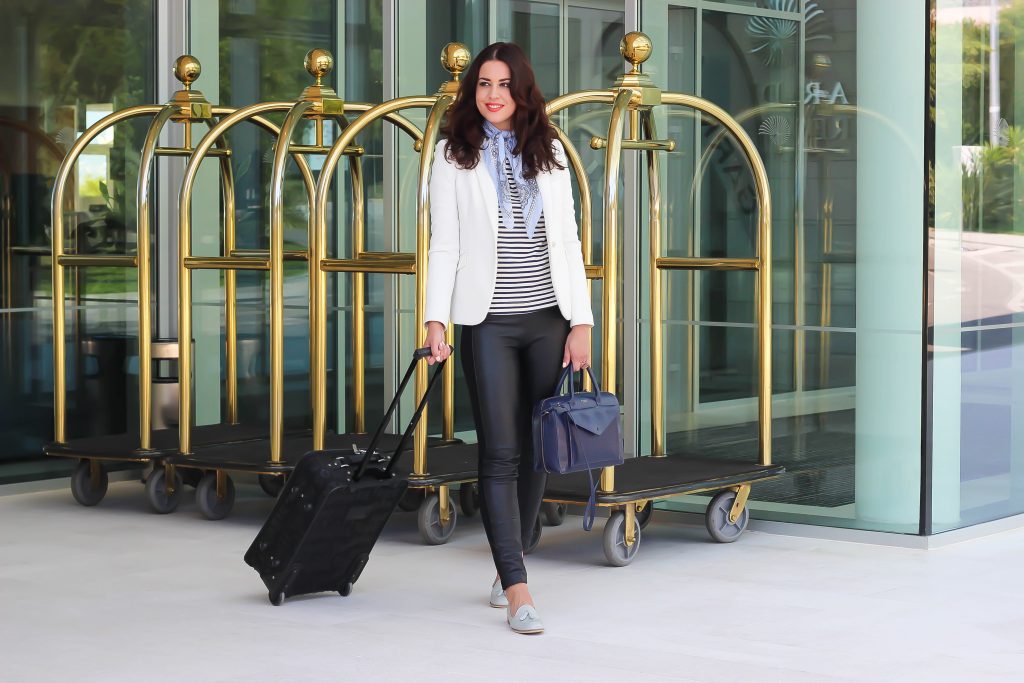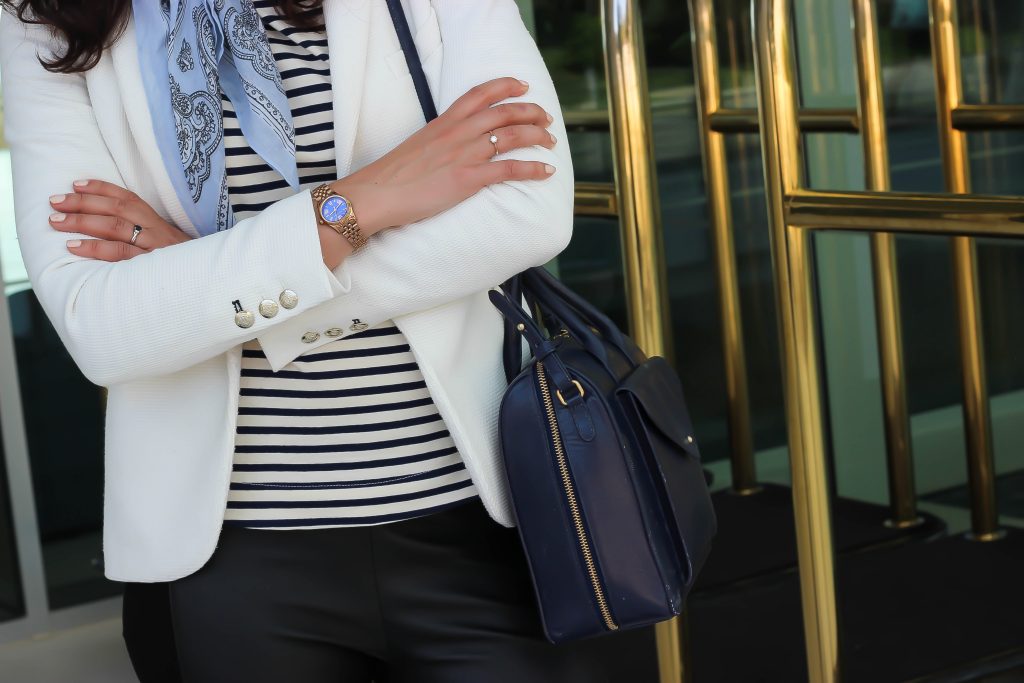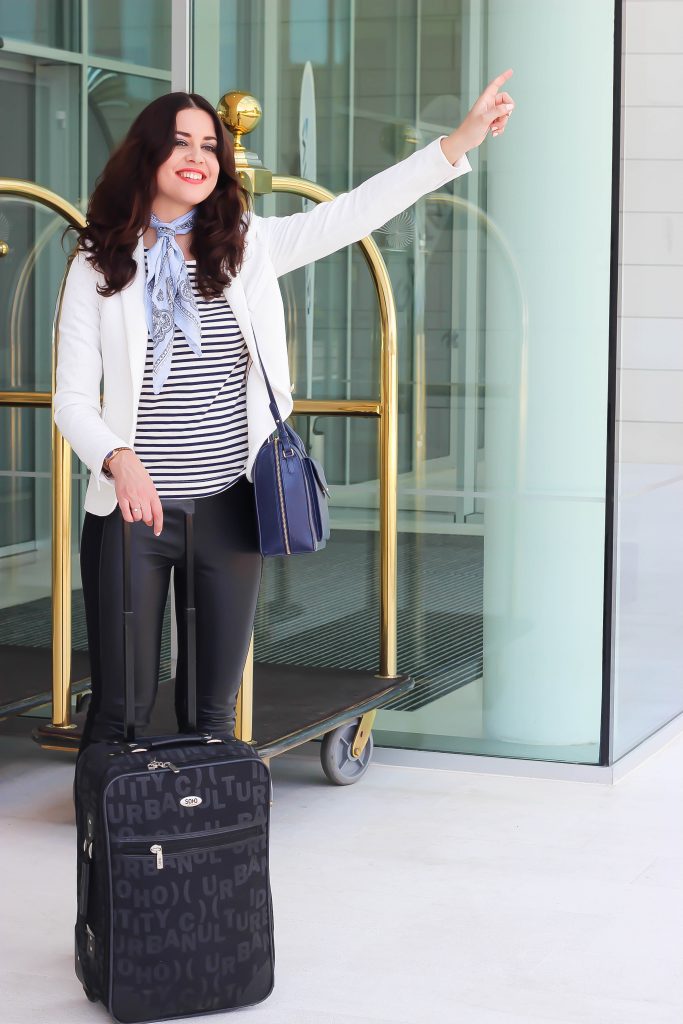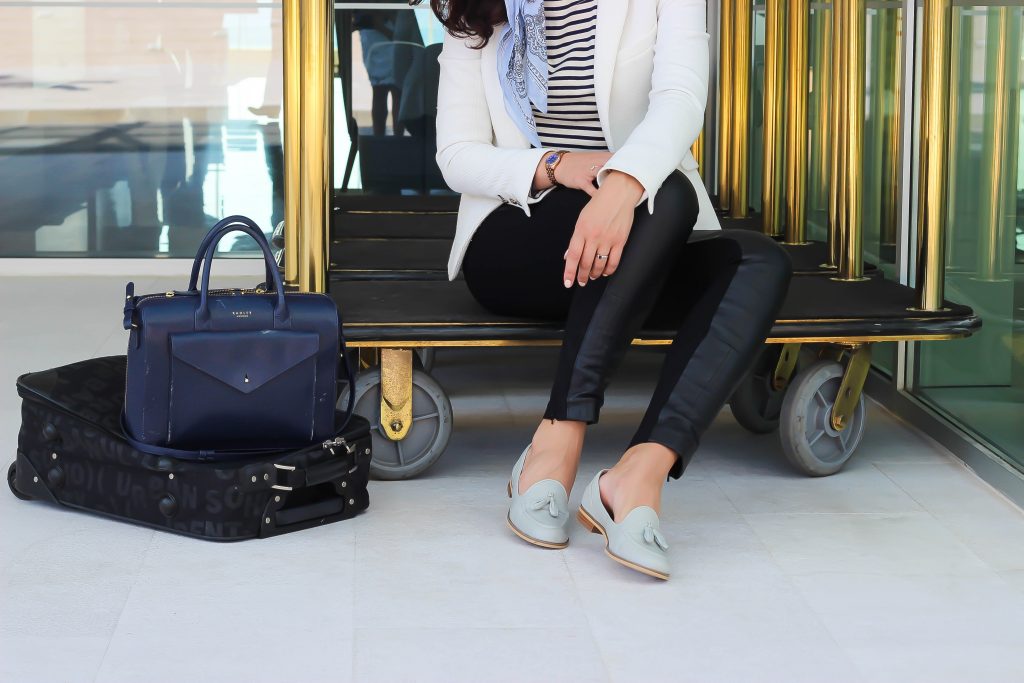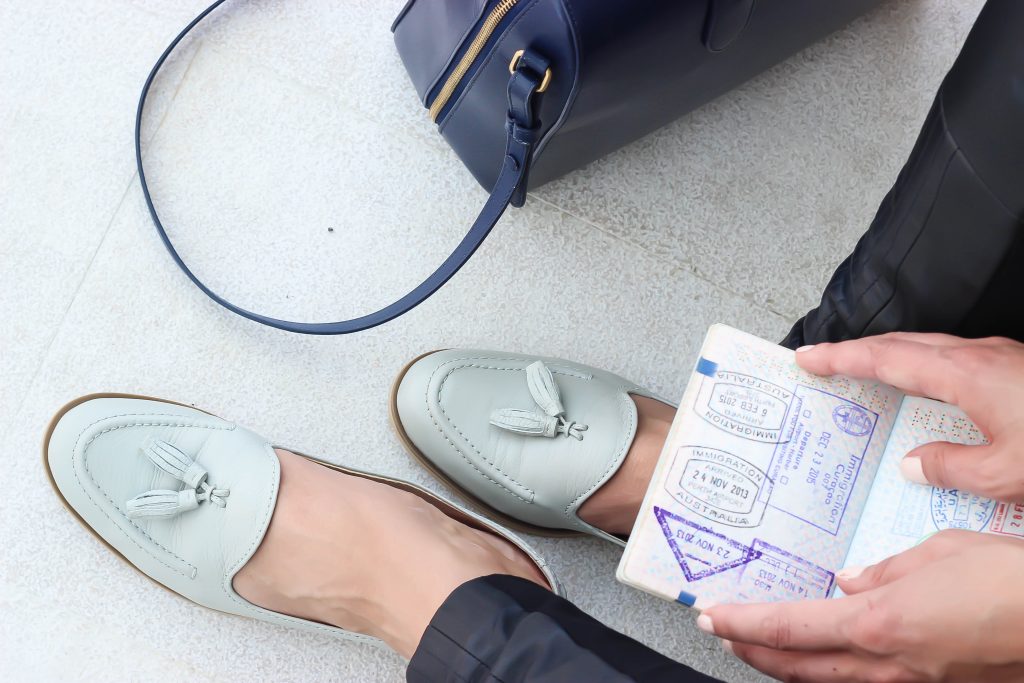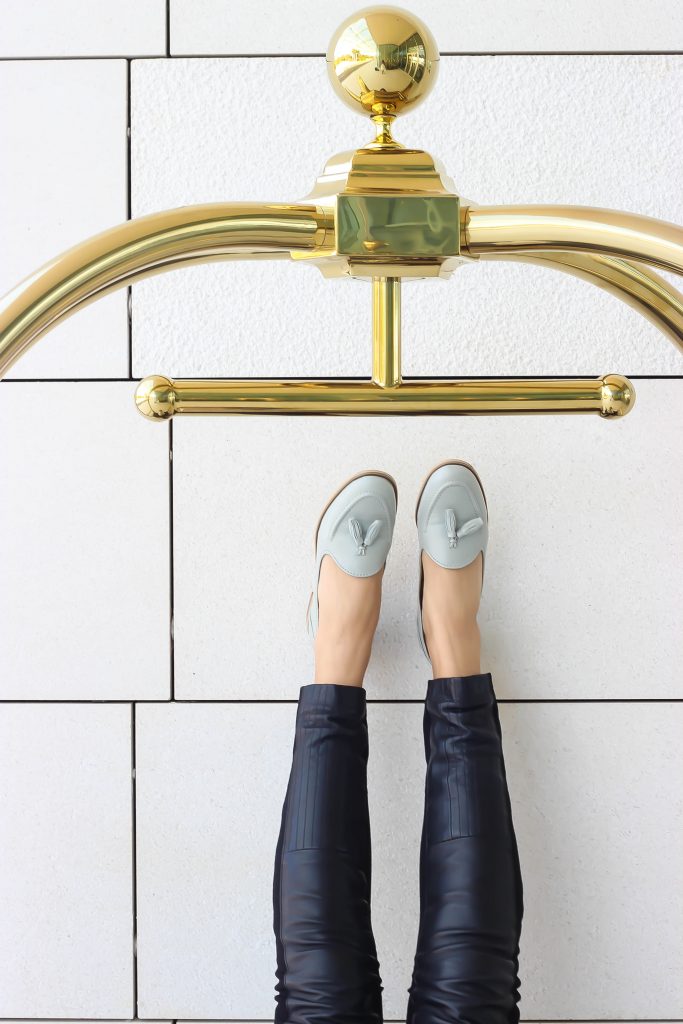 What I'm Wearing: Zara blazer (similar here), Marks & Spencer stripe top, Marks & Spencer trousers, Marks & Spencer loafers, Radley bag, Michael Kors watch, Marks & Spencer bandana scarf
Photographer: Tatiane Kozijn | Instagram: @tatianekozijn
Location: Dubrovnik, Croatia