Brace yourselves! Australia is a shoe brand richer. Oh no, let me re-phrase that. Not just a shoe brand. Scarletto's are daring, sexy, rich in colour, yet they're sturdy to walk on. I've taken them for a spin or two already, so I can confirm that it's true. Read on to find out more!
I think most women have been browsing the stores for a particular item at some stage, whether that's a dress, trousers or shoes, but being unable to find it. Now most of us just sigh, accept it and move on. Candice Bernardoni, the founder of Scarletto's, did the exact opposite. Because she couldn't find shoes that express her wilder side, without being over the top in both design and price, she decided to design them herself. That's how the Scarletto's brand was born.
The first ever Scarletto's collection has just launched and there's plenty of reason for excitement. The daring patterns, varying from croc to polka dot to name a few, are real showstoppers. In this outfit I'm wearing the Gabriel, a fun peeptoe style with croc texture in a versatile colour that is best described as light grey with a hint of metallic. The shoes feature a platform and along with generous cushioning, they allow you to walk on them for hours straight without feeling uncomfortable. Candice probably describes it best herself, when she says. "The woman who wears Scarletto's doesn't need another pair of shoes to keep under her desk at work – she has plenty of those. She wants stable heels she can wear comfortably for a whole day". Of course I wanted to put that to the test, so last weekend in Fremantle where I shot this look at the Shipwreck museum, I kept them on the rest of the afternoon while wandering town and hopping from café to café. At the end of the day I was still feeling good!
When I asked Candice what she loves most about the world of shoe design, she explained that putting together a collection is very much an emotional process. From the design, to material selections and the hardest part of choosing which of her "babies" is going to hit the production line. As you might be able to tell yourself when looking at the collection, Scarletto's is all about pushing boundaries. Opting for unconventional production techniques in order to create the unique designs she had in mind was challenging. She was told that doing so would either be "too expensive, too unconventional or too hard to work with". When a collection comes together after overcoming so many obstacles, all the challenges and nay sayers heightens my sense of achievement, she says. She continues by saying that seeing customers, who love the shoes as much as she does, reinforces her belief in the label. I can personally only nod and agree, because I'm sure there's nothing more rewarding and motivating to see the people loving the shoes you've designed!
Scarletto's can be your kick-ass statement to wear to work (if you don't mind people staring), but they're also a great companion with a dressy outfit for dinner or a night out. Or, like me, you can wear them for an afternoon in town, enjoying lunch and coffees. The Gabriel Scarletto's are giving this day time outfit made up from soft neutrals, flowy materials the little punch it needs. Looking at my own Scarletto's from up close, I can't help but wonder where Candice got her inspiration from. She explains that their internal motto is "remember to be different". This is also the mantra she uses when making final decisions on what's going to make the cut. "Anything beige goes out of the window – exceptional tonal fish prints exempt". I personally have a very soft spot for labels that rebel against mainstream rules, so I couldn't help but grin when hearing this. She continues by saying that she loves texture in material. "It gives a depth that is something totally different."
You know what's the good thing? Scarletto's is just starting. A new collection with ballerina's and wedges is going to be launched in February! I honestly can't wait to see what's next.
It was an honour to getting to know Candice Bernardoni and Scarletto's a little better and moreover it has been such a pleasure wearing the shoes! Stay tuned for part 2 of the Scarletto's story, featuring another look styled by me on the blog soon.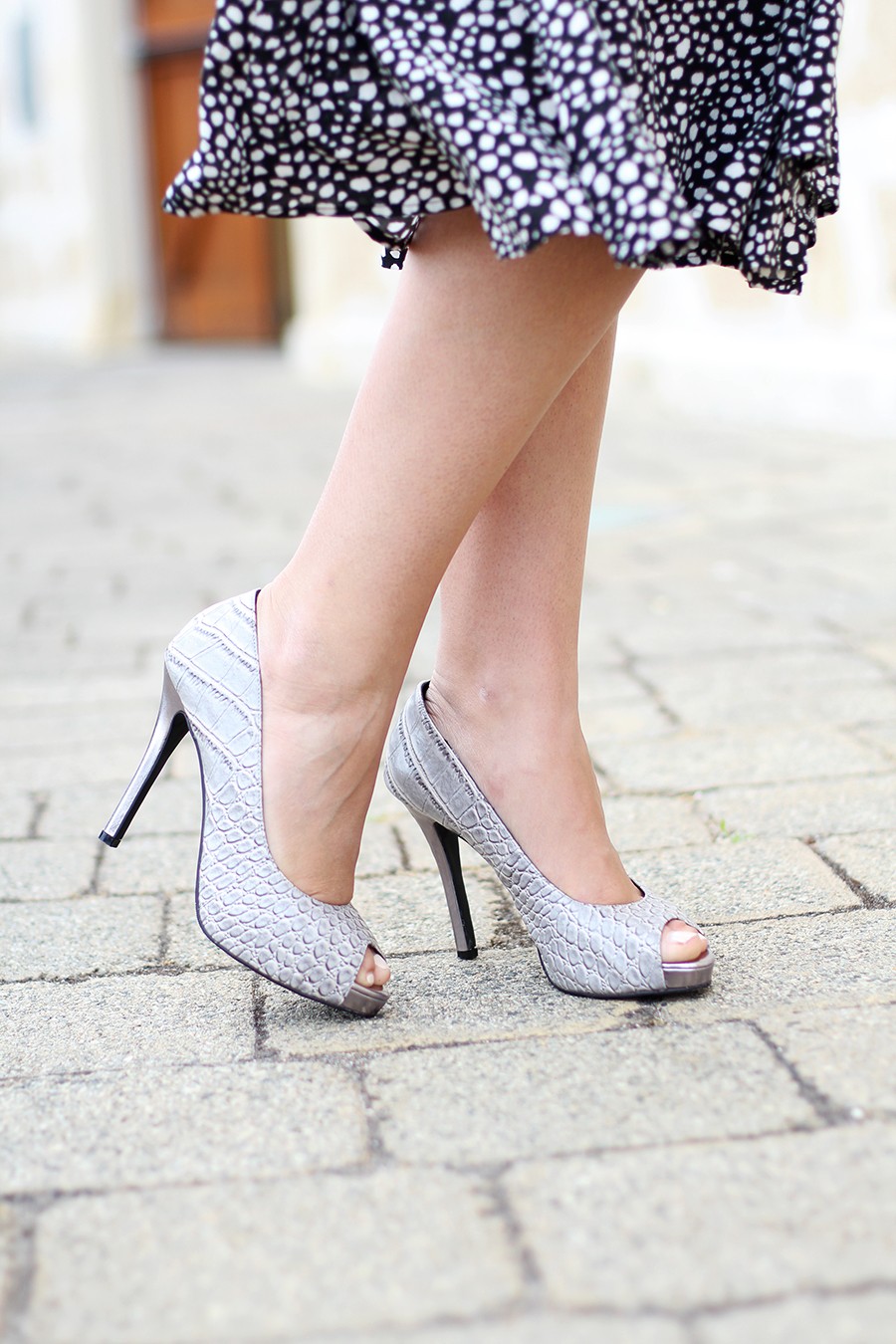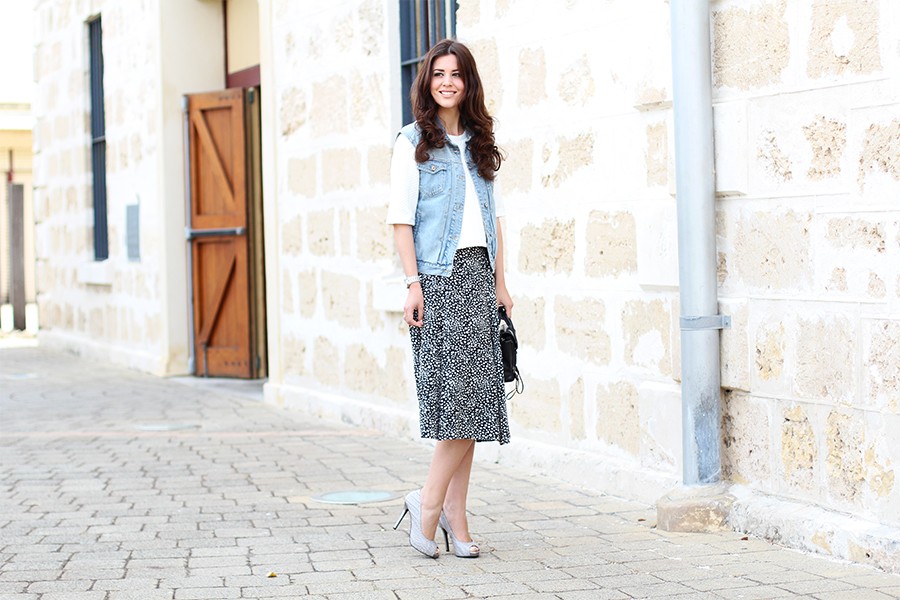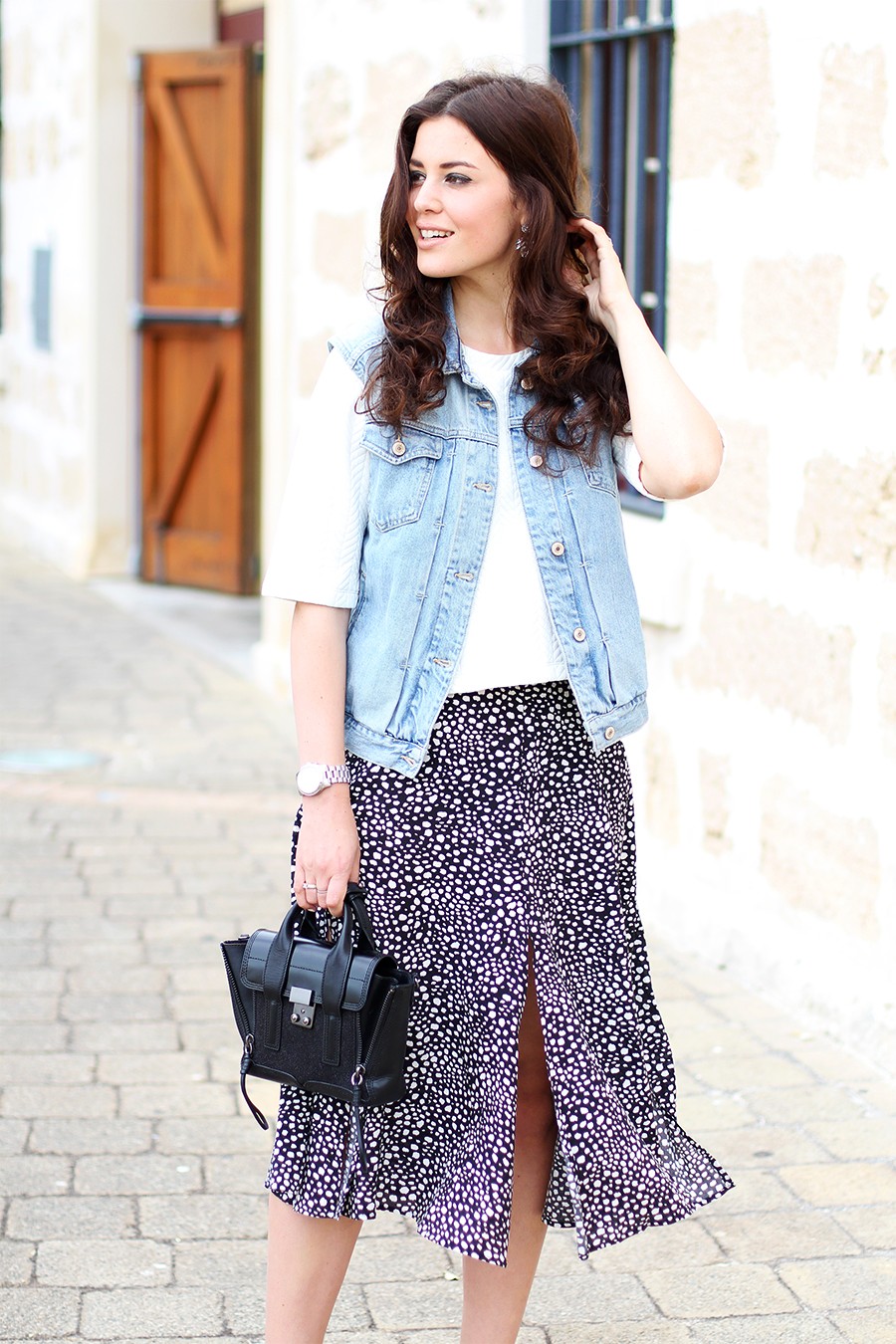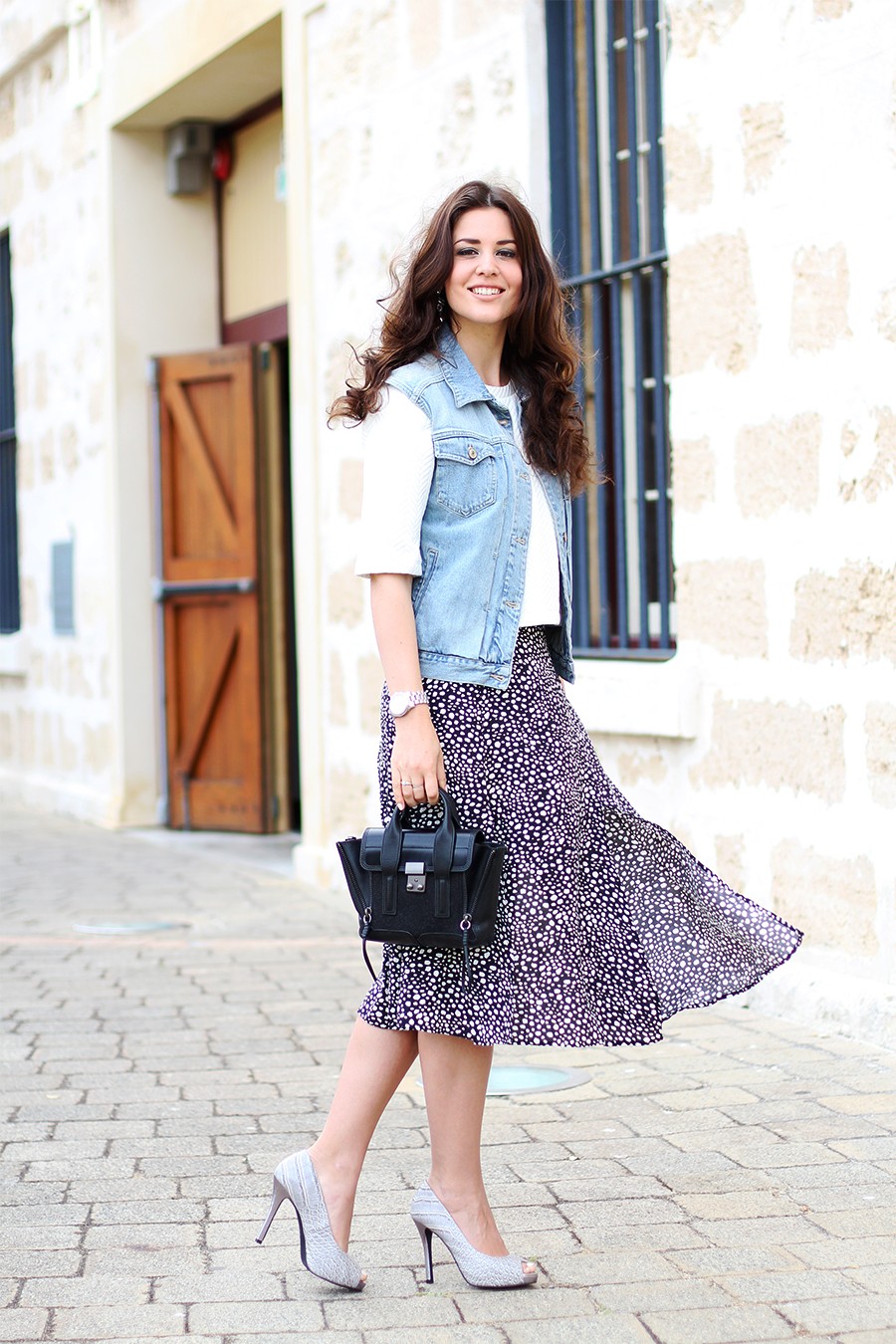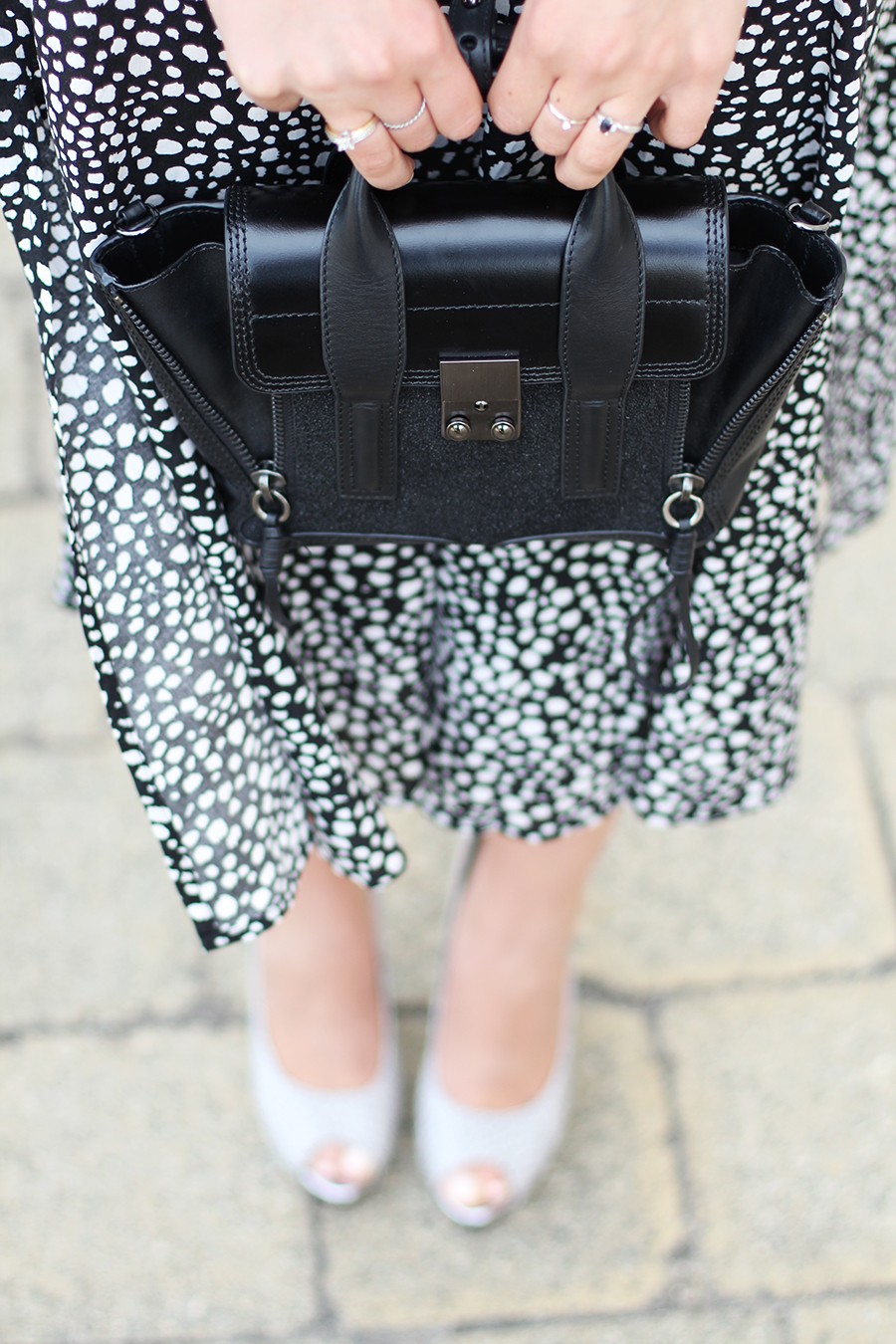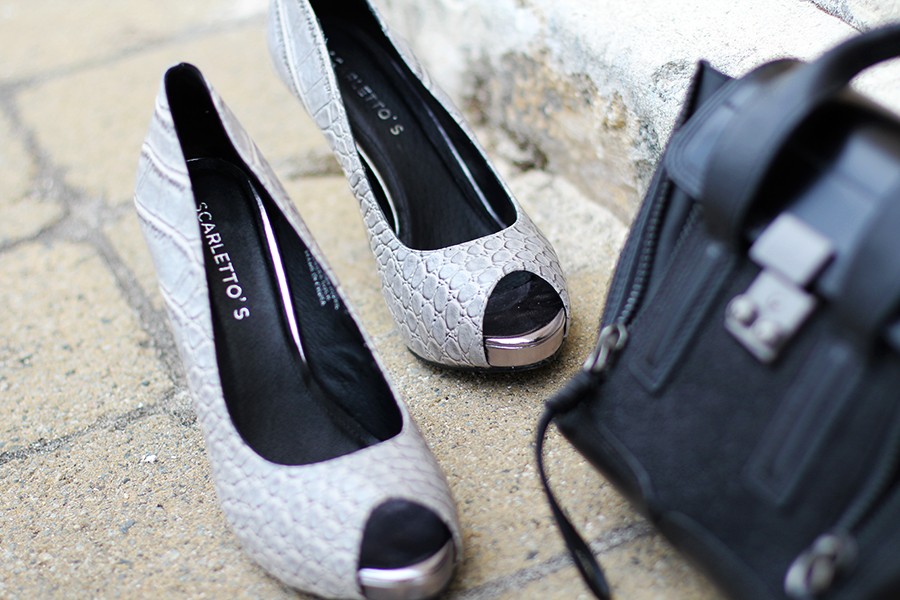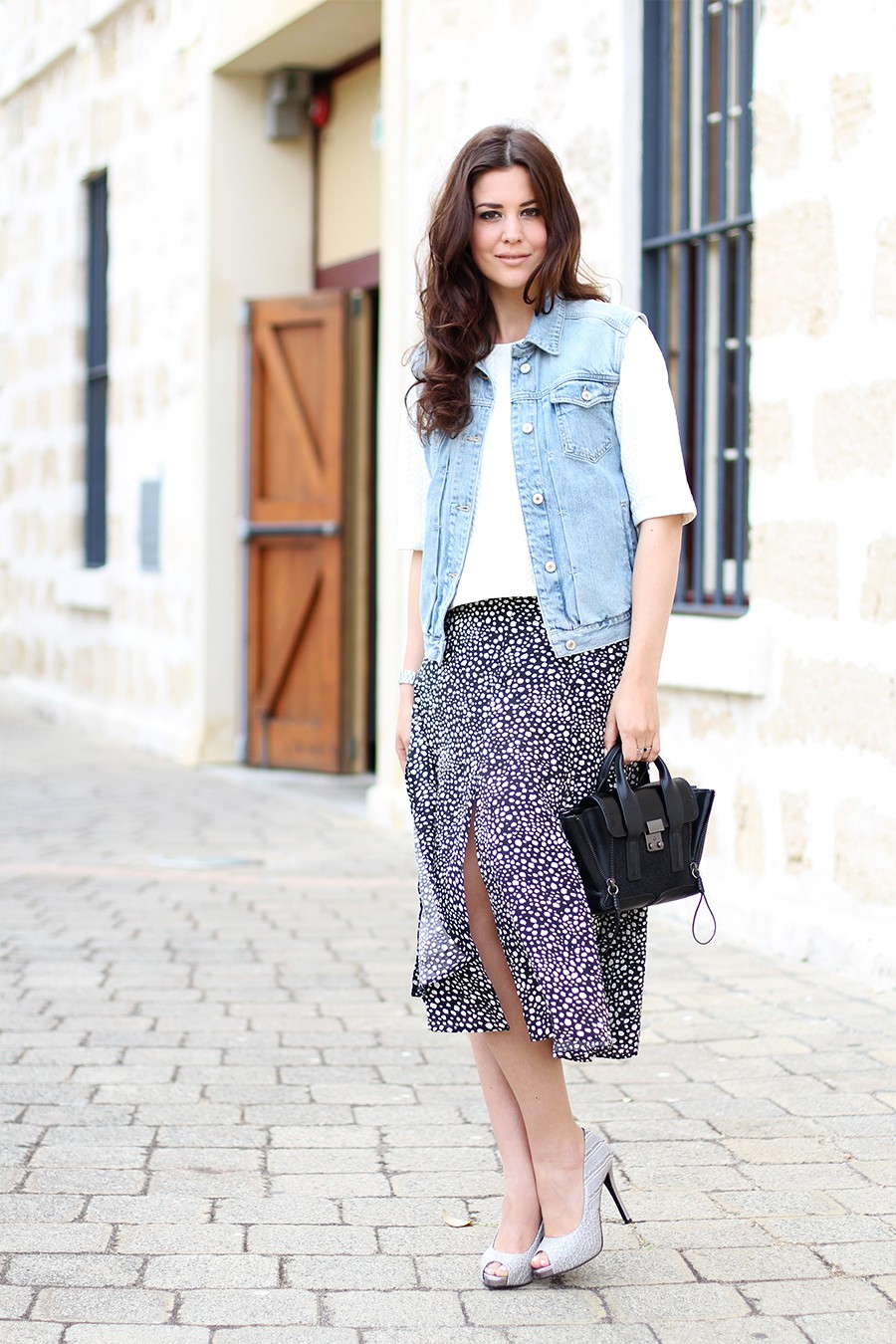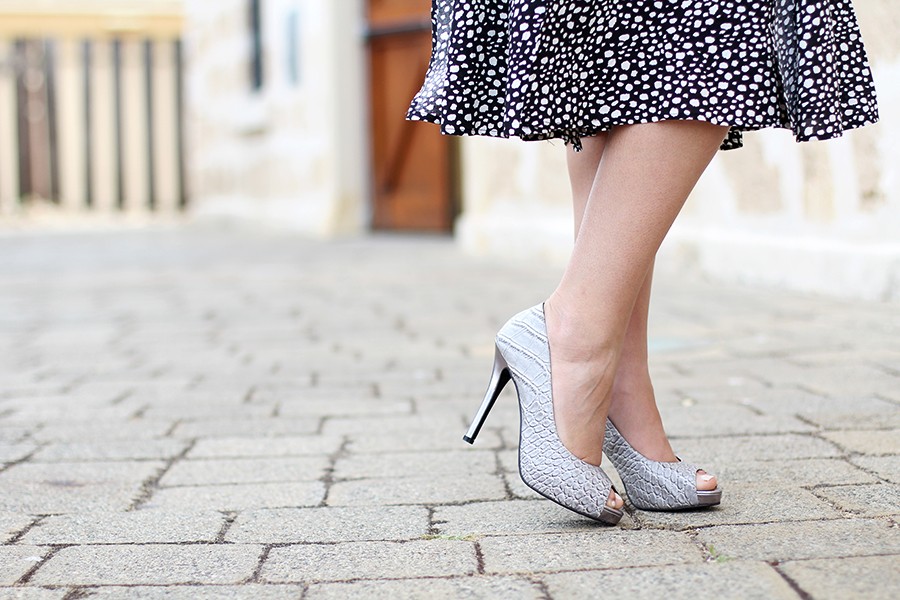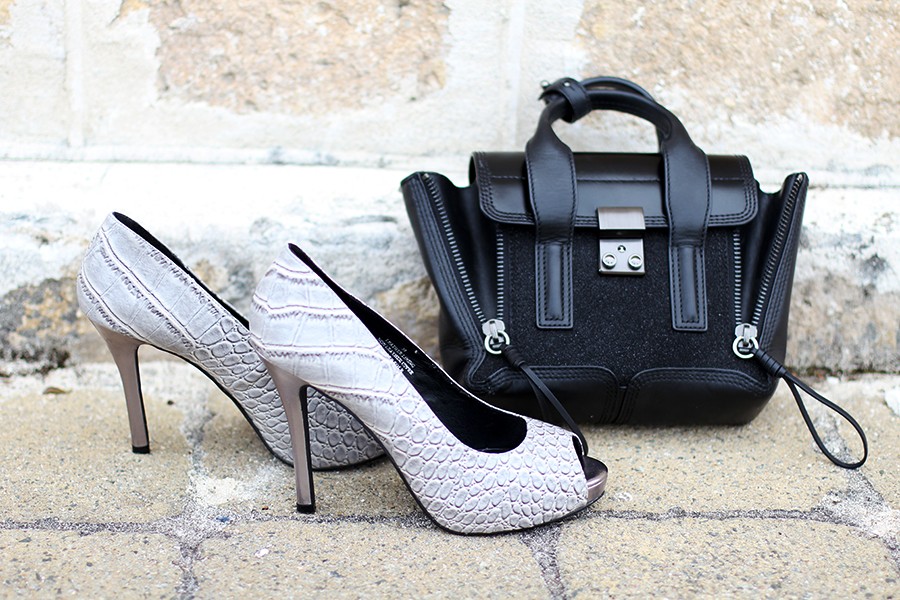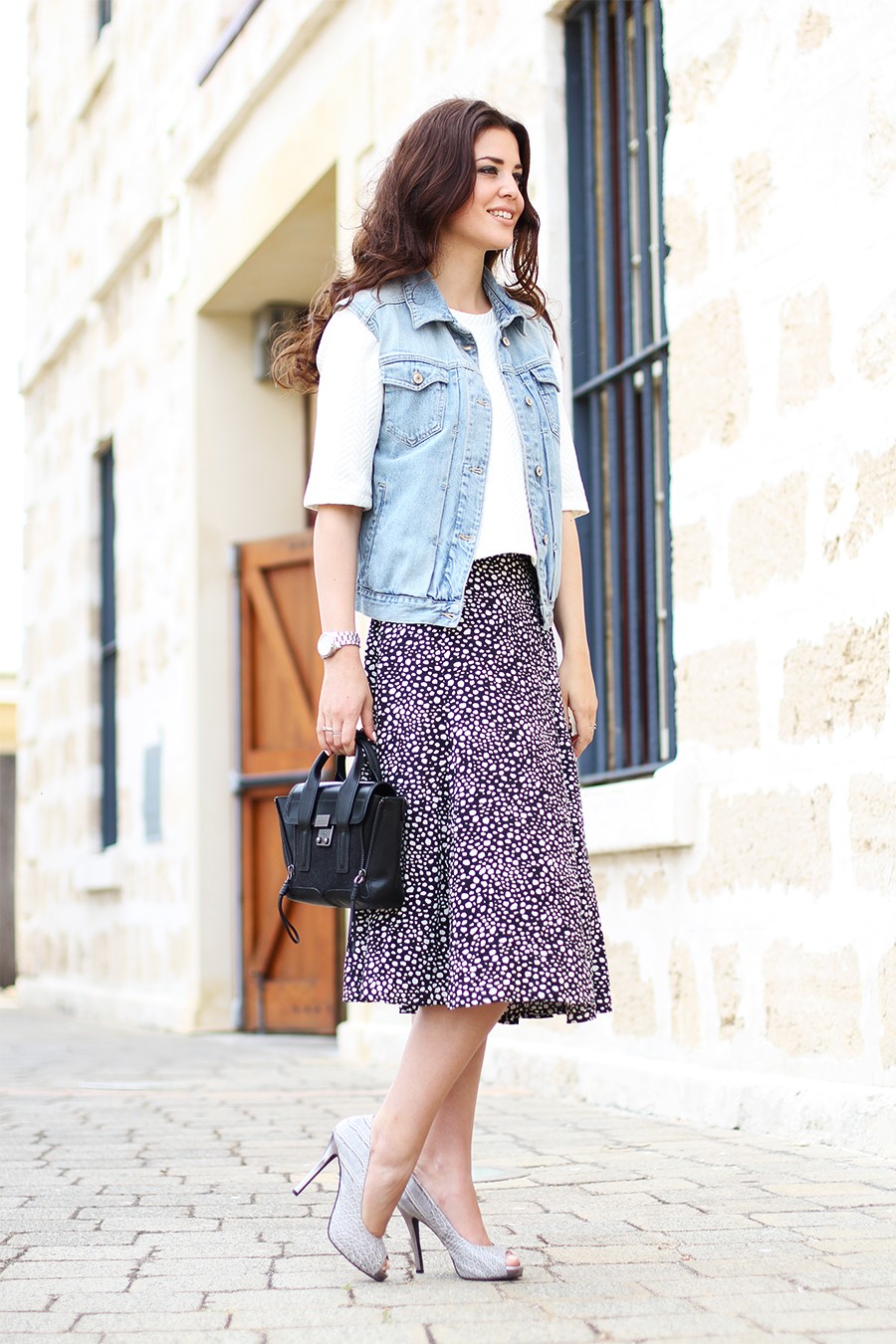 Wearing: Sleeveless denim jacket (Zara), White structured top (Dotti), Spot midi skirt (Somedays Lovin'), 3.1 Phillip Limi mini satchel, Michael Kors silver watch, Silver drop earrings, Scarletto's Gabriel Peeptoes
[show_shopthepost_widget id="368817″]