My hair varies somewhere between wavy, curly and 'fro, depending on the day. When I was younger I used to hate my hair, so I straightened it every single day until it was dry as straw. I've embraced my (sometimes wild) curls since, but every now and then the compulsive hair straightener in me comes out again. I mean, there's just something about silky and smooth straight hair. That, and because I've heard so many good things about ghd, is why I'm super excited to share my review with you today…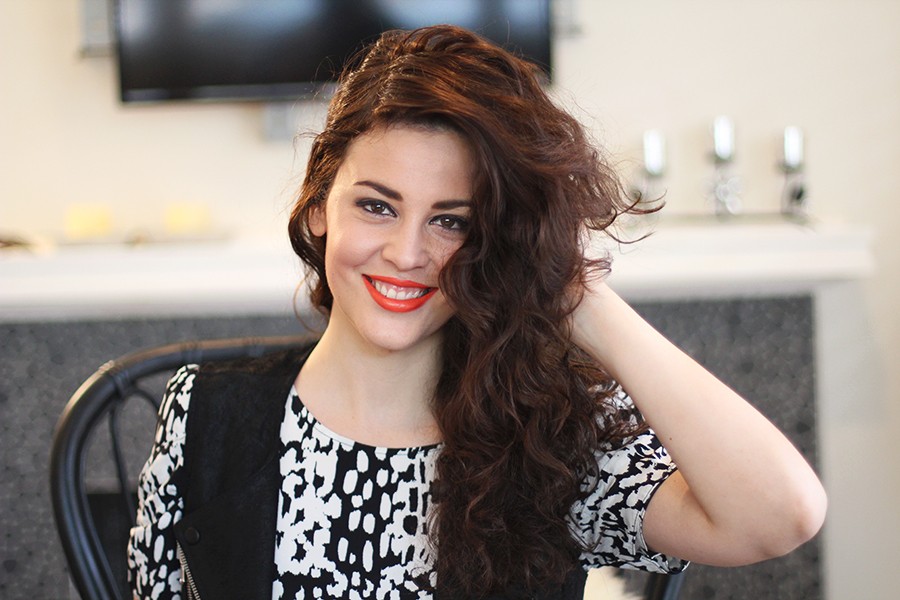 The Look
I mean WOAH! The sleek and bright design got me excited from the very start. It's not every day that you come across a hair straightener in a colour combo of coral and pink, so when you do, you don't let that opportunity pass by. Am I right? The straightener comes in very nice presented box and there's even a heat resistant bag in matching colours where you can put in the straightener if it hasn't cooled down yet (see photo above).
The way it works
Because I'm more often than not in a rush to get ready in the morning, I need a product that understands that. This straightener heats up super quick (roughly a minute), so that's excellent if you need a last minute hair fix. I've got a bunch of wild and curly hair, so I'm always a bit wary whether the straightener will work for me or not. To my surprise, I had my hair turned into smooth and silky locks in less than 15 minutes. Yes, just let that sink in… from THIS to THAT (photos above). Pretty impressive, no? The only thing remark I have is that the ironing plate is a little thin if you have thick and curly hair like myself. That sometimes resulted in hair locks that I attempted to straight 'escaping' my grip. Pretty sure you'll not have this problem if your hair is naturally straight though. There's an easy on and off switch on the inside that lights up and makes a beep once it's ready to use. All in all a super easy, quick an efficient tool to use!
The result
One of the reasons that I haven't straightened my hair since a long time (except for this time when I got it done at the hairdresser), is because I often find that straighteners take out all the volume and 'airy-ness'. Not sure if that last word even exists, but I'm sure you can get a feel for what I mean. That also brings me to the main reason why I really really like this straightener: my hair still looks voluminous after straightening. Definitely a win win, I'll be using this one for many years to come.
Shop This Post
[show_shopthepost_widget id="315691″]