If you think France is the centre of wines, then think again. In the middle of tranquil Sagaponack you find Wolffer estate vineyard, offering not only the best craft wines but also mesmerizing sights over the vineyards all from the comfort of your lazy lounge chair. Sounds good? Then get ready because we're about to share with you the ultimate Hamptons experience…

No Hamptons without wine
In all honesty, I wasn't quite aware how closely linked the Hamptons and wine are until I visited. Truth is that you really can't miss out on visiting a vineyard while in the Hamptons and I'm so glad that we had the opportunity to experience Wolffer estate vineyard. Founded by German Christian Wolffer in 1988, the 55-acre vineyard has an outspoken European character while the villa itself looks as if it has come straight from the Tuscan countryside. Located just about 100 miles from New York city, this is the ultimate escape from big city life and a great spot to just relax with friends over a good glass of wine with a tasty cheese platter overlooking the beautiful vineyards.
Exploring Wolffer Estate
It's only 10am and even though we had a substantial breakfast, it's a little early to start with wine. But hey, we're all in for creating new rituals. After all we're in the Hamptons to experience something new. While Donnell (the marketing manager at Wolffer Estate) shows around at the property, she fills our glasses with the lightest sparkling rose that easily makes me forget it's only morning and I'm not actually supposed to be drinking this time of day.
From the main indoor area we walk downstairs to the wine cellar where all the magic happens. It's so interesting to get a glimpse into the process of wine making and the delicate work that goes behind every craft wine. While wandering around the wine cellars and sipping from a glass of rose, I can't help but feel so incredibly happy and excited to be able to experience this. Wine maker and partner Roman Roth greets us in his office where we get a real insight into how complicated the process of wine making is and the many different steps of the process of creating a new wine. This is serious science!
Let the real tasting begin…
After the tour in the wine cellar and around the property, we head to the garden where we sit down at a table with a great scenic view over the vineyards. Let's get started! First up is Wolffer Estate signature wine for summer very appropriately called "Summer in a bottle". After one sip I'm sold, we can stop the rest of the tasting as I've just found the most heavenly fruity wine I've ever tasted. Next up is Summer in a bottle white, which is equally delicious and would make such a great fit with fish dishes."The grapes of Roth dry Riesling 2014" sure knows how to impress us too. Donnell tells us a little bit more about the process and it's great to hear someone speaking about the wines with so much passion and knowledge. It makes the whole Wolffer Estate experience even better.
Quality and Sustainability
From hands-on care, hand-harvesting to hand-sorting: everything in the process from grape to wine happens with outmost attention to detail. For example 40% of the grapes is sacrificed during growing season to concentrate plant energy and nutrition for the most promising fruit. What does this mean for the wine? That you get the most delicate, fruity and full flavours! Aside from many quality measurements, Wolffer estate vineyard has also implemented a checklist or nearly 200 sustainable grape growing practices ensuring that everything that happens in the vineyard is kind to the environment and the wildlife.
During the summer.. 
Wolffer Estate Vineyard definitely is the place to be in summer. With so many events going on, you'd almost want to settle down in the Hamptons for a few weeks straight. From yoga in the vines to weekly farmers markets, Sunset Fridays and Saturdays with live music and twilight Thursday in the wine tasting room with jazz music. Read more about all the summer fun going on at Wolffer Estate Vineyard here on the website and make sure to stop by when you have the chance.
We thoroughly enjoyed the Wolffer vineyard experience and were so happy to find some rest and relaxation in between our busy days of travelling! To be continued…
Also make sure to check out our video spending the day at Wolffer Estate Vineyard on the Click Travel Go youtube channel.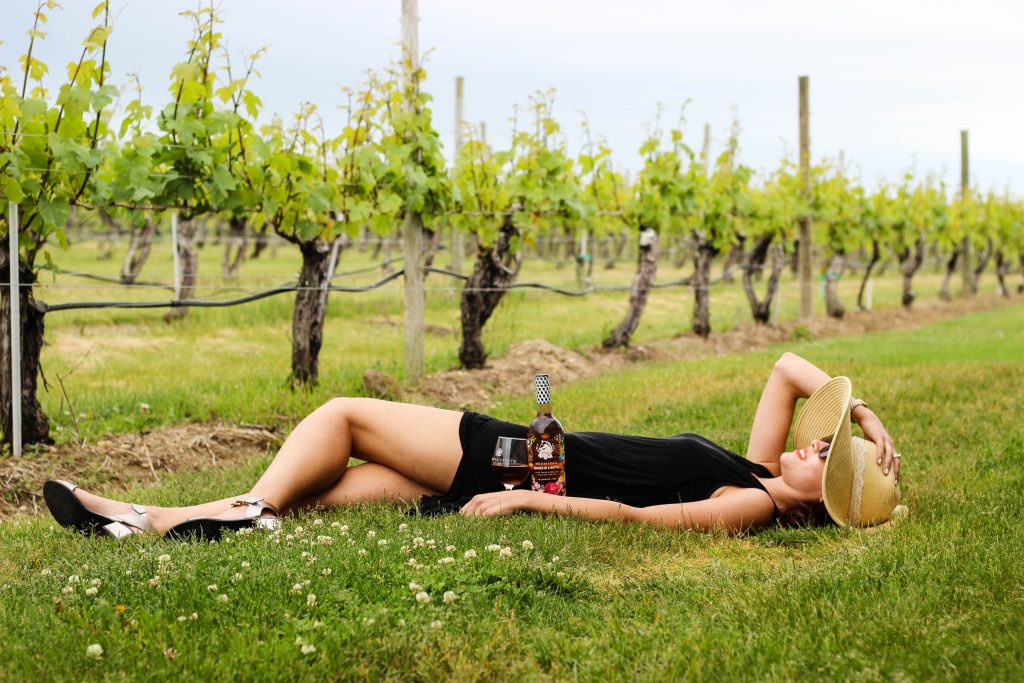 Location: Wolfer Estate Vineyard
Photographer: Tatiane Kozijn
Outfit: Necessary Clothing dress (similar here), H&M hat (similar here), Oasis sandals, Michael Kors,Karen Walker sunglasses