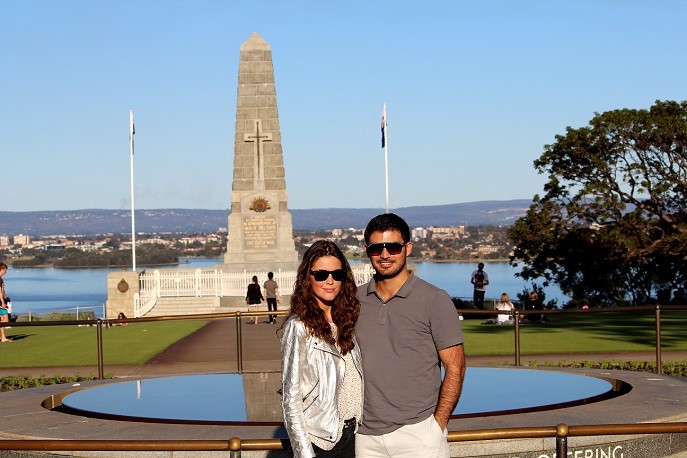 I was thinking…why not tell and show you guys a little bit more of my personal life? I'm blogging for about 8 months now and because I got such great response to another recent personal post (
see here
) I felt encouraged to write more. Finally, blogging is easier and more fun when you can be your real self and show your readers what is actually going on in your life.
You all know I moved to Perth, Australia last july to live with my boyfriend so I thought you might be interested in the story behind. In contradiction to what you might expect, I only met my boyfriend 1.5 years ago. The story started in march 2011, just after my 21st birthday. In fact, I went to Amsterdam that particular saturday to spend time with friends. After finding out that the club where we planned to go to was throwing a gay party, we ended up in a small – not very classy- bar and while in there just for minutes the guy who is now my boyfriend approached me, we started talking and that's how everything began. My boyfriend lived in France at the time and was making a short trip with a couple of friends to Amsterdam. The day after we met, we decided to meet up for some drinks, which was really nice, and the next day he went back to France. After his return we started talking non stop on skype, phone, sms and just two weeks later he came back to Holland to see me. Funny enough, a friend of him was living in Utrecht – the city where I was studying – so while he was staying there, we saw each other everyday for five days. Then the distance relationshop officially started and I was travelling to France every month for a couple of days. (I refused to travel to France the first time, because I thought it was his job as a man to come to me, in my country, the first time ;)). Anyway, months of distance relationship started and soon we started making future plans about where to live. My boyfriend was doing a PHD at the time, but he quit after we made serious plans to move abroad together. Just two months after the decision that we would move abroad together he found a job in Australia, so everything went really fast. Knowing that I would be moving to Australia, my family ofcourse wanted to meet my boyfriend so in december my boyfriend came to my place in Holland for three weeks to meet everyone and we had a great time. After visiting me in Holland my boyfriend went to Lebanon to spend some time with his family before moving to Australia and I went to see him and his family in Lebanon for 10 days in the beginning of february. Then the hardest part started: not seeing each other for 5 months. It was really awful, because we actually planned that I would come to Australia somewhere in these months but my schedule of university didn't allow it. Especially the last two months were extremely difficult because I was going through so much stress about my bachelor degree. Just imagine if I wouldn't pass? Then I wouldn't be able to move to Australia without coming back to finish my bachelor. All this pressure really drove me nuts, so ofcourse I was out of my mind when I heard I passed. Telling this story while living in Australia together with my boyfriend just 1.5 years after we met makes me realize how many unexpected turns life can take…
hope you all enjoyed me telling you this little story!