Een van de higlights van het aanbreken van het zomerseizoen voor mij is dat het weer tijd is om een nieuwe bikini te kiezen. Hoewel er altijd nogal veel druk wordt uitgeoefend om ons lichaam 'summer ready' te krijgen, ben ik persoonlijk van mening dat het kiezen en dragen van een nieuwe bikini vooral FUN moet zijn! Met de nieuwe collectie van Hunkemöller hoeft dat geen probleem te zijn. Kijk snel verder.
EN translation below
Bikini's en badpakken zijn één van de weinige kledingstukken waar niets te gek is qua kleur, print of kraal details. En dat is nou net wat er zo leuk aan is! Naast dat een bikini er op en top uit moet zien, is misschien wel het allerbelangrijkste dat hij goed past. Een mooie aansluiting rond de cup, stretchy materiaal dat zich om je figuur heen vormt en een enigszins liftend effect is natuurlijk ook nooit een overbodige luxe! Voor het onderstukje geldt vooral dat je moet kiezen waar jij je het lekkerst invoelt: een broekje dat iets meer bedekt of ga je juist a la Brazilian? Dat laatste is voor mij iets te gewaagd! Weet jij nou nog niet precies welke bikini het beste bij jou figuur past? Vergeet dan zeker niet een kijkje te nemen naar de  Hunkemöller  Swimwear styleguide video die het je piekfijn uitlegt.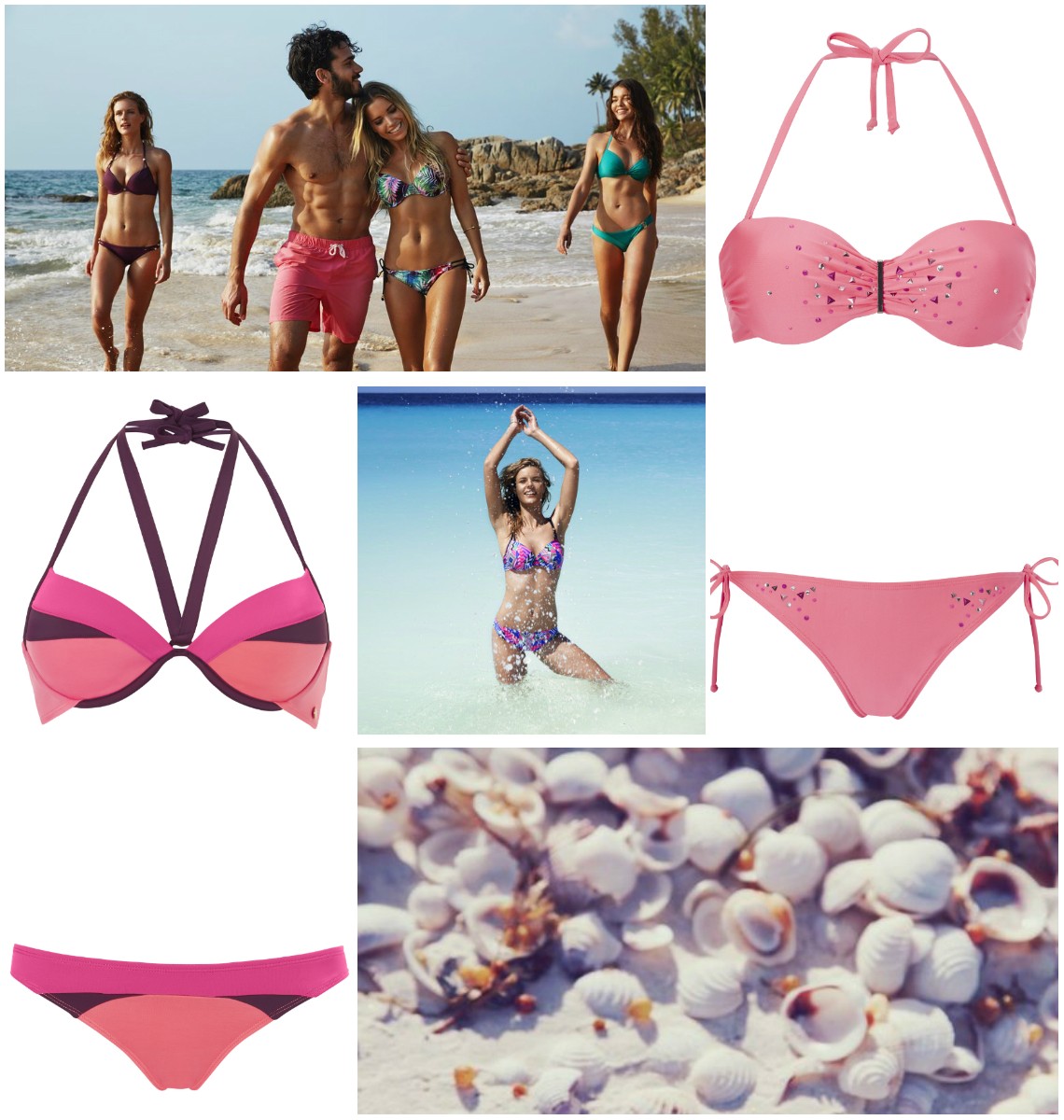 Laten we het nu even over de nieuwe collectie van Hunkemöller hebben, want daar word ik persoonlijk erg blij van! Het is geweldig om te zien dat ook dit seizoen Hunkemöller weer feilloos heeft ingespeeld op de laatste runway trends. Van peachy pastels en turquoise tot opvallende prints en sierlijke kraal versieringen, het ziet er super uit. Ook leuk is dat je je complete beach outfit meteen kunt scoren, want er is ook een collectie met espadrilles (YES! Mijn fashion obsessie deze zomer), zonnebrillen, tunieken en slippers. Verder ben ik erg onder de indruk van de arty uitvoering van sommige bikini's, de multi-straps and cool designs zijn een heus fashion statement. Wat denk je bijvoorbeeld van deze bikini uit de Sylvie Collectie die vanaf 9 mei verkrijgbaar is in de winkel?
Alsof al die bikini fun nog niet genoeg is, bestaat er nu voor JOU de kans om deze zomer onvergetelijk te maken. Droom jij van reizen naar een verre bestemming? Doe dan mee aan de #unforgettablesummer winactie en maak kans op een travel voucher ter waarde van €1500.
De actie loopt tot en met 1 juni en het enige wat jij hoeft te doen is een reactie, foto of video plaatsen op Twitter, Facebook of Instragram, die jouw onvergetelijke zomer beschrijft. Vergeet niet om #unforgettablesummer te gebruiken! Van de leukste inzendingen wordt een selectie gemaakt, waarna het  publiek de winnares zal kiezen. Maak jouw zomer een #unforgettablesummer!
Hunkemöller EN  
When summer time kicks off, one of my personal highlights is shopping a new bikini! Despite the never ending pressure to have your body 'summer ready', I personally believe that choosing and wearing a new bikini should above all be FUN! And guess what? With the new collection of Hunkemöller that shouldn't be a problem at all. Continue reading to learn more.
Bikini's and bathing suits are one of the few garments where nothing is too crazy when it comes to colour, print or embellishments. And that's exactly what's so fun about it! Besides the fact that a bikini should look amazing, it's equally important that it fits amazing too. Well fitted around the cup, stretchy material that fits according to your body shape and a somewhat lifting effect wouldn't be bad either. For the bottom part you should go for what you feel most comfortable in. Is that a bottom that covers a little or do you prefer to go Brazilian style all the way? The latter is a little too daring for me. Are you not quite sure yet which bikini fits your body type best? Then don't forget to take a look at the Hunkemöller Swimwear styleguide video which explains it all.
Now let's talk about the new Hunkemöller collection, because that makes me very very happy. To start with it's amazing to see that also this season Hunkemöller implemented the latest runway trends in their designs. From peachy pastels and turquoise to bold prints and pretty embellishments, it looks incredible. Also fun is that you can score your complete beach outfit straight away, because Hunkemöller offers a collection with espadrilles (YES! My number 1 fashion obsession this summer), sunglasses, tunics and flip flops. I'm also very impressed with the arty designs of some bikini's with multi strap and cool designs, they're true fashion statement. For example, what do you think about this bikini from the Sylvie collection that's available from the 9th of May?
Like all this bikini fun isn't enough, YOU now have the chance to make your summer unforgettable. Are you dreaming of holiday at a faraway destination? Then join the #unforgettablesummer competition and be in the run for a travel voucher at the value of €1500
The competition is open until the 1st of June and the only thing you have to do is leave a comment or place a photo or video on Twitter, Facebook or Instagram describing your unforgettable summer. Don't forget to use the #unforgettablesummer hashtag. A selection will be made from the most fun entries, after which the audience will pick a winner. Make your summer an unforgettable summer!
Are you getting in the summer mood yet? What kind of bikini are you thinking of purchasing? Can't wait to hear your thoughts!