Isn't it funny how fashion suddenly decides something is 'hot' and we're happily joining in on the trend? Birkenstocks literally popped up out of nowhere and turned into a must-have for just about anyone. It was even that bad (or maybe should I say good?) that designers like Céline and Givenchy made Birkenstock inspired sandals part of their collections. I mean, wow! Here are my tips and thoughts on wearing Birkenstocks.
Wearing: BCN white shirt (similar here) , Zara sleeveless jacket (similar here), Zara ripped jeans (similar here), Birkenstock Arizona Sandals, Zara belt (similar here), Silver cuff from the San Telmo markets in Buenos Aires (similar here), Karen Walker Number One sunglasses, Asos white bag
[show_shopthepost_widget id="586551″]

Anyone who has read my post "What I do for a living" has gotten a glimpse of my job besides FashionContainer. Despite it being a very open and honest post about my professional life, I didn't mention the business I was working for due to privacy reasons. But then again, what's still private after a post like that anyway?
Today I've got the pleasure to share with you a project I'm doing with Bstore, an (online) shoe business based in Western Australia that I also happened to have worked for. Bstore's philosophy is that fashion should never compromise shoe comfort. While that's something I try to convince myself of too, I'm not quite there yet. Not surprisingly, Bstore stocks a massive range of Birkenstocks for the obvious reason that these sandals are incredibly comfy and super good for your feet. I know that anyone who has ever worn them will agree! These days Birkenstocks also happen to be super trendy and you can't imagine the run on 'Arizona' sandals here in Australia at the moment; they sell out every few weeks. The Arizona is the classic two-strap Birkenstock you've been seeing around so much in fashion land, just in case you have no idea what I'm talking about.
The black and white Arizona sandals were never really my thing, but when this pair in metallic silver arrived in our office (we wouldn't have bought these in the first place, if it wasn't for me) I got beyond excited to wear them.
Here are a few things you have to know about Birkenstocks:
– Some of the classic Birkenstocks (The thong or the two-strap style) come in different widths, regular and narrow. If you have narrow feet like myself, Birkenstocks will look very bulky and you'll require the narrow fit in order for them to look good.
– The cork footbed actually moulds to the shape of your feet. Great for your posture and it makes you feel like the sandals have been made just for you.
– Birkenstocks are fully repairable! This means you don't have to throw away your favourite sandals, but you can simply get the sole, straps or cork get repaired.
– The Birkenstock footbed is made from cork, which is a natural material and thus it can get dry over time. To keep your Birks in their best shape, you'll need to give them some extra care with some cork seal. This basically prevents the cork from cracking and keeps them looking good.
Style wise, there are absolutely no rules to wearing them. At least that's what becomes obvious when you look at this Birkenstock Streetstyle post on Who What Wear. Personally, I prefer wearing Birkenstocks with more casual, boy-ish outfits. I'd never say never, but wearing my Birks with a cute with a cute lace dress just doesn't feel right.
The first day of March, autumn in Australia has officially kicked off! That's how I justified wearing jeans to the beach on Saturday when I dragged along my friend Maria to take some photos for me. Men, I wish I'd known earlier that she's such an awesome photographer! I guess some people just naturally have an eye for it. We didn't just come to the beach for photos, first and foremost we came to have a walk and catch up over lunch at Barchetta in Cottlesloe. They do yummy wood fried pizzas, so definitely a must-go if you're in the area.
The jeans I'm wearing are from Zara and they weren't nearly as ripped when I purchased them two months ago. Am I the only one who that happens to? Sticking my foot in the wrong way, rip. Kneeling down to fix my shoe, rip. I'm not sure what's still going to be left of these jeans in a few months. I finished off the look with a white shirt (it's the best I've had in a while!) and a tailored sleeveless jacket. The ultimate casual feel! Can't wait to hear your thoughts on the outfit.
Do you like Birkenstocks? What's your favourite way of wearing them?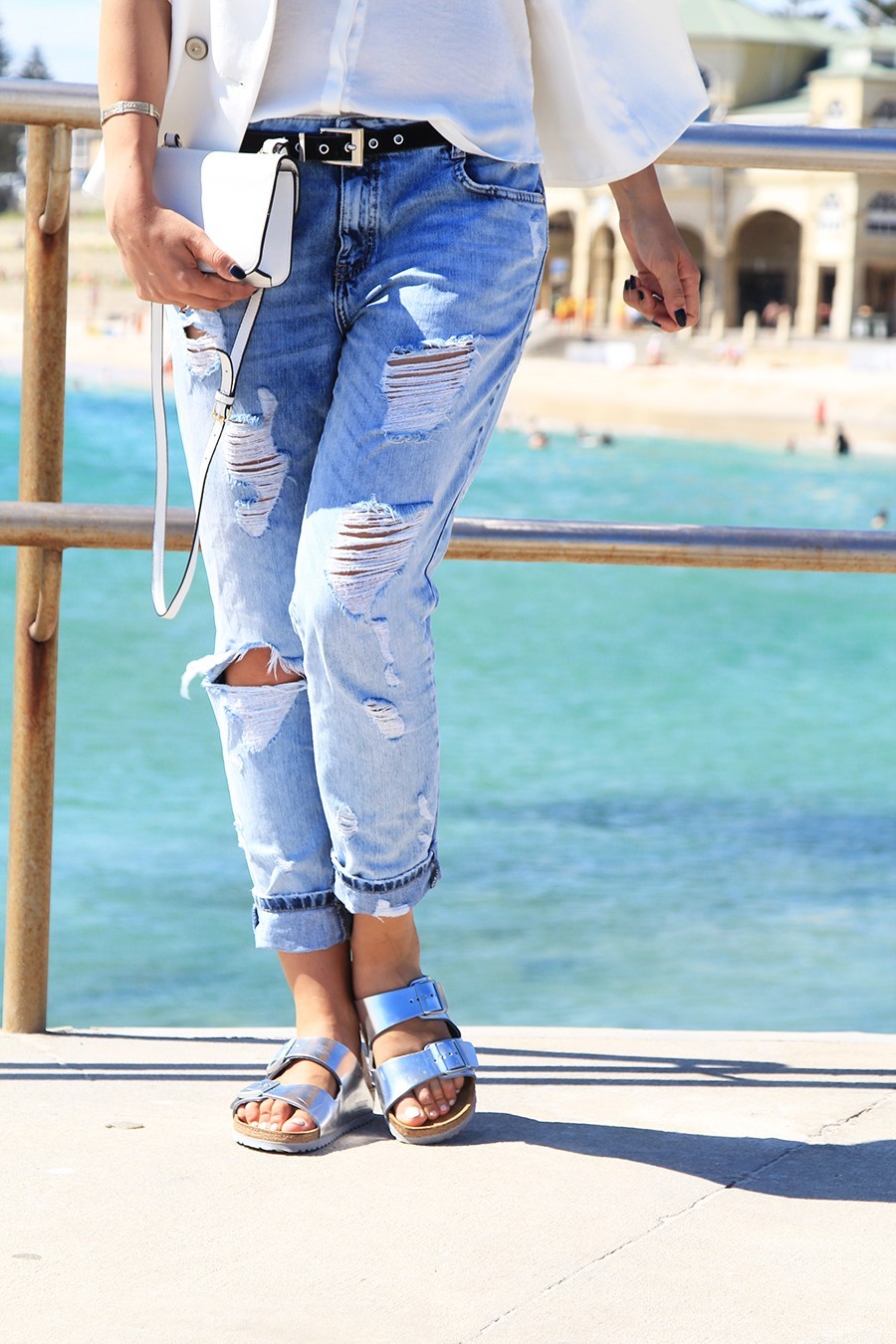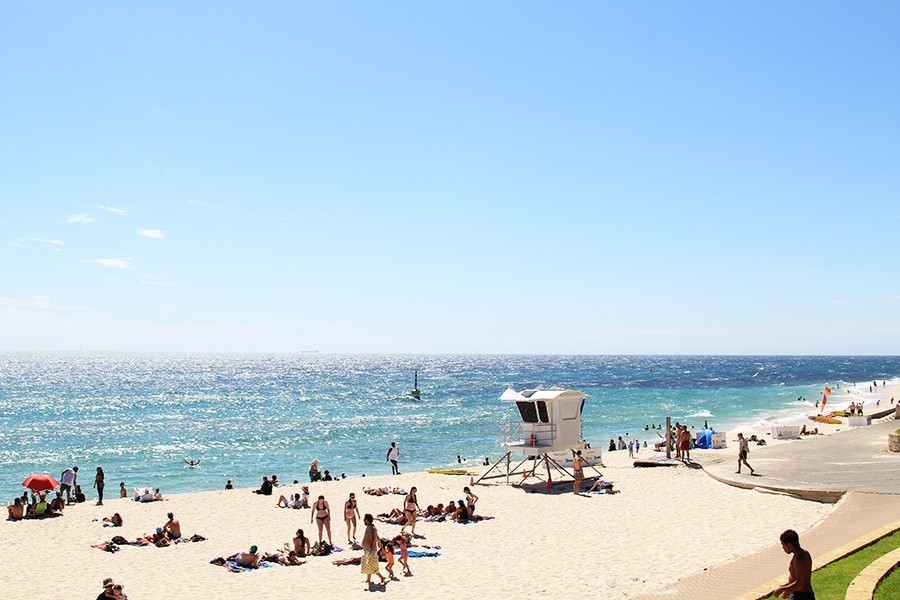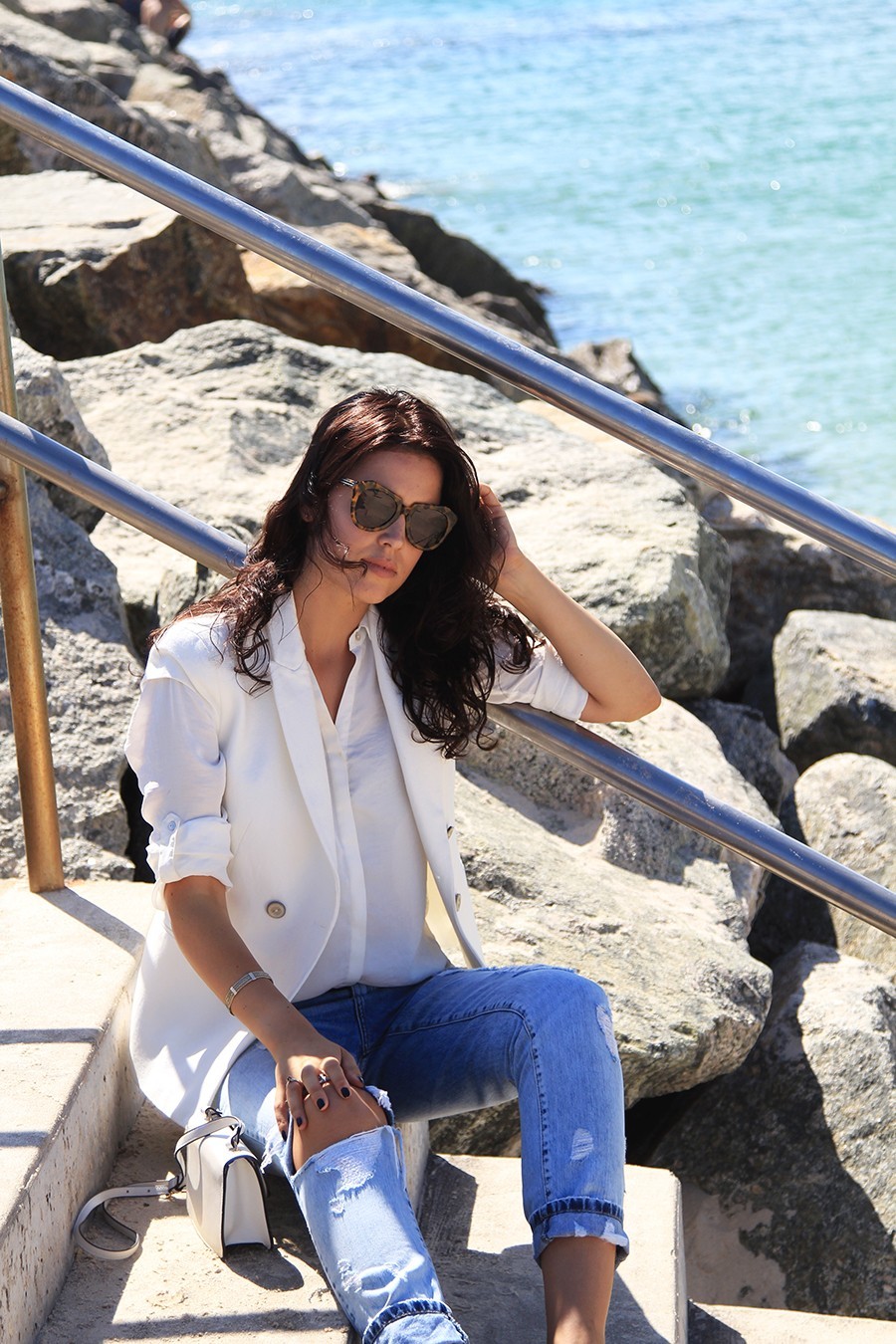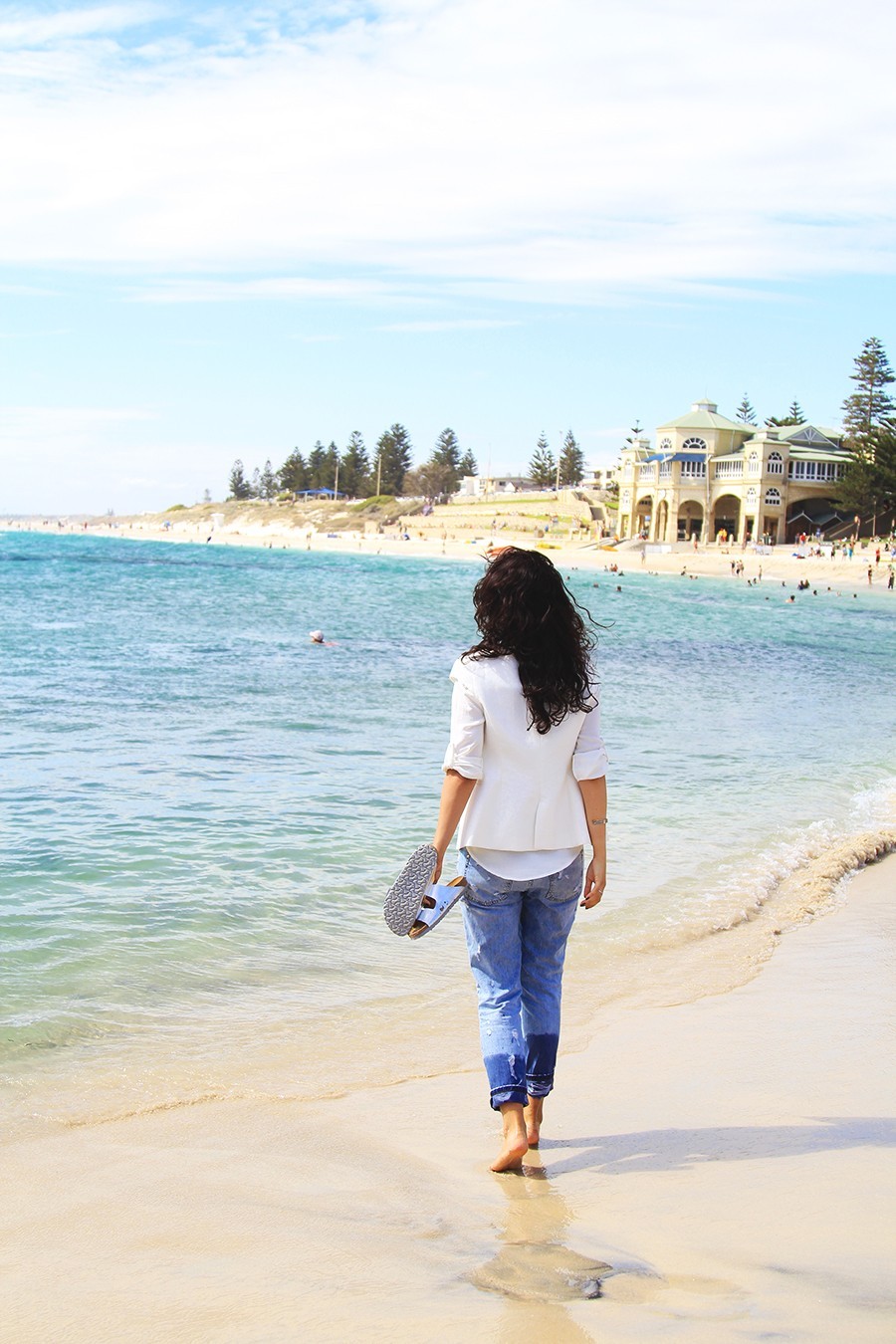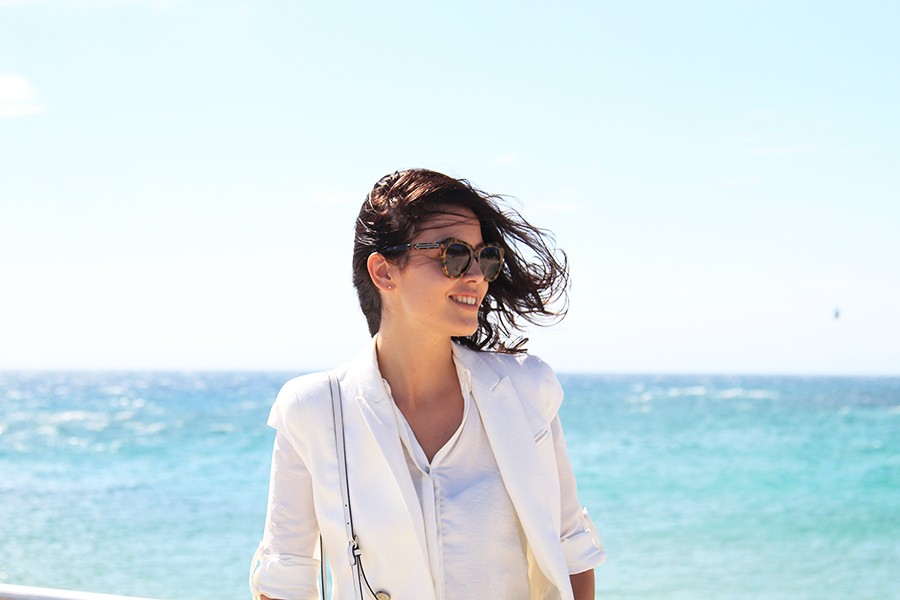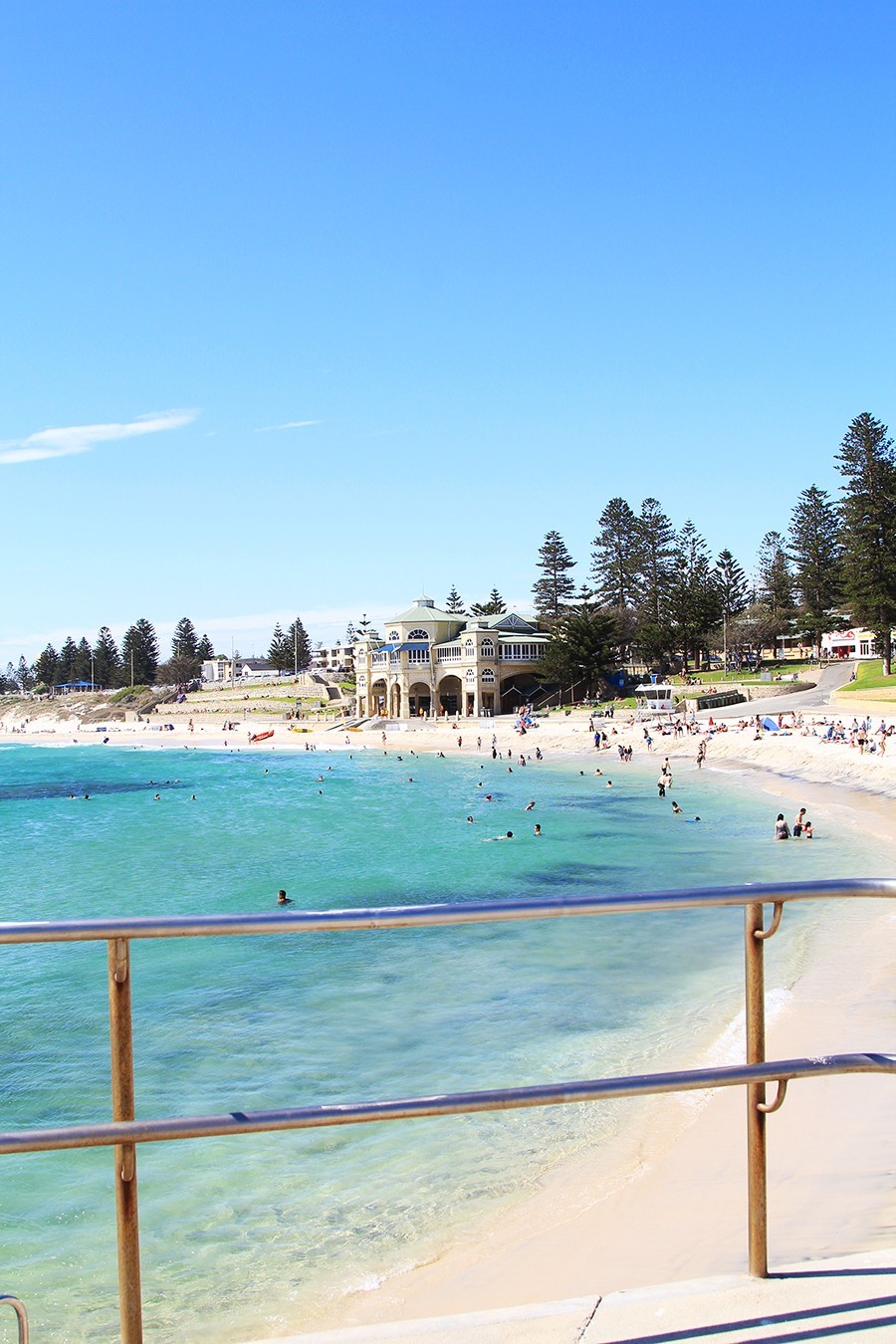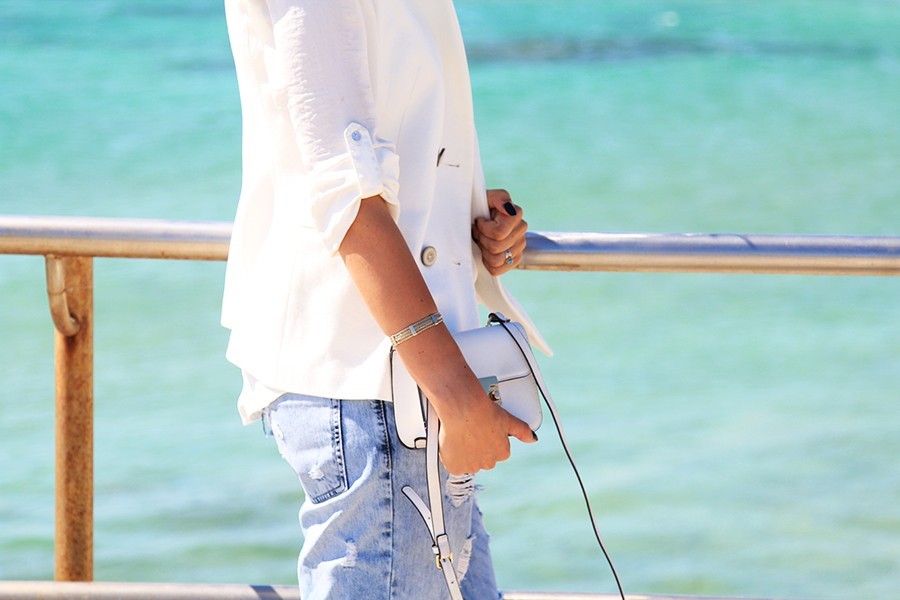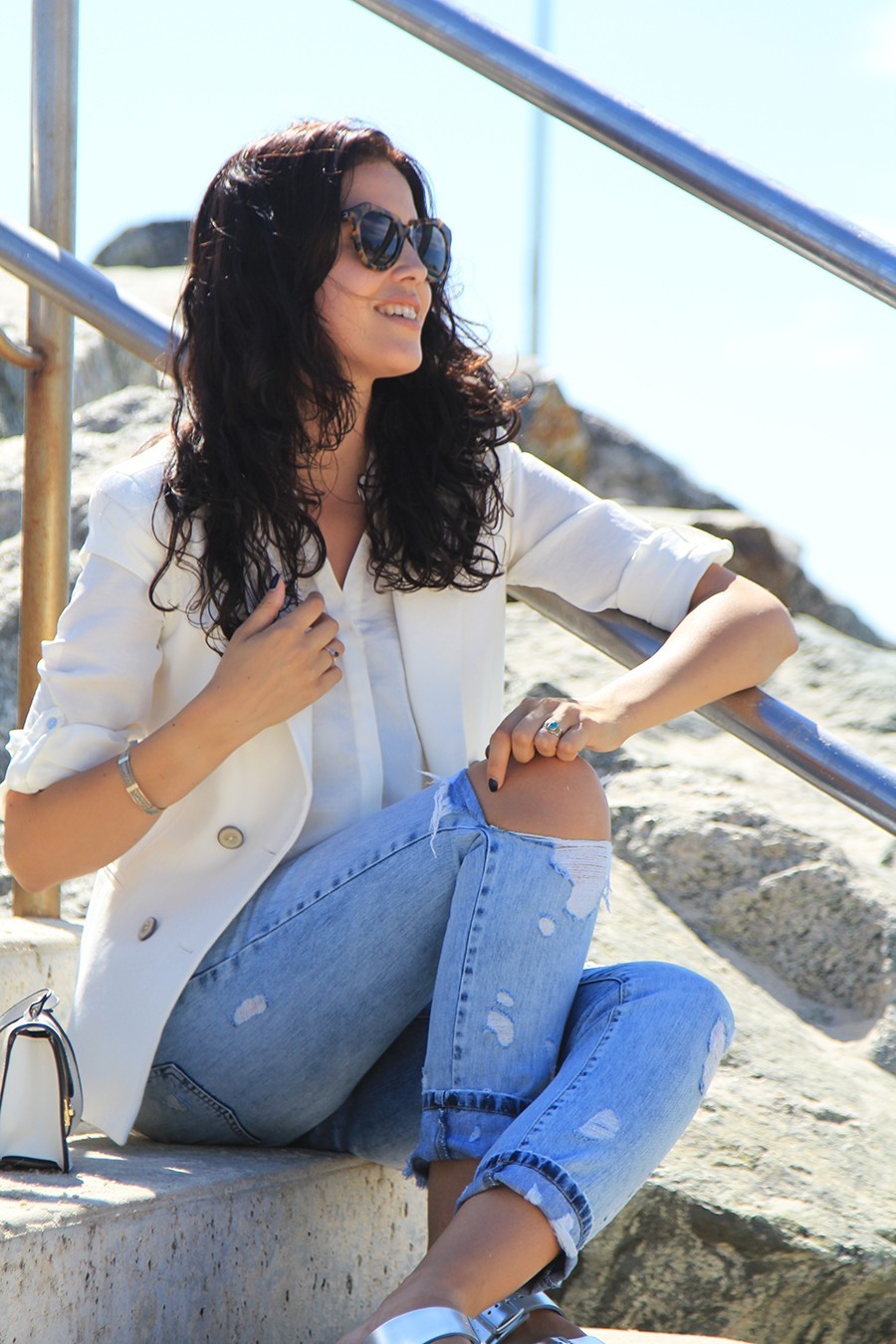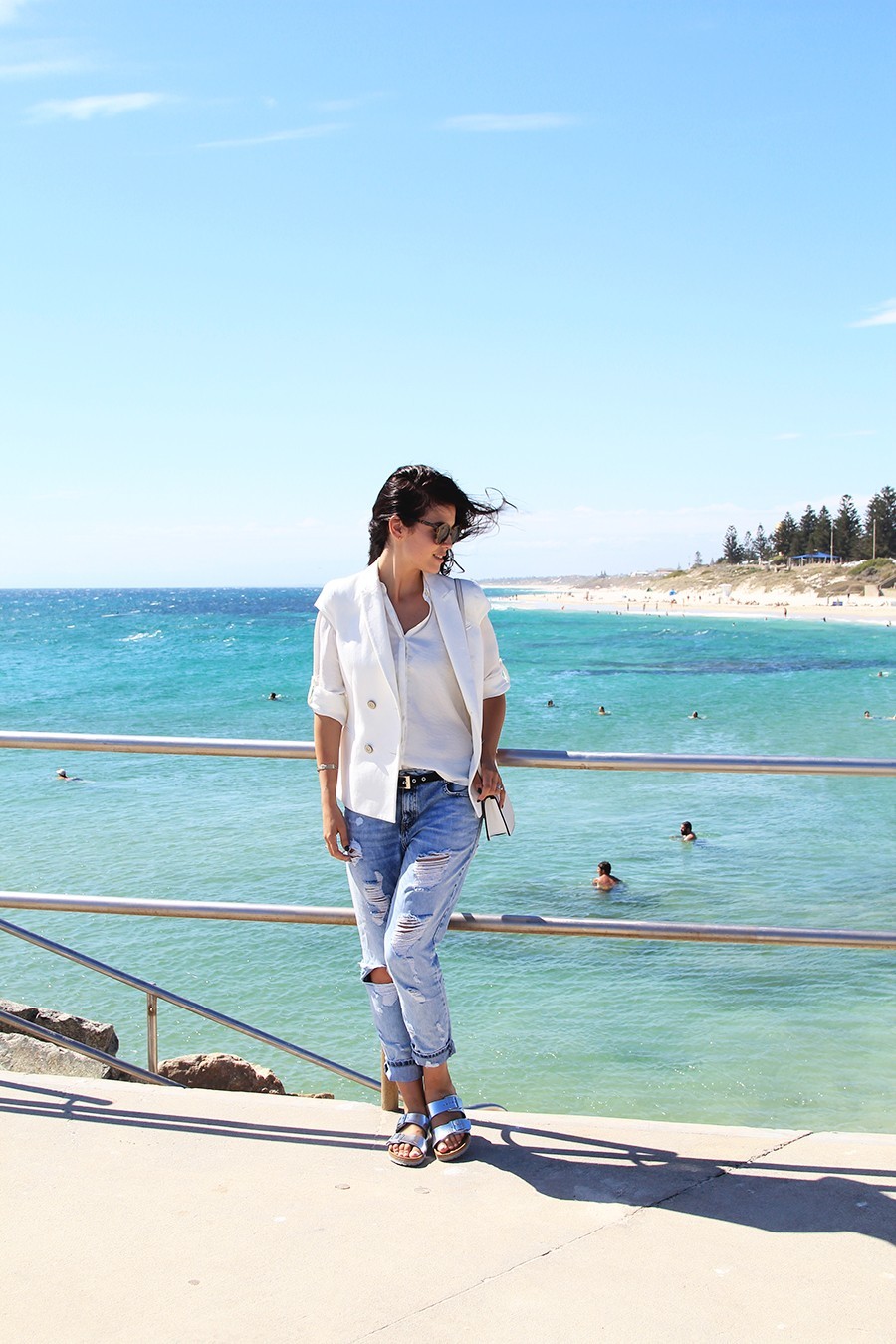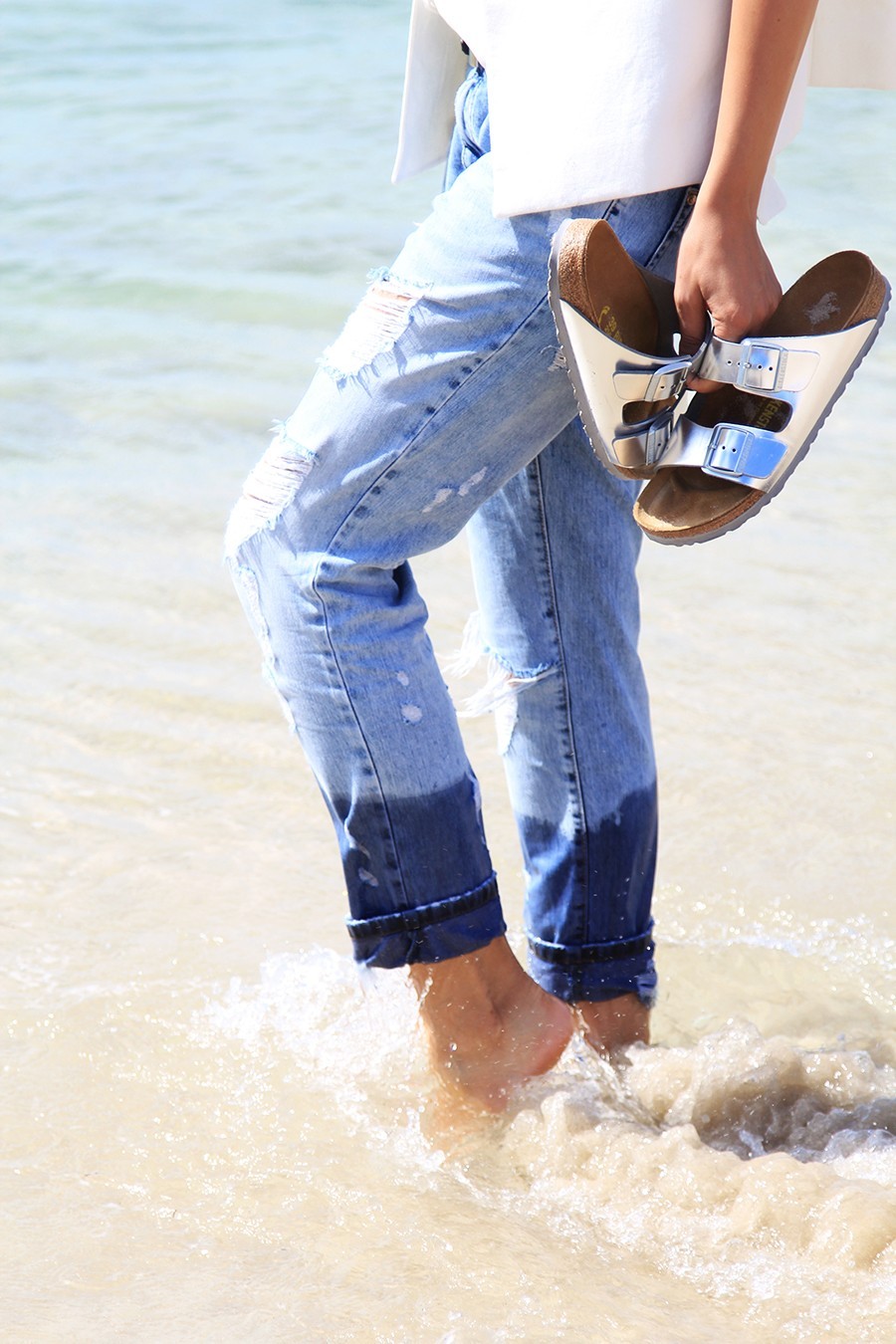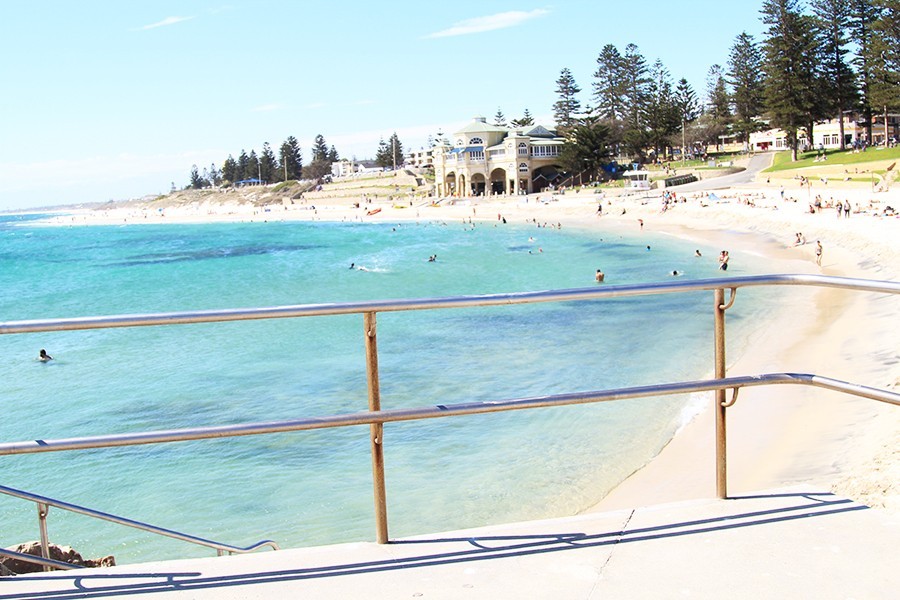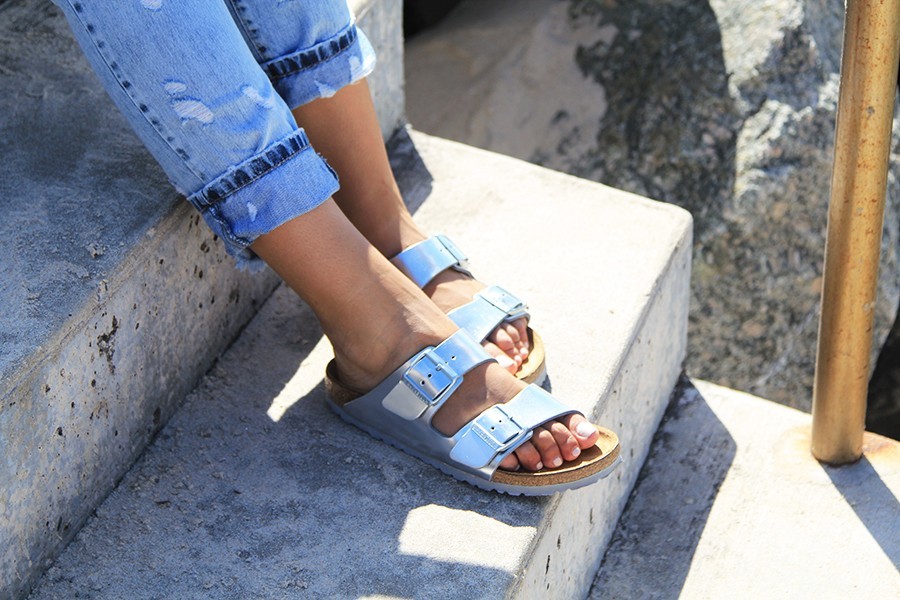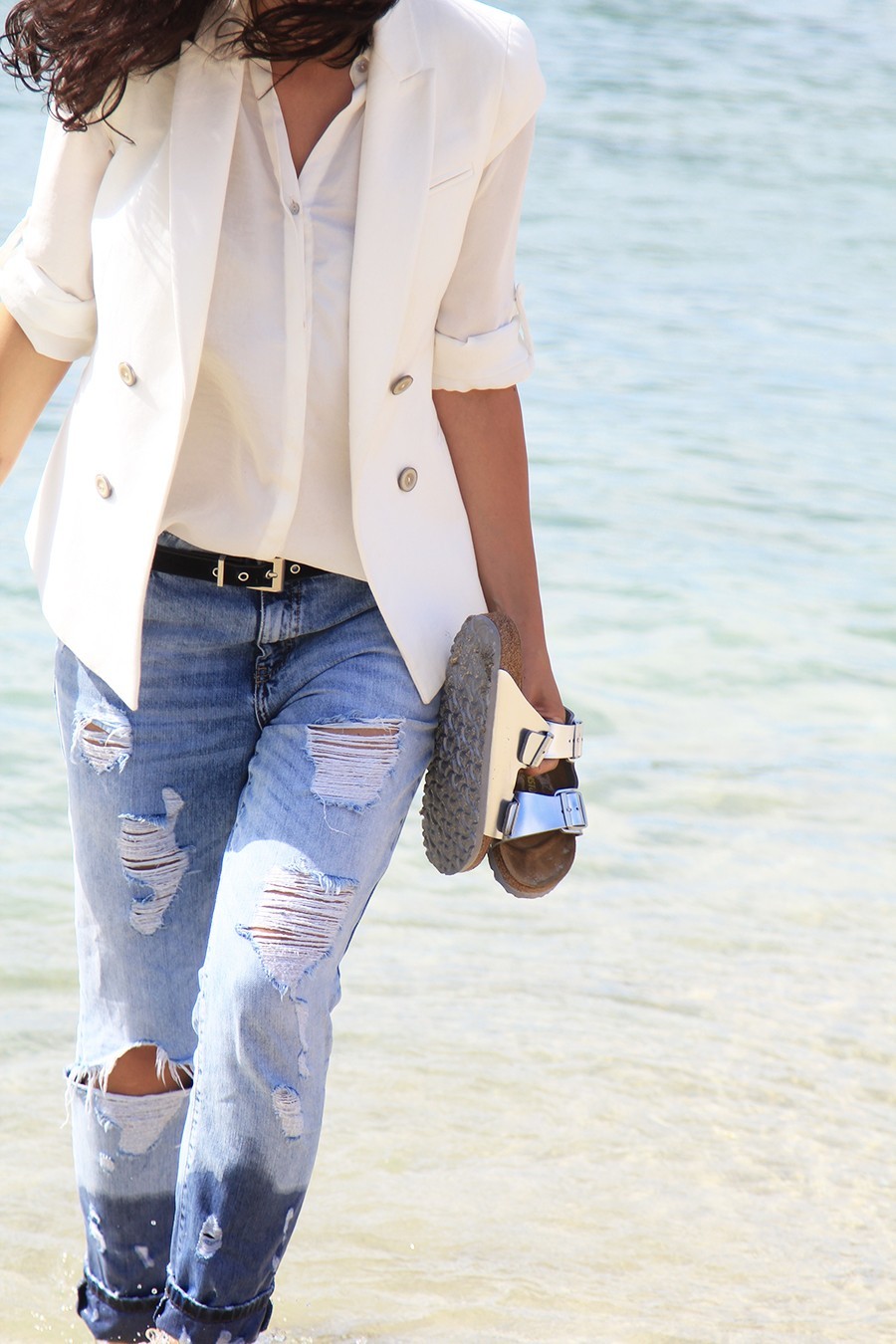 Wearing: BCN white shirt (similar here) , Zara sleeveless jacket (similar here), Zara ripped jeans (similar here), Birkenstock Arizona Sandals, Zara belt (similar here), Silver cuff from the San Telmo markets in Buenos Aires (similar here), Karen Walker Number One sunglasses, Asos white bag
[show_shopthepost_widget id="586551″]